Homeschool is easy with NurtureStore! Use this free homeschool curriculum with your children for year-round, hands-on home education lessons they will love!
Free, easy homeschool curriculum
NurtureStore, your teaching fairy godmother, gives you a complete, year-round programme of all-planned-and-prepped-for-you home education units.
:: one educational activity each day
:: themes to match the time of year
:: math, sciences, literacy, wellbeing, fine motor skills, sensory play, arts and crafts included throughout the year
:: hands-on, creative learning activities you can easily do at home and which your children will love
:: for children aged 5-ish to 10-ish and perfect for mixed-aged sibling groups to do all together
:: completely flexible programme: join any time; skip, extend or re-arrange weeks to suit your family's needs
The 52 weeks are numbered, starting in Sept and flowing through the year in line with themes and festivals.
Most units include free printables which make leading the activities even easier. Sign-up to my email service in the box below to get access to my full Free Printables Library.
No child will 'fall behind' because children are learning all the time, through everything they do. This cross-curricular programme of hands-on learning builds deep and wide knowledge and skills, as children learn by doing, making connections across subjects with each week's theme giving structured development. Over the year they will benefit from a balanced and engaging programme that incorporates a full complement of subjects.
One activity a day means the programme is managable for you and them and gives plenty of space in your week for reading, playing and everyday life.
Learning skills through play
Playing, making, and doing is how children naturally learn vital skills. Using hands-on activities, this easy homeschool programme works for children age 5-ish to 10-ish, making it perfect for sibling groups to do together.
Throughout the year-round programme your children will develop:
Math skills including counting, arithmetic, time, fractions, 2D and 3D shapes, Venn diagrams, measuring length, measuring weight, and Pi.
Literacy skills including reading, writing, spelling, journalling, conversation skills, asking and answering questions, giving opinions, critical thinking, making information books, storytelling, and poetry.
Science including nature study through the seasons, space, kitchen science experiments, Northern Lights, weather, engineering, gardening, animal life cycles, pollination, oceans, and dinosaurs.
Arts and crafts including famous artists and art history lessons, sketching, collage, colour theory, print making, crafts for many festivals of the year, model making, process art adventures, mandalas, geometric art, and puppet making.
Social and wellbeing skills including team work, self-confidence, knowledge of world religions, multicultural awareness, diversity awareness, Black history, ancestry, gratitude, and goal setting.
And also imaginative play, fine motor skills, cooking skills, sensory play and forest school lessons.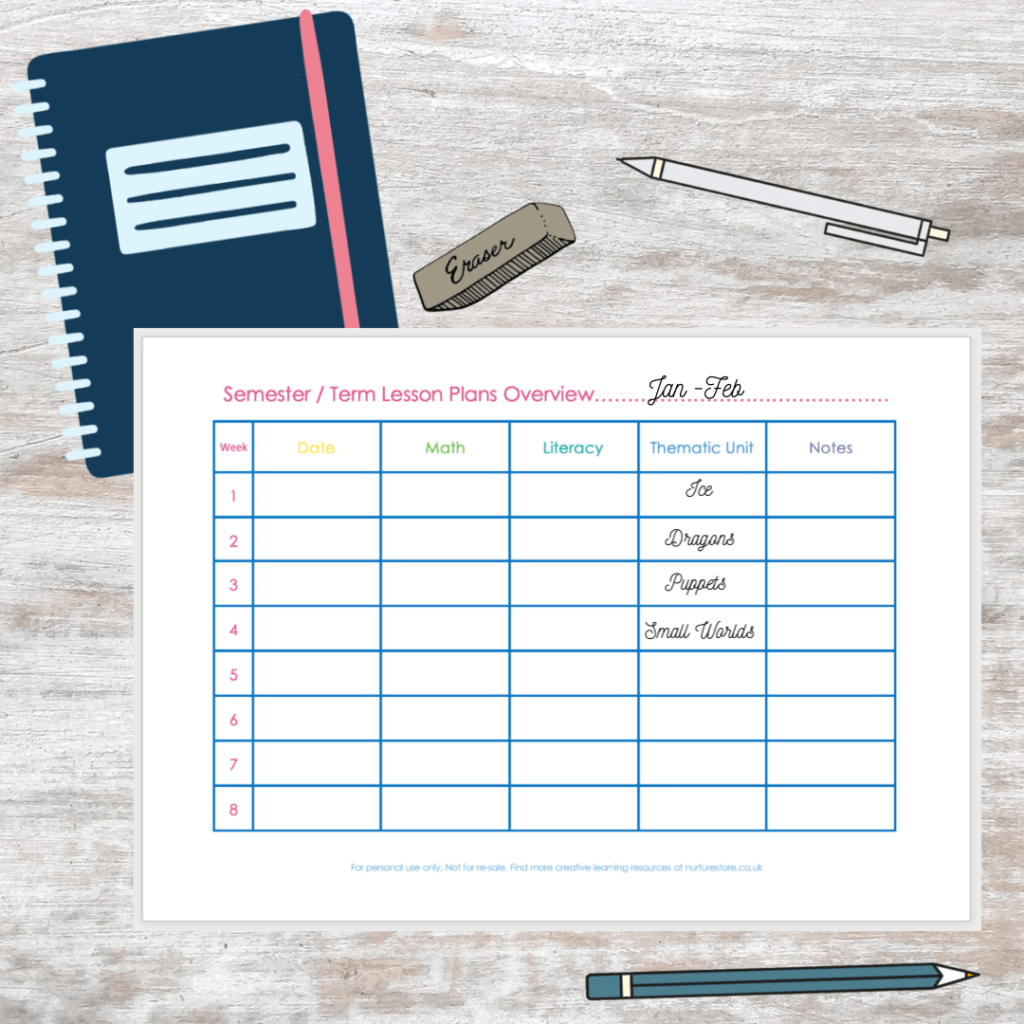 How to use this homeschool programme
The programme gives you 52 weeks of thematic units.
Each unit covers five days, with one activity each day.
You can join the programme at any time of year and do every week in sequence or skip, extend or swap any day/week to suit your family.
Children are learning all the time and through everything they do. No-one will 'fall behind'. The programme builds vital skills all through the year in multiple over-lapping and complementary ways. If you skip the math activity on day 47 your child will still turn into a competent forty-year-old one day! This is a programme to enjoy. You will see your children developing in all sorts of ways as they play, make, chat and do.