Create a beautiful crescent moon and stars mobile with this free printable. It's the perfect Ramadan craft or as an art project if you're learning about space.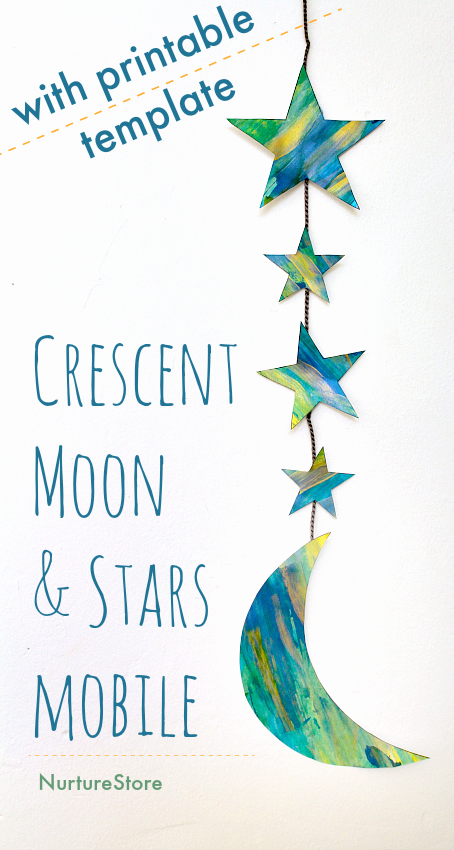 Crescent moon and stars mobile Ramadan craft
A crescent moon is a special symbol in Islamic art. As the Muslim year follows a lunar (moon) calendar, the sighting of the crescent moon marks the beginning of a new month. This is especially significant at the end of the holy month of Ramadan, when the sighting of the crescent moon marks the end of the fasting period and the start of the celebration of Eid-al-Fitr.
This easy crescent moon and stars craft is a beautiful Ramadan craft to make with children. I've made a free printable template that you can use to create your mobile.
We created our moon mobile using a scrape painting technique, but you might also like to:
:: use coloured pencils and pens
:: finger paint the stars and moon – making a lovely Ramadan craft for babies and toddlers
:: use watercolour paints
:: try shaving foam marbling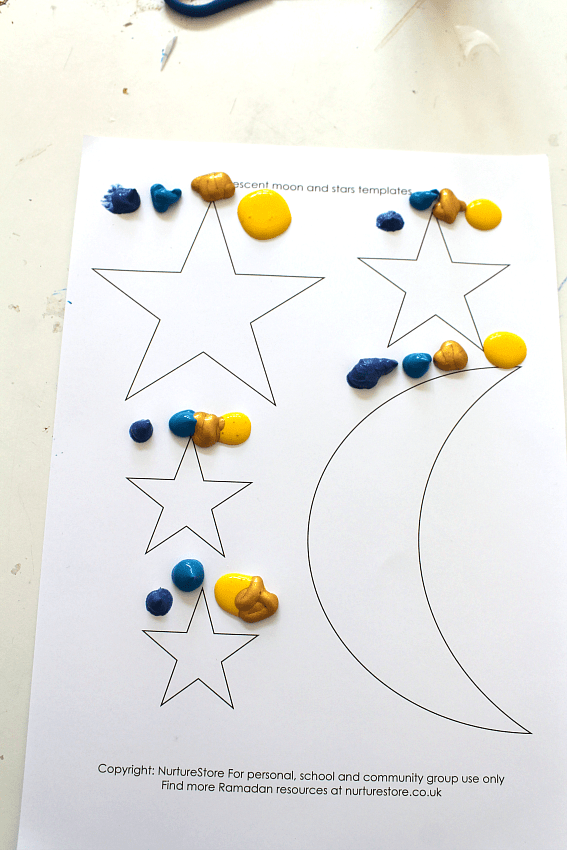 How to do scrape painting
If you would like to use a scrape painting technique to colour your moon and stars, place dots of paint by the side of each shape on the printable.
We used traditional Islamic colours of shades of blue, and yellow. A metallic gold paint gives a shimmery element.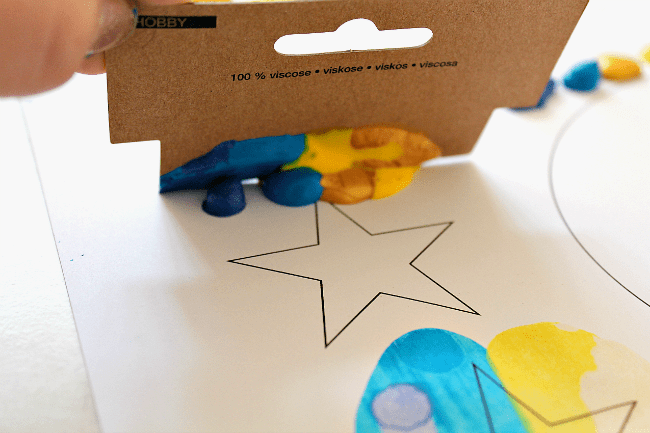 Use a thick piece of card to scrape the paint across the shape. Hold the card flat against the surface of the printable and pull it across, dragging the paint along.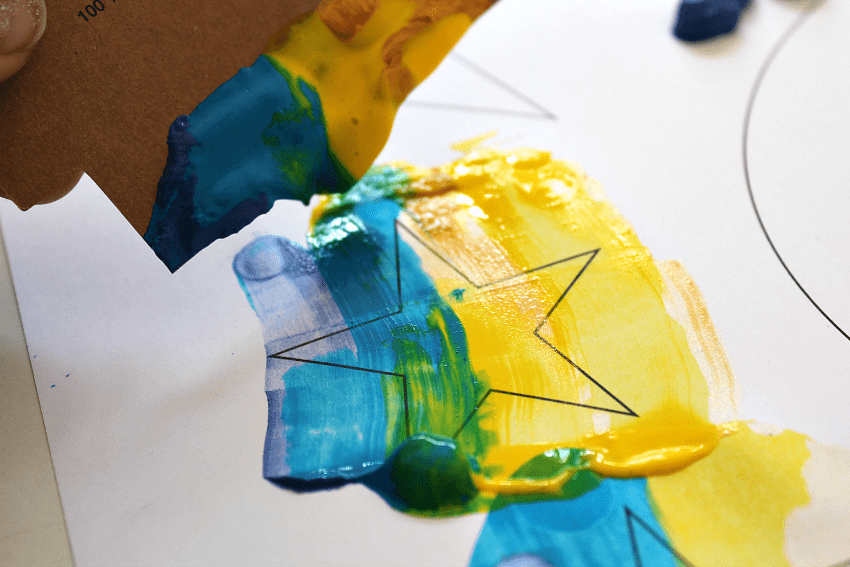 Wipe off any excess paint from the small piece of card, and repeat the scraping as much as needed to fill each shape.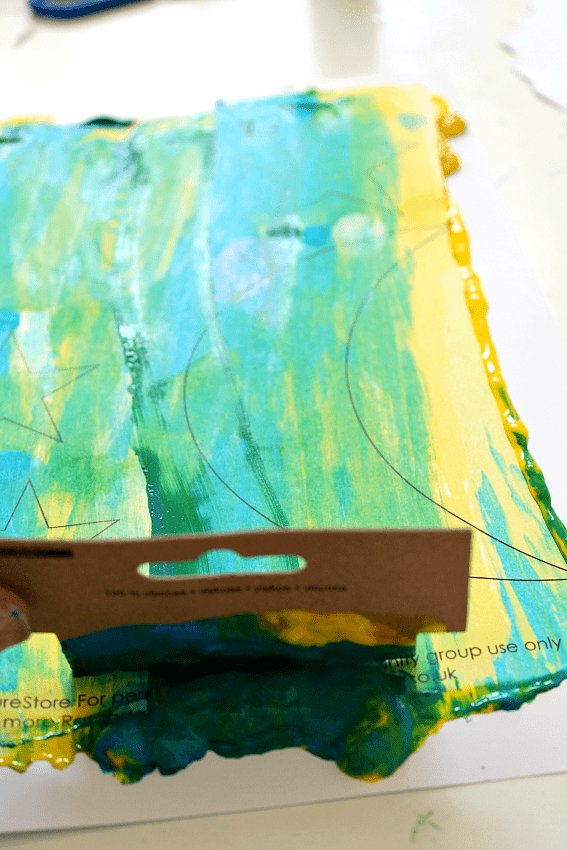 Once the paint has dried, cut out each star and the crescent moon.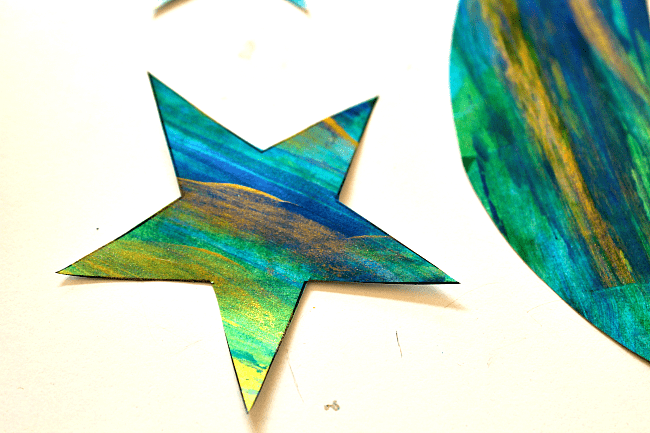 Fasten each star and the moon to a string or ribbon, using glue or sticky tape, and hang up your mobile.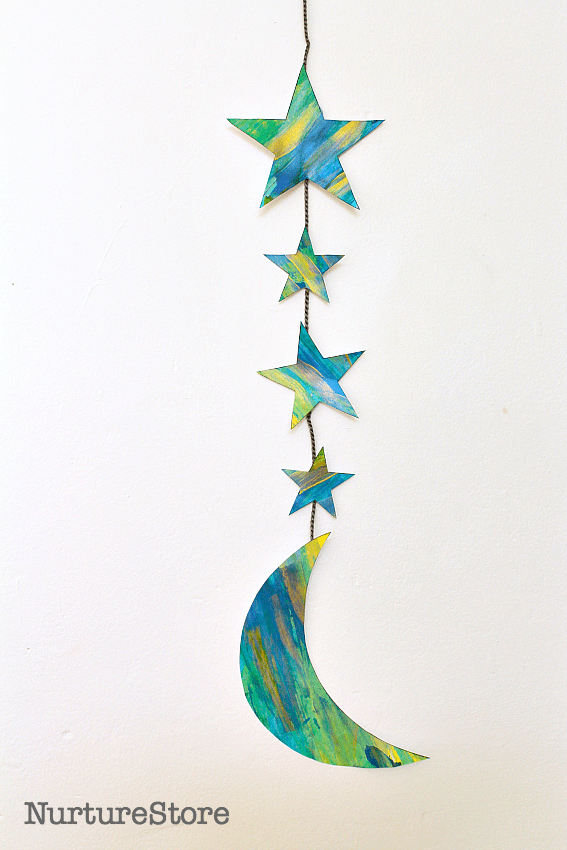 You might like to repeat the process with a second copy of the printable to make a front and a back for each star and moon, so that your design is visible on both sides, as the mobile turns.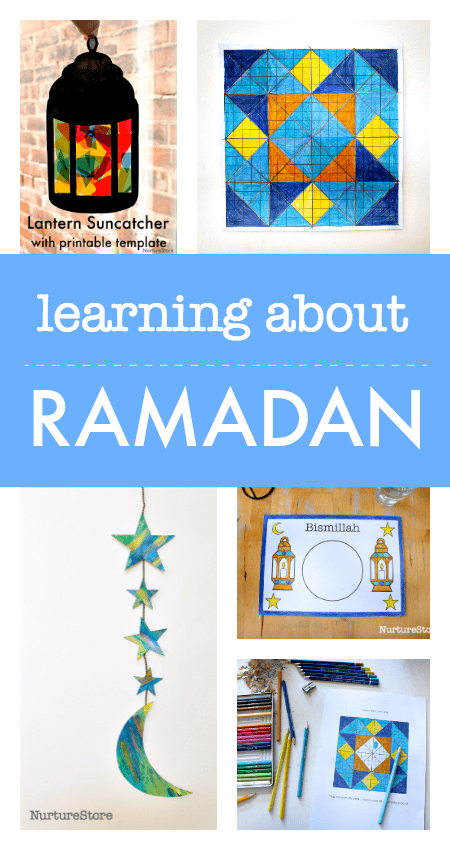 More resources for learning about Ramadan
You can find my full resource for learning about Ramadan here. It includes lesson plans, more arts and crafts, and more free printables.
How to get your free copy of the moon and stars printable
Get access to ALL my free printables by subscribing to my email list.
To download my free printables, you'll need to visit the NurtureStore Printables Library, which is available to all subscribers to my email list, and of course to Play Academy members.
Pop your email address in the form below and you'll get access to all my free printables, lesson plans, activity ideas, weekly newsletter, and a whole lot more!
After subscribing, be sure to check for the confirmation email. After you confirm your email subscription, we'll send you a welcome email which includes instructions for downloading our free printables.
If you're already subscribed to our email newsletter: check your email for the latest edition of the newsletter where you'll find a link to access our free printables library - the link is usually at the bottom of the email.
For help accessing our printables, click here.
---
* By subscribing, you consent to our use of your personal data as per our Privacy Policy, which includes agreeing to receiving interest-based email from us.
---