We make these twig weaving stars as part of our autumn craftings each year. I love the texture of the yarn and they seem to have a very calming effect on the children as they weave! Here's how to make them:

Twig weaving :: autumn craft
We make these twig weaving stars as decorations to hang on the wall – but I think smaller ones would be lovely as decorations to hang on the Christmas tree. And white ones could make lovely snowflakes. To make them, all you need is straight, dry twigs and some yarn. Autumn colours would be lovely, but this year my daughter picked purples – her current favourite colour.
They're a wonderful art activity for forest school.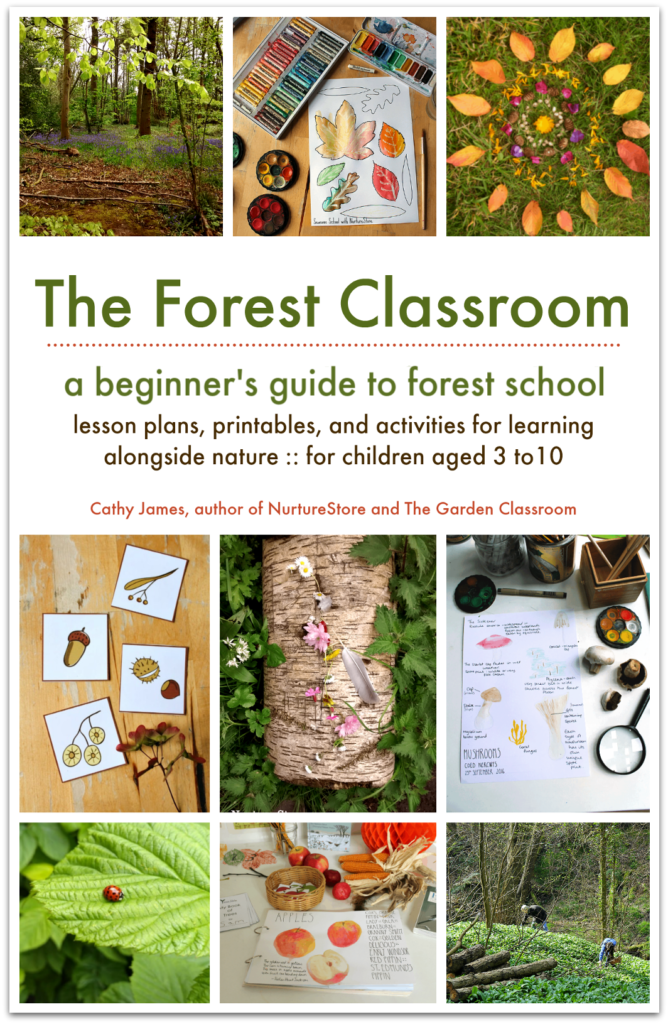 Ready-made forest school lesson plans
Have you got your copy of The Forest Classroom yet? It is the perfect beginner's guide to running a successful forest school. Download your forest school guide here.
A forest classroom is a place of adventure, discovery, and imagination. It can also be a wonderful place to learn about math and science, explore art and crafts, and develop language and social skills.
The Forest Classroom is a practical guide which will show you how to engage your children in fun and educational forest-school activities.
These ready-made forest school lesson plans are suitable for forest school leaders, teachers, childcarers and parents with children aged 4 to 10, to learn in a forest, school nature area, local park or your own backyard.
Get your copy of The Forest Classroom here and you'll be ready to head straight outdoors and enjoy teaching, using our ready-made lesson plans.
---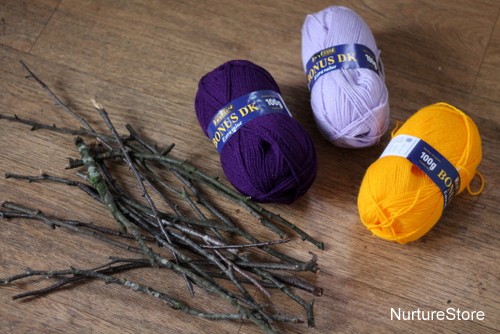 Take three twigs and form a star shape. Use a little of your yarn to bind them together in the centre. This is the trickiest bit – my younger daughter still needs a little help with this bit – as the sticks might move around a little. Once this stage is done and the twigs are secure in their star arrangement, the weaving is much easier.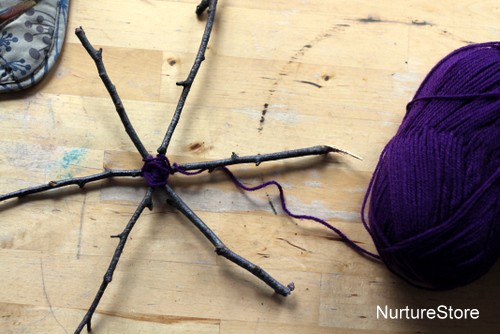 To weave the yarn around the star, simply loop it around each twig in turn. Go over the twig, wrap it round, back up over the top and along to the next twig. You can switch to another colour whenever you want, to create bands on your weaving: just cut the yarn you're using and knot on another colour. Carry on with the weaving and you can hide the knot on the reverse side of your twig star.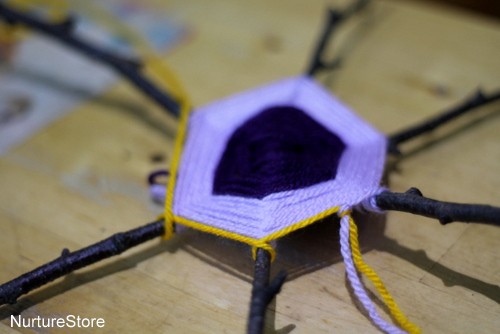 Here's what the weaving looks like on the other side. You can decide for yourself which side you prefer to have facing out. You can trim the loose ends of yarn if you would like to hang them on a tree or elsewhere, where they can rotate and display both sides. You might like to also thread on some beads as you weave, for extra decoration.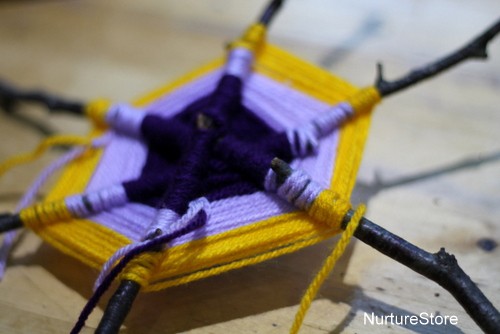 The weaving always seems to have a magical effect on my children. Total silence and concentration!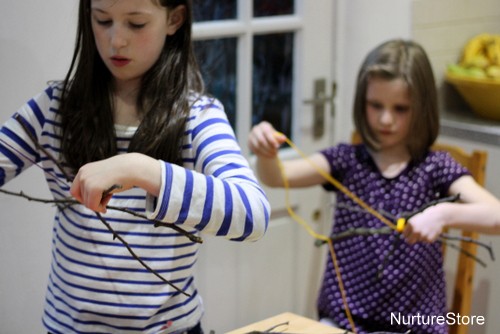 And here are our finished twig weaving stars for this year. Tie on a extra piece of yarn to one of the spokes and you can hang them up.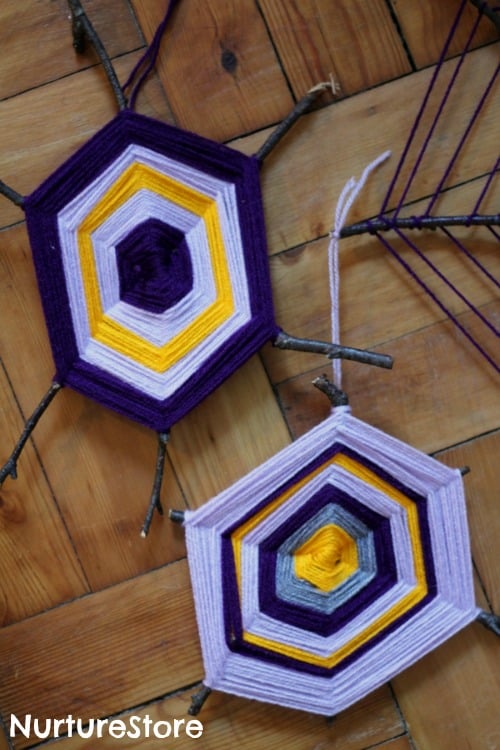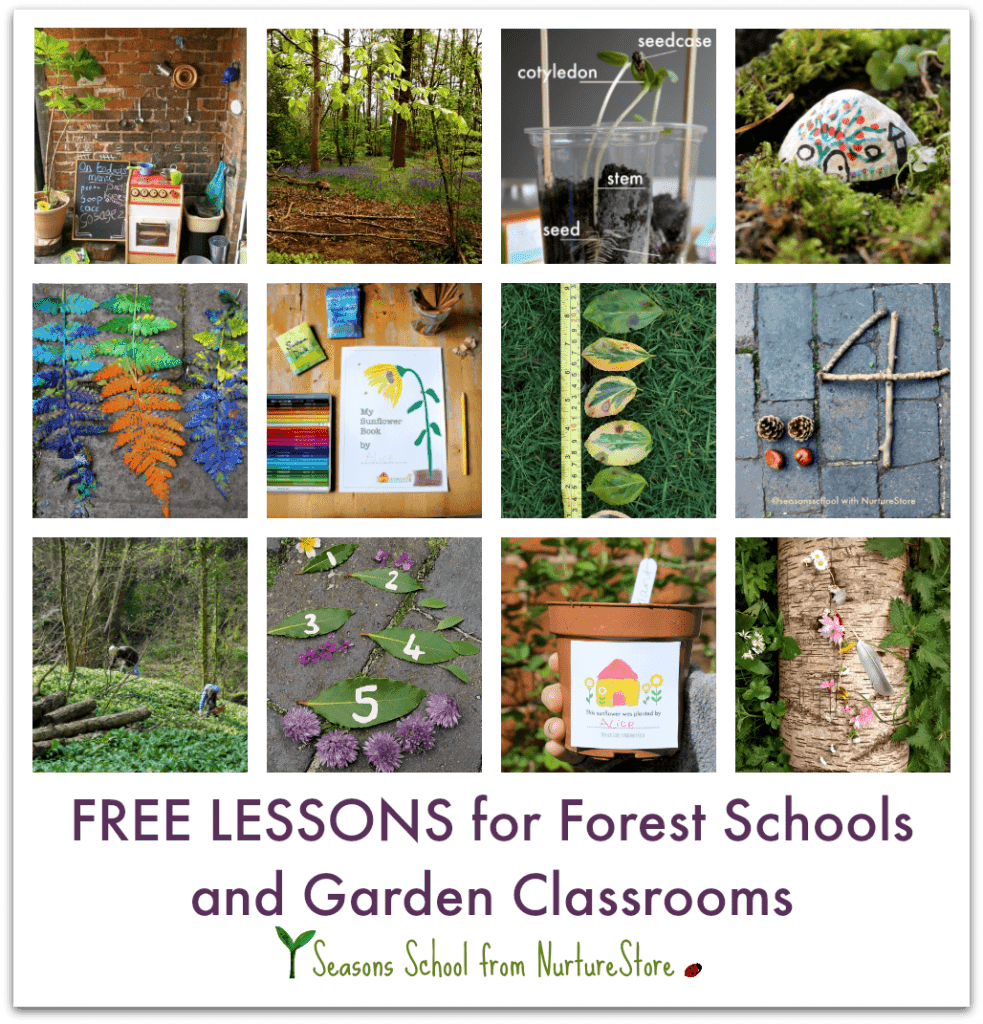 Free Forest School and Garden Classroom resources!
Join my weekly email service and I'll send you FREE printables, lesson plans, and activity ideas that you can use with your children in your forest school and garden classroom.
Seasons School is NurtureStore's year-round program of living and learning with nature. Our activities and resources focus on hands-on, nature-based learning that connects children with the natural environment.
If you're looking for nature study lessons, arts and craft projects, campfire recipes, foraging ideas, outdoor math and literacy activities, outdoor games, and ways to explore forests, gardens, and outdoor spaces - think of NurtureStore as your forest fairy godmother!
Whether you're in a forest school or outdoor classroom, running a school gardening club, bringing nature lessons into your class, home educating with nature, or wanting to connect with the great outdoors at the weekend, you will love the Seasons School ideas.
Pop your email address into the box below and I'll send you your free resources.
---
By subscribing, you consent to our use of your personal data as per our Privacy Policy, which includes agreeing to receiving interest-based email from us.
---