Set up this ice excavation activity and invite your children to explore ice sensory play and see what treasures they can find!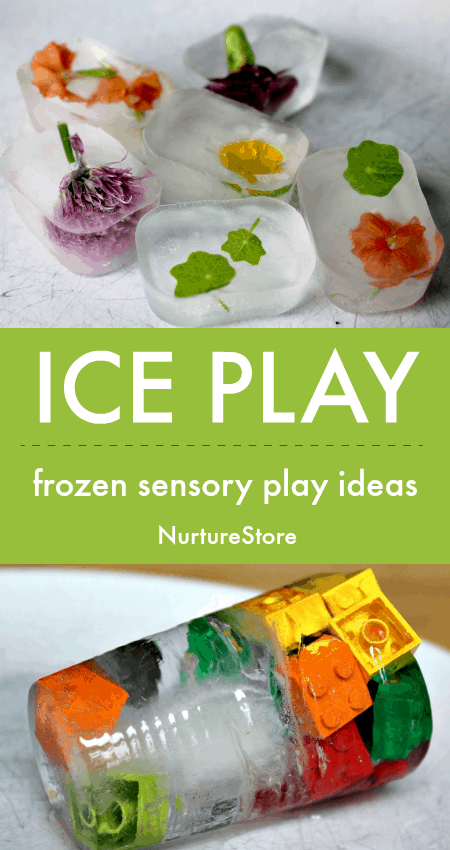 Frozen ice sensory play ideas :: ice excavation
The idea behind this invitation to play is to freeze interesting items inside blocks of ice for your children to release and explore.
It's such a simple set up and the variations are pretty much endless, limited only by your imagination and the size of your freezer!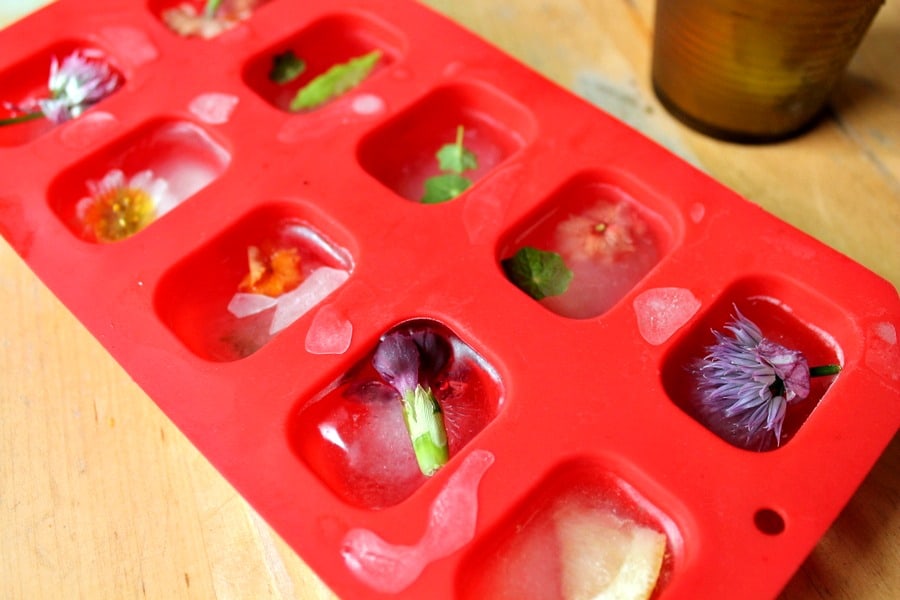 Materials needed
:: containers: ice cube trays, yoghurt pots, plastic bowls, balloons
:: water
:: food colouring (optional)
:: small items to freeze (see below)
Prepare your ice blocks
Prepare your ice blocks in advance, placing small items in the with the water so they freeze together.
In winter you can use nature to do the freeing, placing your water-filled containers outdoors in sub-zero temperatures.
In summer this ice excavation can keep kids cool on hot. sunny days.
You can theme your ice blocks if you like: around colours, dinosaurs, numbers, for example.
You can make blocks in a variety of sizes, from little ice cubes to a huge block full of items.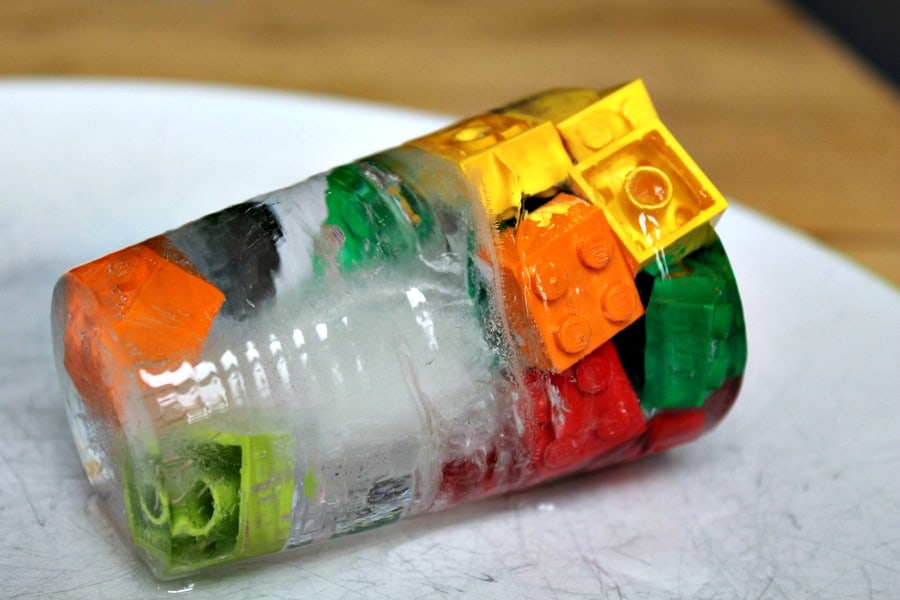 What can you freeze?
Items to freeze inside your ice blocks can include:
:: plastic or wooden letters and numbers
:: dinosaurs
:: building bricks and mini figures
:: leaves
:: flowers
:: plastic animals
:: fresh herbs
:: beads
:: buttons
:: pompoms
:: sequins
:: beads
:: buttons
:: pompoms
:: foam shapes
:: plastic or wooden bangles and jewelry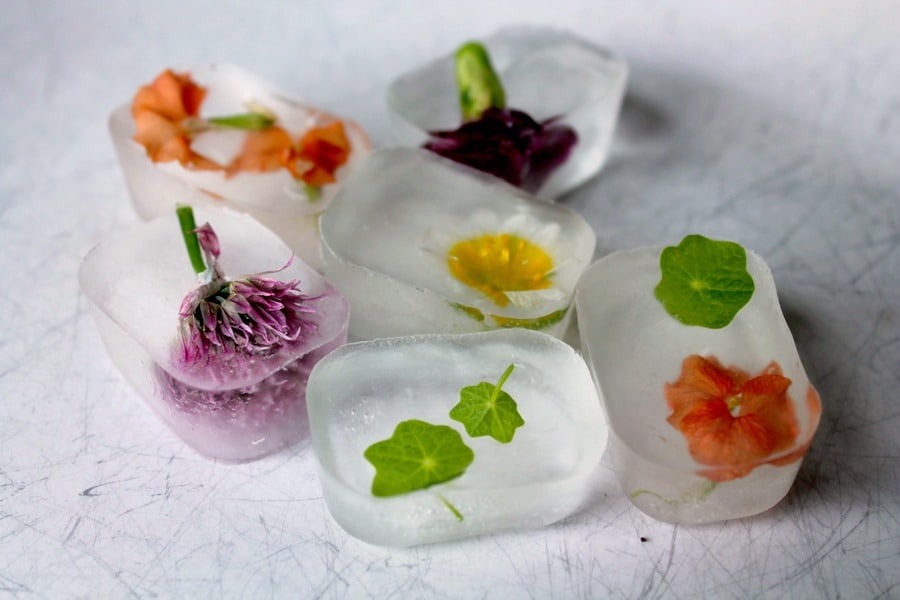 Ten ways to play!
You can add food colouring to your water.
You might make a rainbow of colour-themed blocks, with all red items in one block, orange in the next….
You can freeze a rainbow of items inside one big block and use it for colour sorting games.
You might make lavender ice blocks for relaxing water play.
You could use slices of citrus fruit for zingy ice blocks.
Make a princess set, colouring the water pink or purple and adding plastic jewelry and sequins.
Freeze the ice inside balloons to make balls of ice – or dinosaur eggs!
Use small blocks and ice cubes in your bath.
Use pipettes and squeezy bottle filled with hot water to help rescue the items inside the ice.
Provide items for chipping and hammering the ice: spades, spoons, scoops, hammer, mallet and safety goggles.
Try using salt to melt the ice and watch what happens.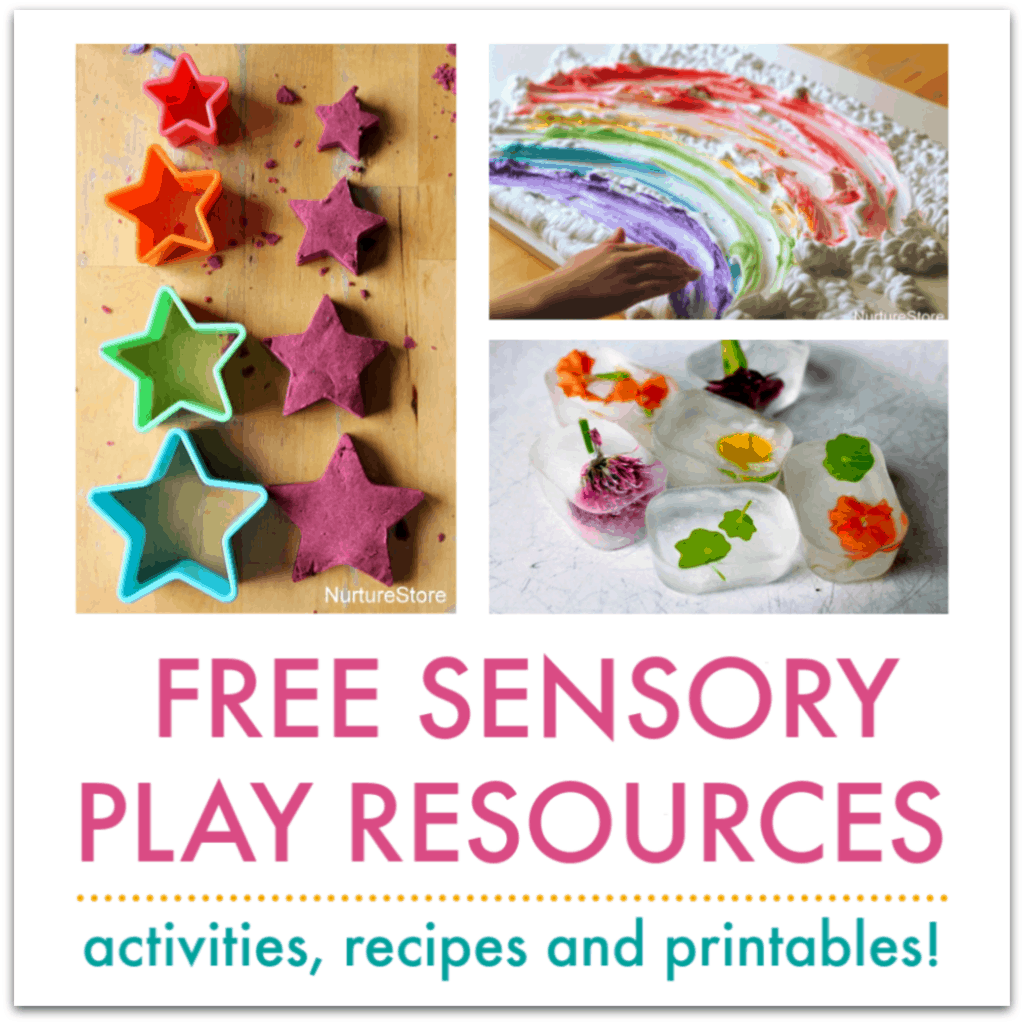 GET FREE SENSORY PLAY RESOURCES
Sign up for my weekly Super Sensory email and your teaching fairy godmother - that's me! - will send you free sensory play activities.
You'll get:
sensory play activity ideas to match all the festivals and themes of the year
fun recipes so you can make your own sensory play materials
free printables to add math, literacy and lots of creativity to your sensory play activities
To get all the free sensory resources, sign up in the box below.
---
By subscribing, you consent to our use of your personal data as per our Privacy Policy, which includes agreeing to receiving interest-based email from us.
---