This nature colour wheel activity is a great way to combine the colour theory of an art lesson with the careful investigation of a science lesson in your
forest school
outdoor classroom. It comes with a free printable colour wheel too.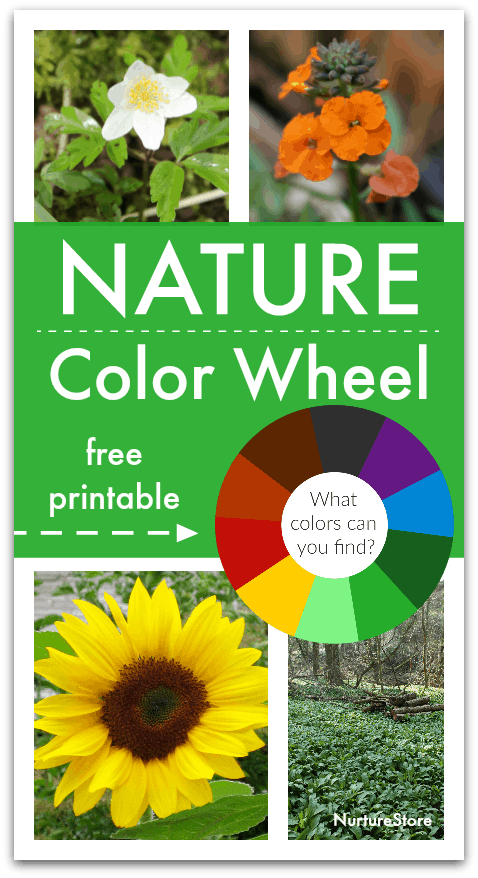 Nature colour wheel activity with printable colour wheel
Use my printable colour wheel card to explore colour in plants.
In this lesson your children will be able to:
:: investigate the plants and natural features of your forest school, garden classroom or natural materials at a discovery table
:: work individually and in collaboration
:: learn and talk about colours
:: develop vocabulary around parts of a plant and types of colours
:: look closely at plants to investigate their colours and distinguishing features
:: consider why plants are different colours
:: share and record their findings through discussion, journalling, and art
You will find links to additional forest school and colour theory art lessons at the end of this lesson guide.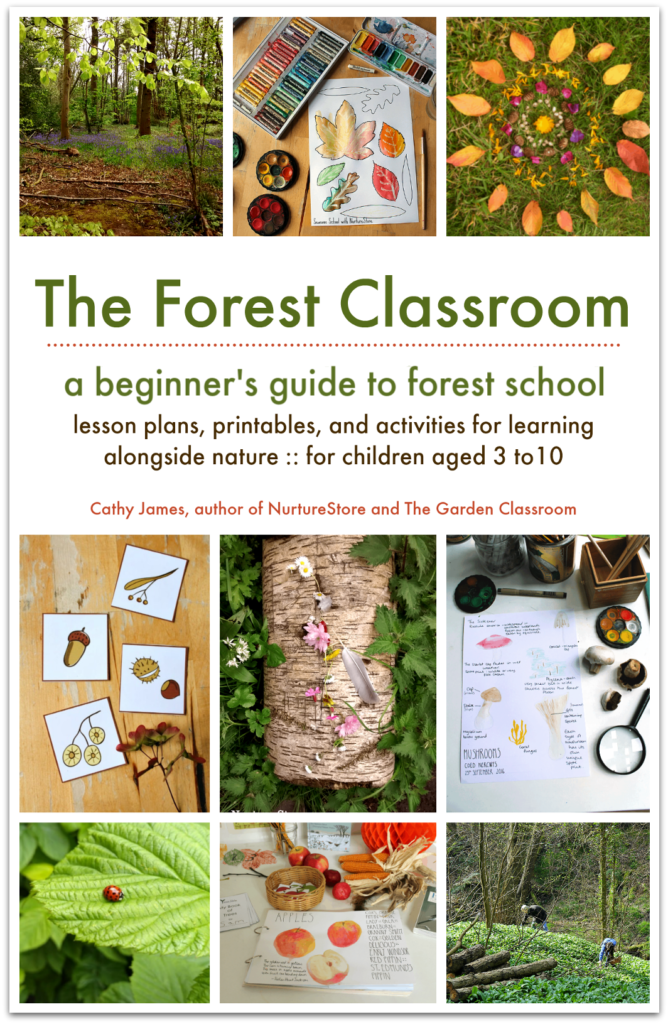 Ready-made forest school lesson plans
Have you got your copy of The Forest Classroom yet? It is the perfect beginner's guide to running a successful forest school. Download your forest school guide here.
A forest classroom is a place of adventure, discovery, and imagination. It can also be a wonderful place to learn about math and science, explore art and crafts, and develop language and social skills.
The Forest Classroom is a practical guide which will show you how to engage your children in fun and educational forest-school activities.
These ready-made forest school lesson plans are suitable for forest school leaders, teachers, childcarers and parents with children aged 4 to 10, to learn in a forest, school nature area, local park or your own backyard.
Get your copy of The Forest Classroom here and you'll be ready to head straight outdoors and enjoy teaching, using our ready-made lesson plans.
---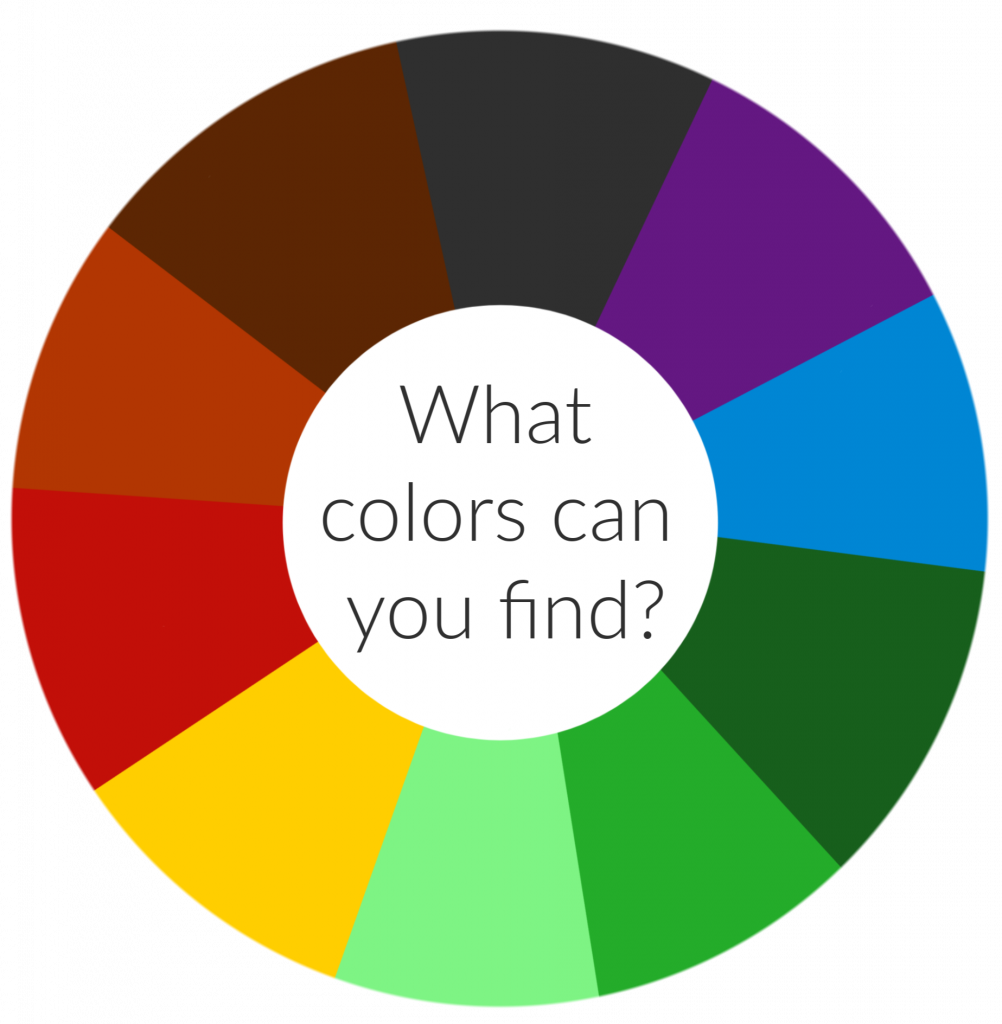 Free printable colour wheel card
I've made a printable colour wheel that you can use to explore the colours in your outdoor classroom. You can find a lesson on the traditional colour wheel arrangement here but I have adapted this colour wheel to give more emphasis to green and brown hues.
In the printable you will find both a UK and US version, so you can select the wheel that best suits you, whether you want color or colour.
You can print the colour wheel on card (see below), cut it out, and laminate it if you wish.
Print as many copies as you need for your children so they can all have a wheel to look at, or work in pairs.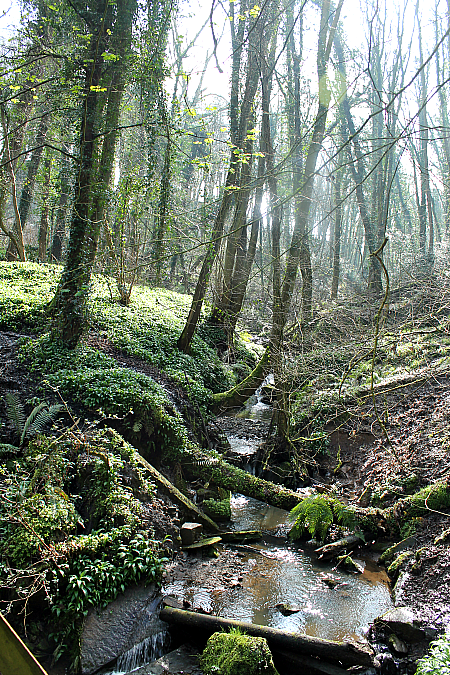 Using the colour wheel to explore colours in nature
You can begin by referencing the colour wheel printable if you wish, talking about the different hues and shades on the wheel, but I like to head straight out to see what colours we can find in the plants, trees and rocks surrounding us and use them as the starting point for our exploration.
Your children might like to treasure hunt in the area and gather some colourful materials to show.
You might like to proceed along slowly on a colour walk, mindfully looking around, up, and down to see which interesting hidden colours you can find.
You might like to challenge your children to find an item to match each colour on the printable colour wheel. You can collect materials, or sketch or take photographs of them.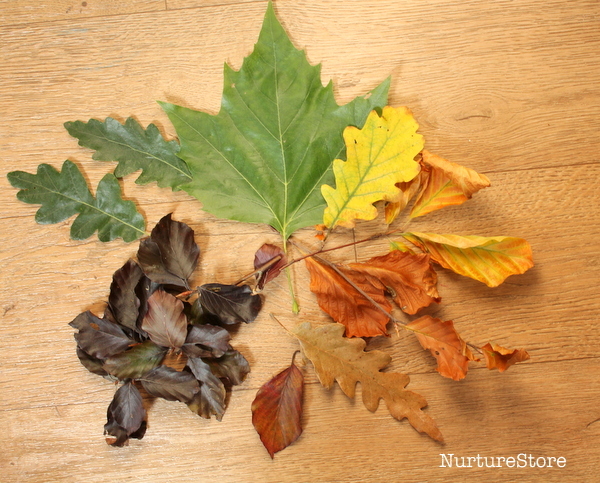 Can you make your own colour wheel, using the items you find? What hues and shades are in your outdoor classroom?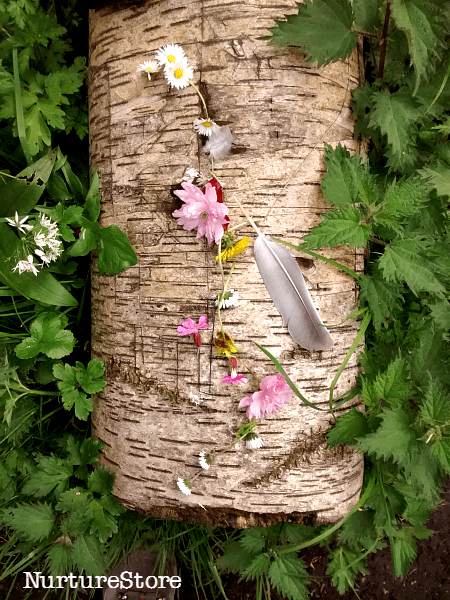 Colour conversations
If you are gathering treasures, bring them back to a central spot, perhaps on a fallen tree or a white sheet, so you can all look at the treasures and talk about what you've found.
This is a great activity to boost vocabulary and descriptive skills.
:: What have you found?
:: What are all the colours called?
:: How could you describe the different shades of green, brown, yellow..?
:: Make up your own colour names to describe the colour of each leave and twig.
:: Is it possible to find all colours in nature?
:: Are there any colours you think you couldn't find in your kind of environment?
:: Why are plants different colours? Why do leaves tend to be green and flowers tend to be brighter colours?
:: What's the dominant colour in your space?
:: Do you think the colours change at different times of day?
:: Do the colours in your outdoor classroom change with the seasons?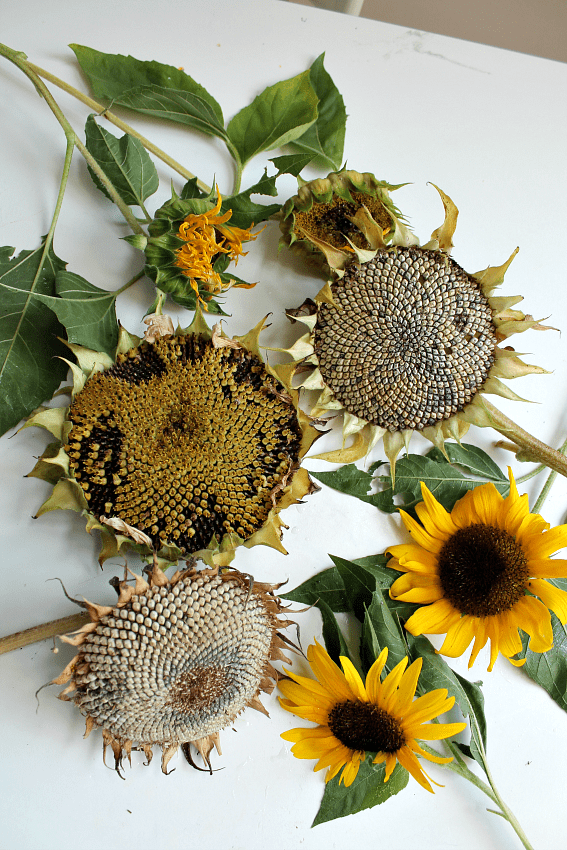 Bring nature indoors
We can find ways to connect with nature everywhere. If you're not able to spend time in a forest school or garden classroom, bring nature to where you are.
A nature discovery table is a wonderful way to give children the opportunity to see nature up close. With changing seasonal materials, such as leaves, flowers, fruits, and vegetables, children can have a year-round connection with the outdoor world.
Set out a selection of natural materials alongside:
:: the printed colour wheel
:: magnifying glasses
:: paper, pens, pencils, and paints
and invite your children to explore what colours they can find.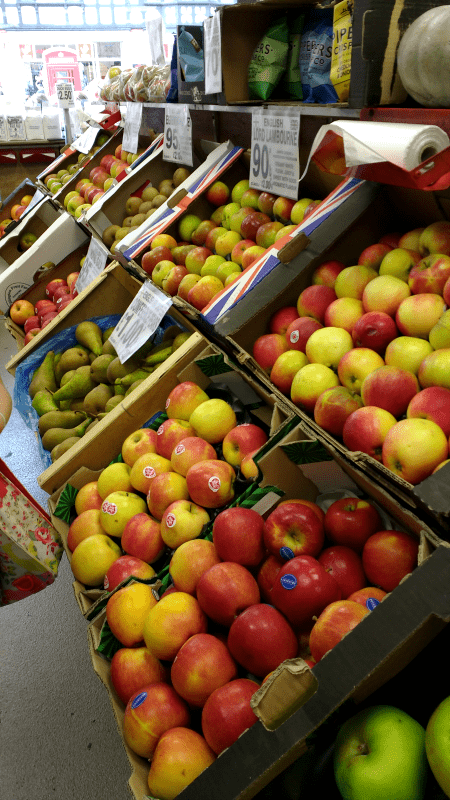 Finding nature in your city
If you're in a city, take the colour wheel with you and head to the market, grocery store, or park. What colours can you find there?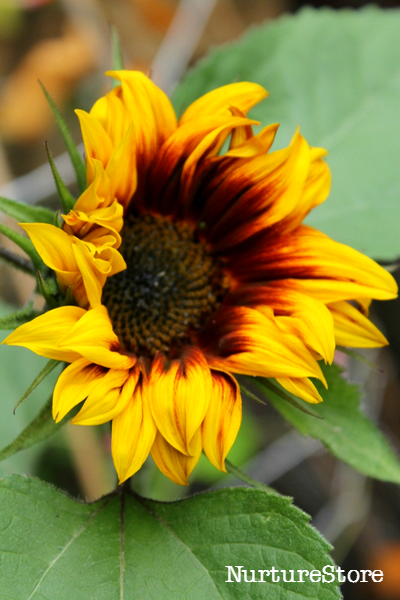 One plant focus
After you have gathered and studied a variety of materials from your outdoor environment, it's also very interesting study just one plant.
Pick one leaf, one flower stem, one feather or one apple: how many colours can you see in it?
Look closely with a magnifying glass or even under a microscope.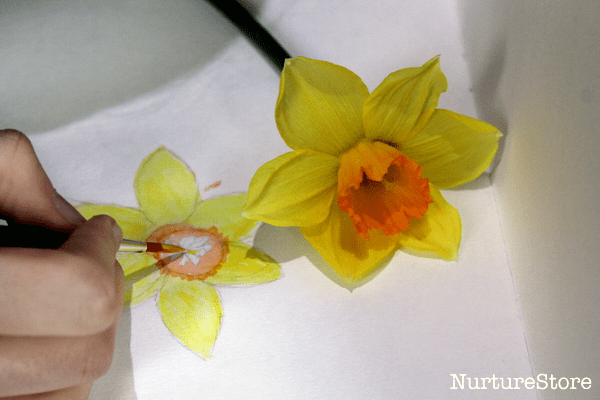 Painting colours in nature
Try and recreate the colours you have found in your chose item, using pencils or paints. You can see our daffodil art activity here.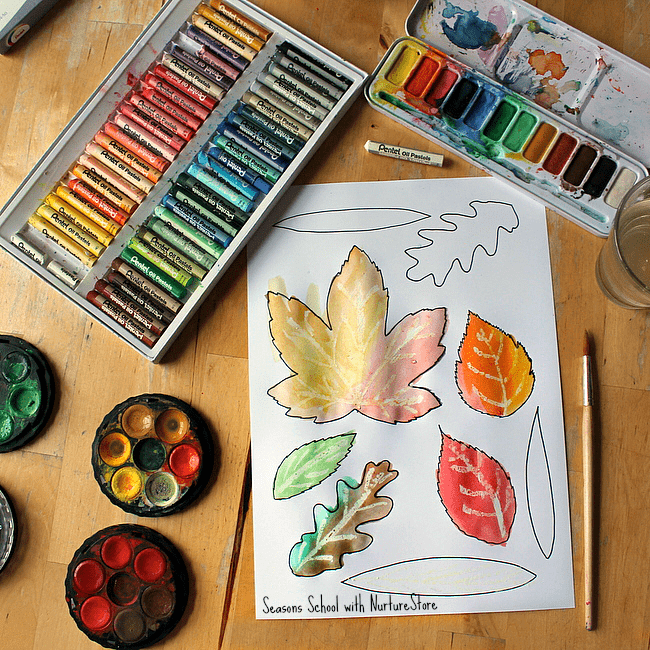 More forest school art and colour activities
Mandalas are a great way to explore art in your forest classroom
Explore these colour lessons
Try a nature colour hunt with younger children
If you enjoy combining art with your outdoor environment, try painting with rain
For more forest school lesson plans and printables, download The Forest Classroom, the beginner's guide to forest school here.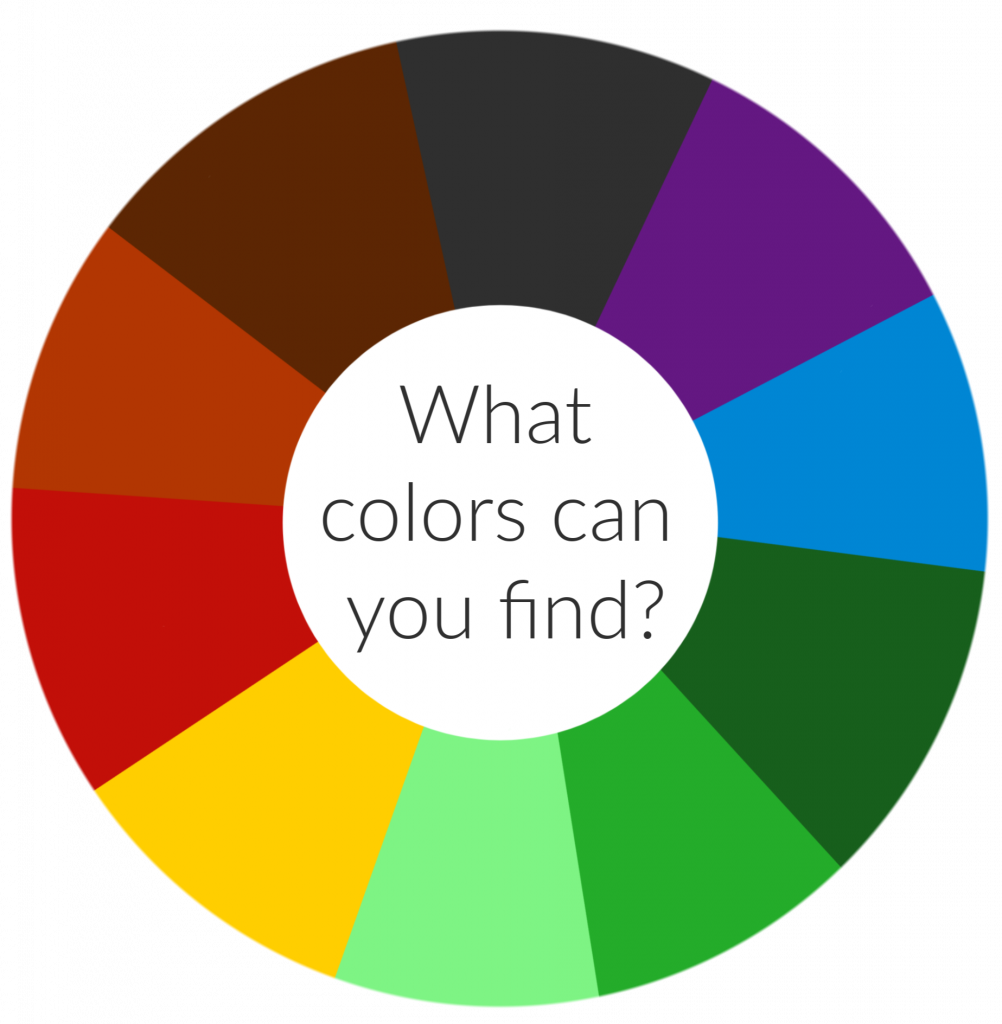 How to print the colour wheels
To print the colour wheels for this activity, simply sign-up for my Forest School and Garden Classroom Resources below which will give you full access to all my nature and art printables.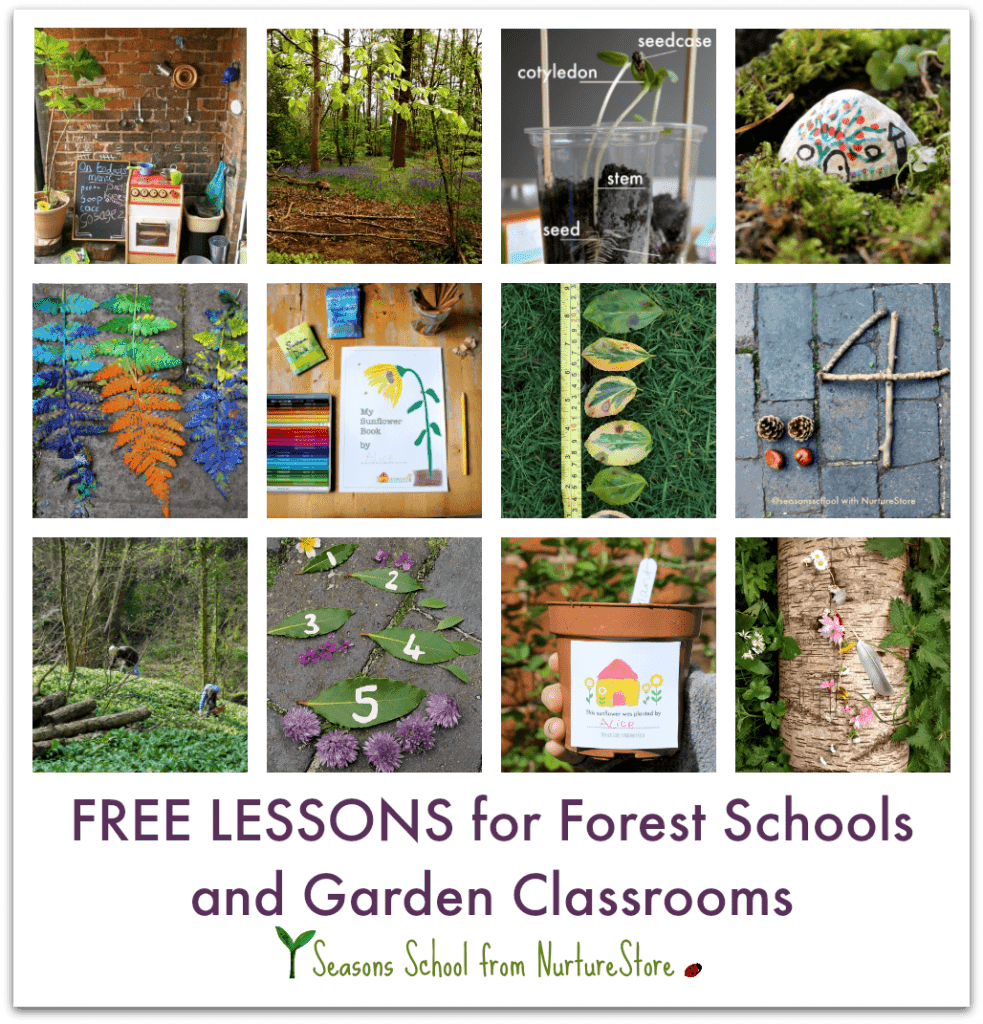 Free Forest School and Garden Classroom resources!
Join my weekly email service and I'll send you FREE printables, lesson plans, and activity ideas that you can use with your children in your forest school and garden classroom.
Seasons School is NurtureStore's year-round program of living and learning with nature. Our activities and resources focus on hands-on, nature-based learning that connects children with the natural environment.
If you're looking for nature study lessons, arts and craft projects, campfire recipes, foraging ideas, outdoor math and literacy activities, outdoor games, and ways to explore forests, gardens, and outdoor spaces - think of NurtureStore as your forest fairy godmother!
Whether you're in a forest school or outdoor classroom, running a school gardening club, bringing nature lessons into your class, home educating with nature, or wanting to connect with the great outdoors at the weekend, you will love the Seasons School ideas.
Pop your email address into the box below and I'll send you your free resources.
---
By subscribing, you consent to our use of your personal data as per our Privacy Policy, which includes agreeing to receiving interest-based email from us.
---