In this famous female artist lesson for children, learn about Ukrainian folk artist Maria Prymachenko and create your own folk art inspired by her.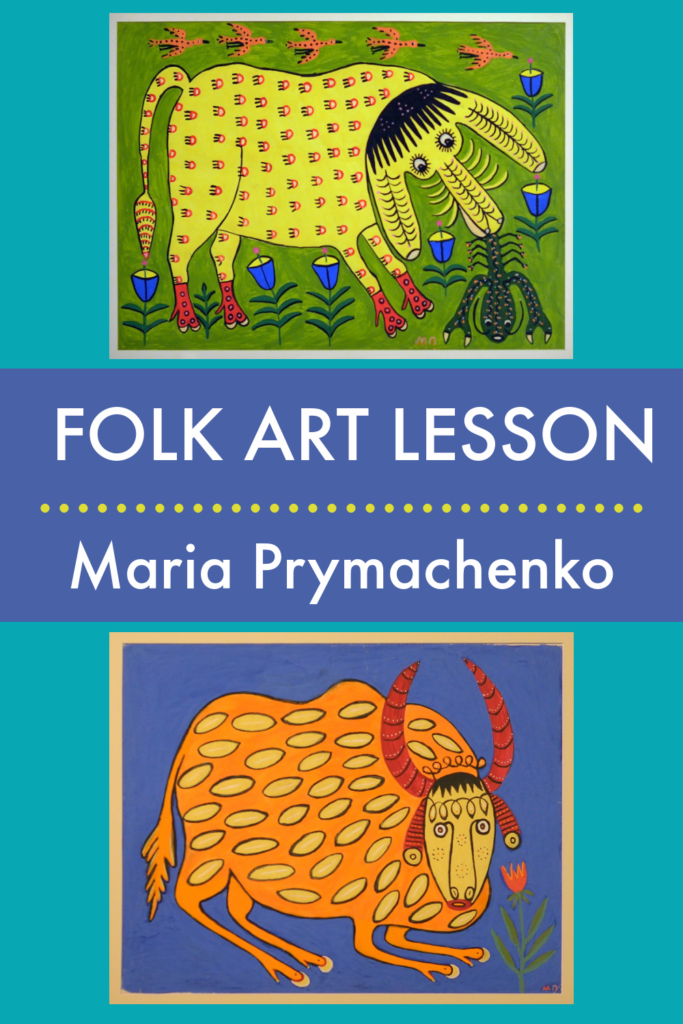 Folk art lesson for children
In the major art museums in the U.S. 87% of all the art in their collections is by male artists. Where are all the women artists? Why do you think we don't get to see as much art created by women?
Today, as part of our International Women's Day Unit, let's learn about the female artist Maria Prymachenko and try our own art project inspired by her work.
Famous artist in focus :: Maria Prymachenko
Maria Prymachenko was born in 1908 in the Ukrainian village of Bolotria. She died in 1997 at the age of 88.
Her mother and grandmother were skilled embroiderers and taught this craft to Maria.
When she was a child, Maria was taken ill with polio and this painful illness had a big impact on her.
Her family said Maria grew to be very thoughtful and considerate, having lots of compassion for all living things.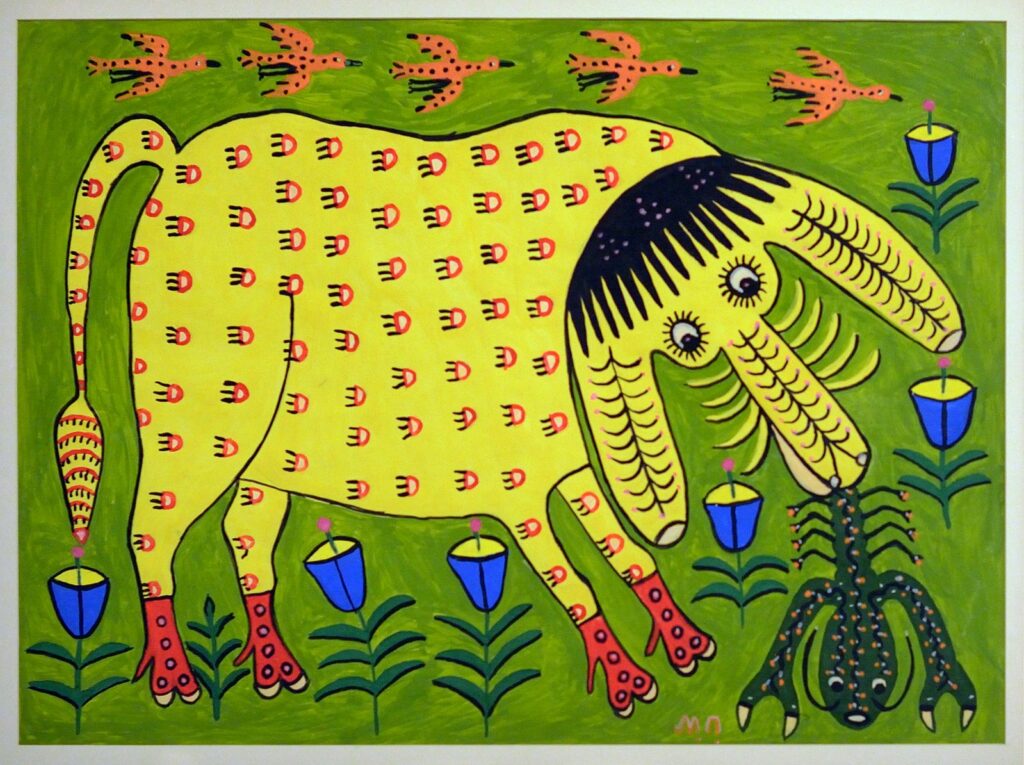 Maria said she began drawing she was young child. It was her job to take care of a gaggle of geese and while she was looking after them one day she picked up a stick and drew some flowers on the sandy beach they were crossing. After that, she said she never stopped drawing and painting.
She drew images inspired the nature around her home, the traditional folk legends and fairy-tales of the Ukraine and things she dreamt about.
Maria Prymachenko's art
Take a look at these paintings and answer these questions:
:: What do you see?
:: What colours has Prymachenko used?
:: What is in the background?
:: What details can you see?
Eared beast grasped a crustacean
Ukrainian Bull, Three Years Old, Went Walking Through the Woods and Garners Strength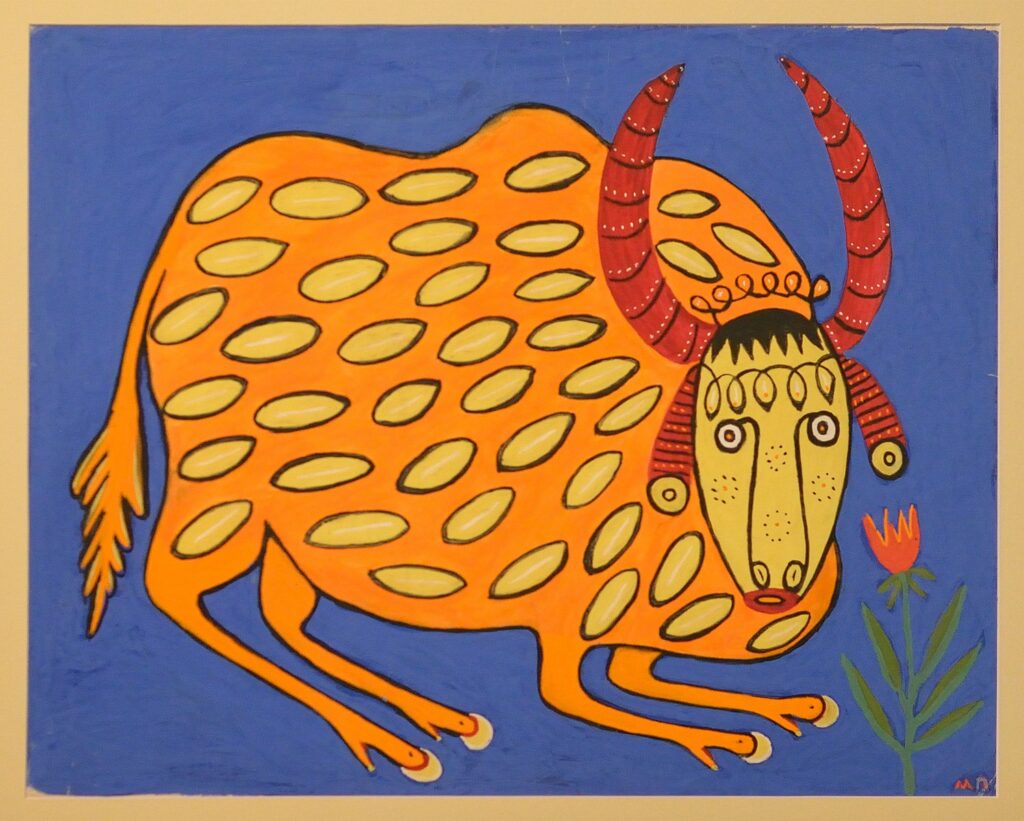 Animal art inspired by Maria Prymachenko
Let's create our own animal pictures, inspired by Maria Prymachenko.
Materials needed
:: two pieces of paper per child
:: paints
:: marker pens
:: pencil, scissors
:: glue
Create your artwork in two stages: first the background, then your animal.
Paint one piece of paper in a bright, bold colour. This will be your background.
Once the paint is dry, use marker pens to add leaves, flowers, and stems to your background.
On a second piece of paper, use a pencil to draw the outline of an animal. You can draw a real animal or one from your imagination or dreams.
Then use a bright and bold colour to paint your animal: a colour that is a contrast to your background.
Once the paint is dry, use marker pens to add details, patterns or flowers onto the body of your animal.
Cut out your animal using scissors and use glue to stick your animal on to your background.
Want more activities for International Women's Day? Download the complete International Women's Day Unit here.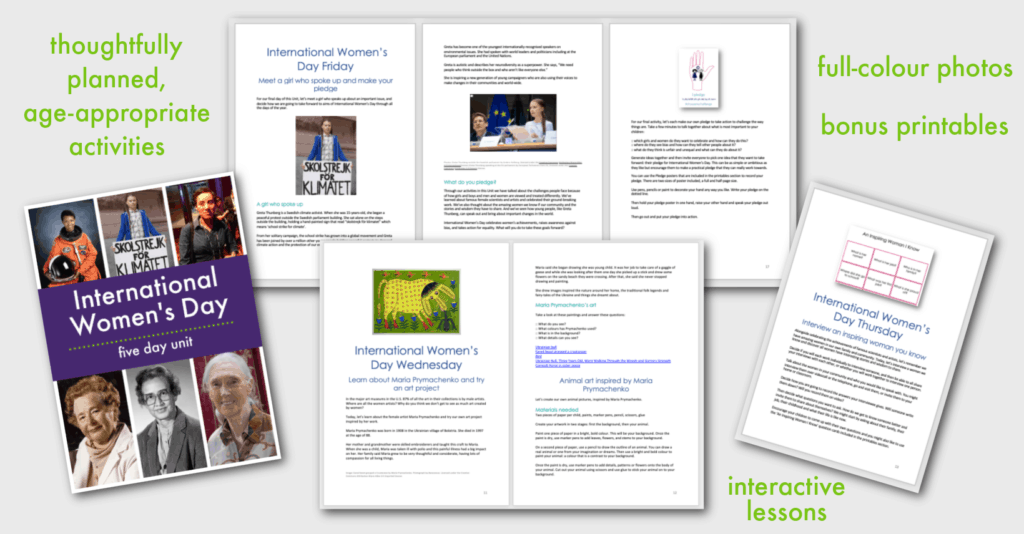 Get the International Women's Day Unit for your children
This kit gives you everything you need to teach an engaging programme of activities to celebrate International Women's Day with your children.
The unit is all planned and prepped for you, with bonus printables to make it easy for you deliver an International Women's Day curriculum which is engaging and relevant to children.