This Chinese New Year activity takes inspiration from the traditional colours of the festival for some sensory, process painting.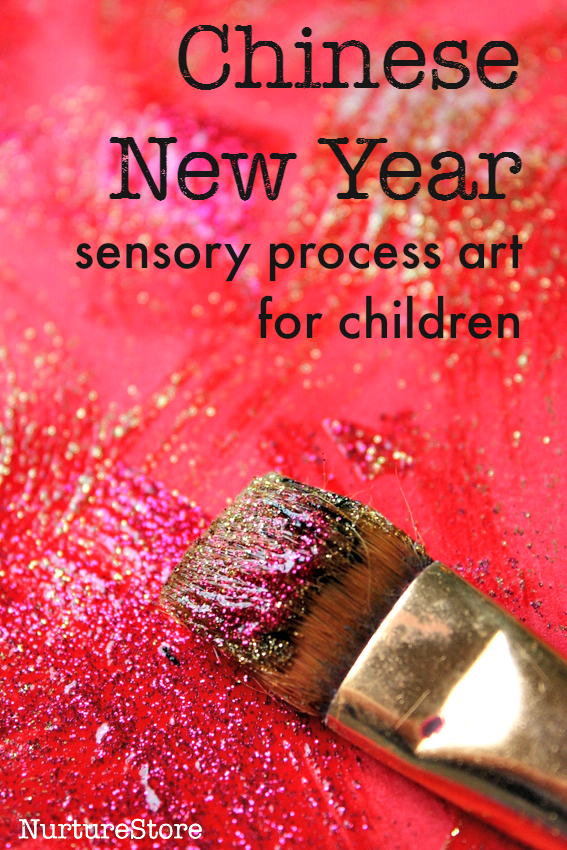 Chinese New Year sensory process art
For a simple, sensory art activity to go along with Chinese New Year celebrations, we took inspiration from the colours of the festival to create some glittery pictures.
Setting limits in the colours we use for an art activity can encourage us to explore different sensory aspects.
For our Chinese-inspired art we picked a colour palette of just gold and red – traditional colours of the lunar new year festival. We used red card, and glitter glue as our paint, giving us the opportunity to focus on the feel and sparkle of the paint.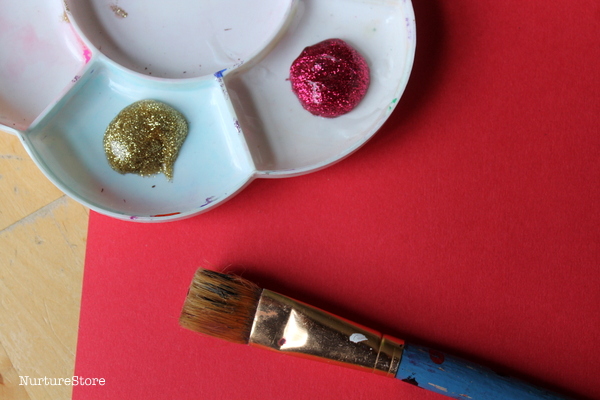 Introducing the activity and the festival
To introduce the activity you might take a look at photographs of Chinese New Year celebrations and talk about the colours and symbols that your children can see in them.
What themes and similarities can they spot?
You could also talk about other celebrations they are familiar with and see if they associate them with special colours. What colour is Valentines Day? What about Halloween? Or St. Patrick's Day? Do they know why a festival has particular colours?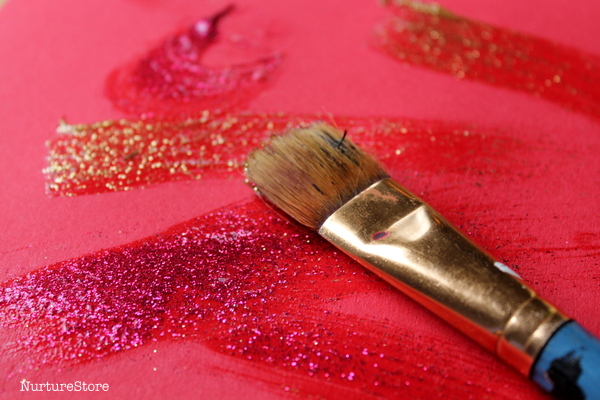 The importance of exploring the process
With young children, process art is very important. This is where the focus of an activity is on the doing, not the end product.
Here we are inviting our children to explore the materials on offer, to try them out, and create their own work of art. We're not overly concerned how the picture turns out, and everyone can decide elements of the art for themselves.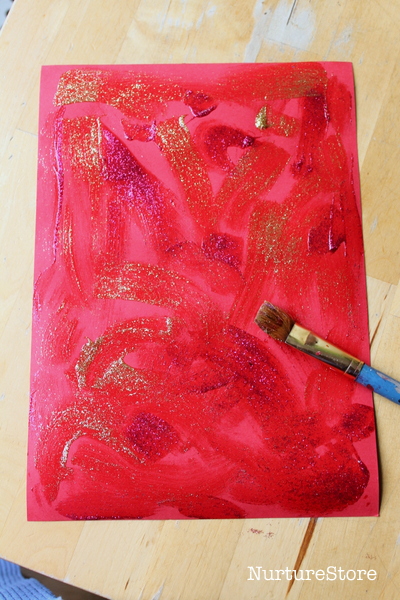 Your children might like to use paint brushes or fingers to paint.
They could paint lines, blobs, swirls or swooshes. They can explore how the glitter glue feels. Is it the same as ordinary paint? How is it different?
They might like to add in extra materials to their art work to create a collage. We found gold ribbon and ric rac in our craft supplies and used scissors to snip small pieces onto the wet glitter glue.
Notice too how the glitter glue changes appearance as it dries.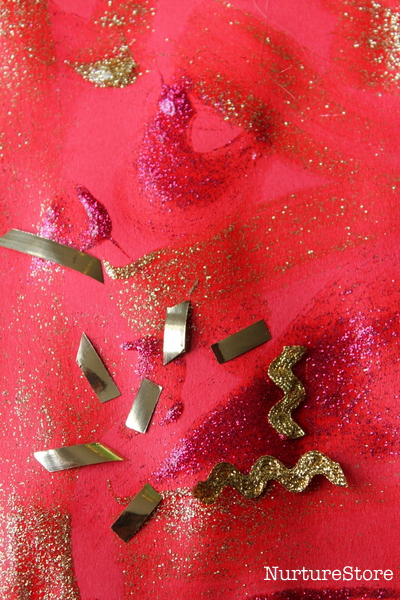 Download your ready-made Chinese New Year Unit
Download your copy of the Play Academy's ready-made Chinese New Year Unit and you'll have everything you nee to teach an engaging programme of Chinese New Year activities.
In this Chinese New Year Unit your children can:
:: learn about Chinese New Year: what it is and how it is celebrated
:: learn about the animals of the Chinese zodiac
:: learn about Chinese dragons and make your own dragon puppet
:: make Chinese-style paper lanterns
:: play lucky 8s, count to ten in Chinese and play red envelope math games
:: explore sensory painting
:: try a mandarin sensory taste test
Bonus Chinese New Year thematic unit printables
The Play Academy's thematic units come with practical printables that make the lessons more engaging for your children and easier for you to teach.
No need to go searching for printables to accompany your lessons, they're all included when you download your chosen unit.
In this Chinese New Year Unit you'll receive these bonus printables:
:: a Red Envelope mat for math activities
:: three-part colour-in Chinese Zodiac Animals matching cards
How to download thisChinese New Year thematic unit
You can download this unit along with over 50 more from NurtureStore's Play Academy.
If you are already of the Play Academy, you can download this unit straight away from our Library here.
If you are not yet a member, find out more and choose your first unit here. Your teaching is about to get a whole lot easier!