Combining messy play, colours and hands-on fun, this rainbow art shaving foam sensory play was a huge hit with my children. Here's how to set it up, along with more ideas for rainbow play activities.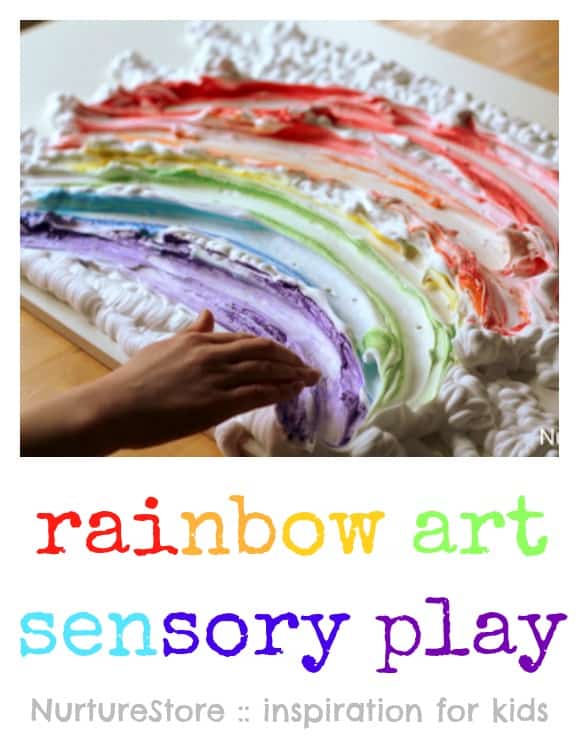 Rainbow art shaving foam sensory play
Shaving foam makes an interesting alternative to paper as a canvas to create art on.  I use a old piece of shelving wood as a base when we use shaving foam, which is then really easy to pick up, take to the sink and hose down when we're finished – super quick and easy clean up!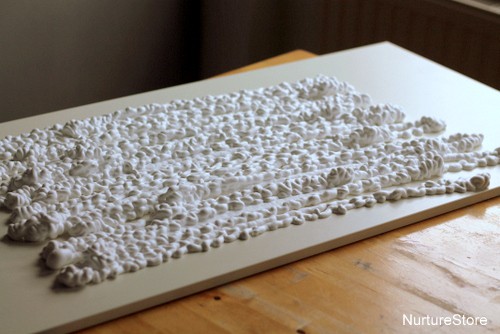 My children love all the steps involved in shaving foam sensory play and squirting out the foam at the beginning is one of their favourties.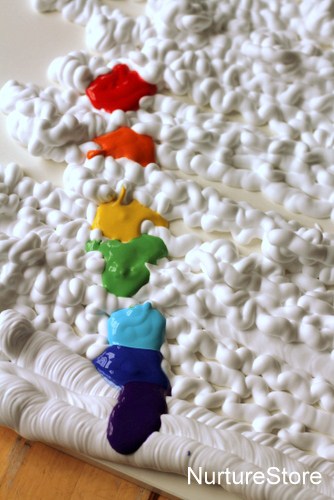 Then we added some blobs of paint on top. We're doing lots of rainbow-themes activities at the moment so the children picked the colours and set out the rainbow sequence. (Of course, you can use any colours you like for your sensory play)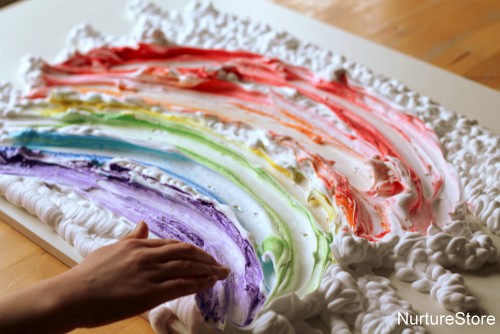 Then it was time to get hands-on. We use a washable paint so the children can get stuck in and really enjoy the sensory feel of the shaving foam and paint. Swooshing their hands to make a rainbow shape on a large scale like this really lets them enjoy the big movement of their hands and arms. This is a good gross-motor exercise which encourages wide movements, and you can try moving from your wrists, elbows or shoulders.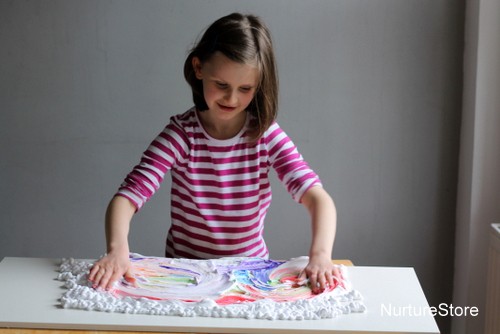 The rainbows we made looked so pretty. You might like to lightly press a piece of paper down on the top of the shaving foam to capture a print of your rainbow art. But we had no time for that – the children couldn't resist swooshing and swirling the paint around.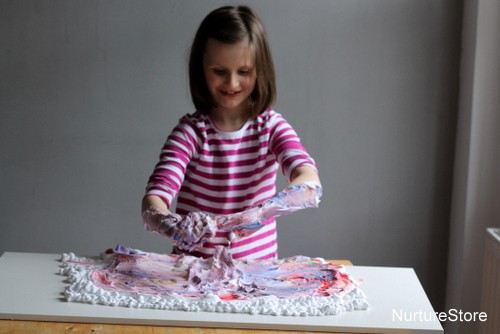 We've been doing lots of talking and learning about rainbows recently, so this activity was a great link to our topic, and a fun way to introduce different sensory materials to explore. But there's no need to control the process and feel you must only keep your colours in a neat rainbow pattern. Go for it and enjoy the full process of exploring the paint and shaving foam and make lots of messy art!

Super Sensory Invitations to Play

Ready for a whole year of exploring through the senses? Super Sensory Invitations to Play is a delightful resource that encourages your children to explore the five senses through the year, using a wide variety of sensory materials. It includes 52 invitations to play, linked to the festivals and seasons of the year, and including water, ice, dough, rice, paints, sand, sensory tubs, and more.
They are easy, simple, and fun ideas that you can use right now to give a multi-sensory boost to your play and learning. It comes with a printable recipe book featuring all our favourite recipes for play. Come and see more here.