In this space theme STEAM lesson children can learn about space travel and design their own junk model rocket using recycled materials.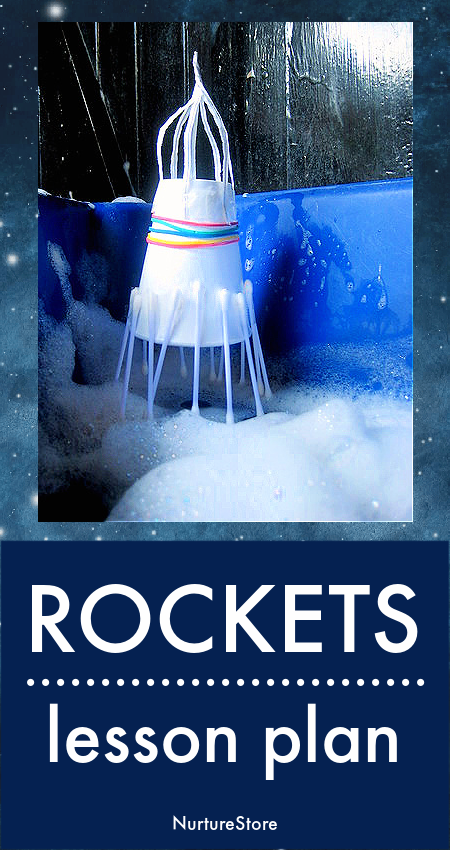 Rockets lesson plan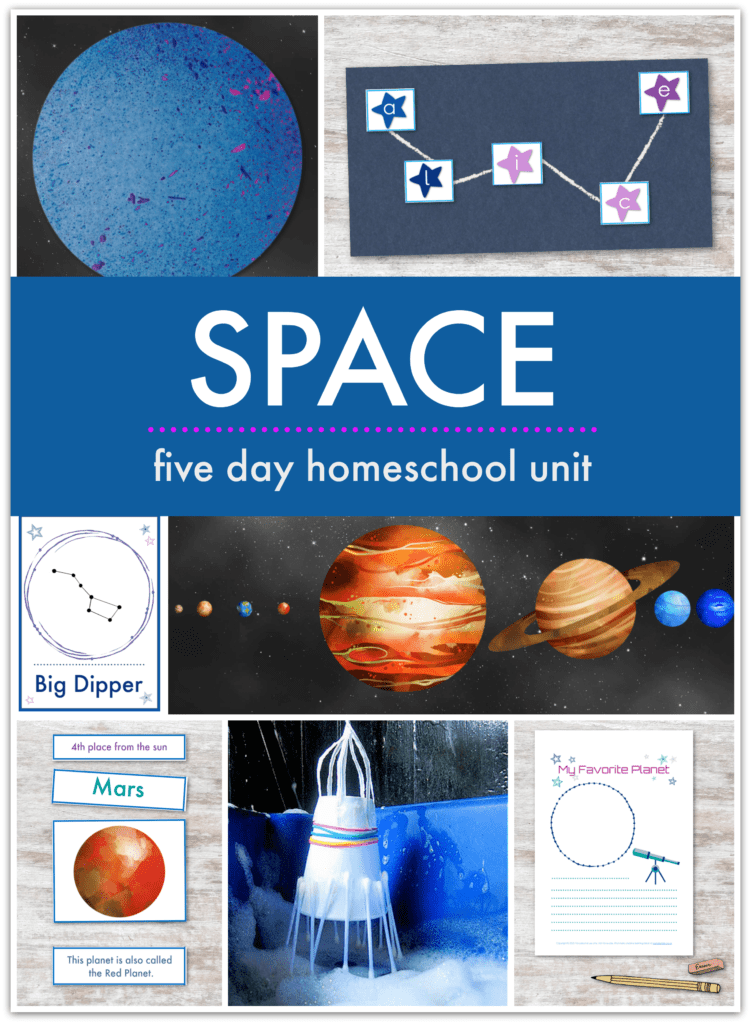 Download our ready-made Space Unit and printables
Our Play Academy Space Unit gives you a ready-made programme of lessons to learn about planets, stars, our solar system and our galaxy with your children.
In these space-themed lessons plans your children can :
:: learn about the planets in our solar system
:: make planet paintings
:: learn about stars and constellations and go star gazing
:: learn about space exploration and make junk model rockets
:: create an outer space small world to stretch their imagination and consolidate their learning
In this Space Unit you'll receive these bonus printables:
:: four-part Planet Fact Cards for knowledge learning, re-capping and game playing
:: a My Favourite/Favorite Planet Journal Page with fun prompts to write and draw your favourite
:: Star Alphabet Cards for literacy activities
:: Constellation Cards for knowledge learning, star gazing and game playing
:: Rocket Number Cards for math activities
See more and download your copy of our ready-made Space thematic unit here.
Junk model rocket lesson plan
Would you like to travel into space? Where would you go? How would you get there?
Space exploration
People have been wondering about space for thousands of years. One of the earliest known astronomers was an Egyptian called Claudius Ptolemy who created models to calculate the movement of the planets.
Muslim scholars in Babylon (modern day Iraq and Syria) developed ideas about stars being grouped into constellations.
Galileo Galilei was an Italian astronomer who used telescopes to see Saturn's rings and the moons around Jupiter.
In modern times countries including the United State of America and Russia have developed rockets that can take people into space.
On July 20th 1969 Neil Armstrong and Buzz Aldrin were the first people to walk on the moon.
Today the International Space Station, the biggest object ever flown in space, is in orbit around the Earth. Teams of astronauts from 15 different countries, both men and women, take turns to live on the station and carry out experiments to learn about movement, biology, weather, and space.
The International Space Station orbits the Earth 16 times every day. You can track it here and if you time it right you might even see it pass you overhead.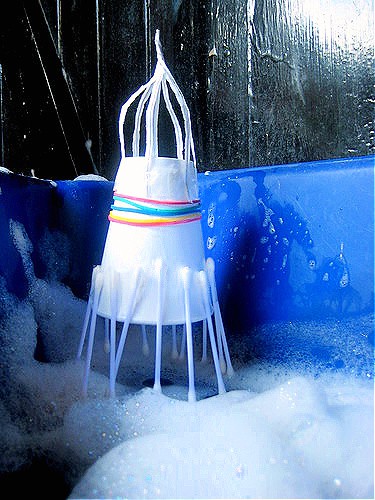 Junk model rockets
Let's make our own imaginary rockets today.
Materials needed
:: junk model materials such as: recyclables like plastic bottles, milk cartons, and drinks cups, cardboard packaging
:: elastic bands
:: paper
:: pencils and pens
:: sticky tape and/or glue
:: scissors
Design a spacecraft
Imagine you are building a rocket to travel into space. What would your spacecraft look like? What design elements would it need?
Draw out a few designs on paper. You can use these photographs of NASA spacecraft for inspiration.
Pick a design to develop and find junk model materials you can use to start building your craft.
What shape do you want your spacecraft to be?
Does it need wings or windows?
How will it land?
Where will it get energy from so it can move?
How many people will be able to fit inside? Will they live inside your spacecraft or only use it for transport?
Do you need to carry any cargo?
Use tape and glue to build your spacecraft and practice flying it around.
Download your ready-made Space Unit
Don't forget to download your copy of the Play Academy's ready-made Space Unit. With this grab-and-go Space Unit, you'll be ready to lead a week of learning about space, planets, stars and space travel.