What shapes can you find in your classroom? Let's go on a shape hunt with these free printable shape magnifying glasses!
Fun shape lesson with free printable shape magnifying glasses
Watch this video to see our Shape Hunt activity:
Shapes are everywhere! Send your children on a shape hunt with these fun shape glasses.
In this lesson children can:
:: learn about shapes
:: learn the names of different shapes: square, rectangle, triangle, circle, oval and pentagon
:: compare shapes with one another, considering form, corners, and number of sides
:: compare like-shapes, considering size and orientation
:: make and play with shape-hunting glasses
:: identify shapes around the classroom or home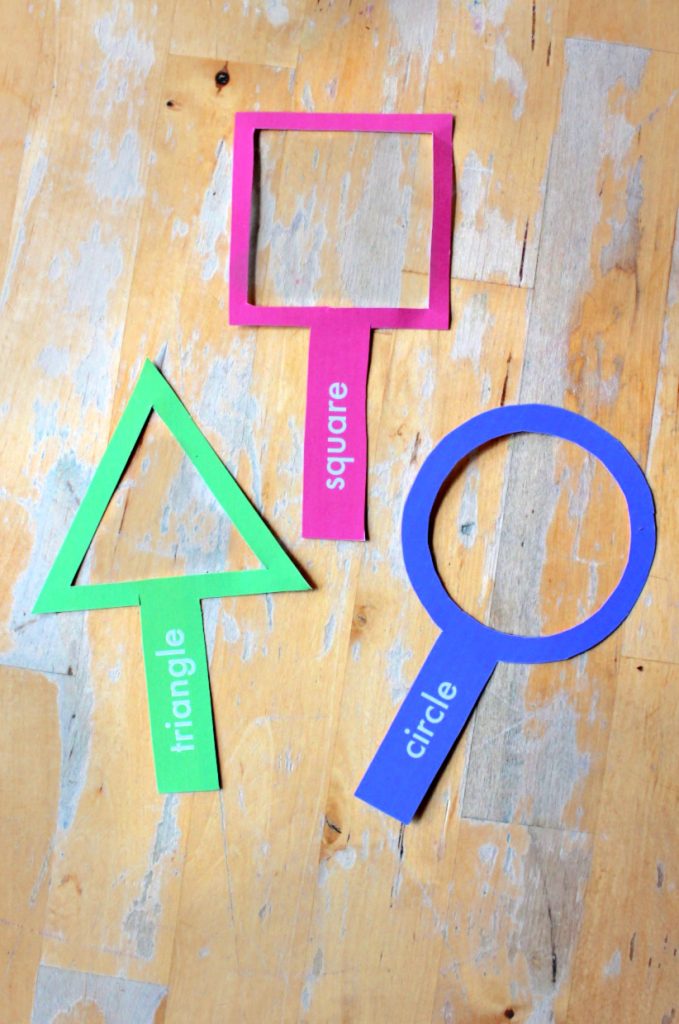 Materials needed
:: shape magnifying glasses printable – see below
:: scissors
:: contact paper – optional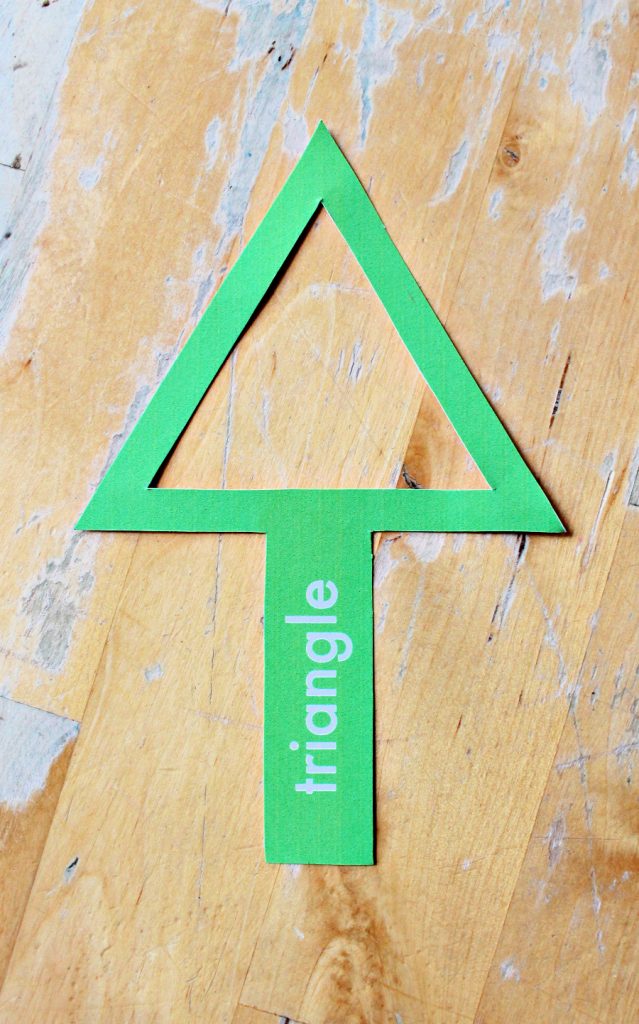 Print the shape magnifying glasses from NurtureStore's Free Printables Library on card. See below for details.
The printable includes a shape magnifying glass for a:
:: rectangle
:: square
:: circle
:: triangle
:: oval
:: and pentagon
Cut out the centre of each shape to create a 'glass' to look through. If you wish you can laminate the shapes which will help them last longer and also creates a good glass effect for the magnifying lens. Use biodegradable laminating material which can be composted.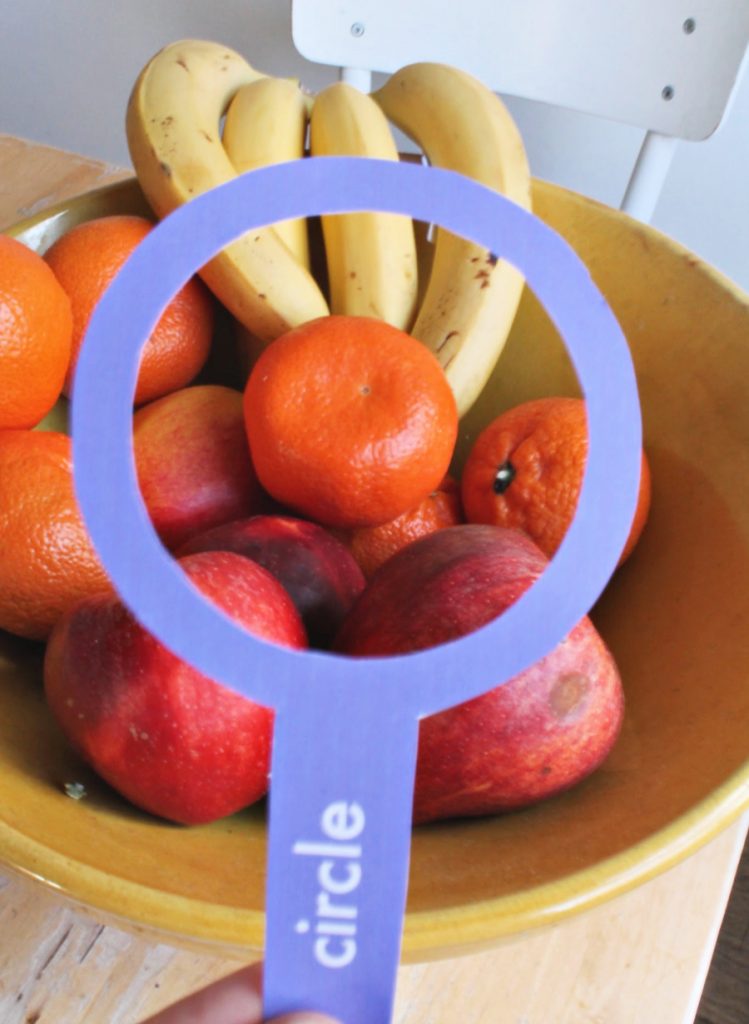 Take a look at the shape magnifying glasses with your children and talk about the different shapes.
Read the name on the handle of each glass.
Count how many sides your shape has.
Count how many corners.
Which shapes are similar? Which are different?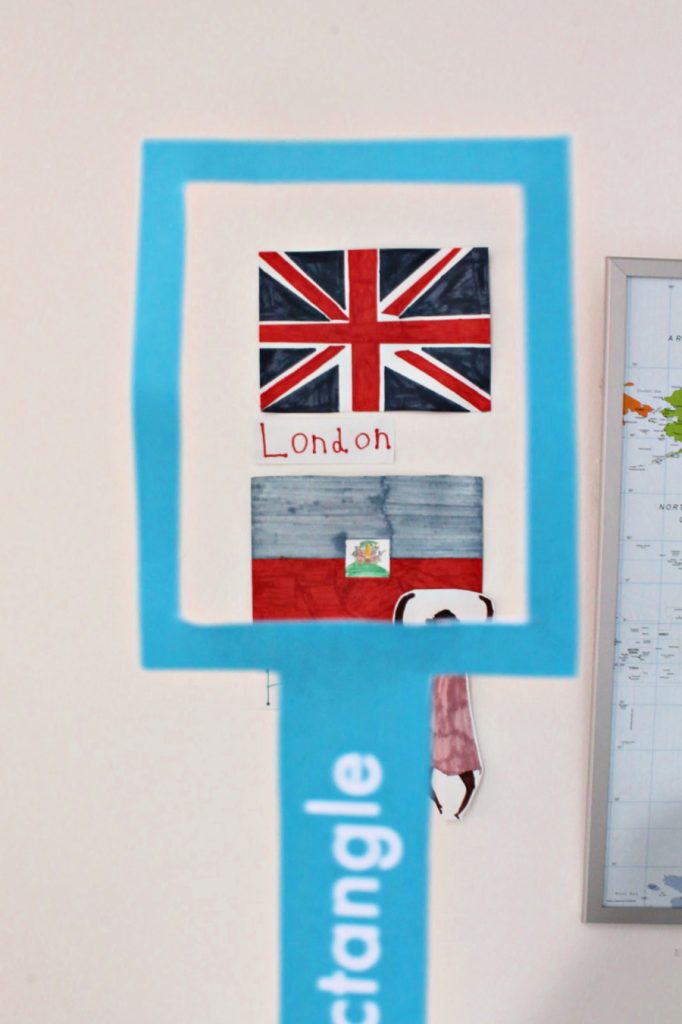 Compare and contrast shapes
You can print a shape magnifying glass for each child and then ask some questions:
:: hold up your glass if it has four sides
:: hold up your glass if it has three corners
:: hold up your glass if its name starts with a s
:: hold up your glass if it has no corners
Hunting for shapes
Then head out on a shape hunt. Use your shape magnifying glass to focus children's attention to look for a certain shape. Walk along like a detective, peering through the glass on the hunt for a circle, or a triangle, or a square.
Look for shapes around your kitchen, classroom, out and about, at the library or in the forest.
You might ask each children to find an item to match the shape they are hunting for and bring it back to the group to share and talk about.
Alternative you can you practice recall by asking children to remember the things they saw, and writing a list of them all on the board.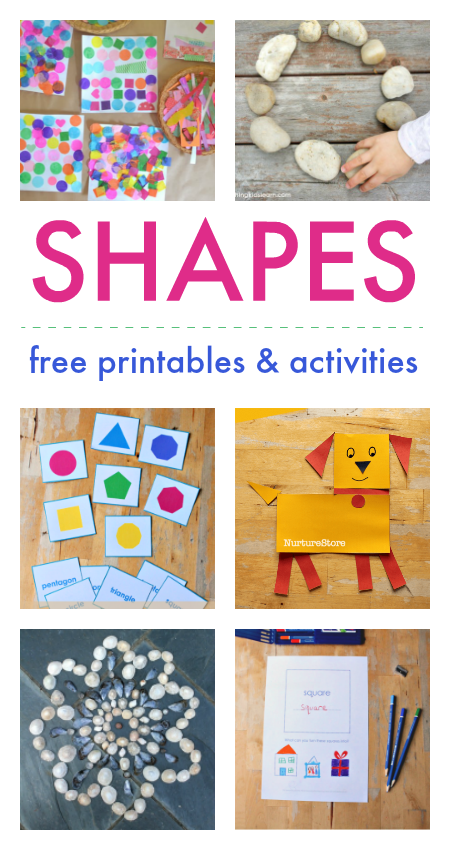 More shape activities
Have fun learning about this important math area with these shape activities:
:: shape construction challenge
:: shape tracing and drawing printables
:: Kandinsky circles art lesson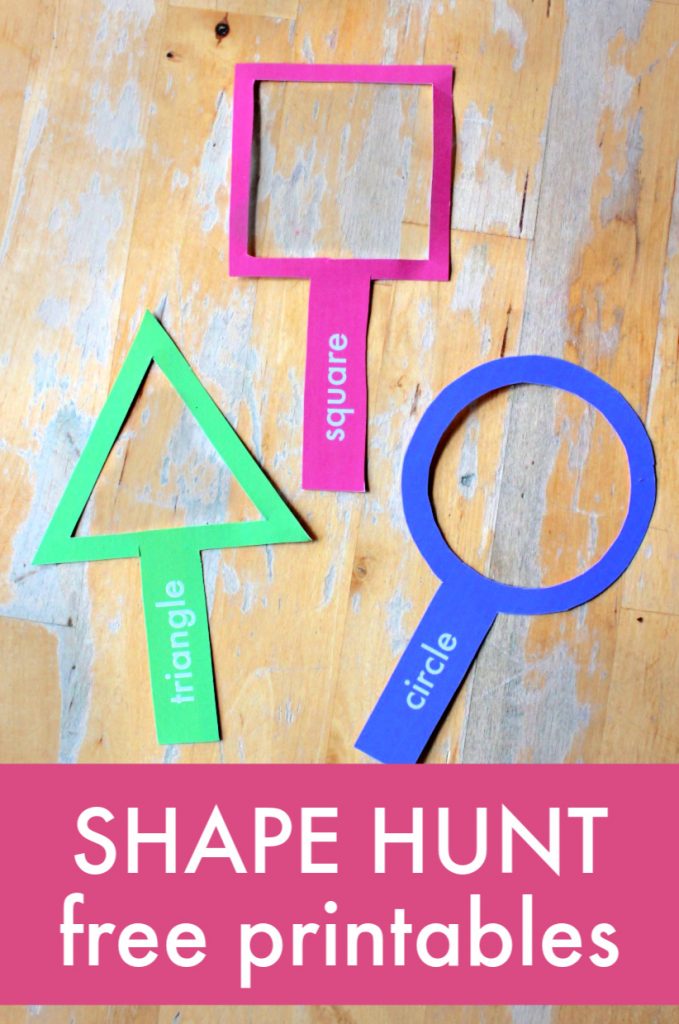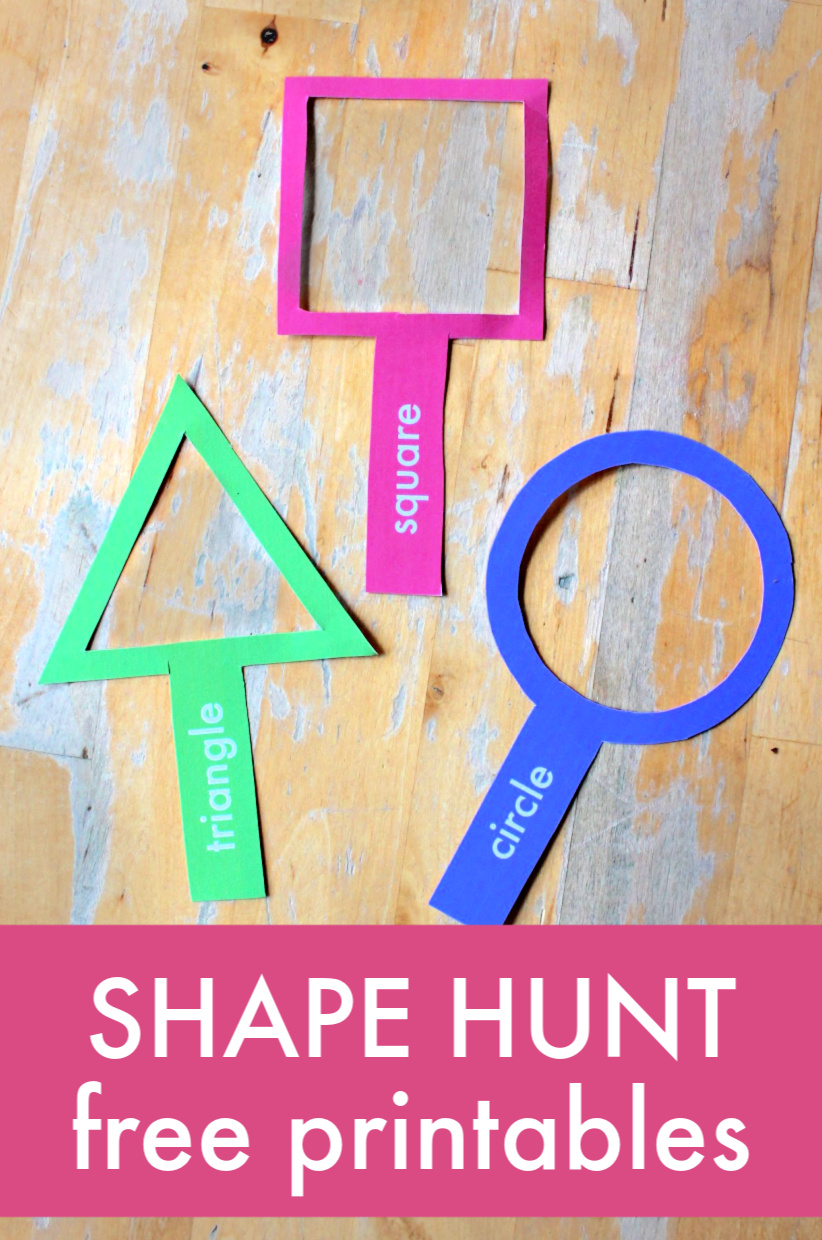 How to get our free printables
To download my free printables, you'll need to visit the NurtureStore Printables Library, which is available to all subscribers to my email list, and of course to Play Academy members.
Pop your email address in the form below and you'll get access to all my free printables, lesson plans, activity ideas, weekly newsletter, and a whole lot more!
After subscribing, be sure to check for the confirmation email. After you confirm your email subscription, we'll send you a welcome email which includes instructions for downloading our free printables.
If you're already subscribed to our email newsletter: check your email for the latest edition of the newsletter where you'll find a link to access our free printables library - the link is usually at the bottom of the email.
For help accessing our printables, click here.
---
By subscribing, you consent to our use of your personal data as per our Privacy Policy, which includes agreeing to receiving interest-based email from us.
---
---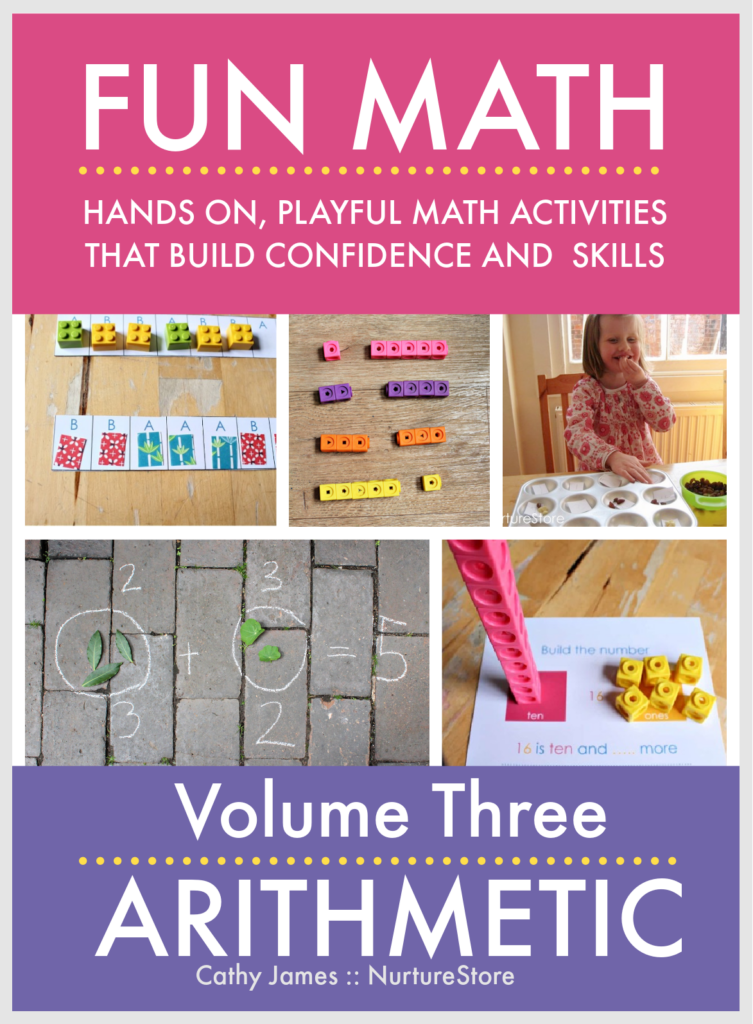 Transform your teaching with Fun Math
The Fun Math series gives you a math curriculum that is easy to teach and highly effective.
Children love these lessons because they are engaging and fun.
You'll have a clear set of ready-made math lessons and activities that are simple to lead using our step-by-step lesson guides, and which children really understand.
Be the best math teacher and boost your children's confidence and skills with Fun Math.
See more and transform your teaching here.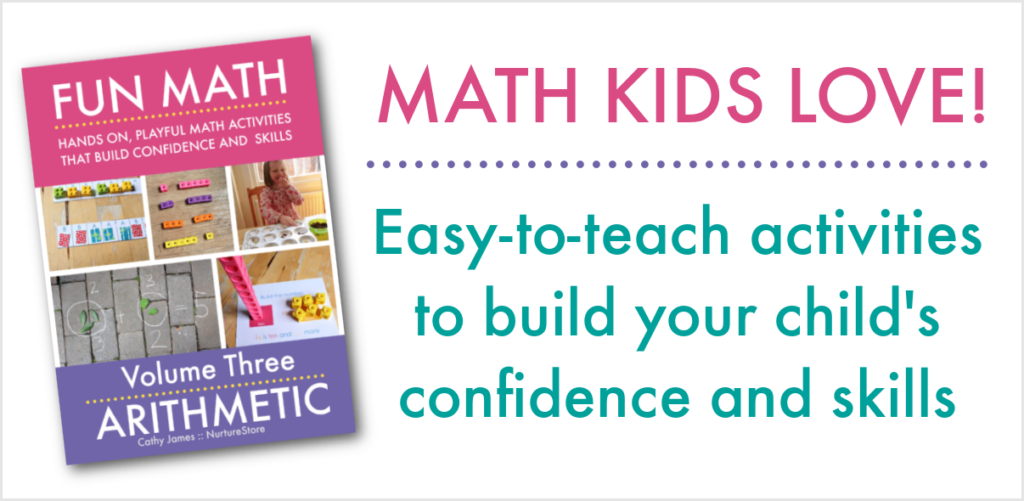 ---