A classic childhood craft – autumn leaf print art is a gorgeous now as it was when we were children. Here are some ideas to add some extra sensory dimensions, and craft ideas that make the most of your lovely leaf prints.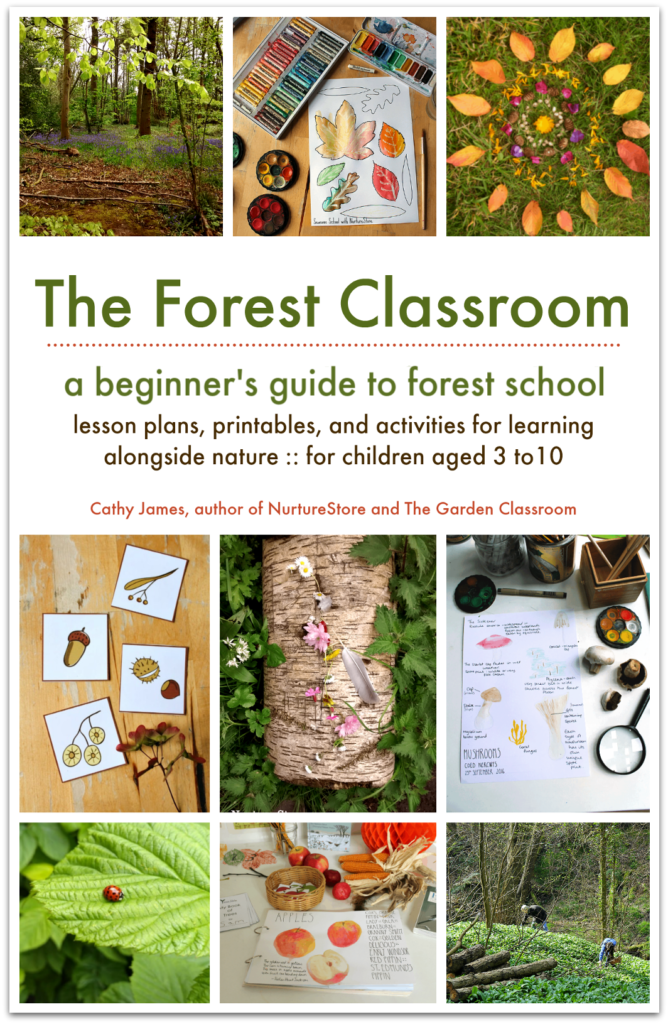 Ready-made forest school lesson plans
Have you got your copy of The Forest Classroom yet? It is the perfect beginner's guide to running a successful forest school. Download your forest school guide here.
A forest classroom is a place of adventure, discovery, and imagination. It can also be a wonderful place to learn about math and science, explore art and crafts, and develop language and social skills.
The Forest Classroom is a practical guide which will show you how to engage your children in fun and educational forest-school activities.
These ready-made forest school lesson plans are suitable for forest school leaders, teachers, childcarers and parents with children aged 4 to 10, to learn in a forest, school nature area, local park or your own backyard.
Get your copy of The Forest Classroom here and you'll be ready to head straight outdoors and enjoy teaching, using our ready-made lesson plans.
---
Autumn leaf print crafts
We started our project with a walk through our forest classroom, spotting signs of autumn and collecting lots of leaves in different shapes, sizes and colours. Can you name all the leaves? You could learn how to use a reference book by using a local nature books to look them all up.
Then we took out our paints and thought about how we could mix colours to match our leaves. We started with yellow, green, re, orange and brown and blended them to make more shades. If you'd like to give your paint a sensory boost you could add in some spices to the paint – perhaps warming ginger and cinnamon.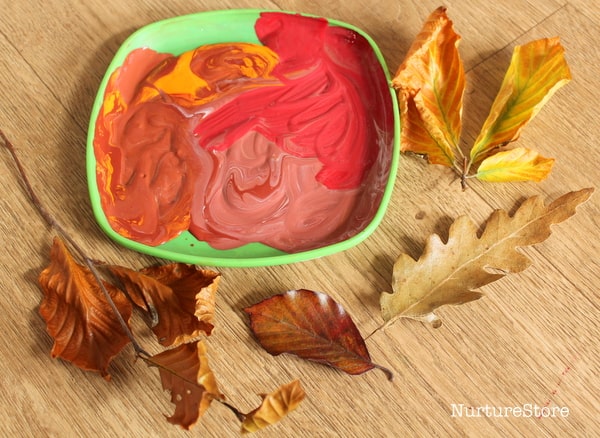 We did our printing on a big roll of paper on the floor. Using plates to hold the paint makes is easier to dip the whole leaf in and cover it in paint.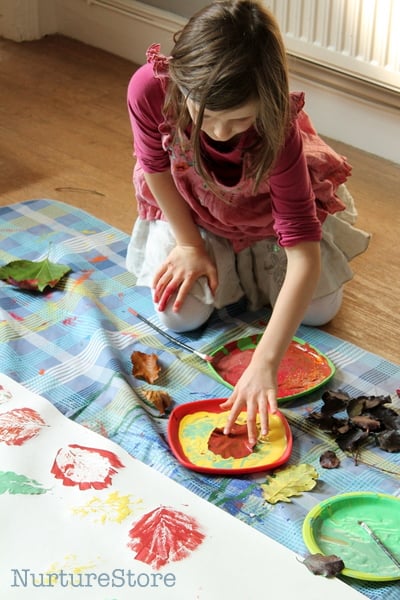 Try using the same leaf a few times before topping it up with more paint, and see how this effects the prints you get.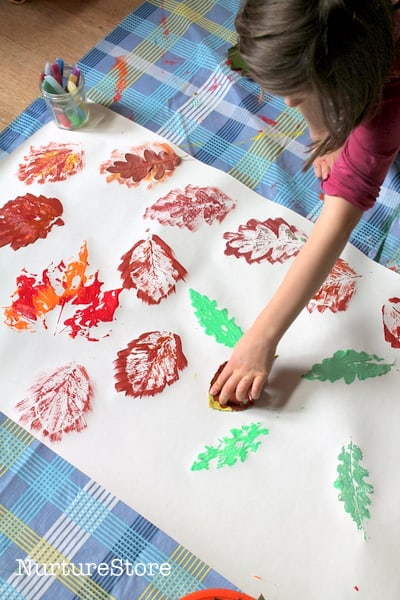 You can also use a paint brush to cover your leaf in paint, or place your leaf on the paper and use the brush to paint over the top, creating and outline. This will give you a negative space shape of the leaf inside.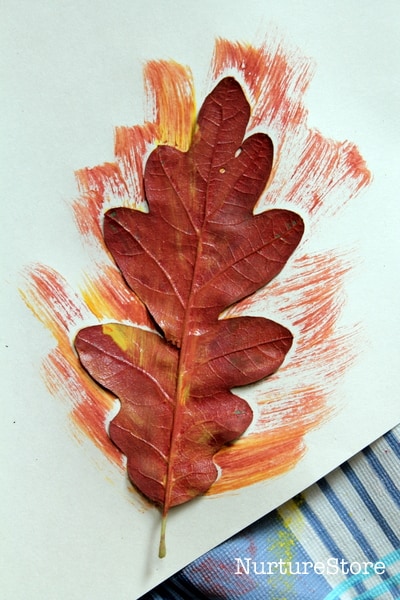 Once the paint is dry, you can cut out your leaves and use them for lots of different crafts.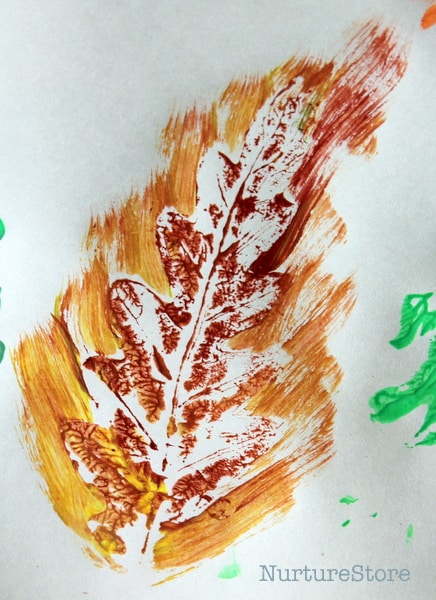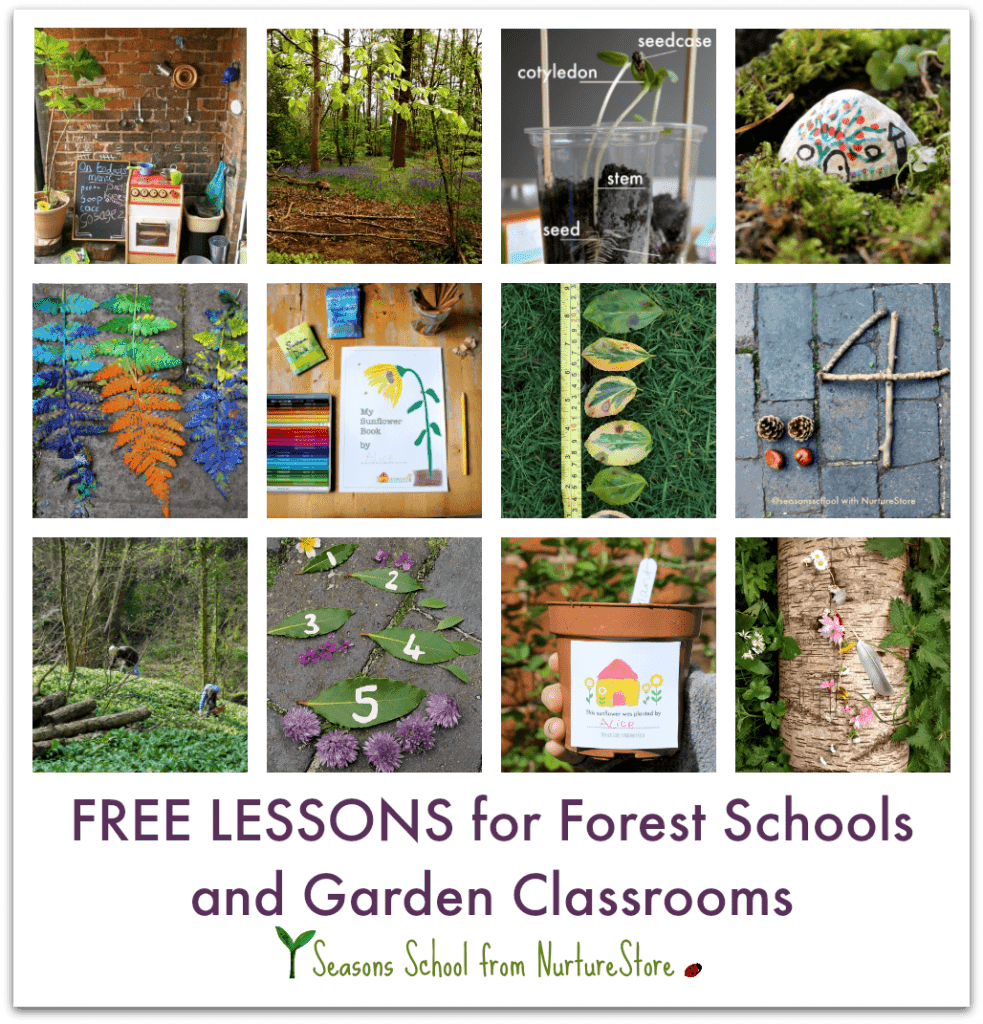 Free Forest School and Garden Classroom resources!
Join my weekly email service and I'll send you FREE printables, lesson plans, and activity ideas that you can use with your children in your forest school and garden classroom.
Seasons School is NurtureStore's year-round program of living and learning with nature. Our activities and resources focus on hands-on, nature-based learning that connects children with the natural environment.
If you're looking for nature study lessons, arts and craft projects, campfire recipes, foraging ideas, outdoor math and literacy activities, outdoor games, and ways to explore forests, gardens, and outdoor spaces - think of NurtureStore as your forest fairy godmother!
Whether you're in a forest school or outdoor classroom, running a school gardening club, bringing nature lessons into your class, home educating with nature, or wanting to connect with the great outdoors at the weekend, you will love the Seasons School ideas.
Pop your email address into the box below and I'll send you your free resources.
---
By subscribing, you consent to our use of your personal data as per our Privacy Policy, which includes agreeing to receiving interest-based email from us.
---