Here's a fun DIY bumble bee game. It's great hands-on activity to play maths games or work on spelling.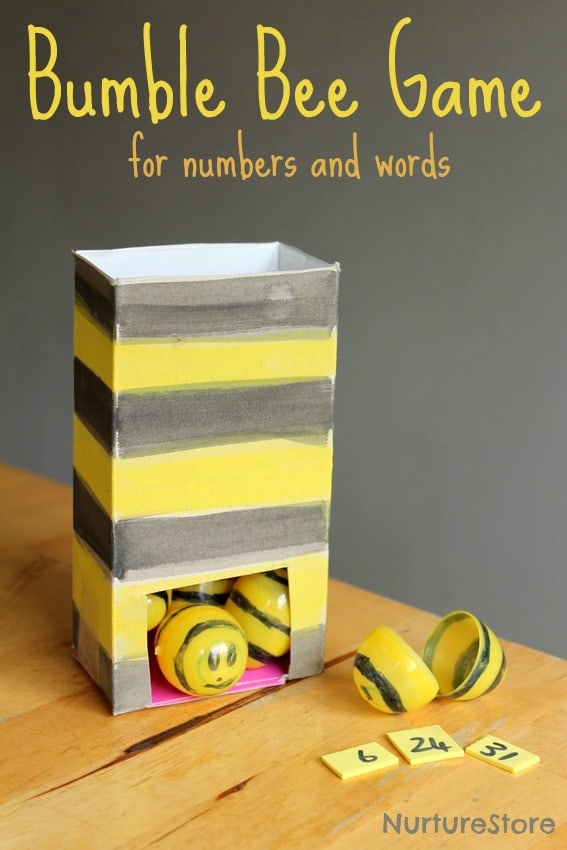 Bumble bee game: math and spelling
---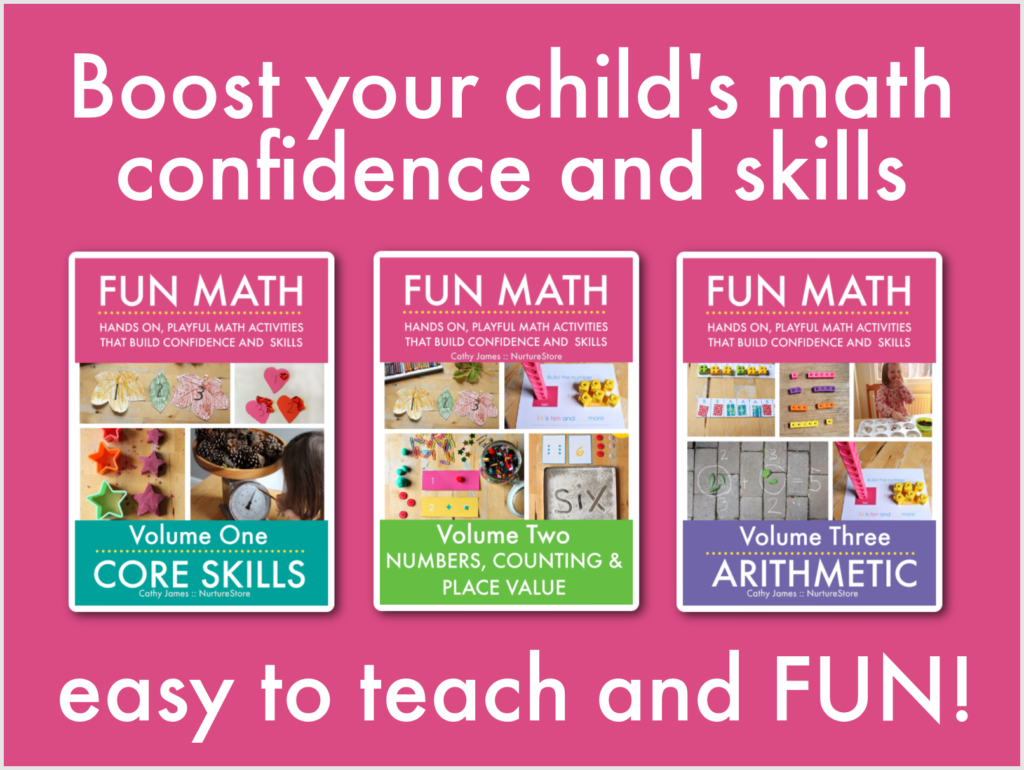 Magic Fun Math lessons!
Fun Math is an easy to teach, highly effective math curriculum based on play and hands-on learning.
All the lessons are designed to be fun and memorable, so children enjoy their lessons and feel confident.
The lessons are easy for teachers and parents to use, in class or at home.
These are the magic lessons where children really see, understand, and can apply math concepts. They are especially suited to children who don't like math, lack confidence, don't understand math the way they are currently being taught, or just want to play.
SEE MORE AND TRANSFORM YOUR MATH TEACHING HERE.
---
Have you got some plastic eggs left over from Easter? Pick out the yellow ones and use a black permanent marker pen to turn them into little bumble bees.
Prepare some number or letter tiles to go inside them. Use a permanent marker to write on a piece or foam or card, and then cut out each individual letter or number. You can use this game for both spelling and math practise – see below for some suggestions.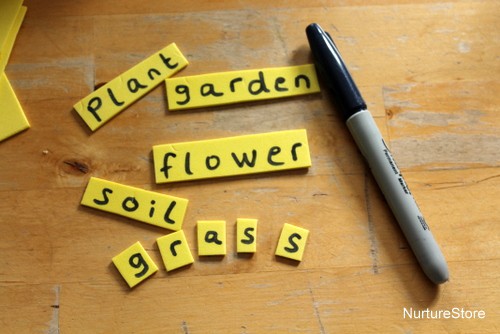 Pop your playing tiles inside a bumble bee…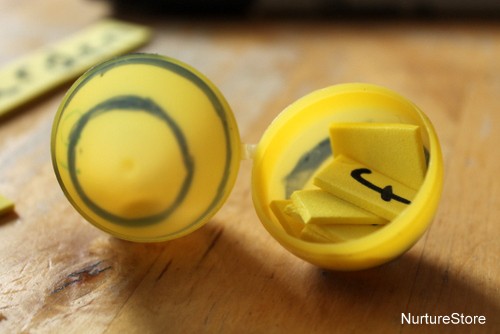 And then set your bees in your beehive – made from a painted cardboard box, with an open top so they can fly in, and slot in the bottom so you can take them out. Add in a little pretend play. We had fun making our bees fly around their garden, collecting 'nectar' numbers.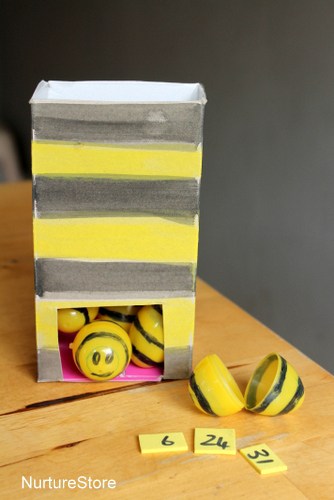 To play, take out a bumble bee from your hive, and open it up to see what it's got inside.  If you have some letters: can you re-arrange them to spell out a word?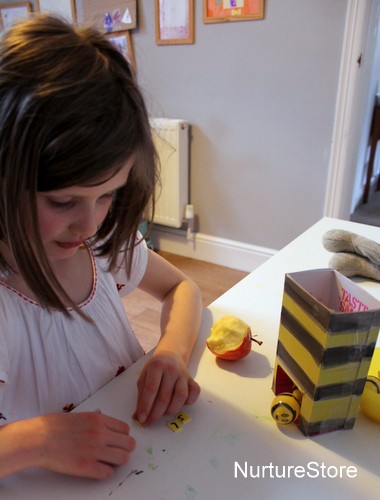 If you have a pair of numbers: can you add them together to work out their total?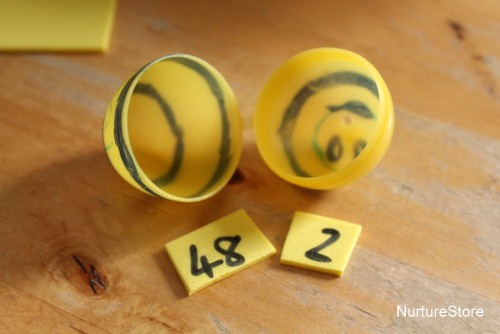 Or re-arrange a selection of numbers into a line, going from smallest to biggest?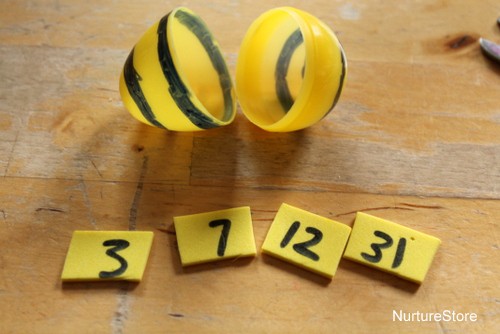 More ways to play
You can use this game for both numbers and letters, using the ideas above.
Prepare some sets of tiles so you can work on your child's current spelling list, or sight words.
Or make a set of vocabulary words all on a theme: perhaps some garden words to match your bee theme, or the names of everyone in your family. Unscrambling words is great brain work!
For maths games, you can use pairs of numbers that you have to add or subtract. Make it more of a challenge by using bigger numbers, or having three or four numbers to add together.
Use them for times tables, with two numbers in each bee that you have to multiply together.
Children can play in pairs or in a group. Once they have picked a bee and answered the number or letter puzzle inside, they can pick some more tiles to go inside. Then they can pop the bumble bee back in its hive ready for the next child to pick. A perpetual game they can make and play by themselves.

---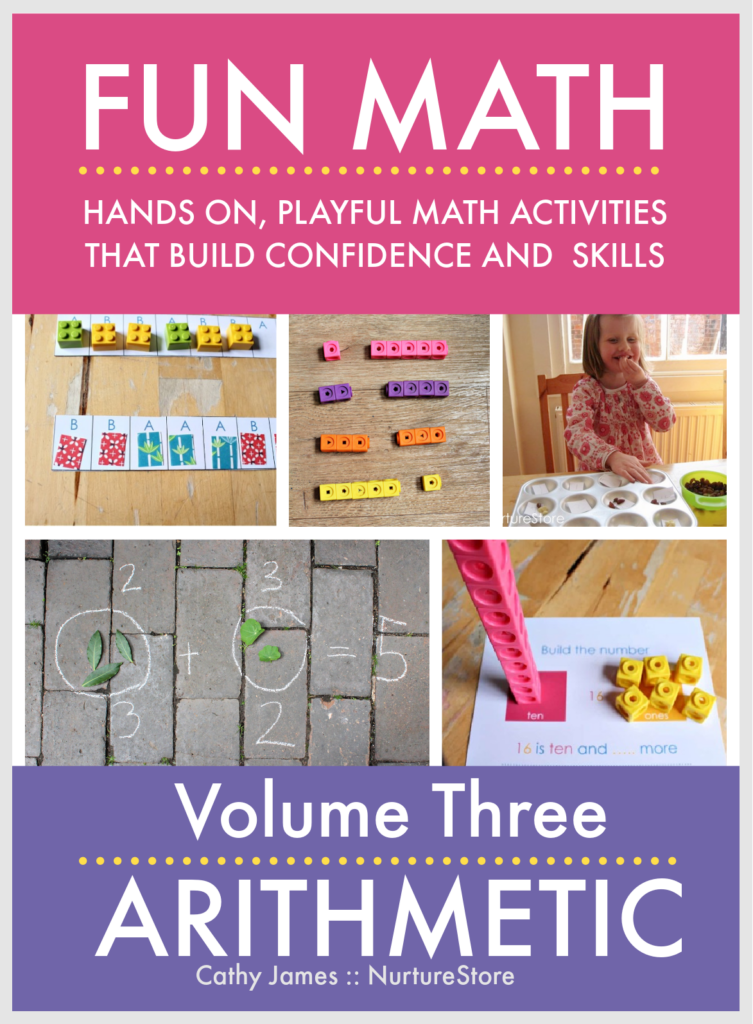 Transform your teaching with Fun Math
The Fun Math series gives you a math curriculum that is easy to teach and highly effective.
Children love these lessons because they are engaging and fun.
You'll have a clear set of ready-made math lessons and activities that are simple to lead using our step-by-step lesson guides, and which children really understand.
Be the best math teacher and boost your children's confidence and skills with Fun Math.
See more and transform your teaching here.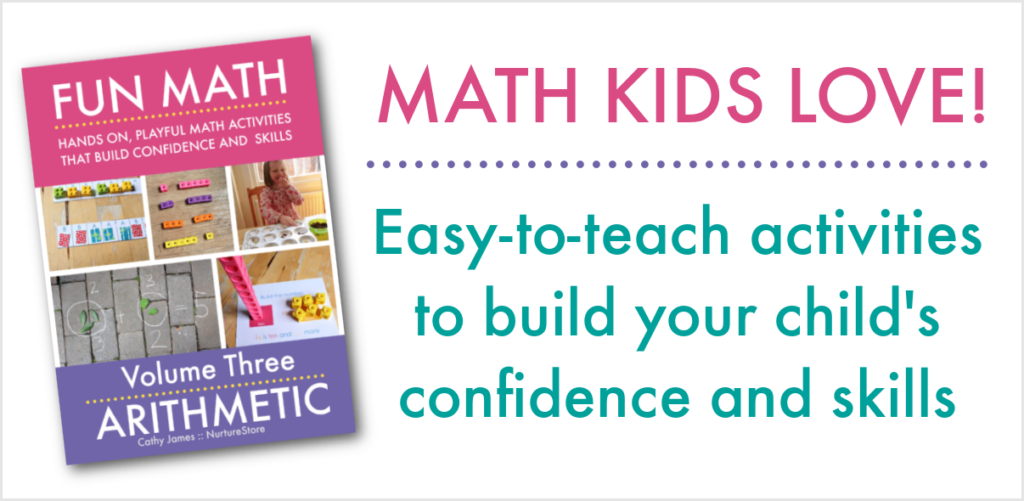 ---