Start the year as you mean to go on and have some creative fun making a four seasons calendar. It's a great way to try out four completely different art techniques with your children and welcome in the new year.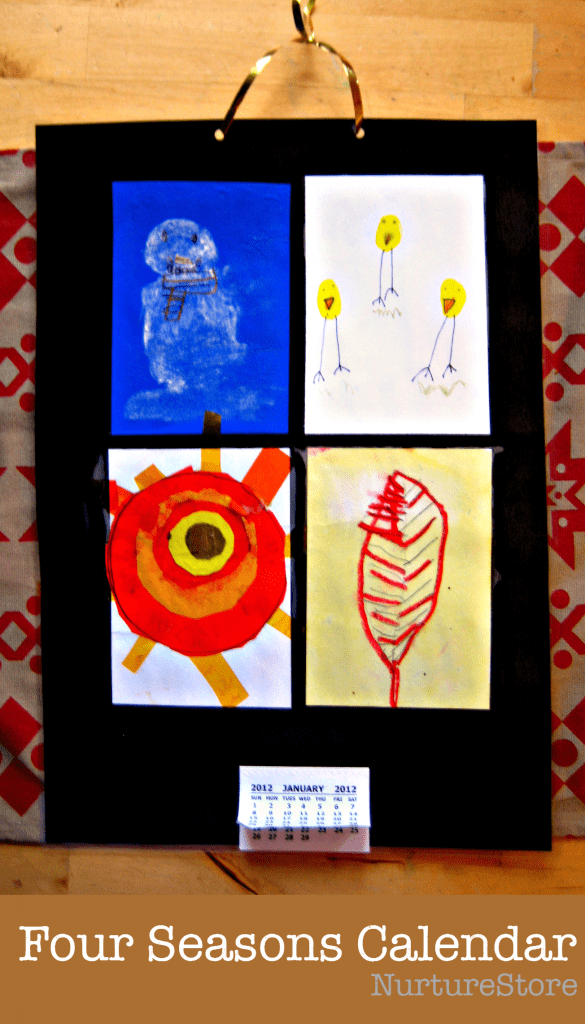 How to make a four seasons calendar
Quick resource >> Download your ready-made New Year Unit here
L's calendar is made from four pictures depicting the seasons, each using a different art technique.
To make the calendar you will need four rectangles of card and one lard piece of card to be the frame.
I hope L's pictures will give some ideas but I'd suggest you chat with your child and decide what they think would make a great picture for each season, and then see how they would like to create their calendar.
I find with my kids that sometimes they have an idea straight away that they want to put into action and sometimes it's a rummage through our craft supplies and the discovery of a new material that sparks an idea.
And remember that all sorts of things can be art materials, not just paint and crayons – cotton wool, sweet wrappers, left over wrapping paper and drinking straws have been favourites for us this week.
Here's L's winter icon: a snowman made using white chalk on a blue background, with added embellishments in pencil crayon.
Here's spring: little fingerprint chicks with faces and legs added in felt pen.
Here's summer: a glorious sun, made from a tissue paper and gold foil collage.
Here's autumn: a simple left drawn in pencil and wax crayon.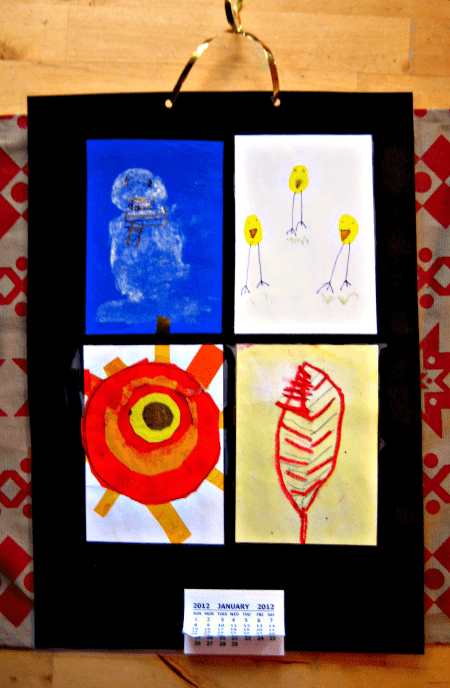 Download your ready-made New Year thematic unit
Download your ready-made New Year thematic unit from the Play Academy and you'll have everything you need to guide your children through a fun and thoughtful new year.
In this New Year Unit your children can:
:: learn about New Year celebrations and enjoy new year fizz sensory play
:: make a homemade calendar
:: complete their unique What A Year! journal page
:: make noise makers and fireworks
:: set New Year's resolution goals
:: make a wishing wand or make a poster of their Word of the Year
Bonus New Year thematic unit printables
The Play Academy's thematic units come with practical printables that make the lessons more engaging for your children and easier for you to teach.
No need to go searching for printables to accompany your lessons, they're all included when you download your chosen unit.
In this New Year Unit you'll receive these bonus printables:
:: a Draw Your Own Calendar
:: a What A Year! New Year Review poster / journal page
:: a New Year Colouring page
:: and New Year Goals printables
How to download your ready-made New Year Unit
You can download your ready-made New Year unit, along with over 50 more, from NurtureStore's Play Academy.
If you are already of the Play Academy, you can download this unit straight away from our Library here.
If you are not yet a member, find out more and choose your first unit here. Your teaching is about to get a whole lot easier!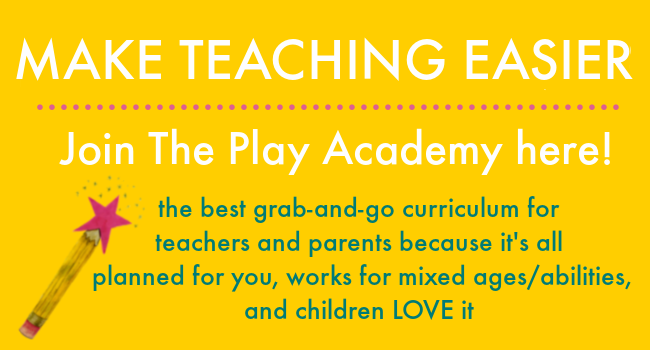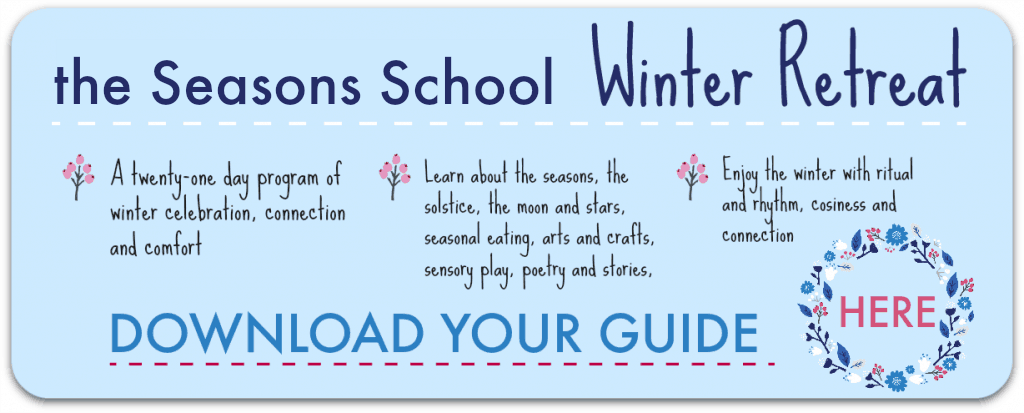 Download your 21 Day Winter Activities Countdown
Click here to get your copy of the Seasons School Winter Retreat 21 day activity program.
It's one part educational curriculum; one part seasonal celebration; one part family memory making.
:: over 70 pages of learning, activities, and printables
:: a complete twenty-one day program of nature, science, literacy, arts and crafts, sensory, and play
:: a planned idea for each day, with plenty of options for flexibility and choice
:: themed around the special words of the season, giving rhythm and ritual
:: follow as a daily countdown, or dip in and out through the winter season
:: material lists and bonus printables make it so easy for you
:: created with children aged 4 to 10 in mind