Welcome to five days of learning about the seaside. Here're you'll find art, crafts, play, math, literacy and science all based around the theme of the seashore.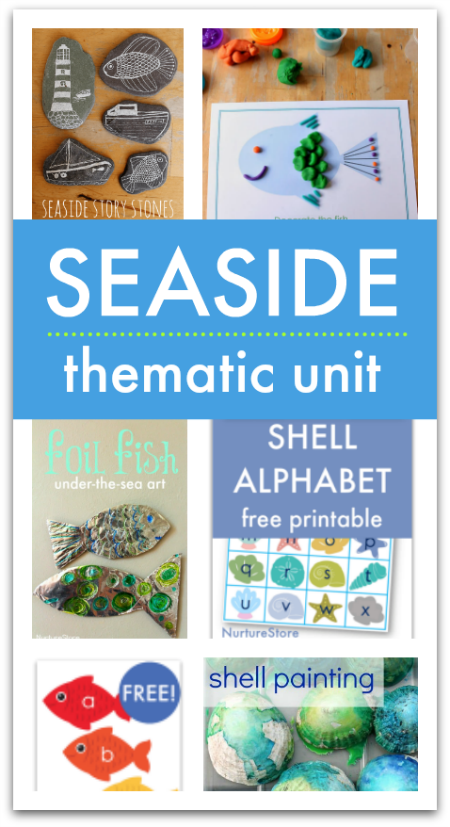 Five days of the seaside thematic unit
Thematic units are brilliant! They're fun for children to engage with and very effective teaching tools.
Working with a unit lets you bring a wide variety of subject areas into one whole project.
This means your children get to develop a wide range of skills, with all their learning linked to the central theme so they get a broader and deeper knowledge and get to see the links across subjects.
You can use this guide to teaching with thematic units where you'll also find over sixty all-planned-and-prepped-for-you units covered a wide range of themes.
This week, join in with our seaside thematic unit which includes arts and crafts, literacy, language, science, sensory and imaginative play.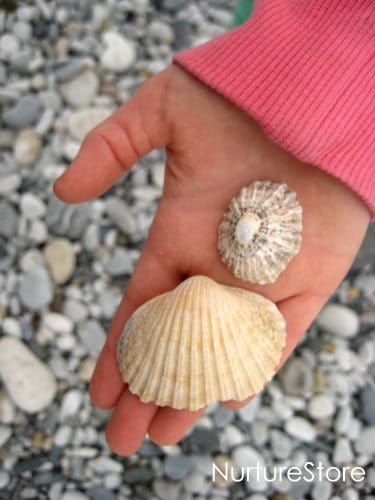 Day one :: seaside discovery
On day one of our seaside unit, let's explore what we find on the seashore.
You can set up a seaside themed nature discovery table or introduce your children to a discovery basket filled with things from the beach: shells, driftwood, mermaid's purse, seaweed, feathers from seabirds, crab shells, fishing net, and pebbles.
Take a look at each item and invite your children to feel each one. Host a discussion to find out what your children already know about the seaside:
Have they been to the seaside?
What is their favourite thing about the beach?
What things can you see at the beach?
What things can you hear at the beach?
What things can you smell at the beach?
What plants and animals are at the beach?
What might you find in a rock pool?
Where does the sand at the beach come from?
What do they know about waves?
What would you find if you sailed out to sea from the beach?
Fill your book box for the week with an assortment of fiction and non-fiction books about the sea.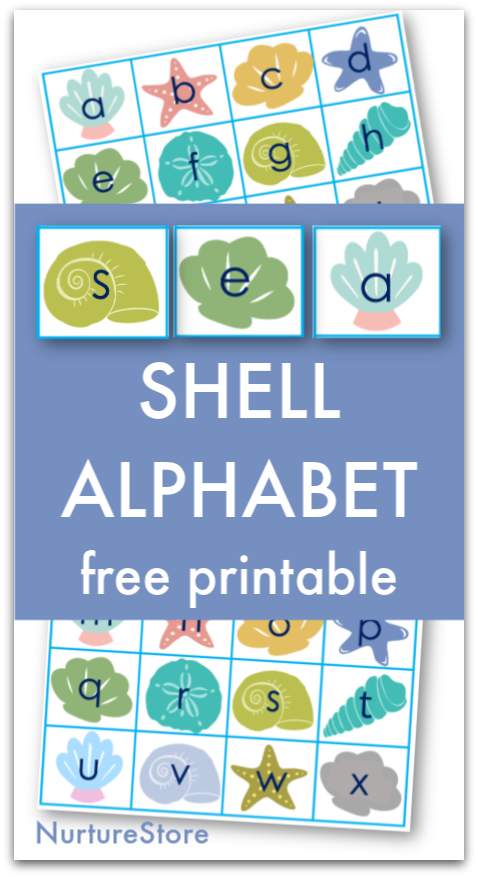 Day two :: literacy and math
On day two of our seaside unit, let's add a math and literacy focus.
You could pick one or two of yesterday's beach items and draw pictures of them in your nature journal. Use your seaside reference books to research information about them and add notes to your journal too.
Use my free printable shell alphabet or letter fish alongside a sensory writing tray to practice spelling or with these literacy games.
You can play math games with my number fish.
Both the shell and fish printables can be found in NurtureStore's Free Printables Library. To access the Library follow the instructions at the bottom of this page, in the section titled 'How to get our free printables'.
You can also use seaside story stones to make up tales.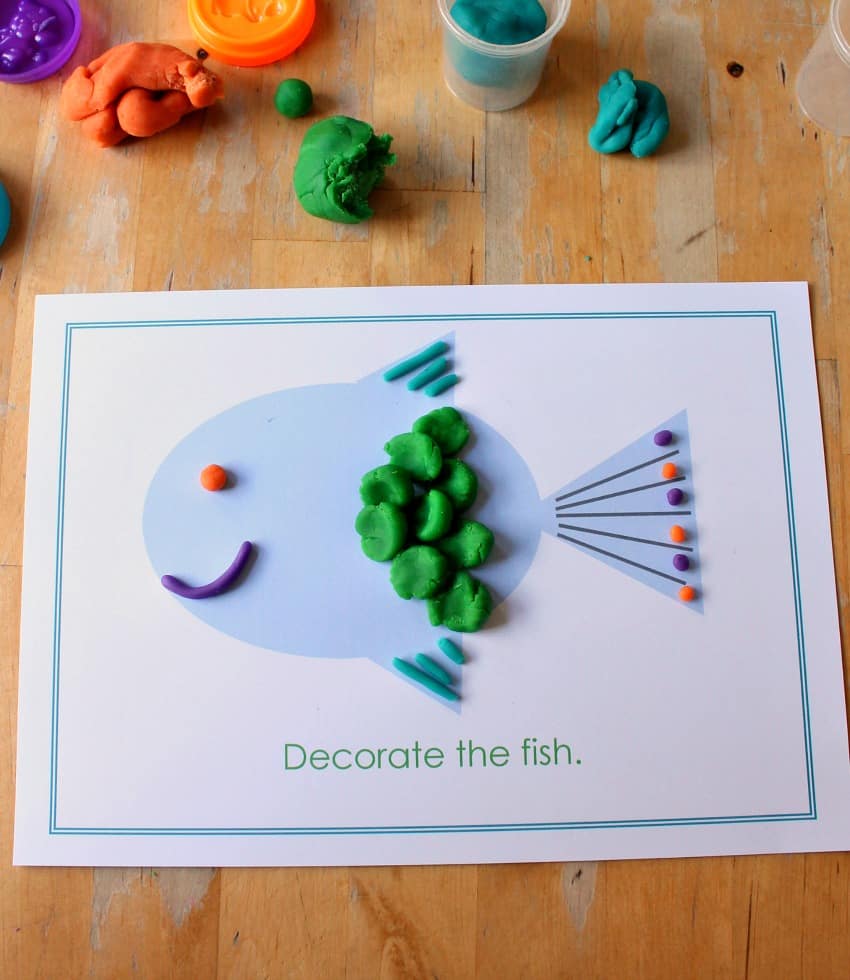 Day three :: play dough
Let's enjoy sensory play on day three of our seaside week.
Use the ocean play dough mats from The Amazing Play Dough Printables Pack.
Make an underwater world.
Make shell prints in playdough.
Use my under the sea animals with your play dough.
Make cloud dough sand castles.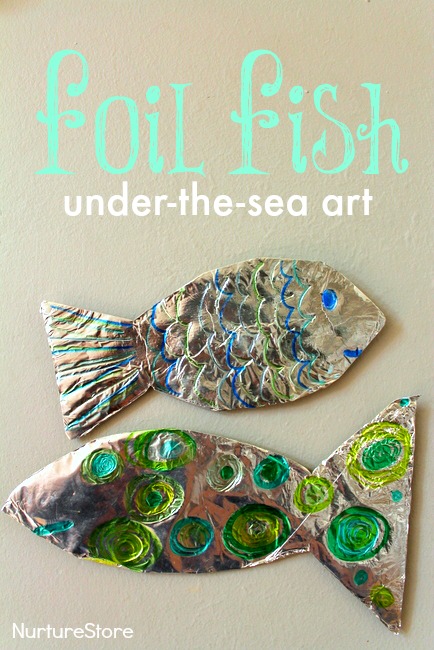 Day four :: foil fish
Let's make a shoal of beautiful foil fish on day four of our seaside week.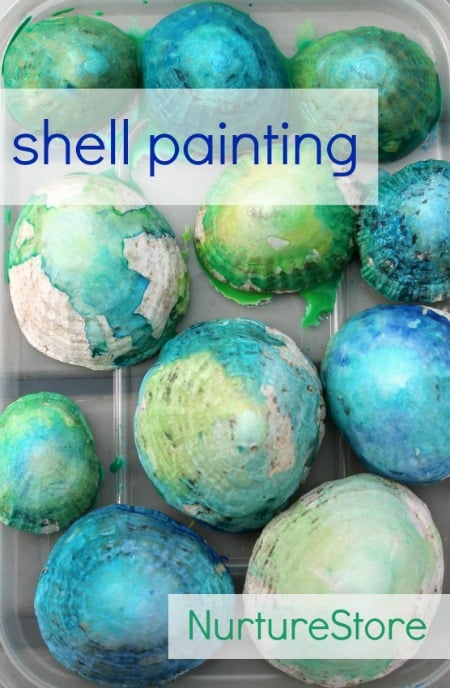 Day five :: shell art
One day five of our seaside thematic unit, let's focus on shells.
:: paint shells
:: combine math and art, making shell mandalas
60+ thematic units
Thematic units are such an effective way to teach, making vital links across the curriculum and including a wide variety of engaging activities that your children will love.
Your teaching fairy godmother has worked her magic again. Here are over sixty thematic units, with lesson plans, activities, and printables, all planned and prepped for you.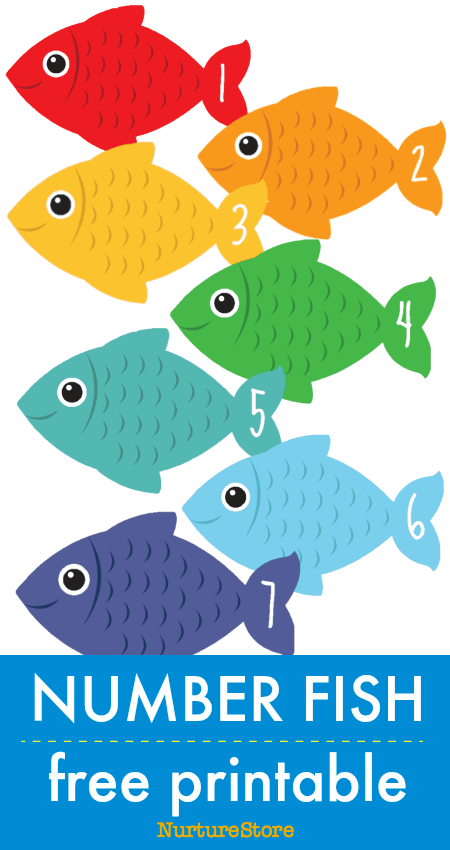 How to get our free printables
To download my free printables, you'll need to visit the NurtureStore Printables Library, which is available to all subscribers to my email list, and of course to Play Academy members.
Pop your email address in the form below and you'll get access to all my free printables, lesson plans, activity ideas, weekly newsletter, and a whole lot more!
After subscribing, be sure to check for the confirmation email. After you confirm your email subscription, we'll send you a welcome email which includes instructions for downloading our free printables.
If you're already subscribed to our email newsletter: check your email for the latest edition of the newsletter where you'll find a link to access our free printables library - the link is usually at the bottom of the email.
For help accessing our printables, click here.
---
By subscribing, you consent to our use of your personal data as per our Privacy Policy, which includes agreeing to receiving interest-based email from us.
---