Three gorgeously easy ways to dye Easter eggs, using shaving foam, oil and crayons.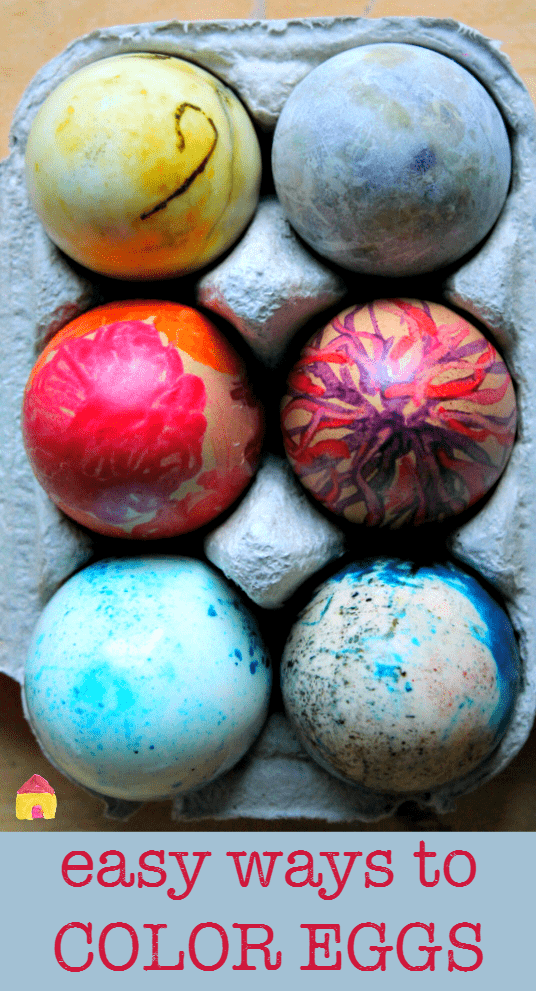 Gorgeously easy ways to dye Easter eggs
We host an annual egg rolling contest each Easter, which is closely fought between grandparents, cousins and grandchildren. Each team needs its own set of coloured Easter eggs, decorated in team colours. Here are three of our favourite ways to decorate eggs, which use interesting, sensory art materials.
We use hard boiled eggs for our decorating, making it easy for the children to handle, and because we're going to use them for the egg rolling contest. You'll need white eggs to get the very best effect from these dying techniques.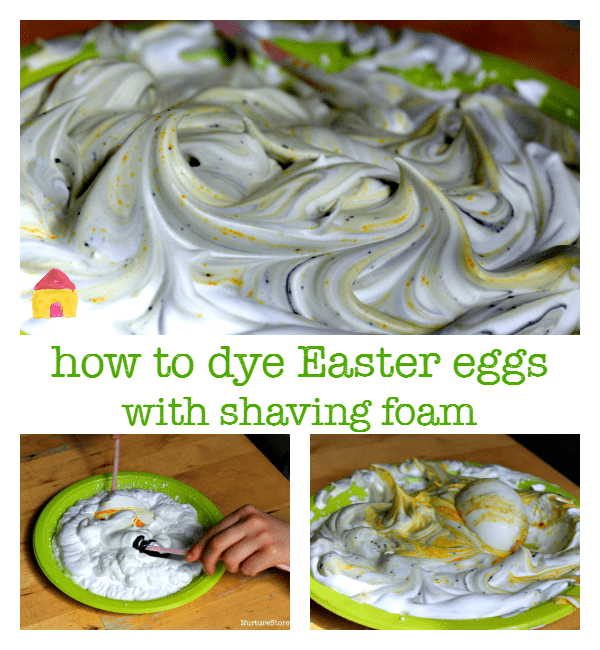 How to dye Easter eggs with shaving foam
My daughter loves sensory play with shaving foam, so this is her pick for egg decorating. Start by squirting some shaving foam on to a plate.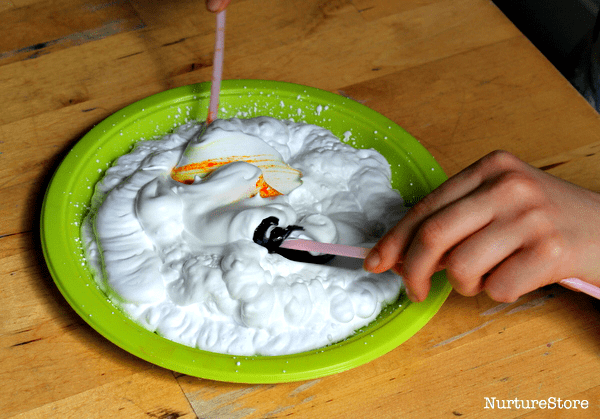 ---
This page contains affiliate links from which we earn commission.
As an Amazon Associate I earn from qualifying purchases.
---
Then add a few drops of food colouring. Our favourite food colourings, which we use for art and sensory play too, are Wilton Icing Colour Gels. We have tried food colouring from our local store, but the colour was just too weak. The Wilton colours are much better – just put a tiny amount of the colours in the shaving foam and give it a stir.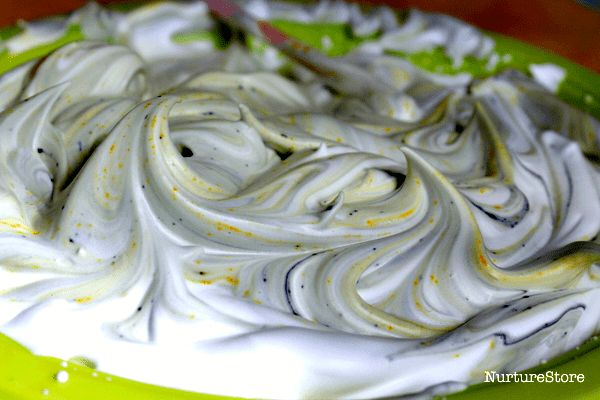 Place your egg in the foam and roll it around gently until it's completely covered in the coloured foam. Leave it for at least a few hours – we leave ours overnight – then gently wipe away the remaining foam to reveal your design.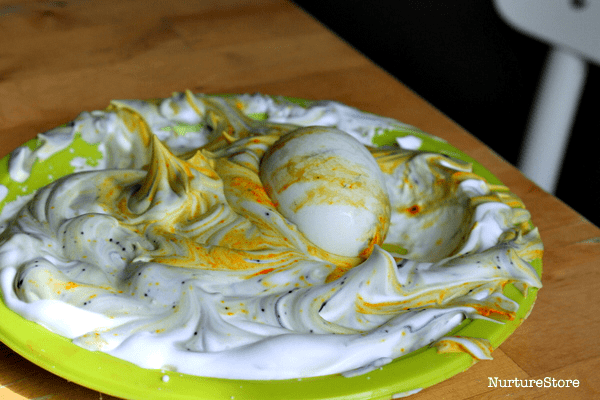 The yellow and the purple eggs in the top photograph are dyed using this technique.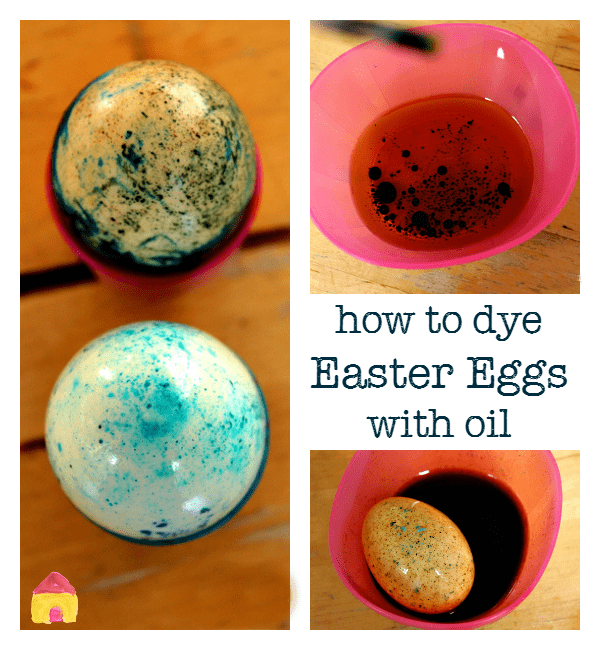 How to dye Easter eggs with oil
This technique gives a marbled effect on the eggs which looks lovely.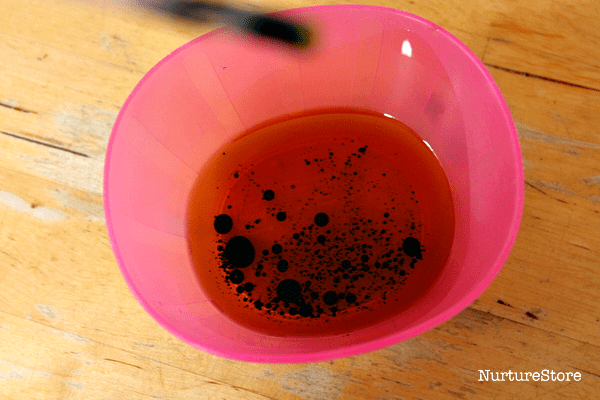 Fill a small cup or bowl with some vegetable oil. Add a few drops of your food gel (see above for details of where to buy), combining colours if you like.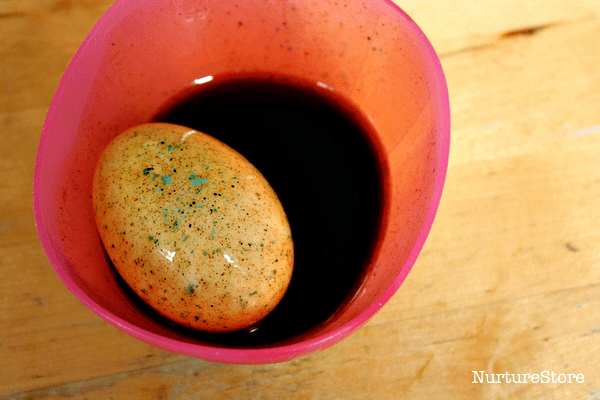 Place your egg in the oil bath and let it sit for at least a few hours, preferably overnight. You can use enough oil and food gel to completely submerge your eggs, or keep rolling the egg around in the bath to dye the whole surface.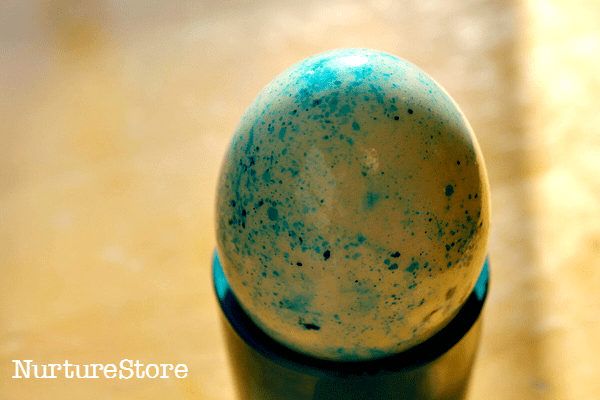 Take your egg out of the oil and let it sit for a while so any excess oil drops off. So pretty!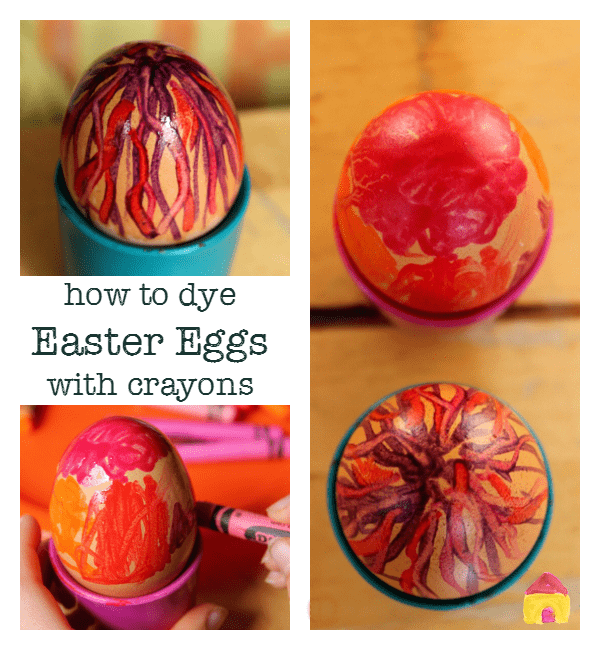 How to dye Easter eggs with wax crayons
This one's my favourite. I love how the wax crayon feels as you draw on the egg – nice and melty!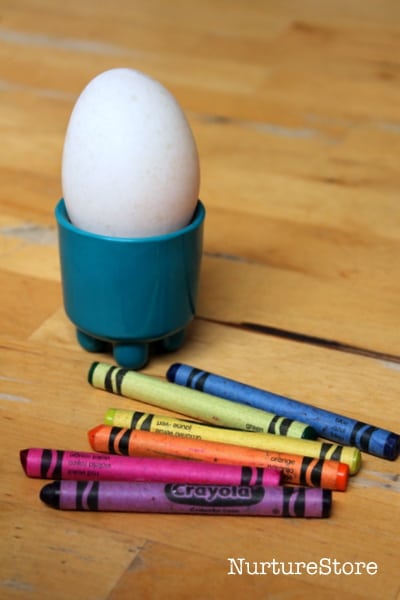 You will need to use a freshly-boiled egg for this, as you need your egg to still be hot. Place it in a egg cup to hold it steady, and remind your children that the egg's hot and so to take care.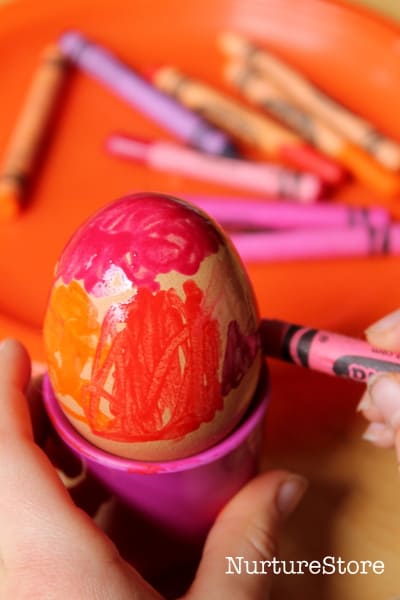 Then use your favourite shades of wax crayon to draw on the hot egg. Can you see how the crayon melts on to the egg shell, giving a beautiful effect? This technique is great as you have more control to create exactly the patterns you want on your egg.