Here's a whole range of rainbow themed math activities, part of our rainbow activities unit.

Rainbow themed maths activities
---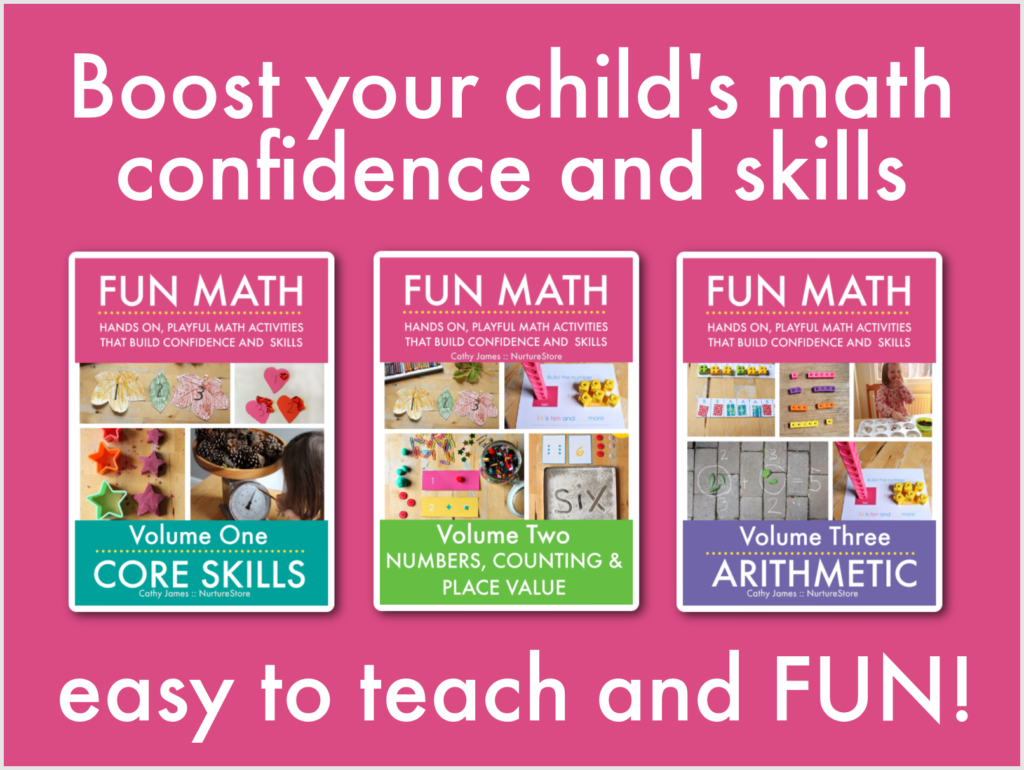 Magic Fun Math lessons!
Fun Math is an easy to teach, highly effective math curriculum based on play and hands-on learning.
All the lessons are designed to be fun and memorable, so children enjoy their lessons and feel confident.
The lessons are easy for teachers and parents to use, in class or at home.
These are the magic lessons where children really see, understand, and can apply math concepts. They are especially suited to children who don't like math, lack confidence, don't understand math the way they are currently being taught, or just want to play.
SEE MORE AND TRANSFORM YOUR MATH TEACHING HERE.
---
Our first set of math games are played using this DIY set of rainbow-coloured paper rolls and circular pieces of gold card. (Permit me the inclusion of gold coins with our rainbow theme, as we are celebrating all things St. Patrick's Day too.)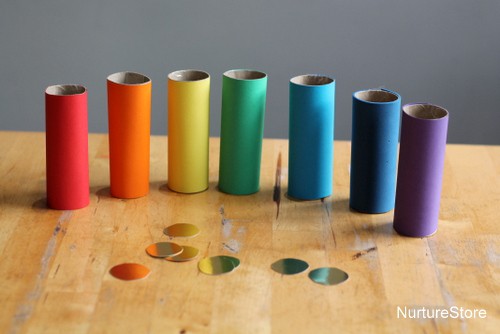 For maths, stick a number from one to seven onto each roll. If you use little pieces of card painted with chalkboard paint, it's really easy to swap over your numbers to letters when you want to focus on some word activities. (Click here for our rainbow themed literacy activities.)
There are lots of ways to play with these simple maths materials, depending on the age and stage of your children. All have the benefit of being hands-on activities, with colour, active movement and sensory materials included to add interest and engage brains.
Very young children can sort the paper rolls into number order. Jumble up all the paper rolls and see if they can sort them out again, lining them up from one to seven. See if they can spot the numer that matches their age. Can they find the number that is one more than three?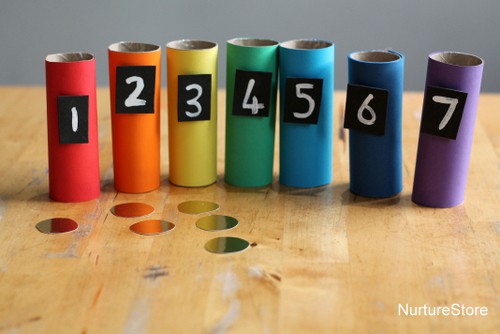 Use the 'gold coin' pieces of card and match the right number of coins to the written number on each paper roll.
Pick two of the paper rolls and see if you can add the numbers together. Use the gold coins to count out and check your answers.
For older children, you can write on the gold coins using a permanent marker, making a set of questions to practise whatever maths facts they're working on. I made a set to work on addition, subtraction, simple multiplication and simple division. All the answers are either one, two, three, four, five, six or seven – so we can pick a coin, work out the answer, and match it up with the right rainbow paper roll.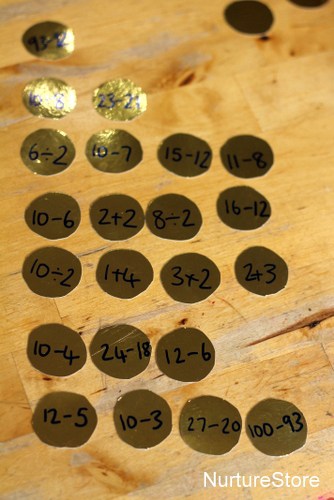 This is a good activity when you have a few children playing, perhaps siblings, or children of different stages. Include a range of questions, so younger children get lots that they are able to work out themselves, along with a few that stretch them. They might like to use the gold coin number line (see below) to work out the answers.
Older children might use exactly the same set, to work on speed – seeing if they can recall the answers quickly. You might also make different sets of coins, for different levels of maths work.

Gold coin active times tables
I also made a larger set of gold coins and wrote out a times table sequence on them. My daughter's working on the three times table, but of course you can use any to suit your child. Use a thick card – obviously you don't want it to be so thick it trips anyone up, but something which is sturdy enough to cope with some active play.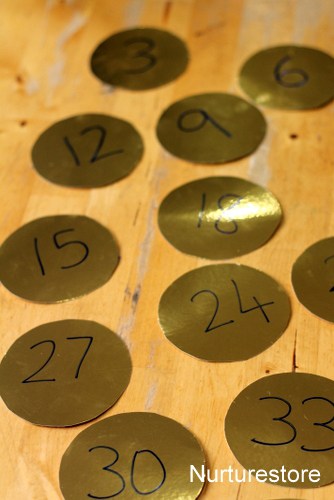 To begin with I jumbled up the coins and asked my daughter if she could sort them out into a pattern, going from the smallest number to the biggest. Then we looked at our line of numbers and worked out each one was three more than the number before.
My daughter used sticky tack to fasten the gold coins in place along the floor, to make a number path with gold coin stepping stones.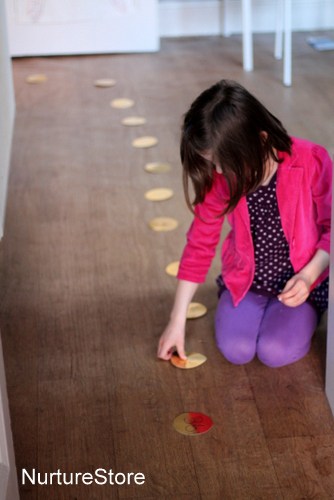 Now when she's going from room to room, she can hop or jump from coin to coin, shouting out the times table as she goes. A fun way to regularly practise times tables.

Gold coin number line
We also made a number line of 100 gold coins. We drew out circles in groups of five, as we're also working on the five times table, and we're using it as part of learning to tell the time. I'll write up some ideas for using number lines, and come back and add in the link here.

Counting with play dough
For another hands-on, sensory maths activity, take a look at how we use our St. Patrick's Day play dough and gold coins for counting and matching games.
---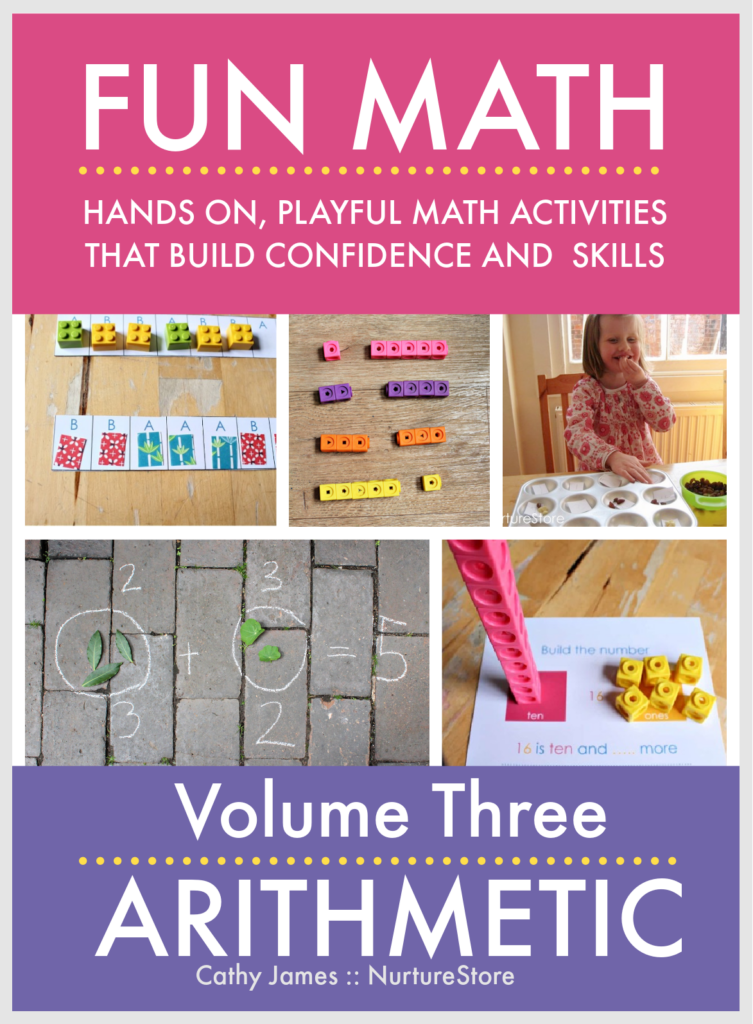 Transform your teaching with Fun Math
The Fun Math series gives you a math curriculum that is easy to teach and highly effective.
Children love these lessons because they are engaging and fun.
You'll have a clear set of ready-made math lessons and activities that are simple to lead using our step-by-step lesson guides, and which children really understand.
Be the best math teacher and boost your children's confidence and skills with Fun Math.
See more and transform your teaching here.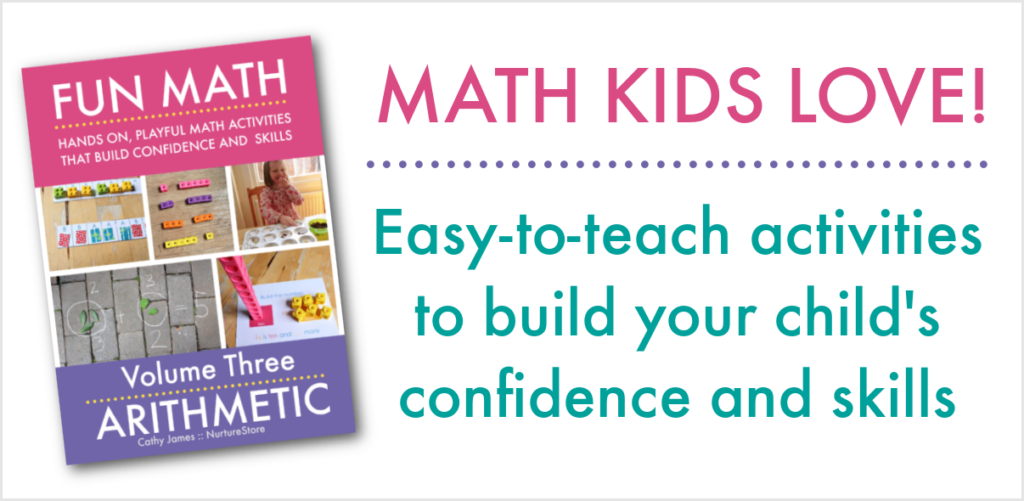 ---