These free multicultural faces printables are great for an 'all about me' topic, or if you are exploring ideas about identity and diversity. Print the play dough mats and learn through play!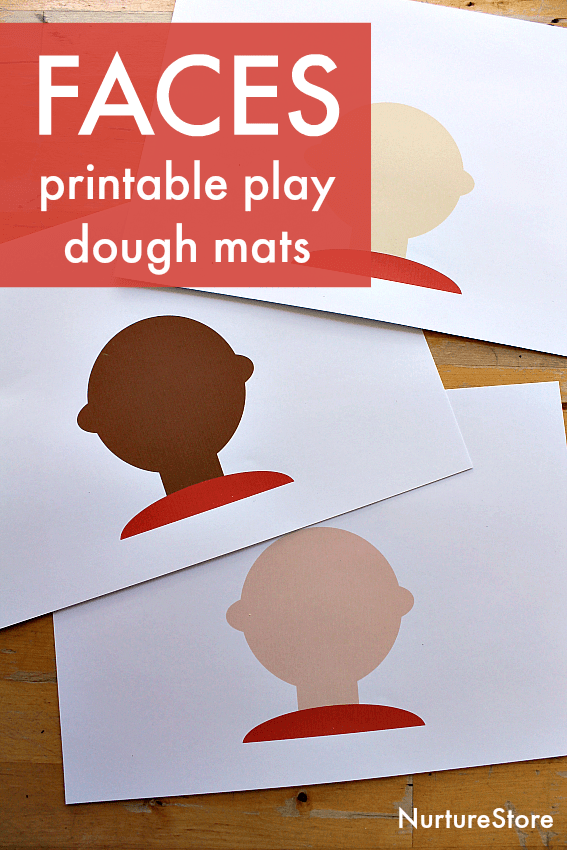 Multicultural faces printables play dough play mats
These multi-cultural faces printables provide a simple, blank person shape which you can use with play dough and loose parts to explore ideas of:
:: how we look – celebrating all appearances and styles
:: how we could look – when only imagination is your limit!
:: how other people look – perhaps by working in pairs to create play dough portraits of each other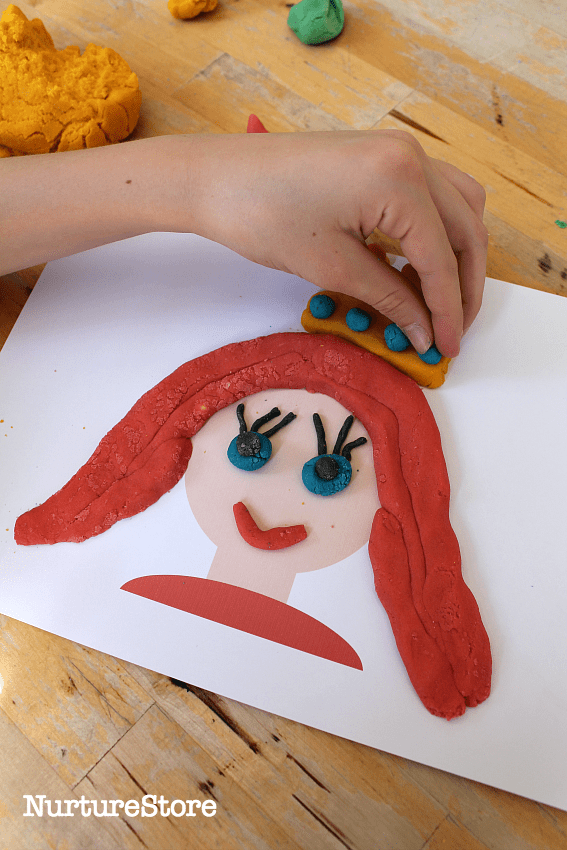 How to use this printable play dough mat
You can print as many copies of the play mat as you need for your family, group or class.
You might like to laminate the printable so you can use it time and time again.
Set out the play mat with some homemade play dough, and perhaps some extra loose parts, and invite your children to play.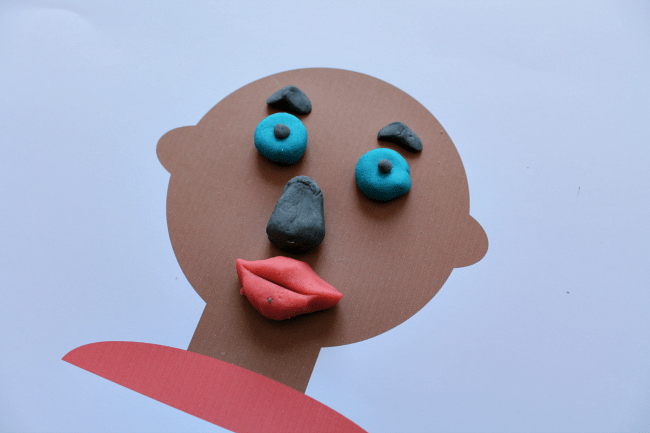 :: these printable play mats are an excellent 'spark' for imaginative play, providing a play-prompt which children can then develop in their own way
:: the mats encourage storytelling and language skills, as children narrate their play
:: play dough is an excellent fine-motor skill activity, helping to develop dexterity and hand strength
:: children can play solo, making these a great quiet-time activity, or in pairs or small groups, building teamwork skills and helping children learn to collaborate and co-operate
:: play dough mats also make a great backdrop to small worlds and puppet shows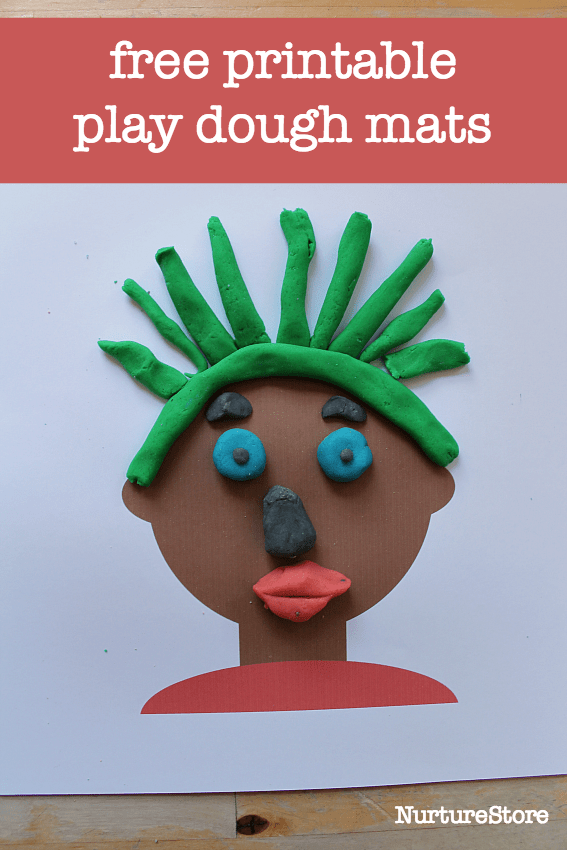 Extra resources for 'all about me' learning
Are you looking for 'all about me' resources or activities about identity and diversity?
Try these ideas:
Alberto Giacometti sculpture exploring bodies and body language
Map activities exploring who lives where
"I love…" printable journal pages celebrating individuality
Personalised face jigsaw puzzles
Design your own hat – celebrating personal style!
Clay faces outdoor nature portraits
Lift-the-flap Love Book, exploring families and friends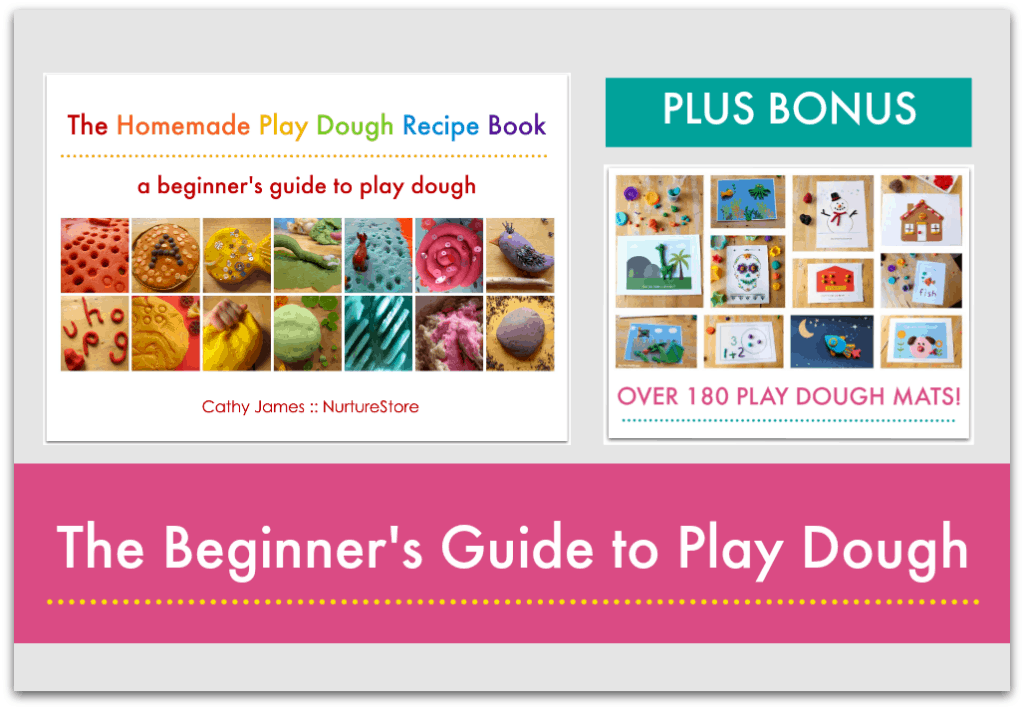 Get The Beginner's Guide To Play Dough
Every childhood needs play dough! It's the perfect sensory play material and lets your children build vital math, literacy, and fine motor skills, all through play.
That's why I've created two practical resources that you can use to bring more play to your classroom and home.
The Homemade Play Dough Recipe Book is the perfect beginner's guide to making, playing, and learning with play dough. This practical book will give you easy homemade play dough recipes PLUS 52 play dough activities that incorporate sensory play, fine motor skills, math, literacy, and imagination.
The Amazing Play Dough Printables Pack gives you a whole year of play dough printables. With 180 pages and over 50 themes and topics. No hassle, no planning, you'll always have an activity on hand. Simply print, add play dough, and play!
Click here to see more of The Homemade Play Dough Recipe Book.
Click here to see more of The Amazing Play Dough Printables Pack.
There's even a special bonus offer if you want to get the complete set!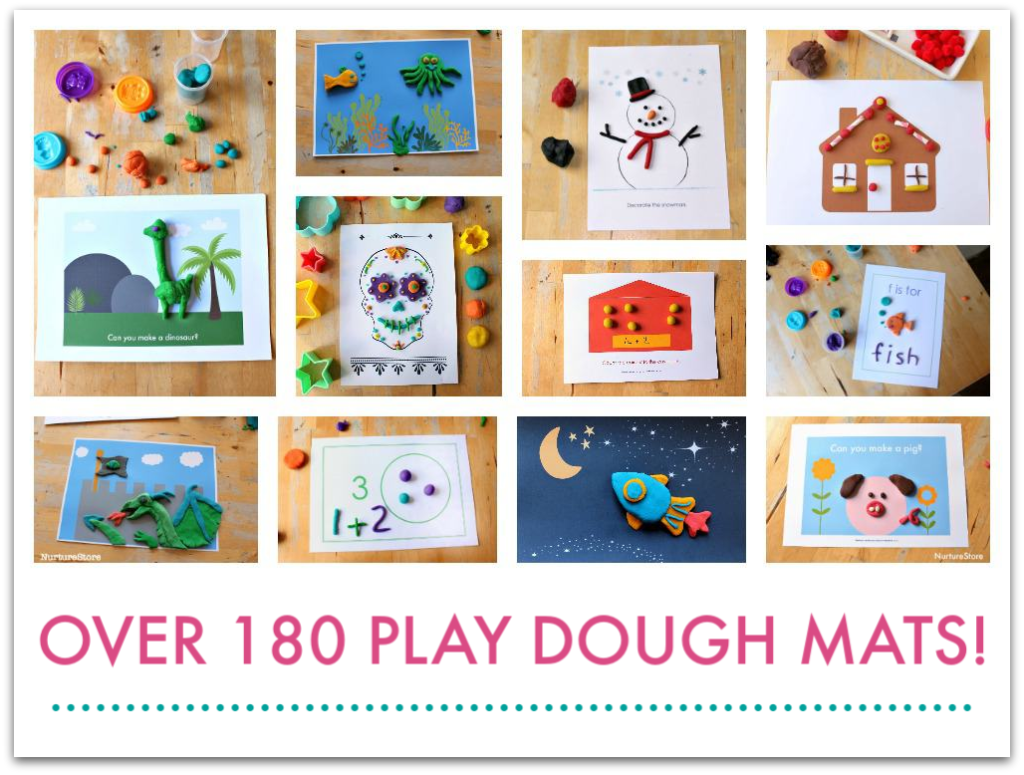 How to get this playdough mat printable
To get all 180 play dough mats, click here to get your copy of The Amazing Play Dough Printables Pack.
If you only want this one play dough mat, you can subscribe to my email list and have it as a free gift.
Pop your email address in the form below and you'll get access to all my free printables, lesson plans, activity ideas, weekly newsletter, and a whole lot more!
After subscribing, be sure to check for the confirmation email. After you confirm your email subscription, we'll send you a welcome email which includes instructions for downloading our free printables.
If you're already subscribed to our email newsletter: check your email for the latest edition of the newsletter where you'll find a link to access our free printables library - the link is usually at the bottom of the email.
For help accessing our printables, click here.
---
* By subscribing, you consent to our use of your personal data as per our Privacy Policy, which includes agreeing to receiving interest-based email from us.
---