This free pizza fractions printable play set is great for making math fun. You can use the printables for a role play pizza parlour and let your children weave math naturally into their games as they play. Such a fun way to introduce fractions.

How to use this pizza parlour printable
---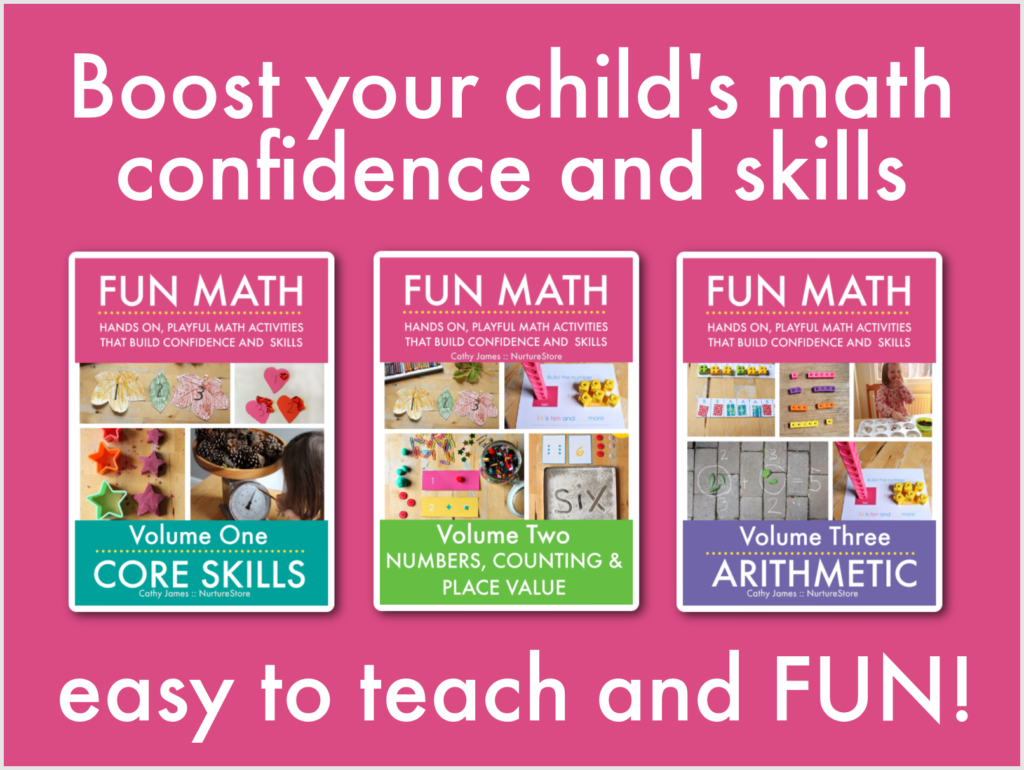 Magic Fun Math lessons!
Fun Math is an easy to teach, highly effective math curriculum based on play and hands-on learning.
All the lessons are designed to be fun and memorable, so children enjoy their lessons and feel confident.
The lessons are easy for teachers and parents to use, in class or at home.
These are the magic lessons where children really see, understand, and can apply math concepts. They are especially suited to children who don't like math, lack confidence, don't understand math the way they are currently being taught, or just want to play.
SEE MORE AND TRANSFORM YOUR MATH TEACHING HERE.
---
This pizza parlour set can be used for math, language and role-play activities and includes:
:: pizza bases with whole, half, quarter and third divisions
:: a selection of toppings: cheese, mushrooms, pepperoni, olives, bacon
To play with these pizza parlour printables:
Print your pizza set – see how below. I recommend printing on card to make your pizzas more durable.
Cut out the pizza bases and toppings, laminating them if you like.
Set up a role play pizza parlour – with a phone and notepad to take orders for delivery, or a table and place settings to serve them in a restaurant.
Invite your child to explore and play!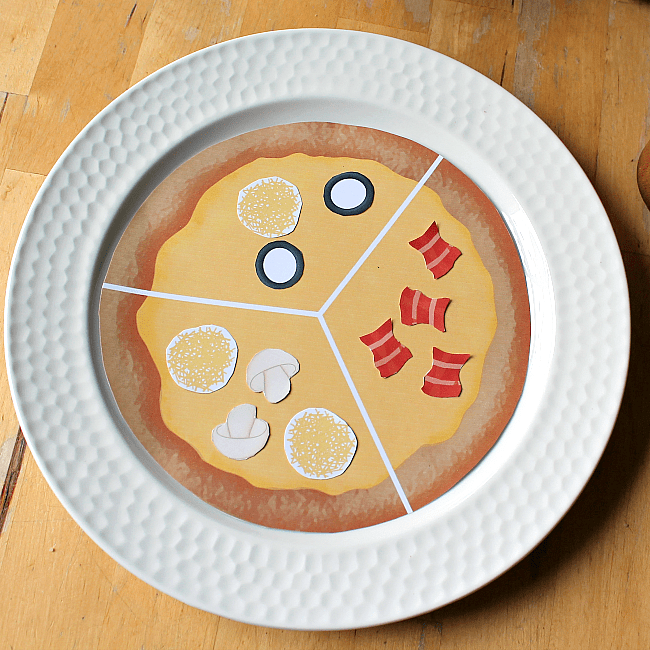 Play variations
:: You can use the pizza printables for imaginary role play. Set up a pizza delivery service with a phone, notepad, and street map. Some children can phone in their orders, others can make and delivery their pizzas.
You could also set out tables and place settings to make a pizza restaurant dramatic centre, with some children being diners, some children serving.
Imaginary role play like this is a wonderful way for children to try out social situations and develop language skills. Conversations where you need to take turns, collect key information and use mathematical language happen naturally when you're serving pizza! What would you like on your half? How many slices of pepperoni do you want?
:: Depending on your children's age and stage you might include a menu with prices, so they can work out their bill and make change.
:: They might also use a street map to locate the addresses they need to deliver too. You could make a simplified version of a city map, split into a grid so your children can work out which co-ordinates they need to deliver to.
:: You can also use the pizzas to play around with fractions. Perhaps you and your child will share a pizza: What do they want on their half? Who's got more olives? If a friend comes to join in with your pizza, how many pieces to do now need to split your pizza into? What will you put on each of these thirds?
:: Everyone can have a copy of a pizza base printable to make their own customised pizza. Perhaps they can have ten topping items each – how will they split their ten choices between pepperoni, mushrooms and olives?
:: You could have everyone make their pizza and then graph their pizza topping choices: make a bar graph to record how many children chose pepperoni, how many chose olives. Which topping is the most popular choice? (There's no way mushrooms would win with my girls!)
:: Extend your topping selection by giving olives a cost of 1p, bacon a cost of 2p, pepperoni a cost of 5p. If they have 25 pence to buy some toppings, how will they split up their money?
:: Print out all four variations of pizza base and design the perfect whole, half, quarter and third topping combinations.

How to get our free printables
To download my free printables, you'll need to visit the NurtureStore Printables Library, which is available to all subscribers to my email list, and of course to Play Academy members.
Pop your email address in the form below and you'll get access to all my free printables, lesson plans, activity ideas, weekly newsletter, and a whole lot more!
After subscribing, be sure to check for the confirmation email. After you confirm your email subscription, we'll send you a welcome email which includes instructions for downloading our free printables.
If you're already subscribed to our email newsletter: check your email for the latest edition of the newsletter where you'll find a link to access our free printables library - the link is usually at the bottom of the email.
For help accessing our printables, click here.
---
By subscribing, you consent to our use of your personal data as per our Privacy Policy, which includes agreeing to receiving interest-based email from us.
---
---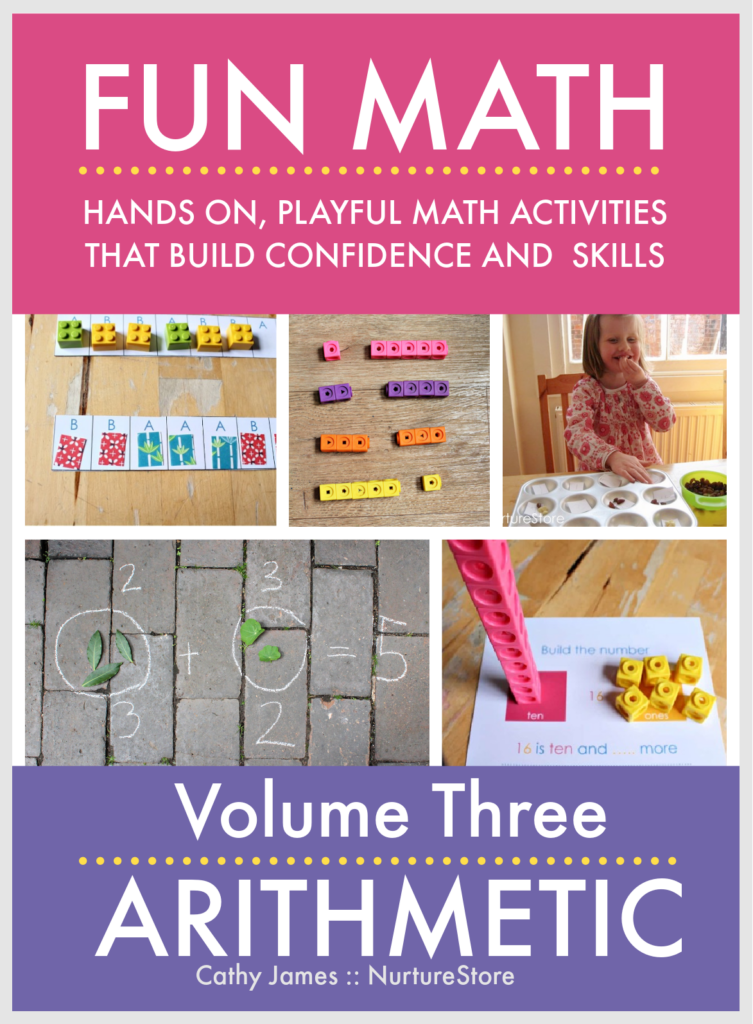 Transform your teaching with Fun Math
The Fun Math series gives you a math curriculum that is easy to teach and highly effective.
Children love these lessons because they are engaging and fun.
You'll have a clear set of ready-made math lessons and activities that are simple to lead using our step-by-step lesson guides, and which children really understand.
Be the best math teacher and boost your children's confidence and skills with Fun Math.
See more and transform your teaching here.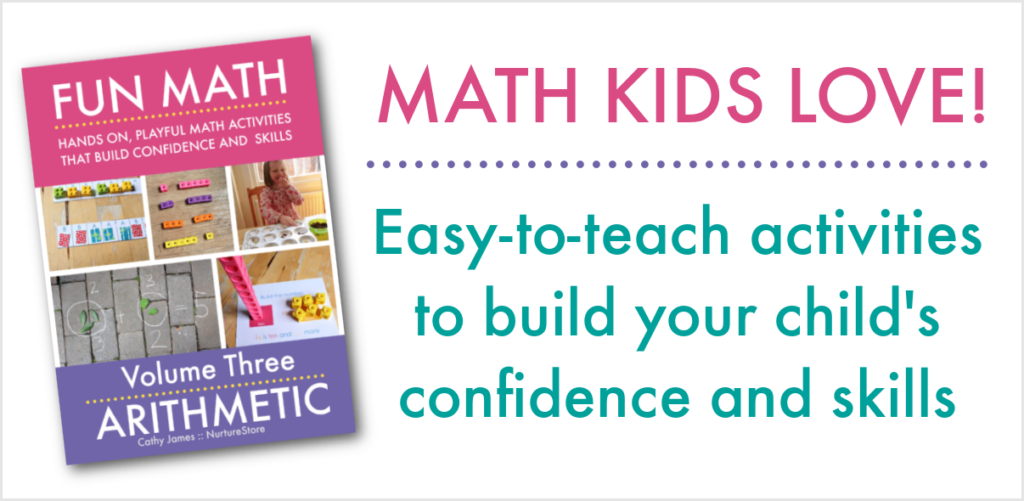 ---