This Valentine math station is packed full of ideas for math discovery and math games. And don't miss the Valentine-themed literacy, art and science ideas featured at the end.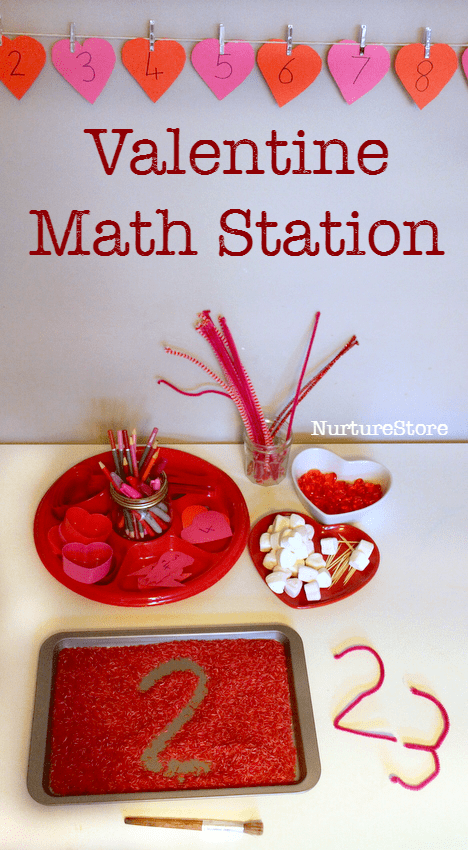 Valentine math station
---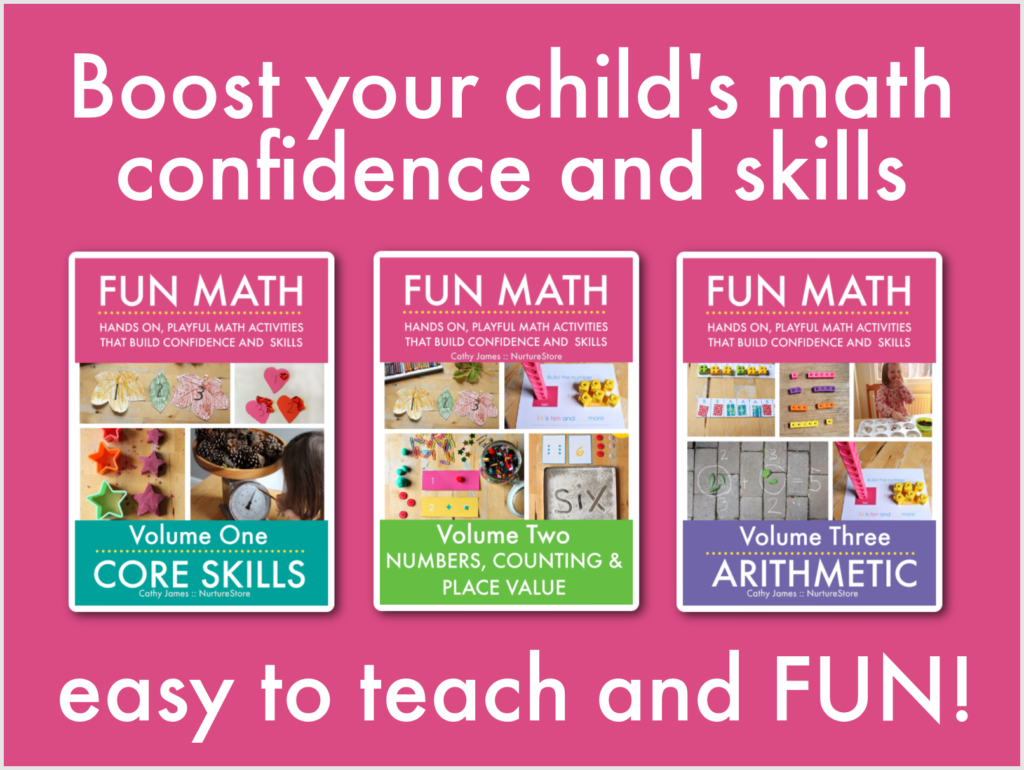 Magic Fun Math lessons!
Fun Math is an easy to teach, highly effective math curriculum based on play and hands-on learning.
All the lessons are designed to be fun and memorable, so children enjoy their lessons and feel confident.
The lessons are easy for teachers and parents to use, in class or at home.
These are the magic lessons where children really see, understand, and can apply math concepts. They are especially suited to children who don't like math, lack confidence, don't understand math the way they are currently being taught, or just want to play.
SEE MORE AND TRANSFORM YOUR MATH TEACHING HERE.
---
My children love math stations. The novelty of a themed one always grabs their attention, and they love the variety of activities on offer.
You can have a permanent math station set up, for children to use independently or with guided exercises, or bring one out once in a while to fit the season and give an interesting alternative to your usual math work.
You can head here to see our pine cone math station, Halloween math activities and our rainbow themed activities unit.
This Valentine math station idea is part of the Playful Hearts series of Valentine-themed play and learning activities.
Click through on the links at the end to see all the literacy, science and art ideas, and you'll have a complete resource of Valentine activities for your children.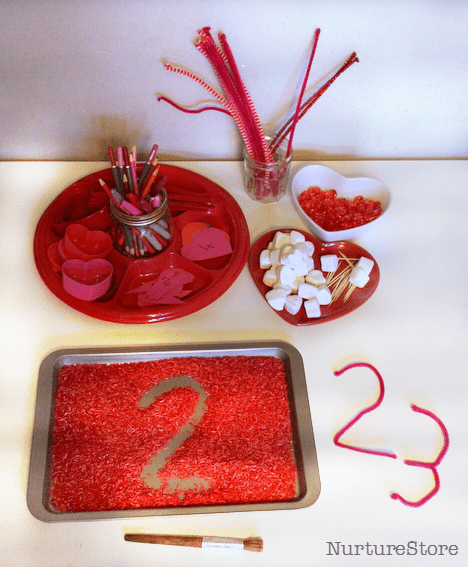 The idea behind the math station is to include lots of multi-sensory activities.
It includes a variety of math activities which children can play with independently, or use to work on some directed games.
There's much to see, feel, count, explore and discover.
Most of the materials are open-ended, and you can set up your math station so it is interesting and relevant to children of a range of ages and abilities. Let's go on a tour of ours!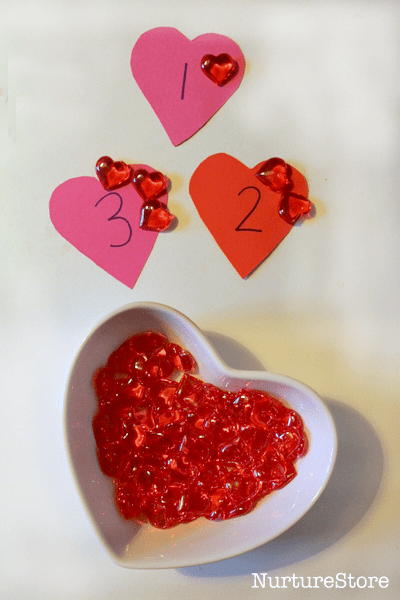 We have a pot of plastic hearts, which make great counters for children who still like to have real objects in their hands to help them calculate answers.
The number hearts are from our bunting number line, which you can see in the top photograph. We have the odd and even numbers in different colours. We peg them up, so we have them as a visual reference to help us write our numbers the right way round – using the coloured rice / salt tray to practise. We also take down our numbers for some of our math games.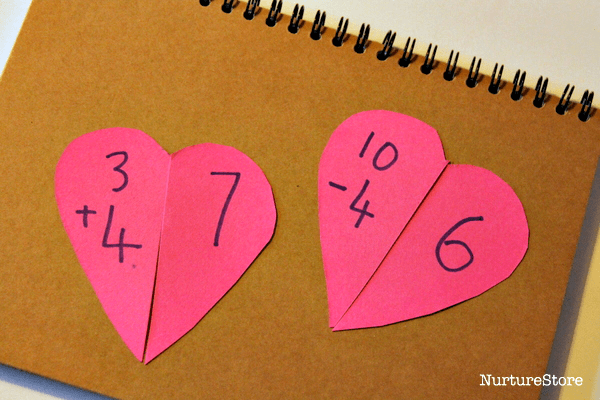 We have a selection of 'broken hearts', waiting to be fixed by clever math-brained children! You can make these hearts to suit the levels your children are working at.
:: Match written numbers with the corresponding number of dots
:: Have addition and subtraction problems to match with answers
:: Include tally marks and the written form of the number (one, two, three…) to match up
:: Use them to work on times tables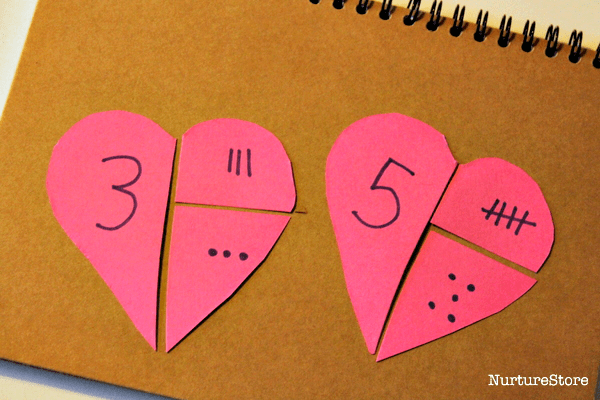 We have a selection of manipulatives that the children can use for counting, making repeating patterns, or for building symmetrical pictures.
Lollipop sticks are great for tally marks, and pipe cleaners are great for making digits.
And there's also a collection of heart-shaped cookie cutters and pots, in a variety of sizes.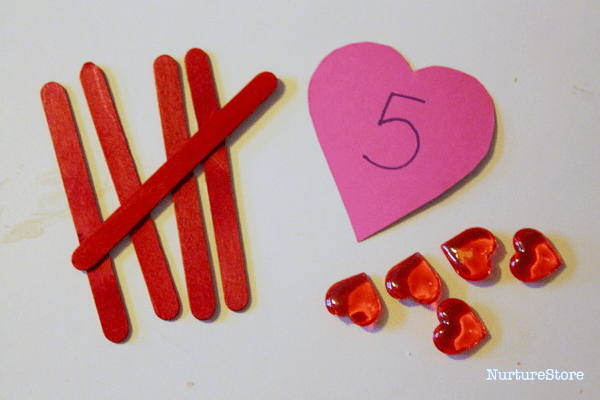 A math station like this is really hands-on, encouraging children to engage all their senses as they work. Multi-sensory learning is the best kind for all children, but a station like this is especially useful for children who benefit from visual learning, and those who need to have 'real' things to count and calculate with and aren't yet able to work in abstract (working it out in their heads).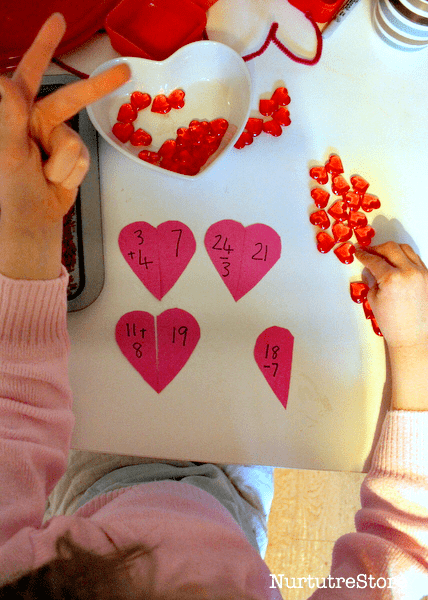 As a Valentine treat, a plate of heart-shaped marshmallows and toothpicks make a great construction activity – or offer a set of pink and red pipe cleaners.
You can invite the children to create some architectural sculptures, or use my printable construction challenge cards.
Can they build a cube? A pyramid? A tower that is 25cm tall? A symmetrical structure?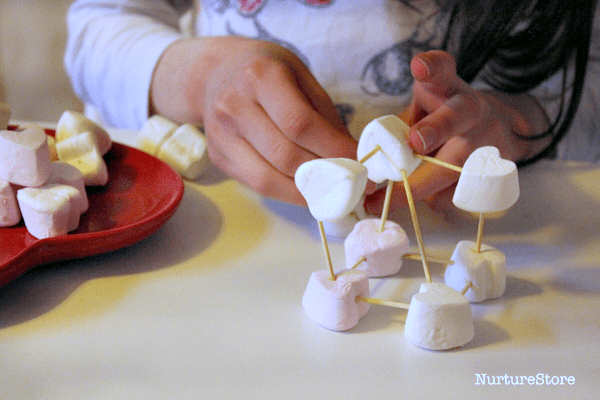 Loveheart-patterned washi tape is great for measuring, and for making shapes.
Again, you might have a set of challenge cards available to ask: Can you tape out a 10cm square? A rectangle? A right-angled triangle?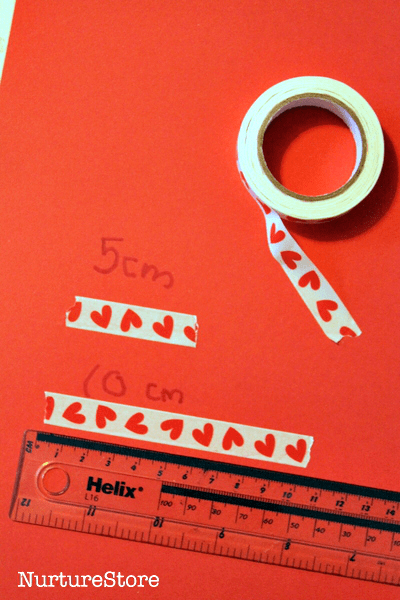 We also use our number hearts for some non-standard unit measuring. In contrast to using a ruler with our washi tape, here we're counting how many hearts tall our toys – and our children – are.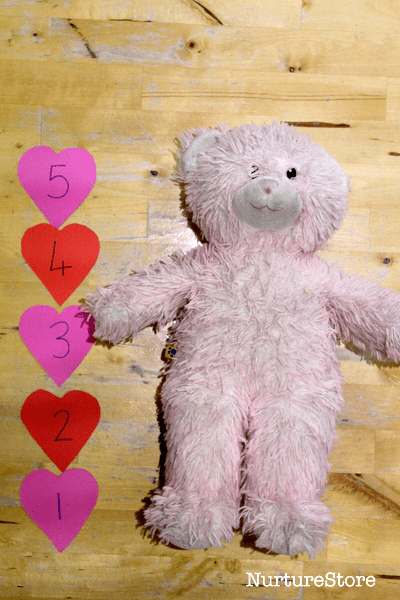 If you're working on reading and writing too, head this way and you can print a free set of alphabet cards. They make a great addition to a Valentine writing station.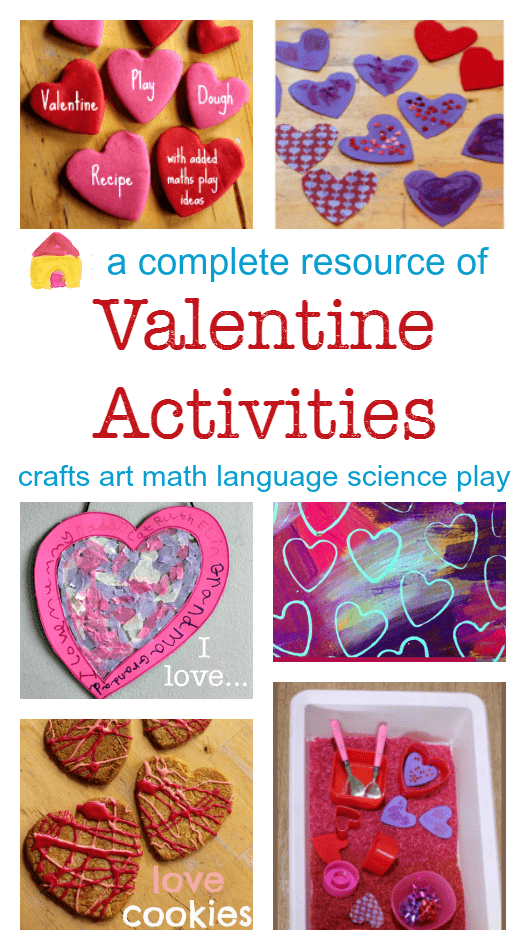 More lovely Valentine's Day activities for your children
Did you see all my other Valentine's Day activities for children?
I've got more free printables, art, math, science, literacy and play ideas, all with a Valentine theme. You can find them all here.

---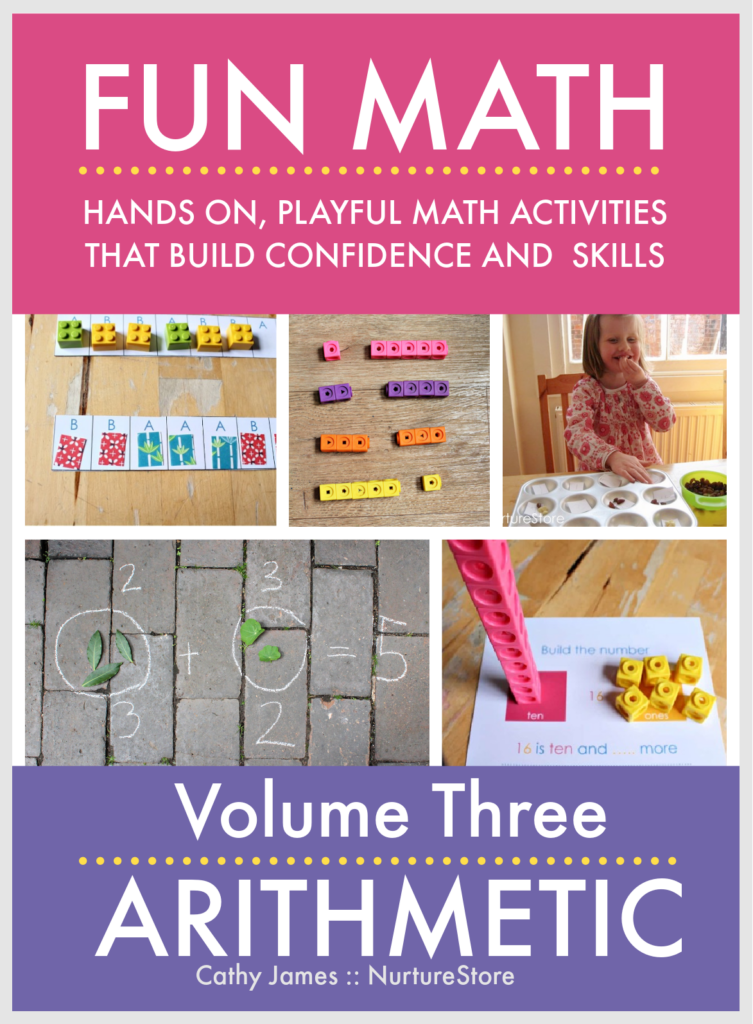 Transform your teaching with Fun Math
The Fun Math series gives you a math curriculum that is easy to teach and highly effective.
Children love these lessons because they are engaging and fun.
You'll have a clear set of ready-made math lessons and activities that are simple to lead using our step-by-step lesson guides, and which children really understand.
Be the best math teacher and boost your children's confidence and skills with Fun Math.
See more and transform your teaching here.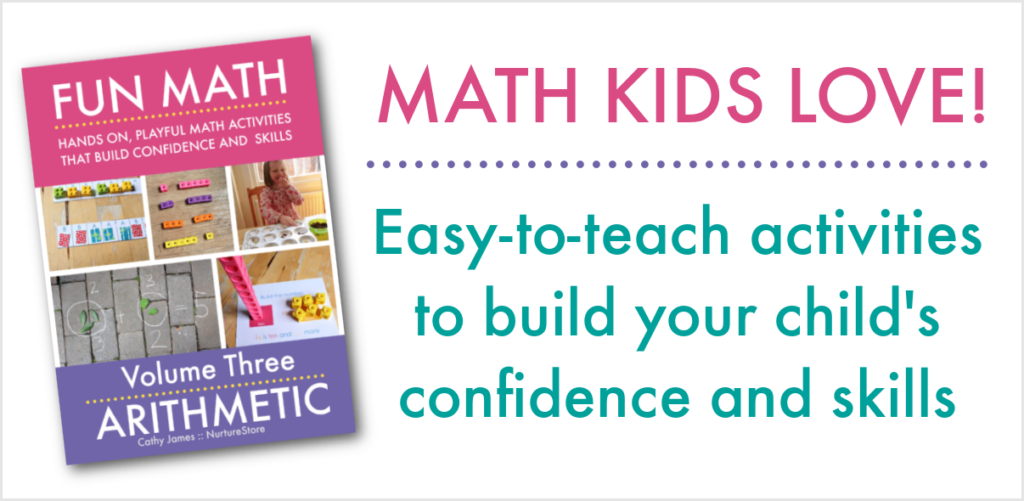 ---