These printable heart matching and counting cards are a fun Valentine's math activity for children, helping them develop important math skills through play. Print your set and try these math activities.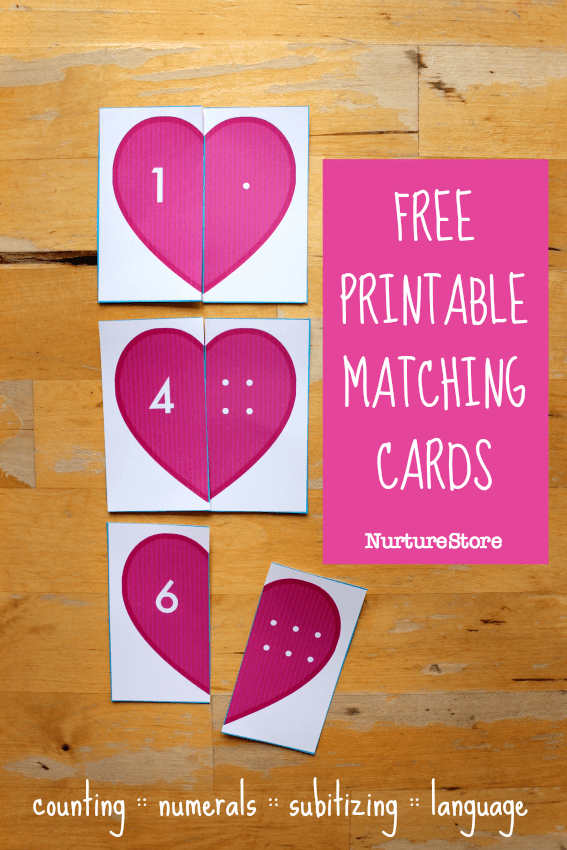 Printable heart matching and counting cards – Valentine's activity
These heart matching cards are a hands-on way to count, match, and order numbers.They make a great addition to a Valentine math station.
They're a fun Valentine's Day activity that help to build important math skills:
:: recognising numerals
:: pointing to and counting dots, working on one-to-one correspondence
:: matching a numeral with the correct number of dots
:: subitizing: the ability to 'see' a small amount of objects and know how many there are without counting
:: talking about numbers and amounts using mathematical language: more than, less than, bigger, smaller, one more then, two less than, odd, even, pairs, halves
:: ordering numbers in ascending or descending order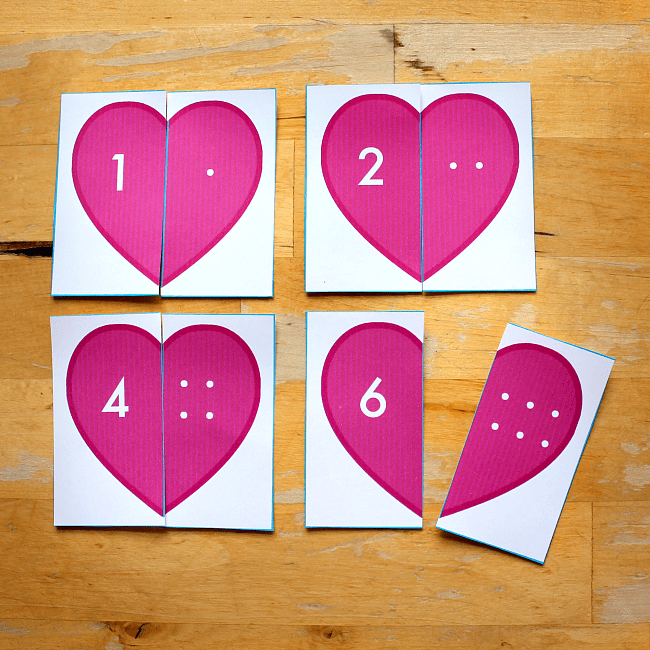 How to use the printable heart cards
Print your cards and cut them out. You can cut them as square playing cards or in a heart shape – as you prefer.
Cut each heart in two, along the central line, so each heart is how a pair of playing cards.
You can play with the cards in a variety of matching games:
:: hide the cards around the room for an active treasure hunt: find all the cards and match the pairs together
:: bury the cards in a Valentine sensory tub and hunt out all the pairs
:: peg up the pairs on a number line – a great workout for fine motor skills, plus the opportunity to organise the pairs in ascending or descending order
:: use the cards like a jigsaw. Spread them out on the floor and work together to match up all pairs. Younger children might work only on cards one to three, older children might complete the whole set.
:: Play a game with the pairs that you find, encouraging lots of mathematical conversation:
Who has the heart with the most dots?
Who has the biggest number?
Who has got an even number?
Who has one more than me?
Who has two less than me?
Who has got the same number as their age?
How to download the printable heart matching and counting cards
Pop your email address in the box below
You'll get instant access to all my free printables, lesson plans, activity ideas and a whole lot more!
Be sure to check your email for the confirmation email, and you will receive instant access to the whole Creative Kids Learning Library.
If you are already a NurtureStore subscriber: pop your email address in the box below to 'sign in' and you will be re-directed to the Creative Kids Library where you will find all our free printables.
More lovely Valentine's Day activities for your children
Did you see all my other Valentine's Day activities for children? I've got more free printables, art, math, science, literacy and play ideas, all with a Valentine theme. You can find them all here.