For day two of our at-home, screen free play ideas series, we're looking at ice play.
It's a great contrast to yesterday's water play ideas and offers the opportunity for lots of exploring and discovering.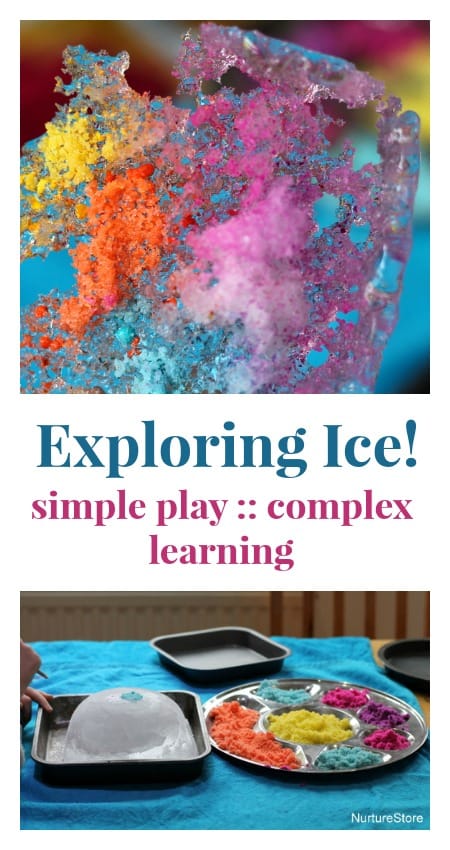 Ice play ideas for children

Playing with ice is another great sensory experience that's cheap, easy to set up, and lots of fun.
If you played with water yesterday, ice play is a great follow-on activity, as it uses they same basic material but is a totally different experience.
Your children can make connections between what they used yesterday and begin to ponder, question and understand how the process of freezing changes things completely.
With this simple play experience we're looking at complex learning around sensory play, cause and effect, and science.
Here's how my girls chose to play with their ice, with some extra ideas to try at the end.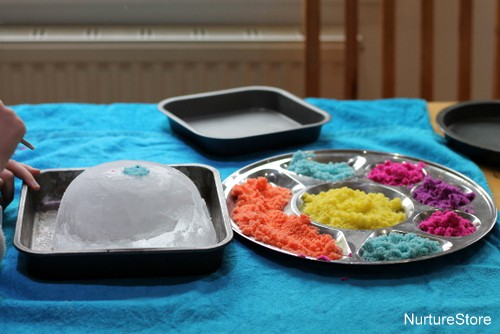 Ice block art with coloured salt
To prepare for this play session, we filled some plastic containers with water and popped them in the freezer overnight.
We used quite big, rectangular containers as we wanted to make big blocks of ice we could use as a 'canvass' to 'paint' on.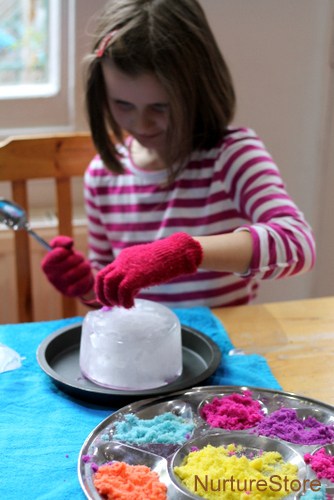 We set out our ice blocks on baking trays sat on towels, ready to catch any drips.
To create some art, we used coloured salt to paint, decorate and transform the ice (click through to see how to make colored salt).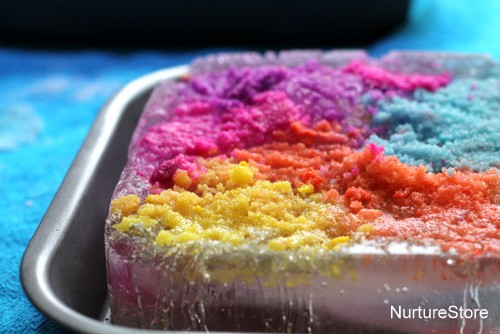 Complex learning through simple play
My girls have played with coloured ice blocks and plain salt before, so this was an extension for them – using similar materials, in reverse, allows them to get a better understanding of the materials.
They can follow up ideas from their last play time, becoming better ice experts, deepening their knowledge of this scientific process.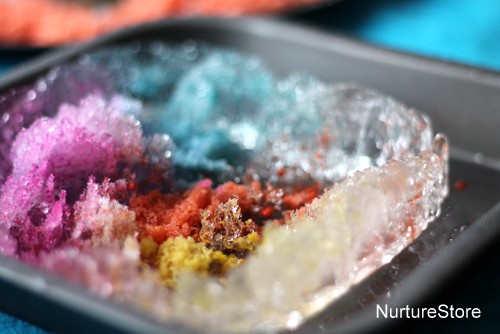 As they play they have the opportunity to explore:
:: the science of freezing and melting
:: the effect of the addition of salt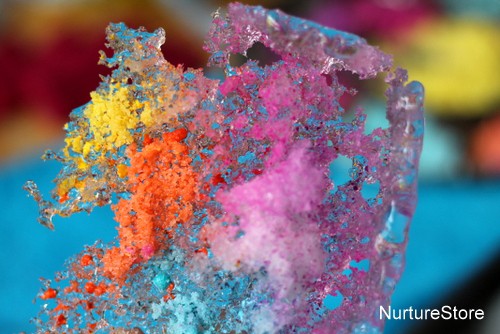 :: the creative expression of creating colourful art
:: the sensory nature of the cold and wet and crunchy materials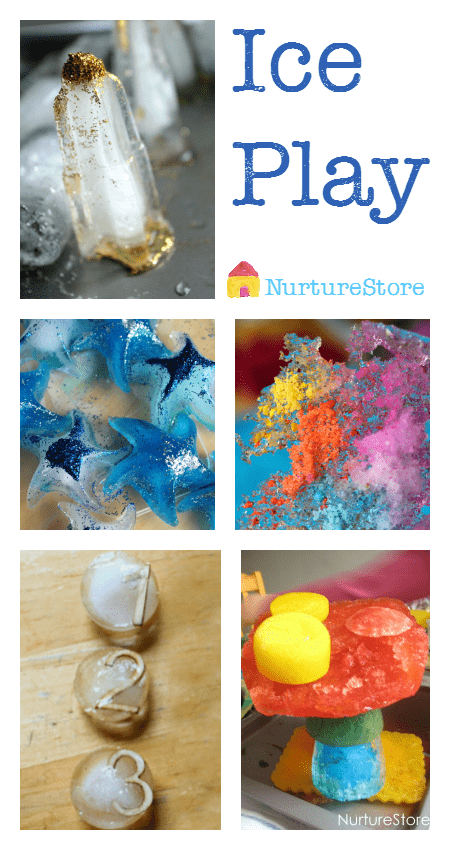 More ideas for ice play
1. Put the colour in the water itself and play with ice art blocks.
2. Build a Frozen ice palace.
3. Add ice to your sensory tub.
4. Play frozen math games.
6. Go on a frozen treasure hunt.
7. Add colored ice cubes to your bath.
8. Try ice excavation.
9. Make a frozen small world South Pole.
10. Make some ice lollies!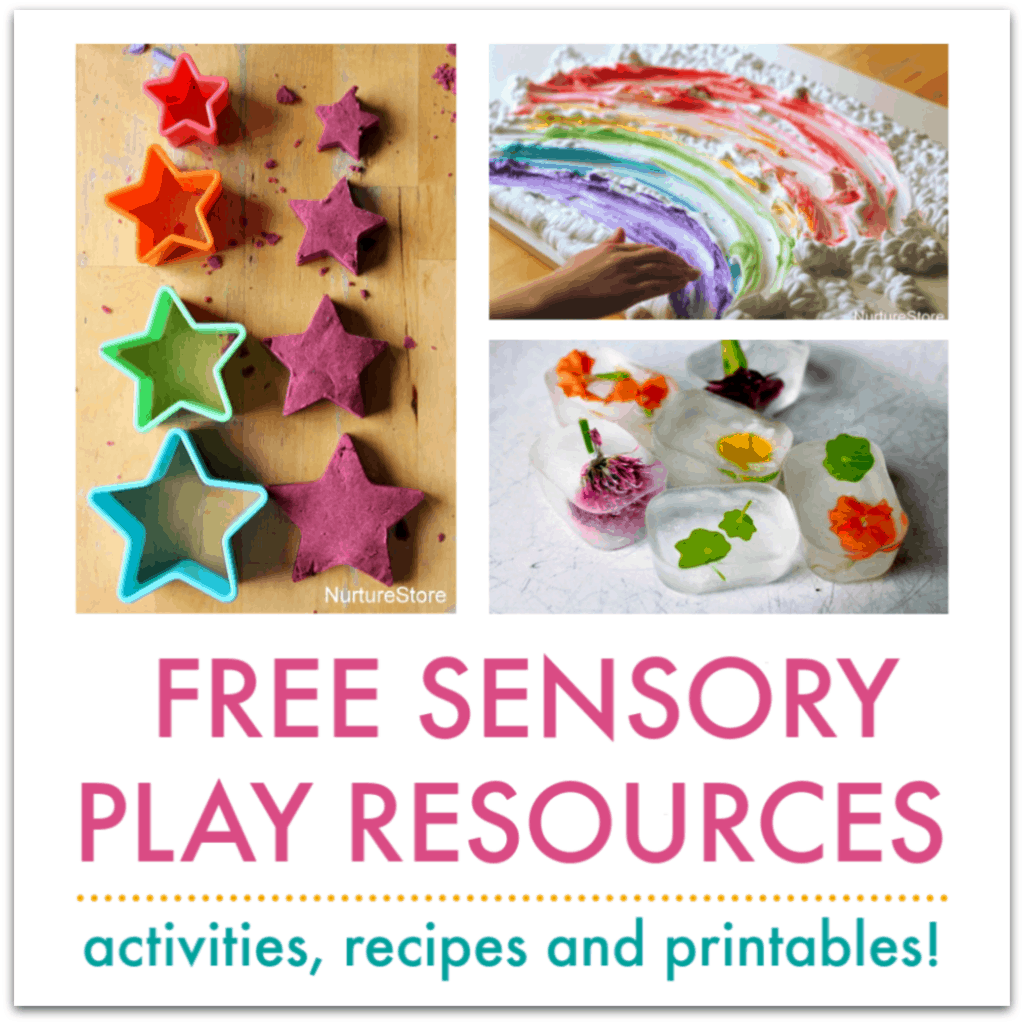 GET FREE SENSORY PLAY RESOURCES
Sign up for my weekly Super Sensory email and your teaching fairy godmother - that's me! - will send you free sensory play activities.
You'll get:
sensory play activity ideas to match all the festivals and themes of the year
fun recipes so you can make your own sensory play materials
free printables to add math, literacy and lots of creativity to your sensory play activities
To get all the free sensory resources, sign up in the box below.
---
By subscribing, you consent to our use of your personal data as per our Privacy Policy, which includes agreeing to receiving interest-based email from us.
---