Here's one of my all-time favourite spring crafts – daffodil bunting. After the dark winter months when there's been very little growing in our garden it's always such a joy to see the bright green stems of daffodils peeping up. This spring craft lets you bring that happiness inside and wrap it right around the wall of your home! Made from recycled materials, it's a lovely eco-craft too.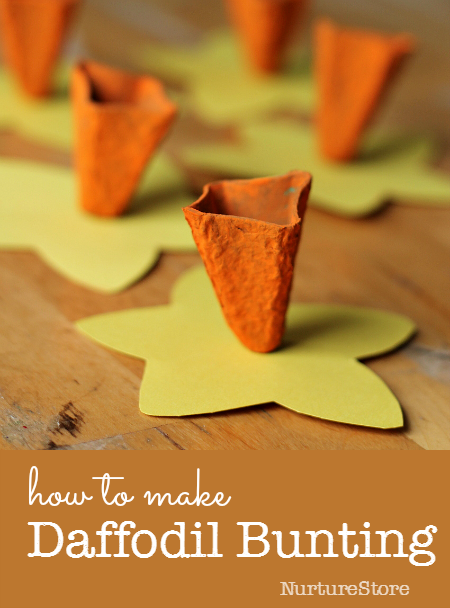 Spring craft: daffodil bunting
Welcome spring into your home this week with a daffodil craft. We used recycled card and egg boxes to make this daffodil bunting – here's how to make it.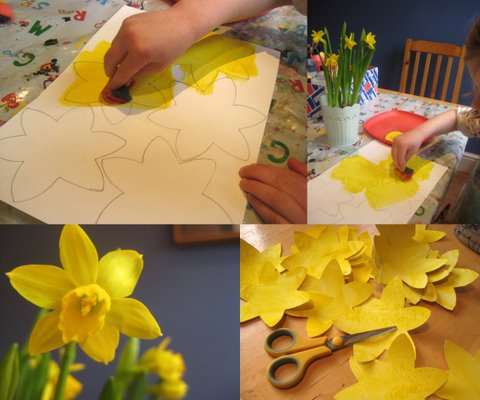 Start by looking at some real daffodils with your children, counting the petals  and talking about the shapes and patterns.
Draw out some daffodil 'star' shapes onto card, either freehand or by using a template.
Paint your daffodils yellow. We used a sponge to apply our paint and enjoyed using a different technique to our usual paint brushes and noticed the patterns we created were just like the real flowers.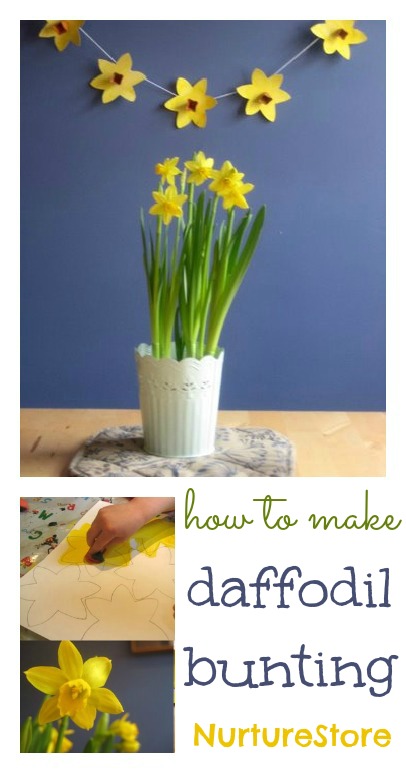 Cut out your daffodils once the paint has dried. We used a fairly thin card and the wet paint made the card bend a little as it dried – which turned out to be perfect as it gave the daffodils a more 3D shape.
Cut out the centre part of some egg boxes to make the trumpets for the daffodils and paint them yellow or orange. Paint them inside and out.

Once the trumpets are a dry, glue one into the centre of each daffodil star using craft glue and leave the daffodils flat until the glue dries.
Attach some wool, string or ribbon on to the back of each daffodil using sticky tape and then hang up your daffodil bunting to decorate your home.


Nurture art with the Art Spark resources!
My Art Spark resources will give you everything you need to start a joyful art practice with your children. There are two new ebooks and an online art course for your family or class. Use them and you'll be bursting with enthusiasm and ideas that will help you make art happen. Click here to see more.