Use this Chinese New Year red envelope printable math mat for Chinese New Year counting, addition, and subtraction activities.
Chinese New Year red envelope printable math mats
Red envelopes are a special symbol of Chinese New Year.
At the lunar new year celebration, red envelopes are filled with money or chocolate gold coins and given to children as a gift and blessing of prosperity and good fortune for the new year.
You can see our complete Chinese New Year lesson plan here.
How to use this play dough play mat
Use this red envelope printable play dough mat to give your math practise a Chinese New Year-theme.
Print the mats, as many as you would like, and write a number or an addition / subtraction question in the gold rectangle on each of the envelope. You can set the questions to match whichever level of math your children are working at: simple counting, addition, subtraction… just be sure to have each question equal an even number (as is the Chinese practice of giving coins) to give good luck!
You might like to laminate the play mat so you can use it again and again with a wipeable pen.
Then invite your children to use play dough or gold coin tokens to fill the envelope with the correct number.
The mats are great to get children:
:: exploring sensory learning
:: developing fine motor skills as they work with the play dough
:: practicing counting, addition and subtraction as they work out the answers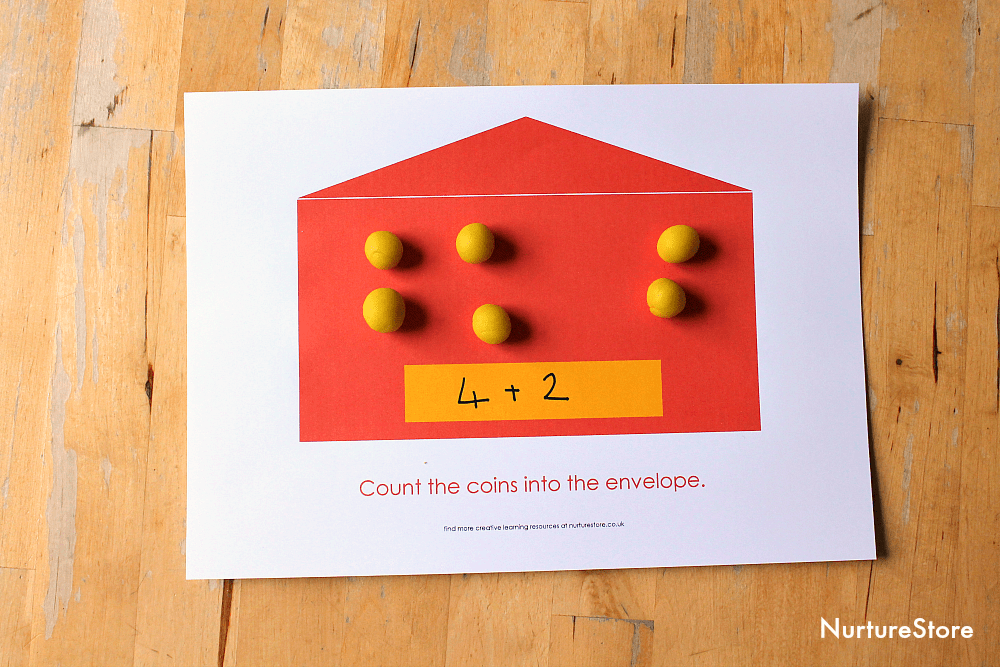 How to download this printable
Get access to ALL my free printables by subscribing to my email list.
To download my free printables, you'll need to visit the NurtureStore Printables Library, which is available to all subscribers to my email list, and of course to Play Academy members.
Pop your email address in the form below and you'll get access to all my free printables, lesson plans, activity ideas, weekly newsletter, and a whole lot more!
After subscribing, be sure to check for the confirmation email. After you confirm your email subscription, we'll send you a welcome email which includes instructions for downloading our free printables.
If you're already subscribed to our email newsletter: check your email for the latest edition of the newsletter where you'll find a link to access our free printables library - the link is usually at the bottom of the email.
For help accessing our printables, click here.
---
* By subscribing, you consent to our use of your personal data as per our Privacy Policy, which includes agreeing to receiving interest-based email from us.
---