In this International Women's Day lesson plan, introduce your children to teenage climate activist, Greta Thunberg and invite them to make their own pledge to take action on a matter that they are passionate about.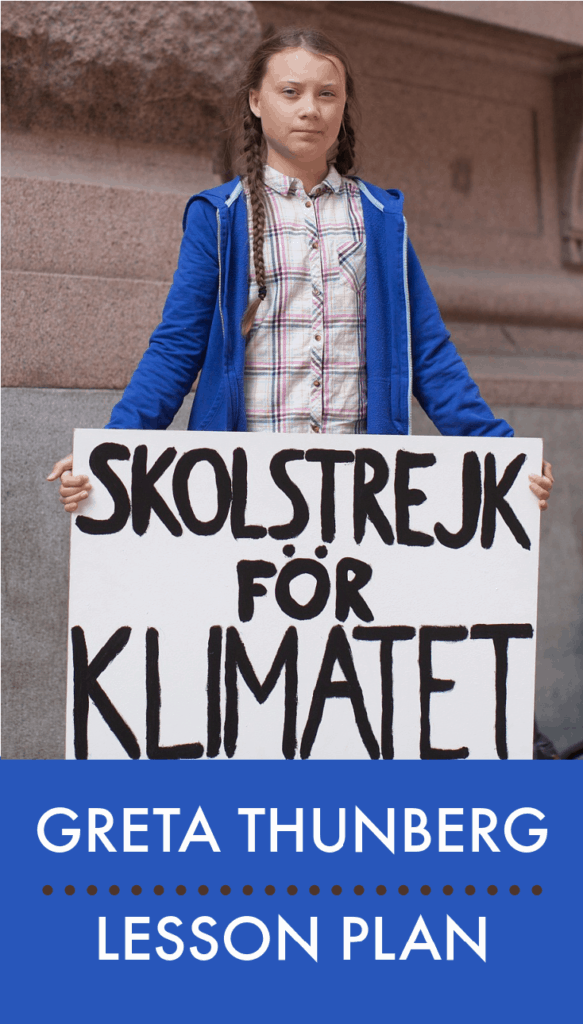 Greta Thunberg lesson plan
As part of our International Women's Day Unit, let's meet a girl who speaks up about an important issue, and decide how we are going to take forward to aims of International Women's Day through all the days of the year.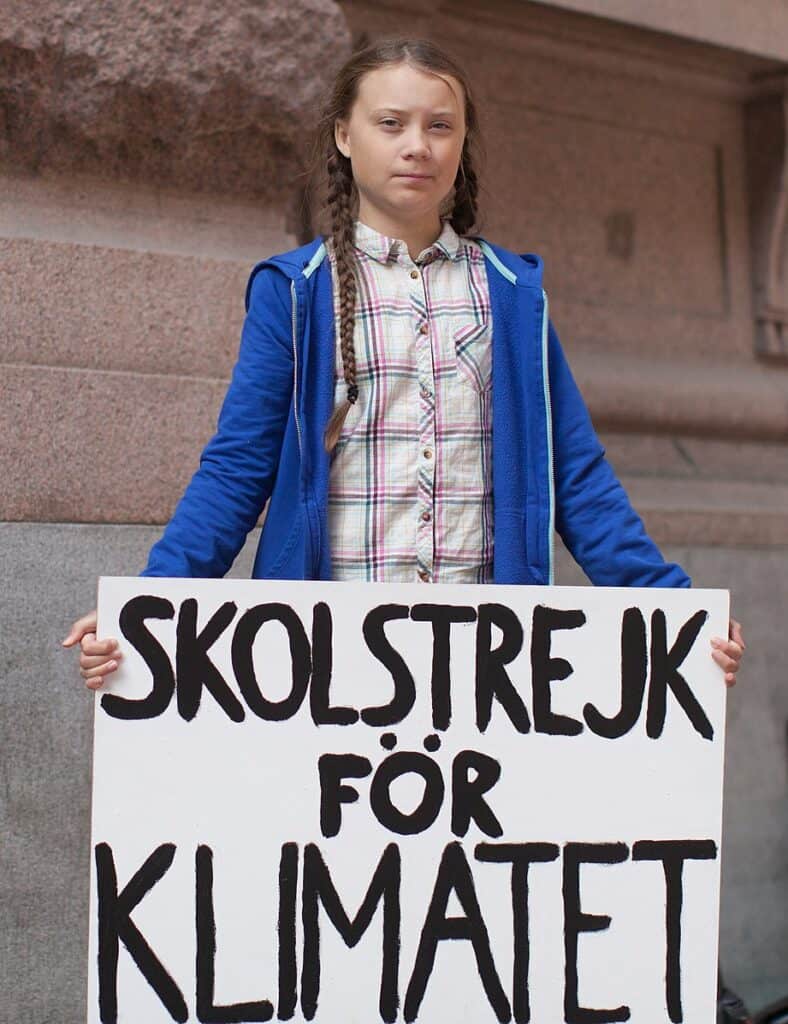 A girl who spoke up
Greta Thunberg is a Swedish climate activist. When she was 15-years-old, she began a peaceful protest outside the Swedish parliament building. She sat alone on the steps outside the building, holding a hand-painted sign that read "skolstrejk för klimatet" which means 'school strike for climate'.
From her solitary campaign, the school strike has grown into a global movement and Greta has been joined by over a million other young people holding peaceful protests to demand climate action and the protection of our environment.
Greta has become one of the youngest internationally-recognised speakers on environmental issues. She had spoken with world leaders and politicians including at the European parliament and the United Nations.
Greta is autistic and describes her neurodiversity as a superpower. She says, "We need people who think outside the box and who aren't like everyone else."
She is inspiring a new generation of young campaigners who are also using their voices to make changes in their communities and world-wide.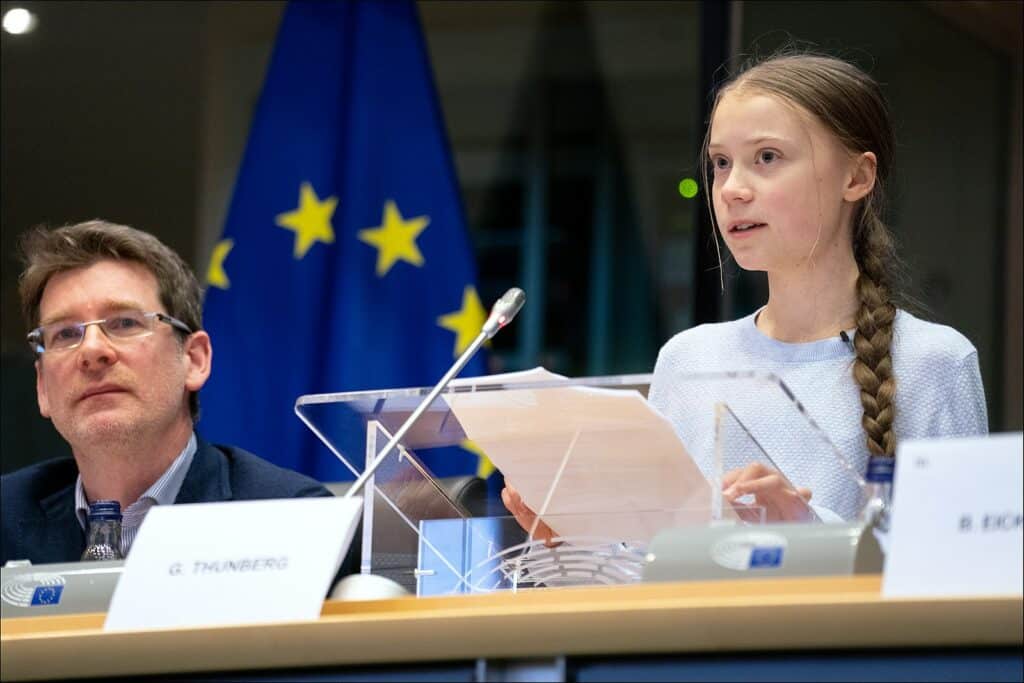 What do you pledge?

Through our activities in our International Women's Day Unit we talk about the challenges people face because of how girls and boys and men and women are viewed and treated differently.
We learn about famous female scientists and artists and celebrate their ground-breaking work.
We also think about the amazing women we know in our community and the stories and wisdom they have to share.
And we've seen how young people, like Greta Thunberg, can speak out and bring about important changes in the world.

International Women's Day celebrates women's achievements, raises awareness against bias, and takes action for equality. What will you do to take these goals forward?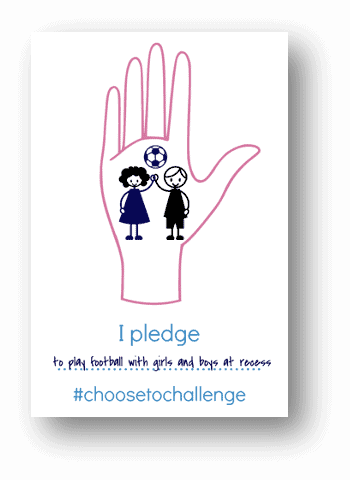 Make a Pledge Poster
Let's each make our own pledge to take action to challenge the way things are.
Take a few minutes to talk together about what is most important to your children:
:: which girls and women do they want to celebrate and how can they do this?
:: where do they see bias and how can they tell other people about it?
:: what do they think is unfair and unequal and what can they do about it?
Generate ideas together and then invite everyone to pick one idea that they want to take forward: their pledge for International Women's Day.
This can be as simple or ambitious as they like but encourage them to make a practical pledge that they can really work towards.
You can use the Pledge posters that are included in the printables section of the International Women's Day Unit to record your pledge. There are two sizes of poster included, a full and half-page size.
Use pens, pencils or paint to decorate your hand any way you like. Write your pledge on the dotted line.
Then hold your pledge poster in one hand, raise your other hand and speak your pledge out loud.
Then go out and put your pledge into action.
Want more activities for International Women's Day? See our complete International Women's Day Unit here.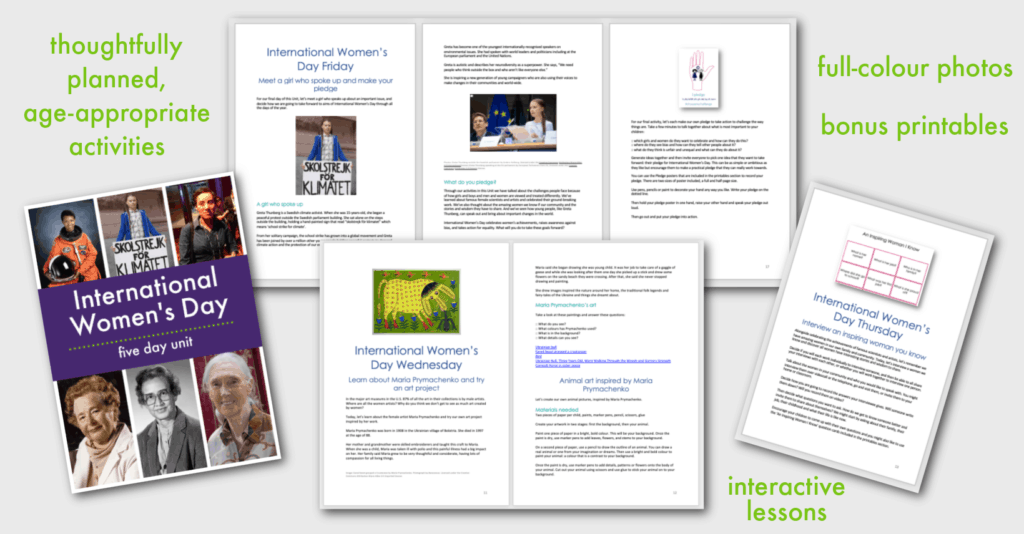 Get the International Women's Day Unit for your children
This kit gives you everything you need to teach an engaging programme of activities to celebrate International Women's Day with your children.
The unit is all planned and prepped for you, with bonus printables to make it easy for you deliver an International Women's Day curriculum which is engaging and relevant to children.