Let's celebrate nature and create outdoor art with these
forest school
mandala activities.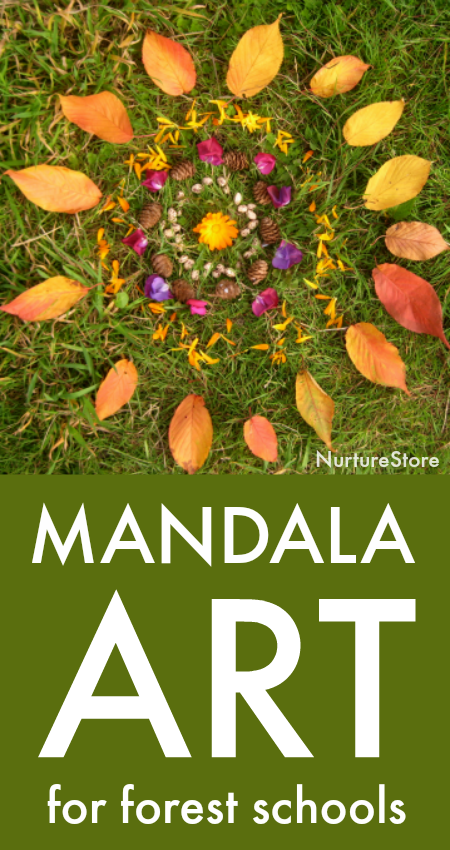 Forest school mandala activities
What is a mandala?
A mandala is a circular symbol, often seen in Hinduism and Buddhism, which represents the universe.
It can be used as a focus for meditation, and making one is very calming and centring.
You can use any materials you like to make a mandala, indoors or outside.
They often use symmetry, repeating patterns, fractions and concentric designs, making them a wonderfully creative way to play with math concepts.
Making a mandala craft is linked to many festivals including Vesak, Buddha Day and Diwali and is a perfect act activity for forest school sessions.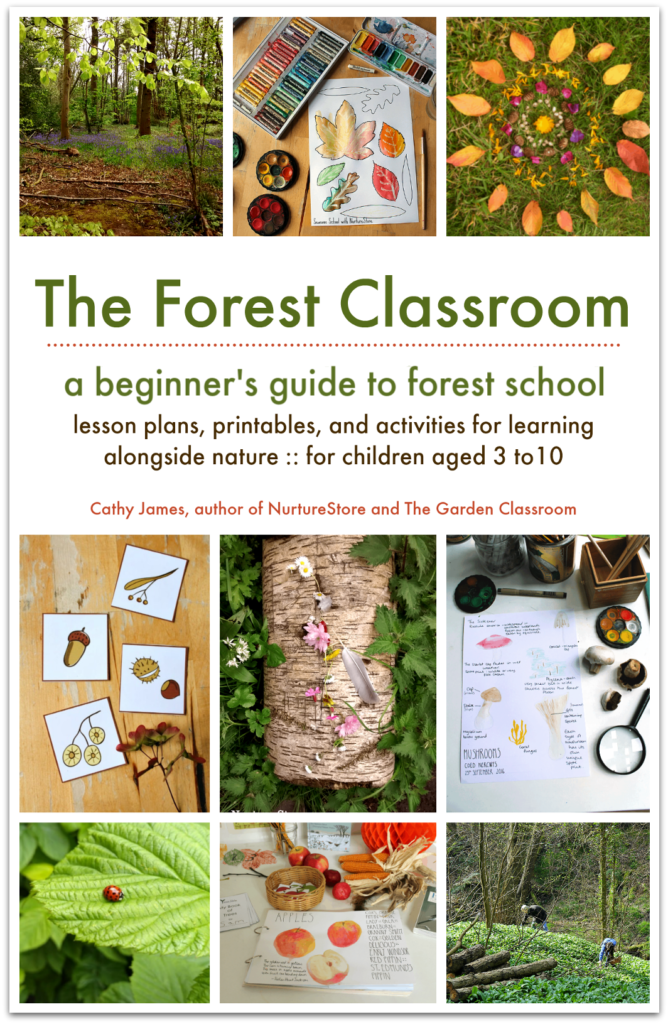 Ready-made forest school lesson plans
Have you got your copy of The Forest Classroom yet? It is the perfect beginner's guide to running a successful forest school. Download your forest school guide here.
A forest classroom is a place of adventure, discovery, and imagination. It can also be a wonderful place to learn about math and science, explore art and crafts, and develop language and social skills.
The Forest Classroom is a practical guide which will show you how to engage your children in fun and educational forest-school activities.
These ready-made forest school lesson plans are suitable for forest school leaders, teachers, childcarers and parents with children aged 4 to 10, to learn in a forest, school nature area, local park or your own backyard.
Get your copy of The Forest Classroom here and you'll be ready to head straight outdoors and enjoy teaching, using our ready-made lesson plans.
---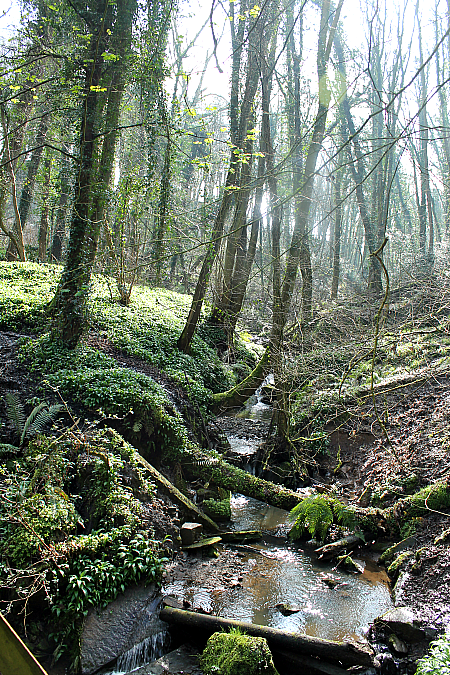 Outdoor art projects in forest school
Taking art outdoors is a wonderful way to celebrate nature's beauty and make use of the natural materials available in your garden classroom or forest school.
Handling natural materials speaks to our senses and gives us a tactile connection with the environment.
By spending time creating the circles and patterns involved in a mandala, we are encouraged to slow down, pay close attention to the materials we are using, and have a direct connection between us and our environment.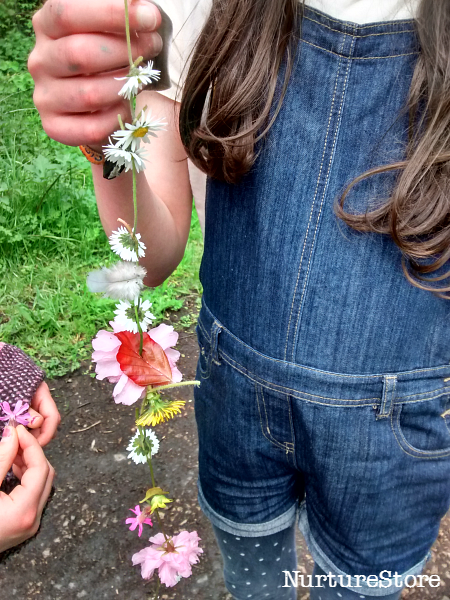 How to use mandalas in forest schools
A mandala can be a solo or collaborative project.
It can be a simple daily ritual, or a detailed, elaborate project.
You could make a mandala as an art-meets-math lesson.
Create a mandala as part of an opening ceremony at the beginning of a new term.
Make a series of mandalas using seasonal materials in the spring, summer, autumn, and winter.
You can also use mandalas as a guide and tool to mark transitions, to commemorate people and events.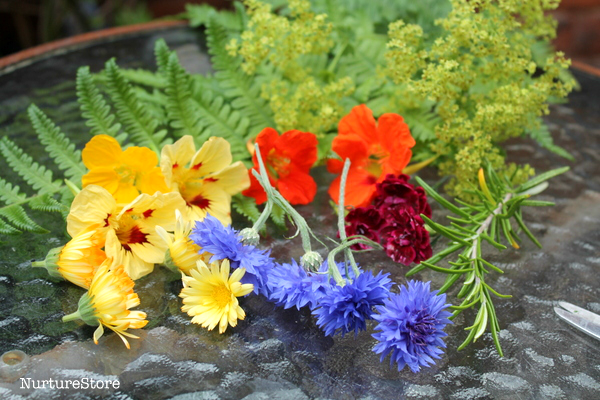 How to make an outdoor mandala
Gather materials from the natural environment, and use them to create a circular design.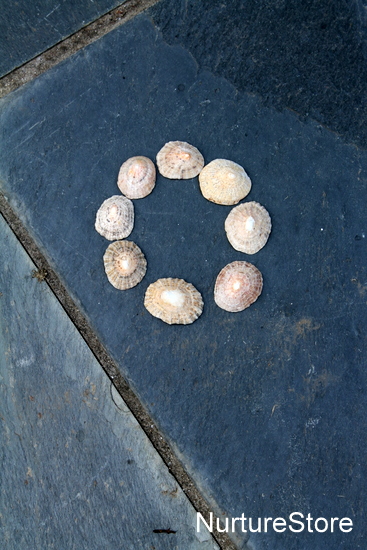 You can begin with one circle, drawn on a sheet, drawn with chalk on the ground, made from a ring of leaves or pebbles, or around a hula hoop.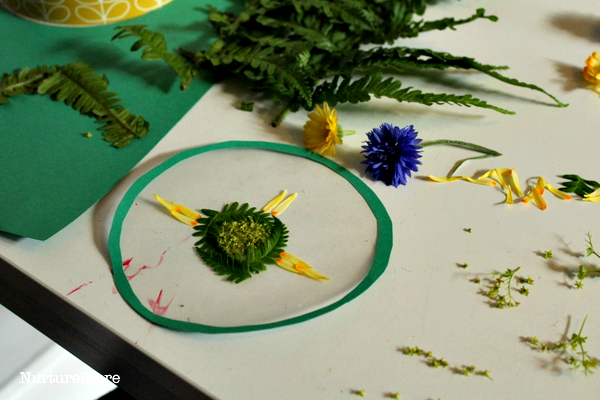 You might like to lay out four leaves, rocks or flowers at stations around the circle to denote north, south, east and west. Or set out a line of leaves or twigs in a ring.
Then begin to fill in your mandala.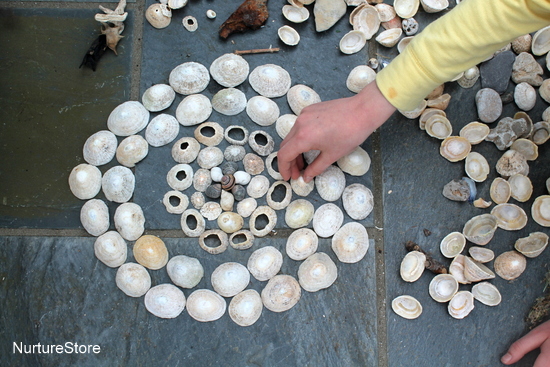 You can add additional rings of materials, in bigger and smaller concentric circles around your original ring.
You can explore symmetry, both mirror and radial, and create repeating patterns of items around your circles.
If you are working in pairs or as a group, each person could be invited to create a new ring, one after another, as you grow your mandala larger and larger.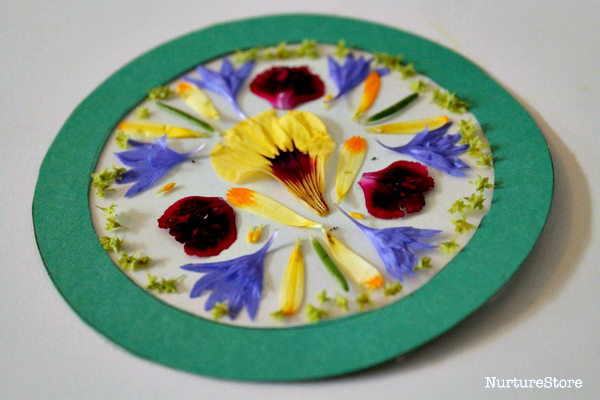 Think about the colours, shapes, sizes and textures of the materials you use, and create you own unique design.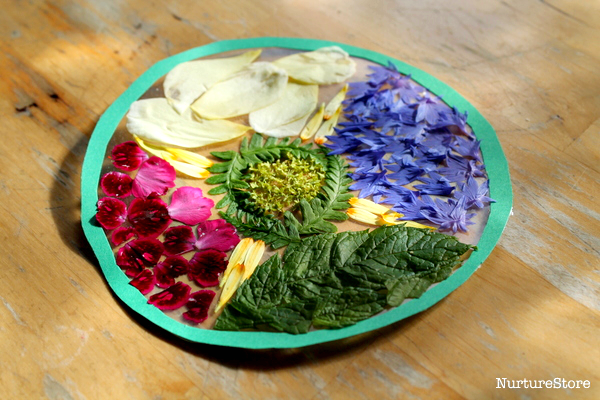 Materials to use for mandala making
Decide first what guidelines you have for collecting materials from your environment.
Will you only use fallen items or will you pick from trees and plants?
How much material do you want to collect?
Be sure everyone joining in is clear about any plants or materials to avoid touching, and remind your children about the rules you have in place about tasting any items.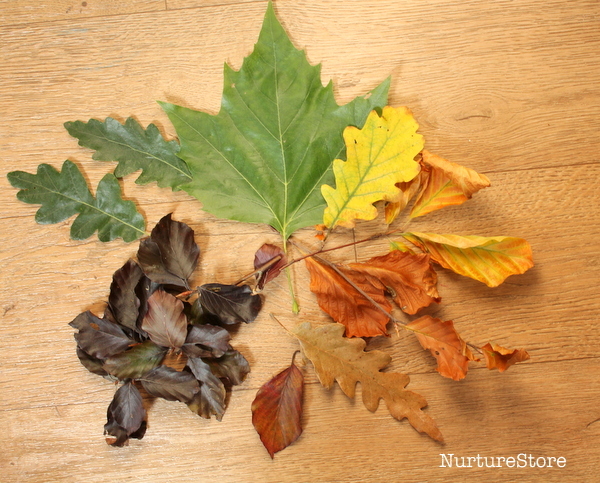 Items from the forest classroom or garden classroom which are good to use for mandalas can include:
:: leaves, both fresh and dried
:: twigs
:: pebbles
:: seeds
:: berries
:: feathers
:: shells
:: moss
:: flowers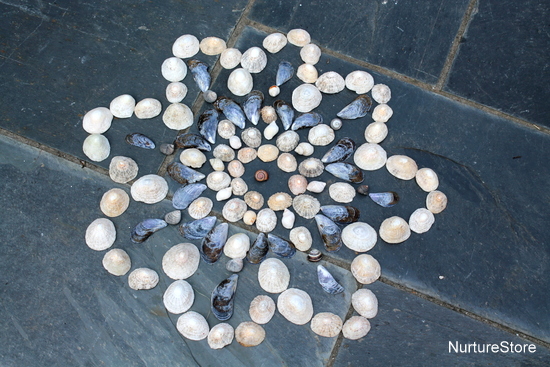 More ideas for making mandalas
Take a look at these mandala activities from NurtureStore's archive for more ideas:
Garden flower play dough mandalas
Clay faces – which can be adapted to create mandala designs
You can find printable mandala sheets in my Amazing Play Dough Printables Pack, which act as a guide to starting your circles and using symmetry in your design.
And for more forest school lesson plans and printables, download The Forest Classroom, a beginner's guide to forest school here.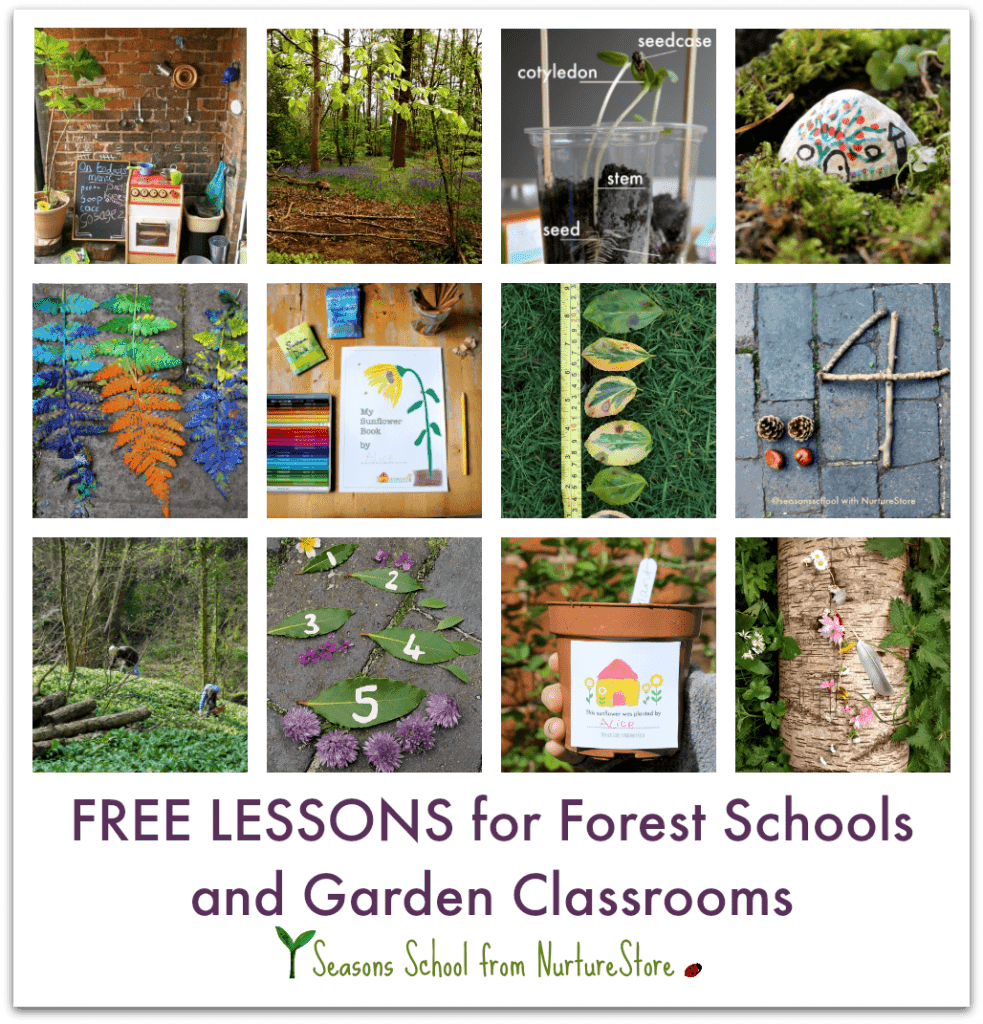 Free Forest School and Garden Classroom resources!
Join my weekly email service and I'll send you FREE printables, lesson plans, and activity ideas that you can use with your children in your forest school and garden classroom.
Seasons School is NurtureStore's year-round program of living and learning with nature. Our activities and resources focus on hands-on, nature-based learning that connects children with the natural environment.
If you're looking for nature study lessons, arts and craft projects, campfire recipes, foraging ideas, outdoor math and literacy activities, outdoor games, and ways to explore forests, gardens, and outdoor spaces - think of NurtureStore as your forest fairy godmother!
Whether you're in a forest school or outdoor classroom, running a school gardening club, bringing nature lessons into your class, home educating with nature, or wanting to connect with the great outdoors at the weekend, you will love the Seasons School ideas.
Pop your email address into the box below and I'll send you your free resources.
---
By subscribing, you consent to our use of your personal data as per our Privacy Policy, which includes agreeing to receiving interest-based email from us.
---