Here's a lesson about Wordsworth's famous daffodils poem along with a free poetry writing printable that your children can use to write spring poems of their own.

Daffodils poem writing prompt for spring
---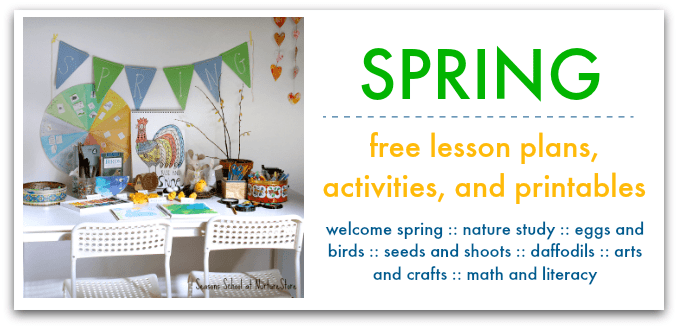 ---
This activity is part of my Spring Activities resources, which include an introduction to the season and complete units on Daffodils, Eggs, Seeds and Shoots, and running a Nature Study project. See our full resources and free printables here.
Let's read one of the most famous spring poems, and try writing one of our own.
I Wandered Lonely as a Cloud
I Wandered Lonely as a Cloud by William Wordsworth is one of the world's most famous poems. It's sometimes know as 'Daffodils'. Here's a printable version of I Wandered Lonely as a Cloud by William Wordsworth you can download to read with your children.
I started by reading the poem aloud and asking the children what they thought the poem was about.
They'd imagined the scene of dancing daffodils as I read, but weren't all sure about the meaning of the final verse.
We read it through again and then chatted about how words can make a picture.
We noticed the rhymes, and talked about how both using our imagination and being in nature can be powerful ways to relax and feel at peace.
We talked about the occasions when we might use the technique of remembering somewhere beautiful to help us.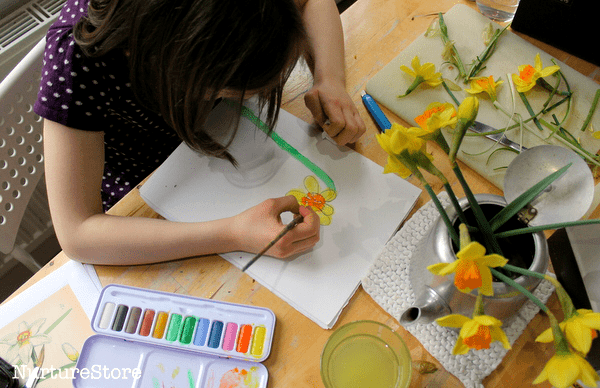 Writing Our Own Spring Poems
You can use the poetry writing printable (see below) to try writing your own spring poem. It gives you a simple template to use to start creating your own poem.
It can be useful to have a guide to get you started, particularly if you've never written a poem before.
Once you've started though, you can develop your own style of poetry, taking inspiration from the spring, and write about daffodils, the woodland, eggs, rabbits, seeds, and shoots.
I find children can often access their poetry writing talents more easily and freely if you suggest they write a song rather than a poem, as songs might be a more familiar art form to them.
How To Use The Poetry Printable
NurtureStore subscribers can print a spring poem writing prompt printable below.
First write a list of nouns in the right-hand column: things you can see, hear, feel, taste and smell in the spring.
Then fill in a list of adjectives in the left-hand column to compliment each noun. What wonderful word pairings can you create?
You can copy your poem into your nature journal and add some illustrations.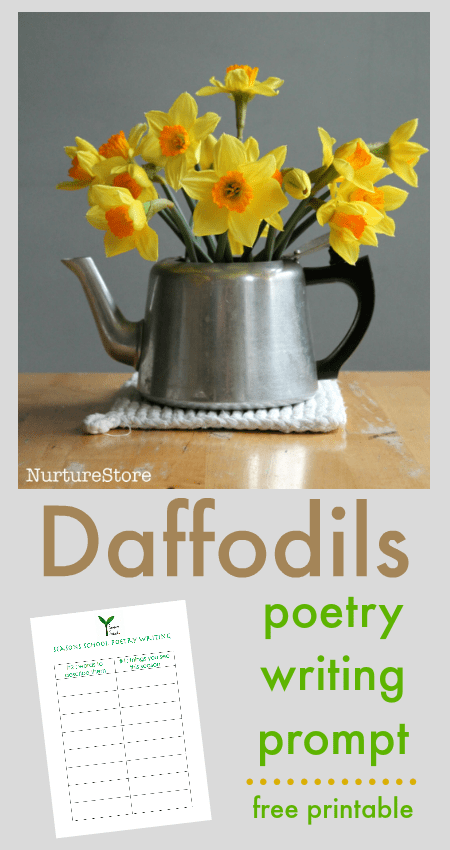 How to download the spring poetry printable
Get ALL my free printables by joining the NurtureStore community and gaining instant access to my free resource library, which includes this printable.
Pop your email address in the form below and you'll get instant access to all my free printables, lesson plans, activity ideas, weekly newsletter, and a whole lot more!
Be sure to check for the confirmation email. After you confirm your subscription, we'll send you a welcome email which includes instructions for downloading our free printables.
If you're already a Play Planner Newsletter Subscriber: check your email for the latest edition of the newsletter and you'll find a link to access all our free printables.
---
* By subscribing, you are accepting our Privacy Policy, which includes agreeing to receiving interest-based email marketing messages from us. You can unsubscribe at any time.
---