This is a gloriously sensory process art adventure, where the focus is on enjoying the look, feel, and scent of the homemade puffy paint.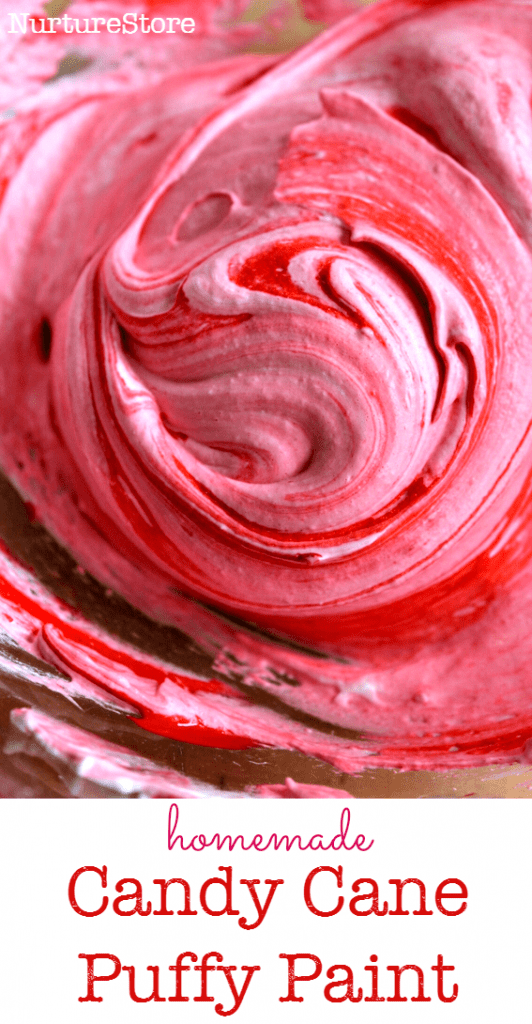 Homemade candy cane puffy paint recipe

This article is one of our Christmas sensory play activities and part of our Christmas activities and crafts for children.
This homemade puffy paint recipe combines shaving foam, flour, and PVA craft glue. You can use shaving foam on its own – especially if you're doing some painting in the bath – but adding in the flour and glue gives you a longer-lasting consistency for more play.
The puffy paint is a feast for the eyes – so pretty! Do remember that you have used both flour and glue in your recipe, so you'll want to scrape the paint into the bin when you have finished playing, rather than washing it down the sink.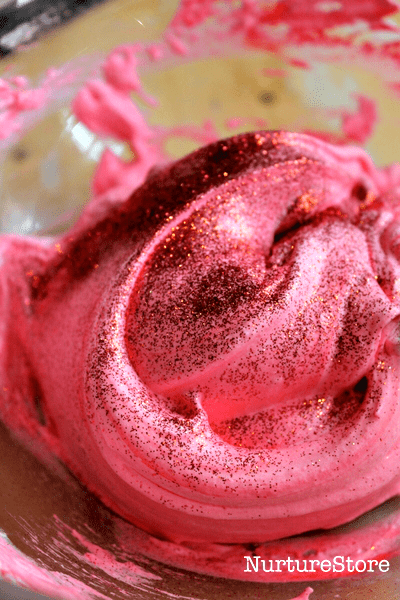 How to play
There's no end-product with this activity, it's all about the process. You're offering your child the experiences of hands-on art and play, being in the moment, and enjoying the sensory feel of the paint.
You can swirl and swoosh the colours together. You can squish the paint between your fingers and drop blobs onto your worksurface. You can use your fingers to draw and write in the paint too.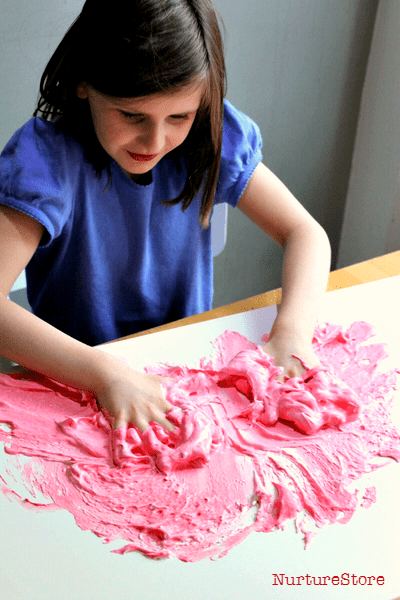 Your child might like to build sculptures or tell stories using the paint.
The puffy paint is also excellent in piping pots (the kind you use for icing a cake). If you have a few different nozzles you can swap them around and let your child experiment with the shapes and the patterns they can make with them. You can mix up a couple of different colours of the paint in one piping bottle and see how it mixes as you draw.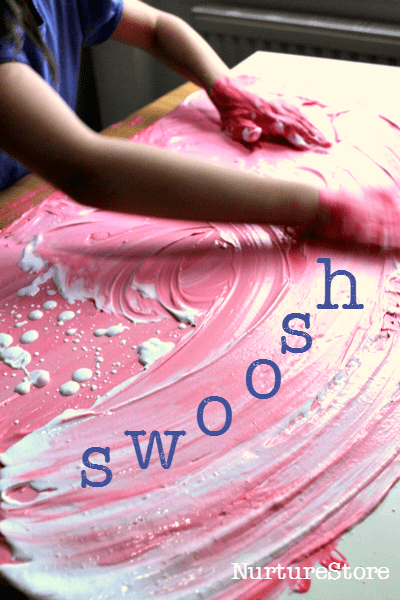 You can also control the flow of the puffy paint to draw pictures or write letters. It's very good practice for dexterity. This would be a great multi-sensory way to practise spelling words.
You can also press a piece of paper or card onto the top of the designs you paint, to take a print of your art.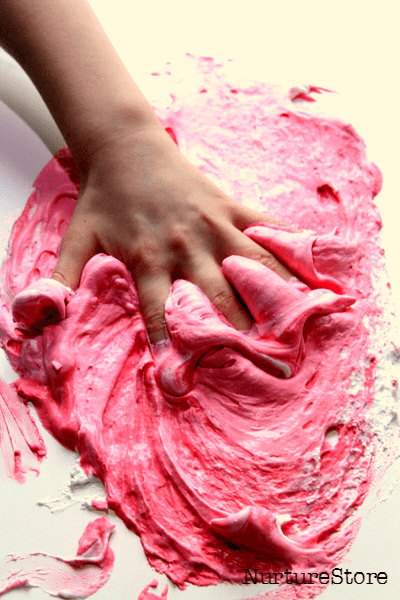 How to make the puffy paint
Materials needed:
:: shaving foam
:: flour
:: PVA white school glue
:: red food colouring or paint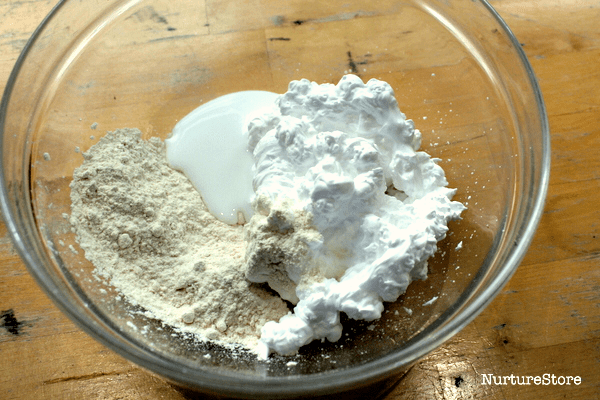 Stir a teacup of shaving foam, a quarter teacup of PVA / white craft glue, and a quarter teacup of plain / all purpose flour together in a bowl. Add a drop of food colouring or paint and mix in lightly to give a marbled effect, or mix well for an even colour.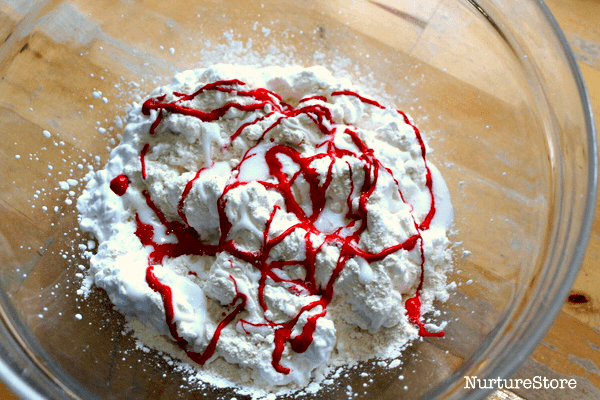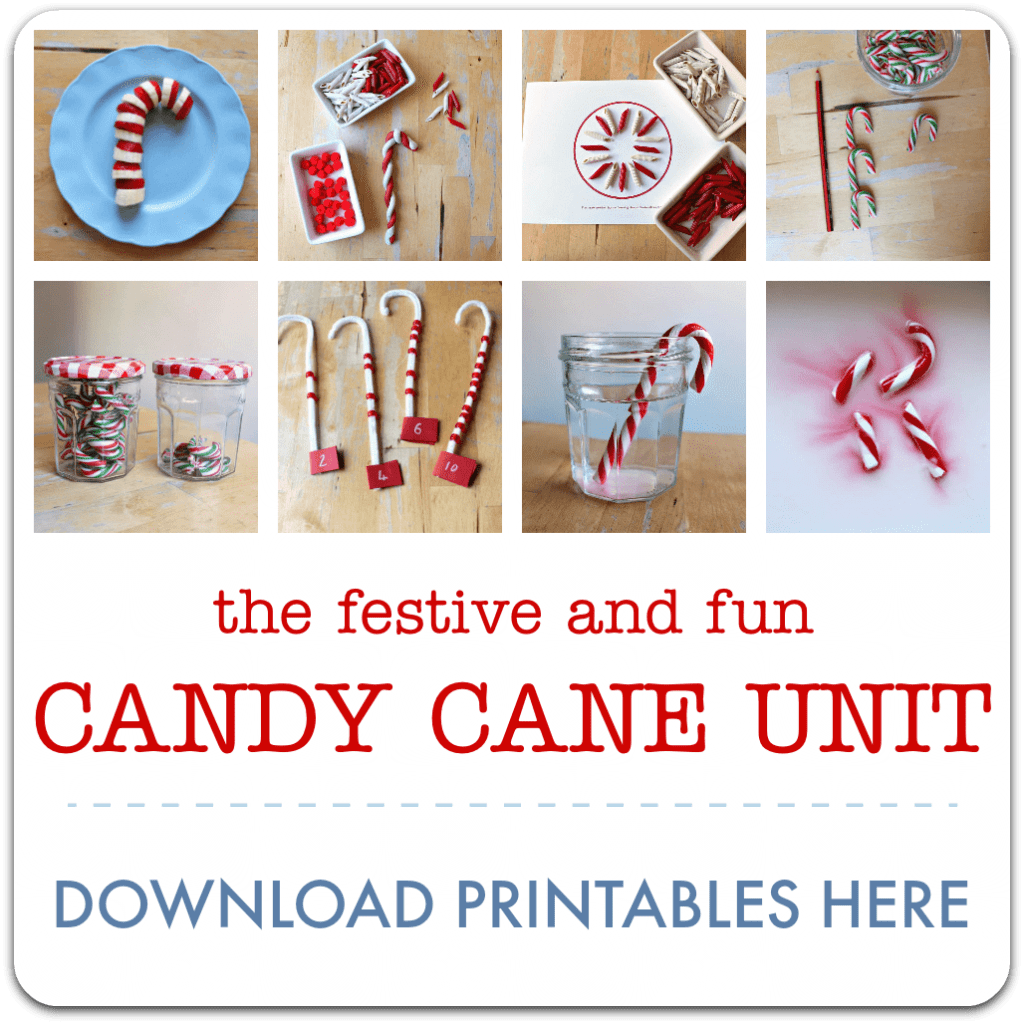 Download your complete Candy Cane Unit
A super fun and festive unit of learning! This kit gives you everything you need to teach an engaging program of activities all based around candy canes. With ideas for math, literacy, science, play, sensory, arts and crafts your children will love learning all through the holiday season.
:: over 60 pages of lessons, activities, and printables
:: a complete unit of candy cane themed math, science, literacy, arts and crafts, sensory, and play
:: materials lists and bonus printables make it so easy!
:: everything planned for you, so you can enjoy it as much as your children do
:: fun and festive, and packed with engaging learning
:: created with children aged 4 to 8 in mind
Click here to get your copy of the complete Candy Cane Unit.