This paper plate Easter basket craft is really simple to make, but ever so pretty! And each child can add their own art to the design.

Paper plate Easter basket craft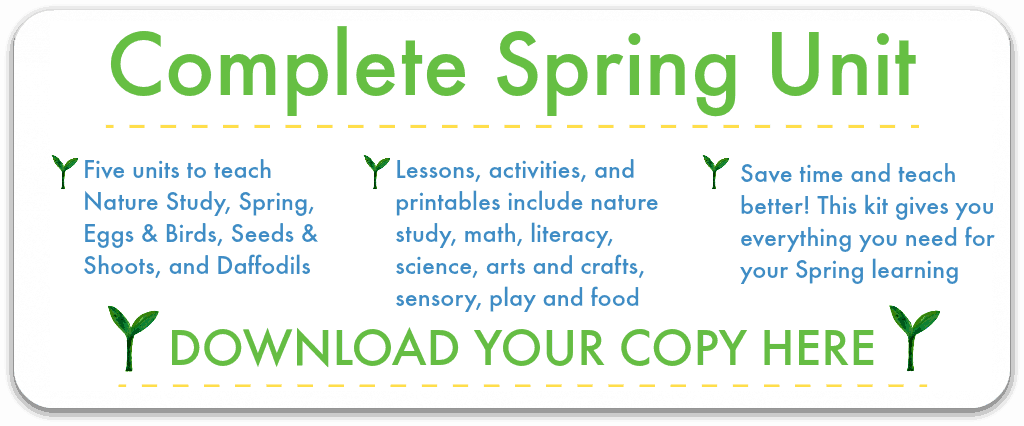 To make our Easter baskets we used paper plates (two per child), paint, scissors and something to stick the basket together: either staples, sticky tape or glue. Adding white to our usual craft paints gave us a pretty selection of pastel Easter colours.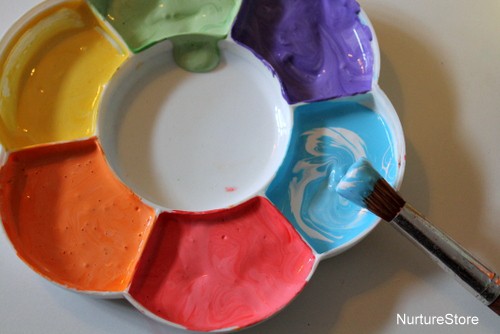 Each child painted their own design on to the 'wrong' side of the paper plate. This side takes the paint better than the waxed side, and the curve of the plate works better when you fold it from this side.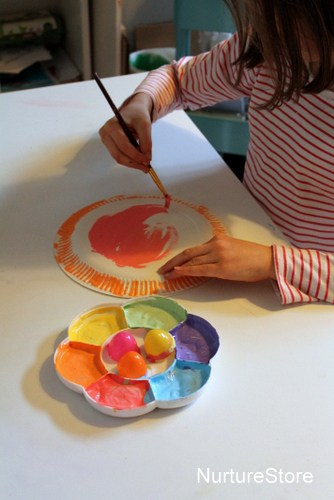 You can paint any design you like, from a pretty pattern…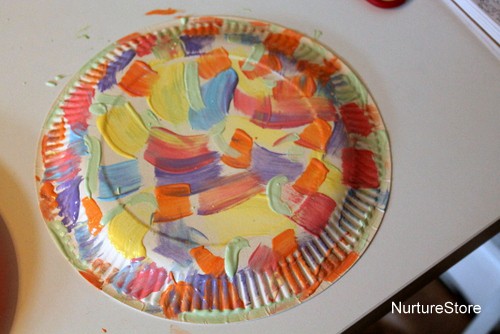 spring flowers…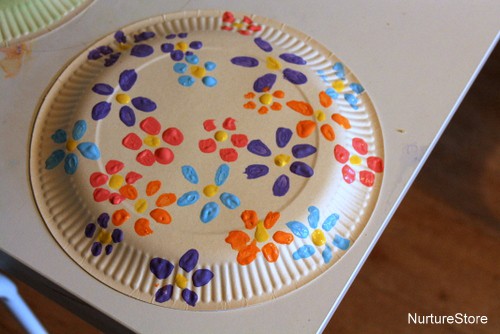 or a meadow. Have a think about how the basket will look when it's folded, and you can paint the underneath and sides of your plate to reveal a scene when it's folded.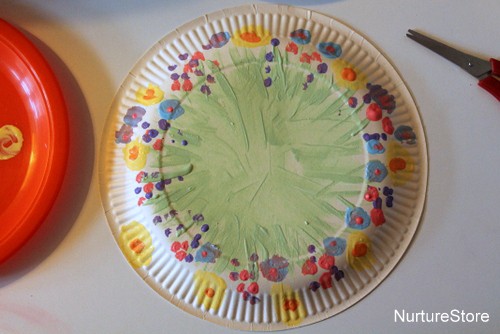 Once the paint is dry, you need to cut and fold your paper plate to make the basket. Use a ruler and pencil to draw a cross that meets in the centre of your plate.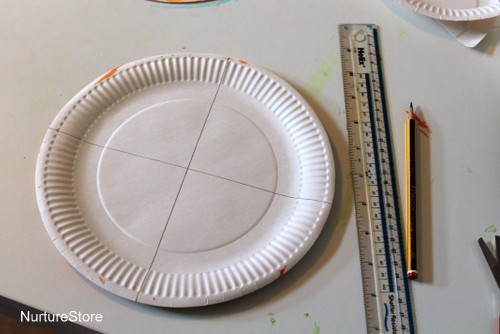 You need to mark a section on each of the four radiuses to show you where to cut your lines – see the photo below as a guide. Our paper plate measured 23cm in diameter and we made each cutting line 7.5cm long.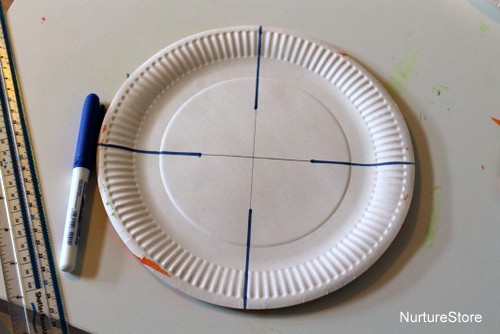 I've used a marker pen here to make the lines easier for you to see, but I'd suggest you use a faint pencil line, so you won't see it when you fold up the basket. Snip along each of the four cutting lines.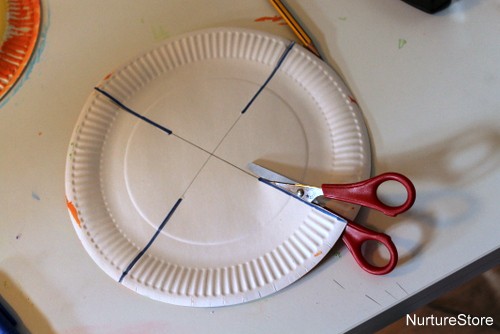 Then fold up your paper plate, as show below. Each quarter of the plate overlaps its neighbour to give you a basket shape. You can fasten this in place using staples, sticky tape or glue – depending on how neat and quick you want the finished basket to be.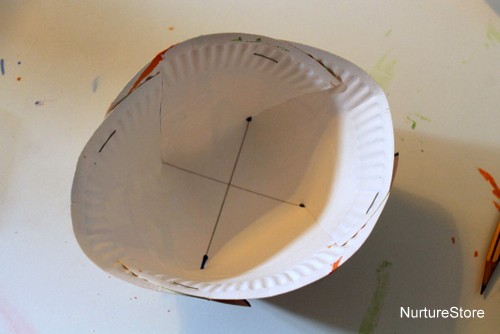 Use a second paper plate to make a handle. Cut off half of the rim to give you an arch, and faster it at either side to your basket – again, using staples, tape or glue to suit.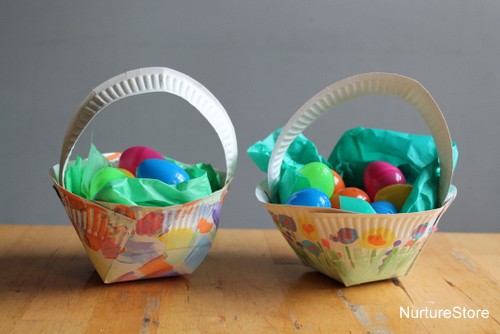 Aren't they pretty? They're really simple for children to make, and I love each child's Easter basket will have their own unique art work on. You can add a little ribbon bow as a final flourish, and fill them with tissue paper and Easter treats.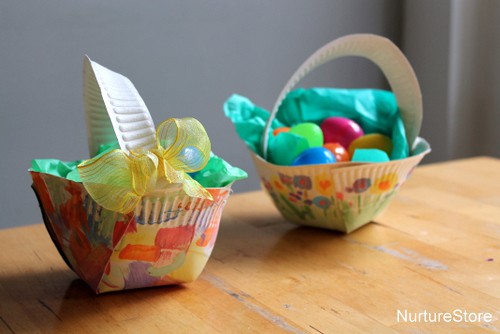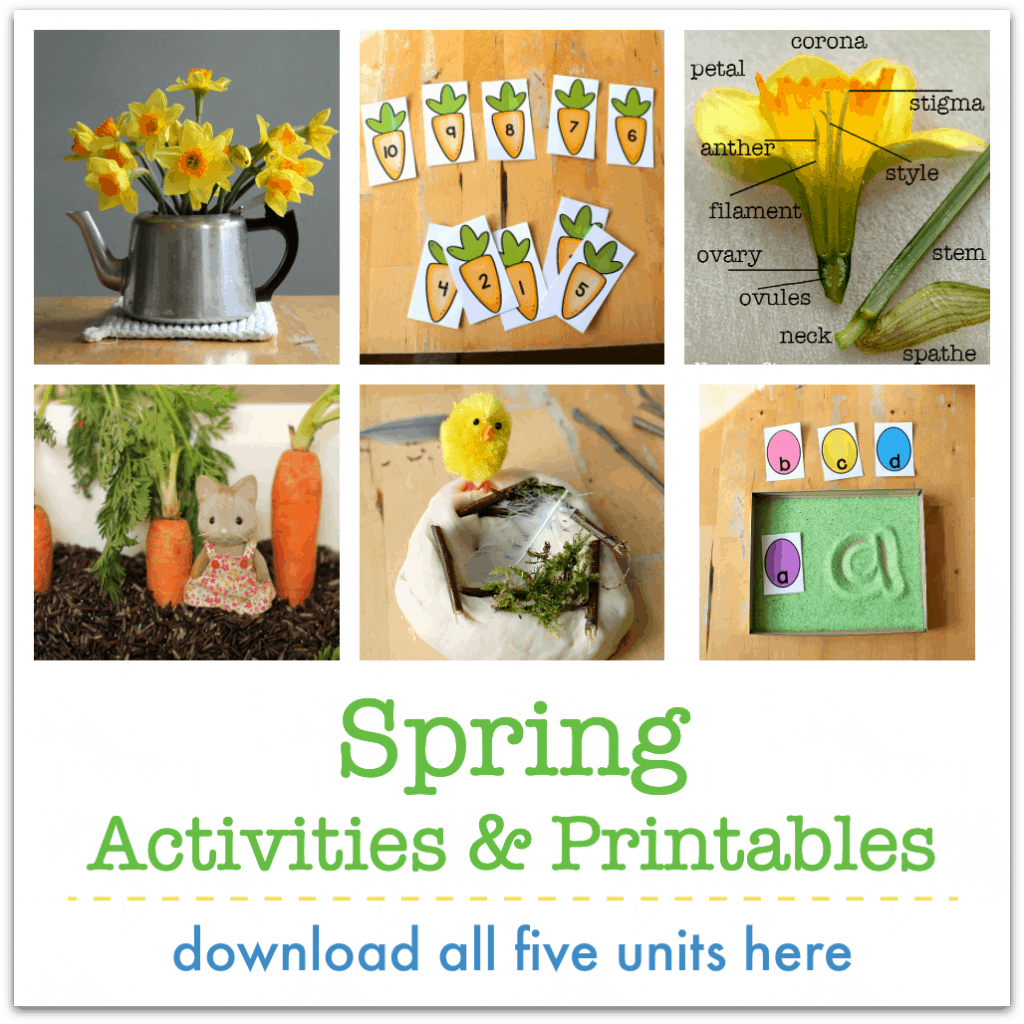 Download all the Spring units and printables
Download our complete Spring lesson plans, activities and printables and your spring teaching will be so easy!
:: five complete units of ebooks and printables for Nature Study, Welcome Spring, Daffodils, Seeds and Shoots, and Eggs and Birds
:: over 50 engaging activities and lesson plans that your children will love
:: over 30 pages of printables that make teaching so easy
:: a balanced programme of math, science, literacy, arts and crafts, nature study, sensory and imaginative play
:: a practical resource that you can start using today, in class or at home
:: weeks worth of learning all planned for you, to take you right through the season
:: created with children aged 4 to 8 in mind
You're going to love this super useful resource!