For this easy Easter craft we're using collage materials to create chicks, eggs and lambs. Or make collage frogs to celebrate Passover.

Easy Easter craft for children :: collage chicks and lambs

In this activity children are invited to explore recycled art materials in a range of colours and textures to make a spring animal craft.
For a simple and cute Easter craft, let's make collage chicks, lambs, and eggs.
If your family celebrates Passover, you could make collage frogs.
Use my spring animal shapes printables and decorate them with a range of collage materials. See below for details of how to print the animal templates.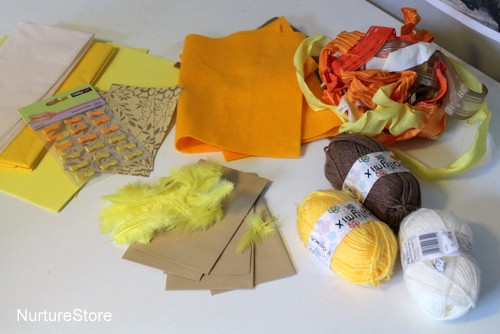 Materials needed
:: card cut into the shape of chicks, lambs, and eggs (plus a Passover option of frogs) – you can use my free printable animal shapes templates which you can print at the end of this article
:: glue and sticky tape
:: scissors
:: selection of collage materials: coloured and patterned paper and card scraps, tissue paper, felt, envelopes, gift wrap, ribbons, yarn, feathers, and string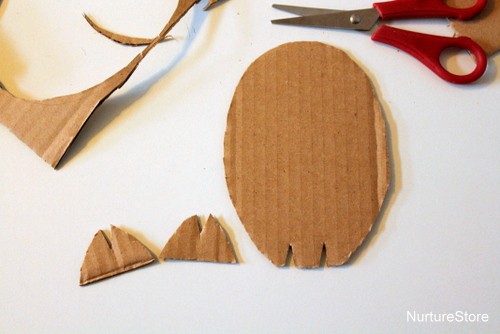 You can use my free printable animal shapes as the base of your collage, or cut out your own shapes from cardboard.
The printable animals are great for younger children or if you want a very simple craft. You can fill the printable animal shapes with collage materials, or use pens and pencils to colour them in.
If you'd like to make your own animals, you might cut out an oval shape to begin. Two smaller pieces can be feet, so you can make an animal puppet which will stand up. Cutting notches into the bottom of the oval and the top of the feet pieces will allow them to slot together.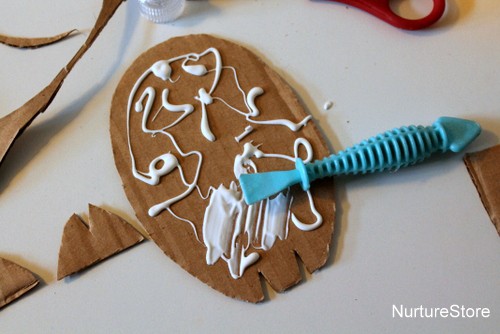 Cover the oval cardboard, or the printed animal shape, in glue to make a surface ready to take a collage of different materials. If you're using fabric and yarn, a fabric glue is better than a basic craft glue.
Then you can add your choice of materials on top.
If you have much younger siblings joining in, prepping to this stage could mean even a baby could join in by adding their choice of collage materials onto the glue.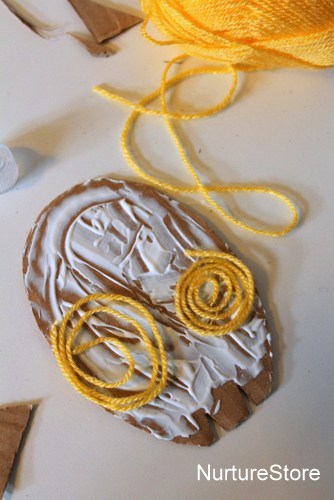 You can also use a simple oval shape to make a lamb, adding a smaller oval to be the face. Or use the lamb shape included in the printables set.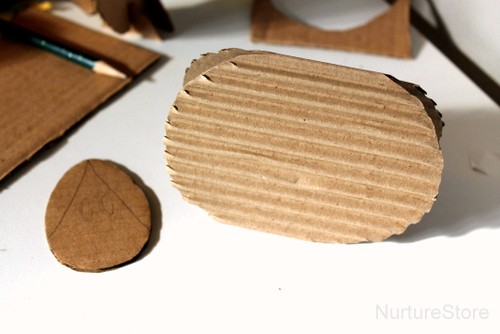 Two ovals attached at the top, with an extra piece of cardboard taped in the centre create a lamb puppet which will stand up – great for playing with once you've finished crafting.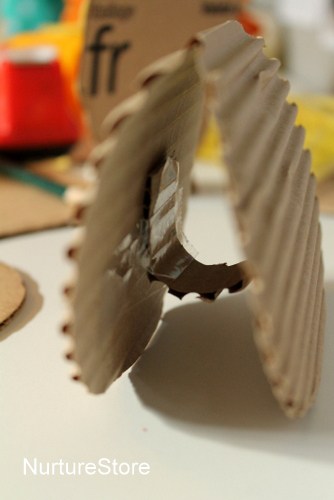 You could also make a chick from a piece of card cut like a kind of number eight – perhaps with lots of fluffy feathers like this one. Two felt shapes make the wings and glitter glue makes a sparkly face.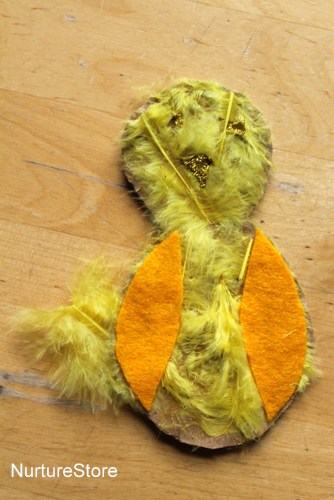 Simple cardboard shapes can also make a lamb. You might use yarn to make it woolly, and add a face and ears using a pencil.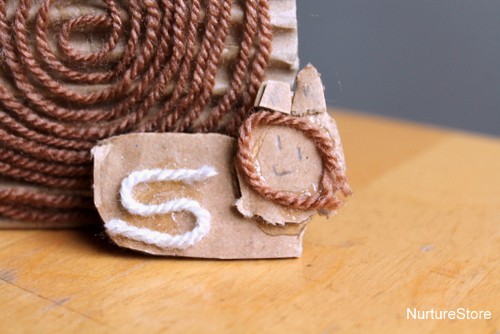 Here's our mother sheep and her lamb.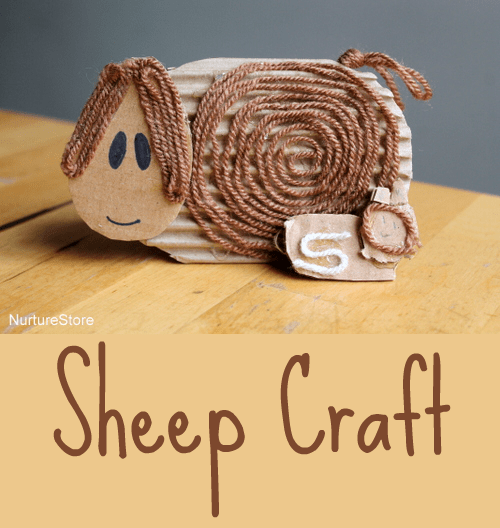 And two little Easter chicks.

This kind of craft set up – with lots of interesting materials, but no fixed 'plan' of how the craft has too look – encourages lots of creativity and individuality whilst also inviting everyone to enjoy the companionship of a joint craft session.
And the diversity of the chicks and lambs, all displayed together on an Easter table, looks lovely.
You might also like to stick up your animals in the window for your neighbours to enjoy.