Here are some easy Easter crafts, made from recycled materials. We have a cute Easter chick and some woolly lambs. With an open invitation to pick your own materials and think up your own design, this craft session is packed with creativity.

Easy Easter crafts :: chicks and lambs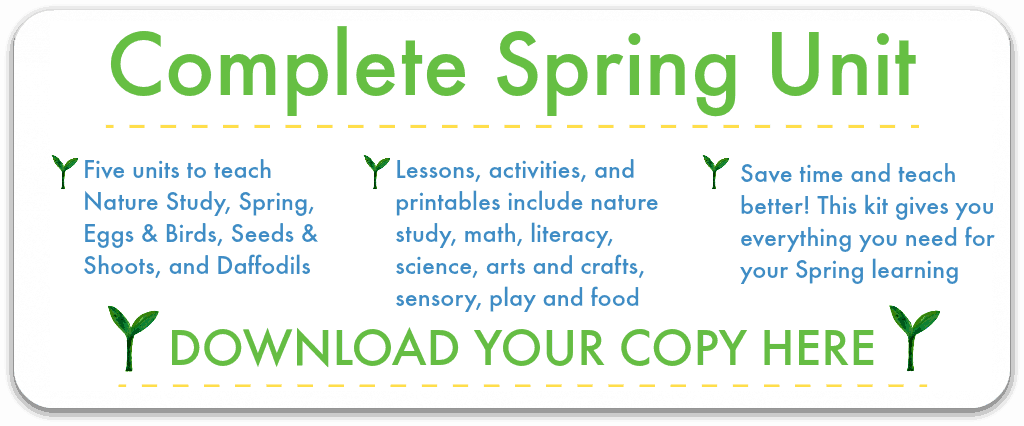 For this Easter crafting session we set out to make some chicks and lambs – but with no fixed idea about how to make them. We had a selection of materials on offer – some new and some recycled – and everyone was invited to pick the materials that interested them and have a go at making their own animals. We had no templates or examples to follow, and everyone was encouraged to make theirs in their own way.
Some materials that you might include in your selection are: cardboard, coloured and patterned paper, tissue paper, felt, envelopes, ribbons, yarn, feathers, and string. And provide scissors, tape and glue.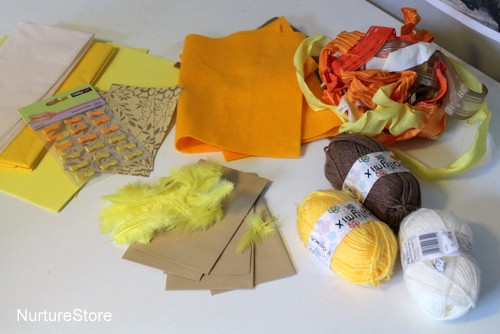 You might cut out an oval shape to begin. Two smaller pieces can be feet, so you can make an animal puppet which will stand up. Cutting notches into the bottom of the oval and the top of the feet pieces will allow them to slot together.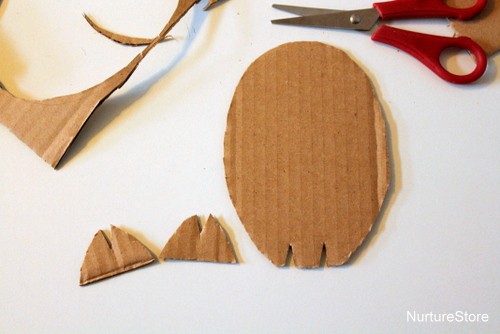 You can cover the oval in glue to make a surface ready to a take collage of different materials. If you're using fabric and yarn, a fabric glue is better than a basic craft glue.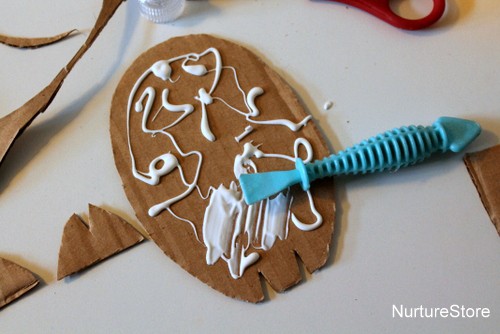 Then you can add your choice of materials on top. If you have much younger siblings joining in, prepping to this stage could mean even a baby could join in by adding their choice of collage materials onto the glue.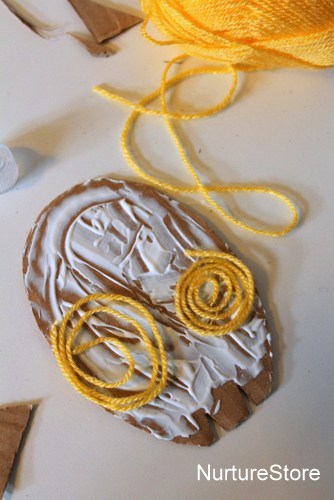 You can use the simple oval shape to make a lamb too, adding a smaller oval to be the face.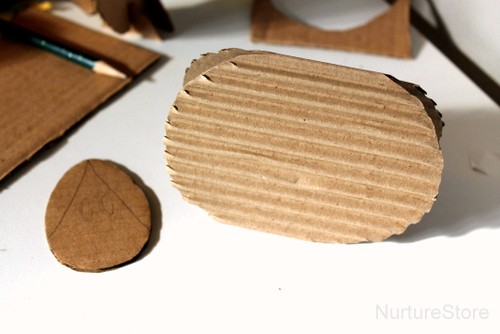 Two ovals attached at the top, with an extra piece of cardboard taped in the centre create a lamb puppet which will stand up – great for playing with once you've finished crafting.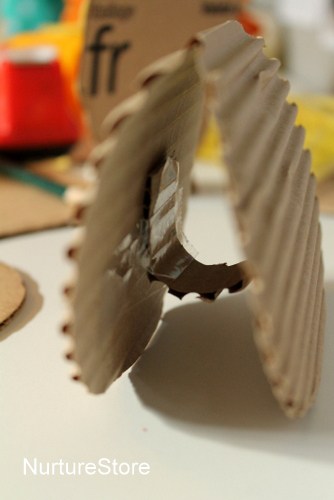 You could also make a chick from a piece of card cut like a kind of number eight – perhaps with lots of fluffy feathers like this one. Two felt shapes make the wings and glitter glue makes a sparkly face.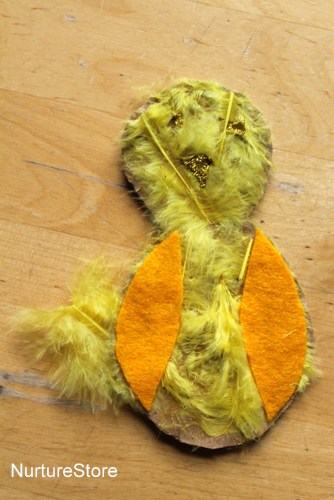 Simple cardboard shapes can also make a lamb. You might use yarn to make it woolly, and add a face and ears using a pencil.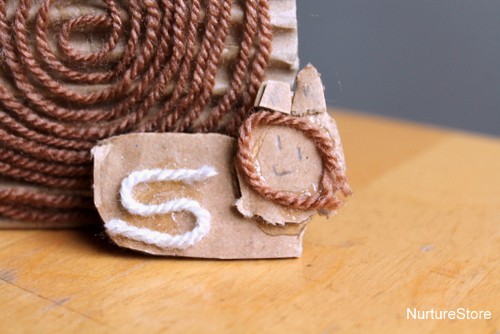 Here's our mother sheep and her lamb.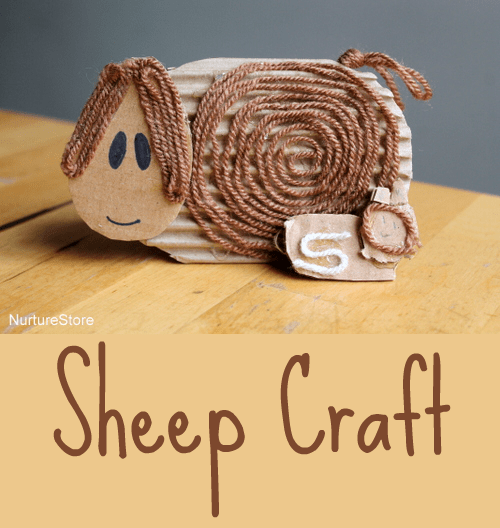 And two little Easter chicks.

This kind of craft set up – with lots of interesting materials, but no fixed 'plan' of how the craft has too look – encourages lots of creativity and individuality whilst also inviting everyone to enjoy the companionship of a joint craft session. And the diversity of the chicks and lambs, all displayed together on an Easter table looks glorious.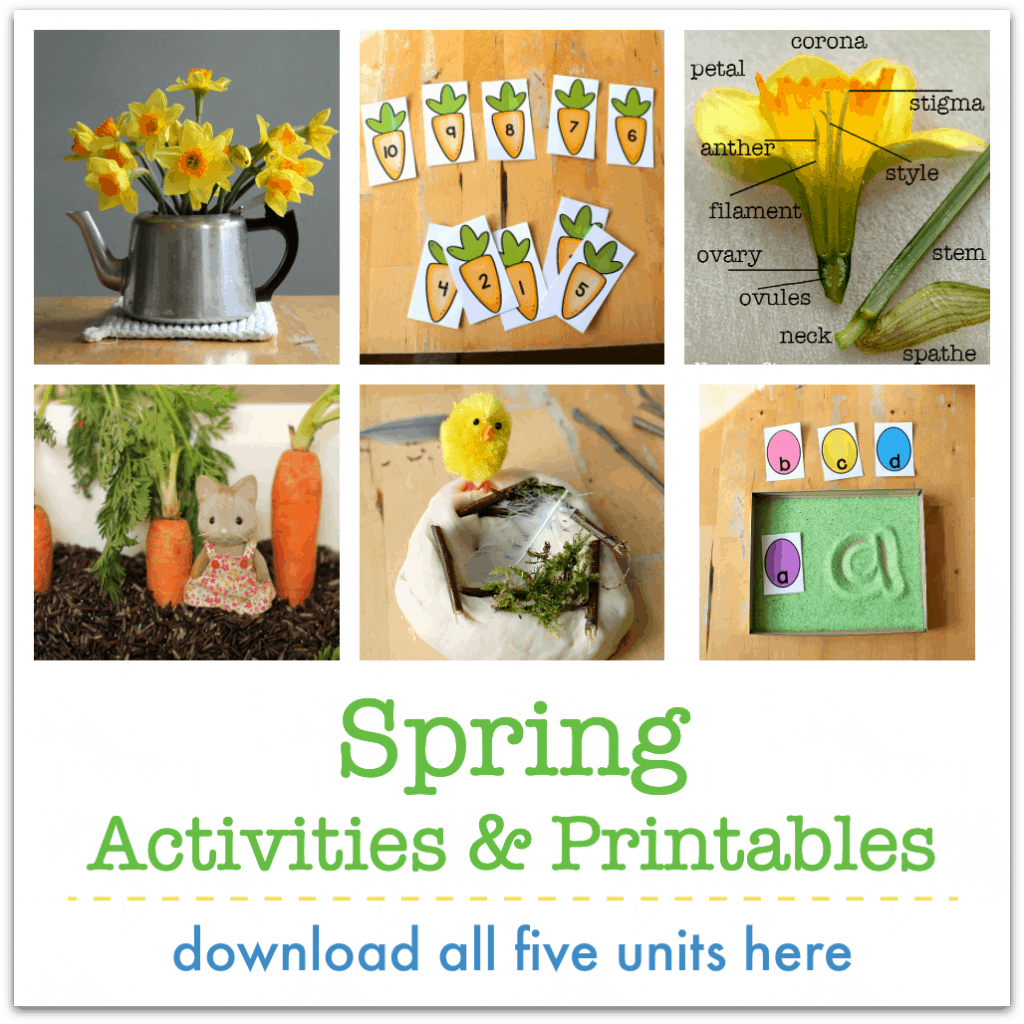 Download all the Spring units and printables
Download our complete Spring lesson plans, activities and printables and your spring teaching will be so easy!
:: five complete units of ebooks and printables for Nature Study, Welcome Spring, Daffodils, Seeds and Shoots, and Eggs and Birds
:: over 50 engaging activities and lesson plans that your children will love
:: over 30 pages of printables that make teaching so easy
:: a balanced programme of math, science, literacy, arts and crafts, nature study, sensory and imaginative play
:: a practical resource that you can start using today, in class or at home
:: weeks worth of learning all planned for you, to take you right through the season
:: created with children aged 4 to 8 in mind
You're going to love this super useful resource!