In this famous art lesson plan we'll try an art project inspired by Joan Miró. We'll have fun making and playing with an art dice, and be encouraged to see drawing as playful and something to enjoy. We don't need to focus on creating a perfect drawing – let's have fun with art!
Joan Miró art lesson for children

Watch the video below to see how you can use our Joan Miro art project with your children:

In this lesson you will be able to:
:: learn about Joan Miró and see some of his most famous paintings
:: talk about art, sharing their own opinions
:: learn about Surrealism and art motifs
:: work with marker pens, interpreting Miró's style in their own work
:: be encouraged to create art freely and playfully, without an expectation of creating a perfect work of art, but rather one that is fun to create
:: make an art dice to use again
:: create their own art project inspired by Miró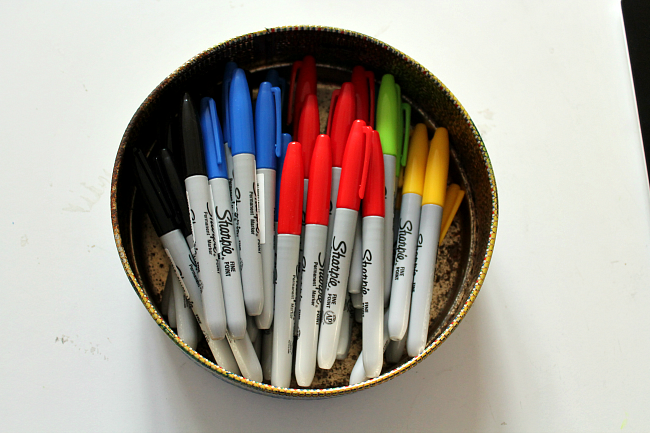 Materials needed
white card (A4) for dice
dice printable (see below, or draw your own)
scissors
ruler
pencil
sticky tape
large white card
marker pens in black, red, yellow, blue, and green
Photo: Carl Van Vechten
Meet Miró
Joan Miró was born in Barcelona, Spain in 1893. He died in 1983 at the age of 90.
He was a painter, sculptor and ceramicist.
He was know for his use of simple shapes, bright colours, and the symbolic meaning of his artworks. He art is often described as being child-like, dream-like, and playful.
His work is classified as Surrealism. Surrealist artists, such as Miró, Dalí, and Breton, wanted to show our dreams and unconscious thoughts in art, creating unexpected and irrational images.
Miró didn't like the conventional painting methods, believing they resulted in staid, conservative, and bourgeois work. He wanted to make changes to the established ways of creating and thinking about art, and to innovate.
He began making art in his childhood and continued throughout his life, using new styles, materials and ideas into his old age. He is a great Creativity Mentor.
Famous art in focus
Which colours does Miró use?
If you were going to give each painting a title, what would you call them?
Which motifs are repeated in the paintings?
You will notice that there are certain motifs that are often found in Miró's paintings. These are shapes or designs that appear across several works. Which ones stand out to you?
We're going to use some of them in our own drawings.
We'll begin by picking out six key motifs to make our own art dice.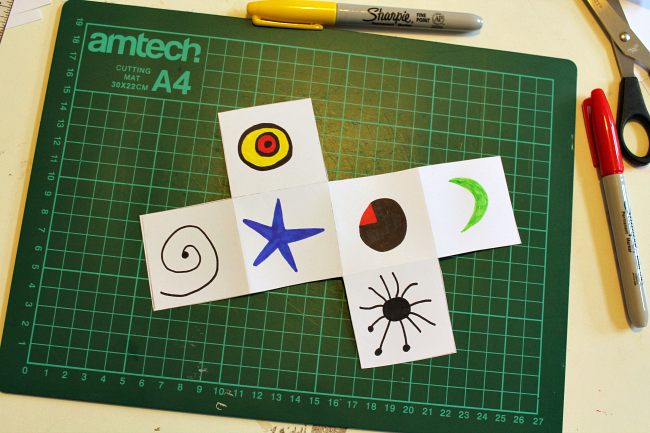 How to make an art dice – with printable
Sometimes we're not sure how to get started on a drawing. A big, blank piece of card can look intimidating, and we can be fearful of making the first mark. What if we make a mistake? What if we run out of ideas? How should we get started?
The Dice of Decision will come to your rescue!
Let's make an art dice, with one of Miró's distinctive motifs on each face of the dice. Any time we need an idea, to start or during our drawing activity, we can roll our Dice of Decision and see what it tells us to draw. It's up to you how big to draw the motif, where to place it, and which colour to make it, but use the Dice of Decision as your friend to help you when you need a prompt.
How to make your Dice of Decision:
:: use the printable dice template from our Creative Kids Learning Library (see below), or draw out your own with a ruler and pencil to make a six-sided dice from white card
:: use marker pens to draw one of Miró's motifs on each face of the dice. Choose the motifs that stand out to you from Miró's work. You can use the links above to take a close look at his work. Which six will you select: spirals, circles, stars….?
:: fold up your dice and use sticky tape to hold it together
:: roll your Dice of Decision. Whichever motif is on the top when the dice lands is the motif you should use to begin your artwork. Anytime you need another prompt, roll your dice again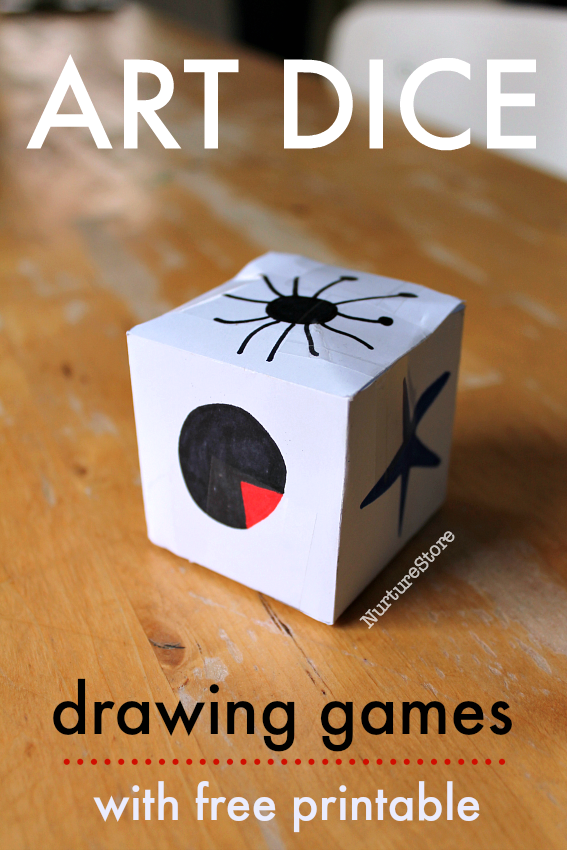 Miró art project for children
Once you have made your Dice of Decision, take a large piece of card and some marker pens. You can use Miró's colour palette of black, red, yellow, blue, and green.
Fill your page with designs inspired by Miró.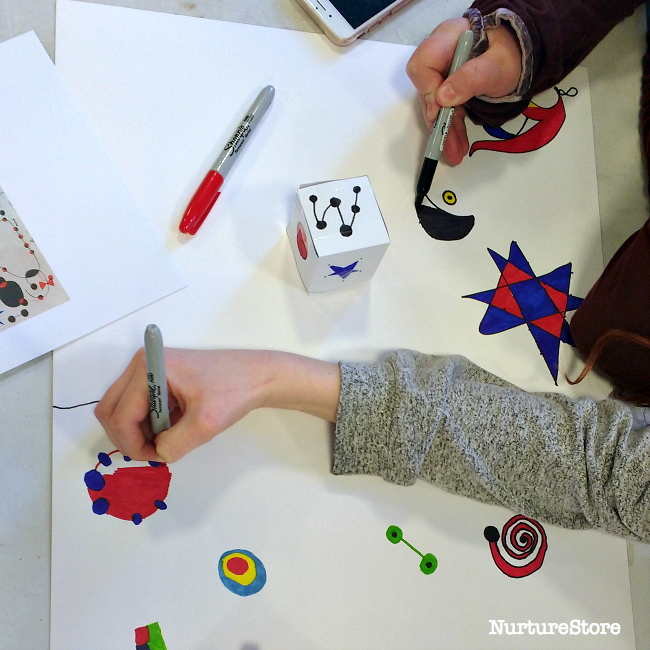 You might like to collaborate with a friend: split your card in half and draw on one side each, or work together to fill your whole page.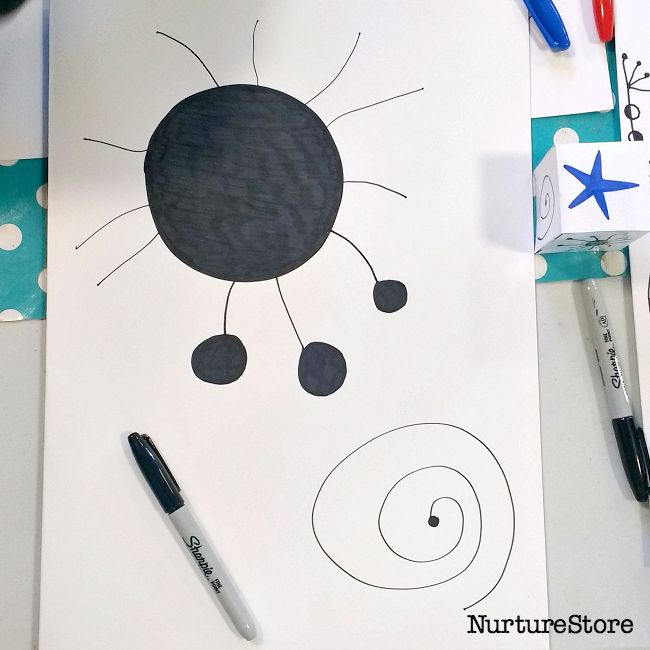 Think about how you would like to place your motifs on your page. How big will you make each element?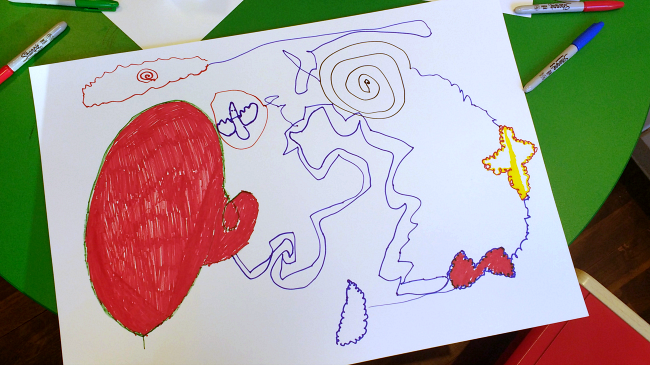 Perhaps you will use your symbols to create a map, or to tell a story.
Remember that any time you get stuck about what to draw next: ask your Dice of Decision!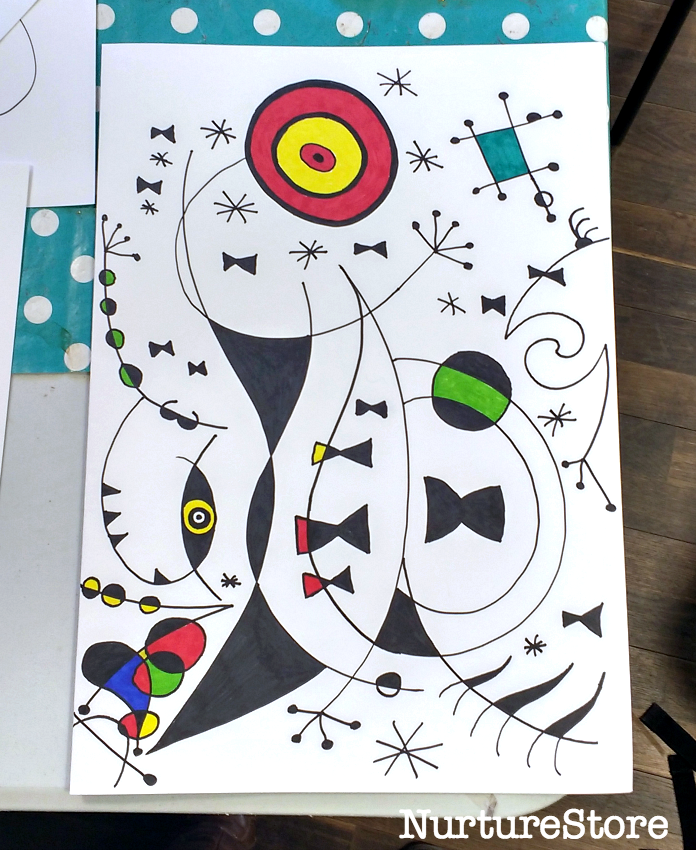 When you have completed your page, share it with your siblings, friends and classmates. Ask them what they see in your drawing.

More famous artists projects for children
Use the free resources in our Famous Artists art projects archive to explore the work of Matisse, Giacometti, Kandinsky, Seurat, Kelly, and more, and download our complete lesson plans to explore famous artists.
How to download this art dice printable
Get access to ALL my free printables by subscribing to my email list.
To download my free printables, you'll need to visit the NurtureStore Printables Library, which is available to all subscribers to my email list, and of course to Play Academy members.
Pop your email address in the form below and you'll get access to all my free printables, lesson plans, activity ideas, weekly newsletter, and a whole lot more!
After subscribing, be sure to check for the confirmation email. After you confirm your email subscription, we'll send you a welcome email which includes instructions for downloading our free printables.
If you're already subscribed to our email newsletter: check your email for the latest edition of the newsletter where you'll find a link to access our free printables library - the link is usually at the bottom of the email.
For help accessing our printables, click here.
---
By subscribing, you consent to our use of your personal data as per our Privacy Policy, which includes agreeing to receiving interest-based email from us.
---