In this famous artist lesson children will meet Esther Mahlangu and learn about African art. We'll learn about Ndebele culture and create our own Esther Mahlangu-inspired art.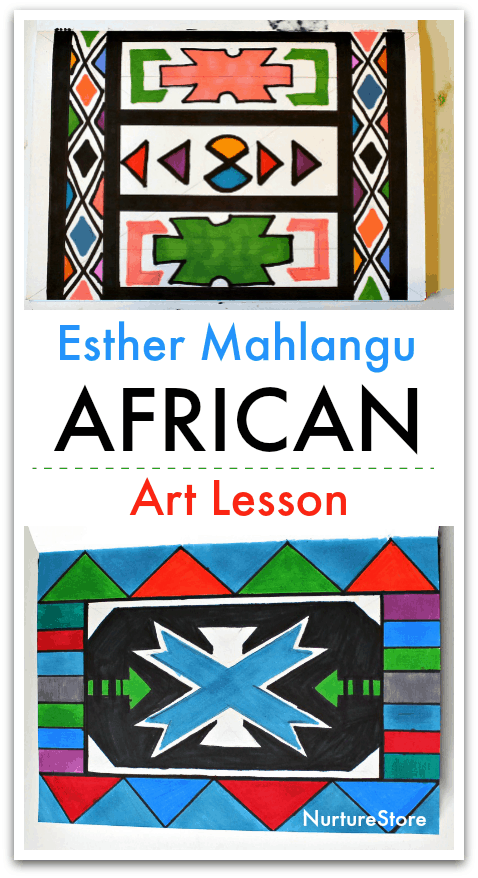 Esther Mahlangu African art lesson for children
In this lesson you will:
:: learn about Esther Mahlangu
:: learn about the African nation of Ndebele, its culture and its distinctive art style
:: look at and talk about some of Mahlangu's paintings
:: use marker pens to create your own Ndebele-inspired geometric art
Famous Artist in Focus :: Esther Mahlangu
Esther Mahlangu is a South African artist and was born on 11th November 1935. She is from the Ndebele nation. She is famous for her bold, colourful artworks inspired by the traditional art of the Ndebele people.
Mahlangu began painting when she was ten years old and was taught the Ndebele practice of mural painting by her mother and grandmother.
It is traditional for the women in the Ndebele community to paint the outside of their houses. They use natural pigments mixed with cow dung, and bright acrylic paints outlined with black lines, to make large geometric patterns on the outside walls of their homes.
You can see more Ndebele houses through the links below:
Mahlangu uses elements from the traditional Nedebele houses in her paintings. These traditional designs feature complex symmetry and repeating patterns in geometric compositions using rectangles and triangles.
Mahlangu now travels widely to promote the Ndebele culture. She is also the director of a school which teaches girls the Ndebele style of painting and beadwork.
Esther Mahlangu's art
Let's look at some of Esther Mahlangu's artworks and then we'll create our own geometric design.
Click through on these links to see examples of her art.
As you look at the artworks, answer these questions:
What can you see?
What words would you use to describe the artwork?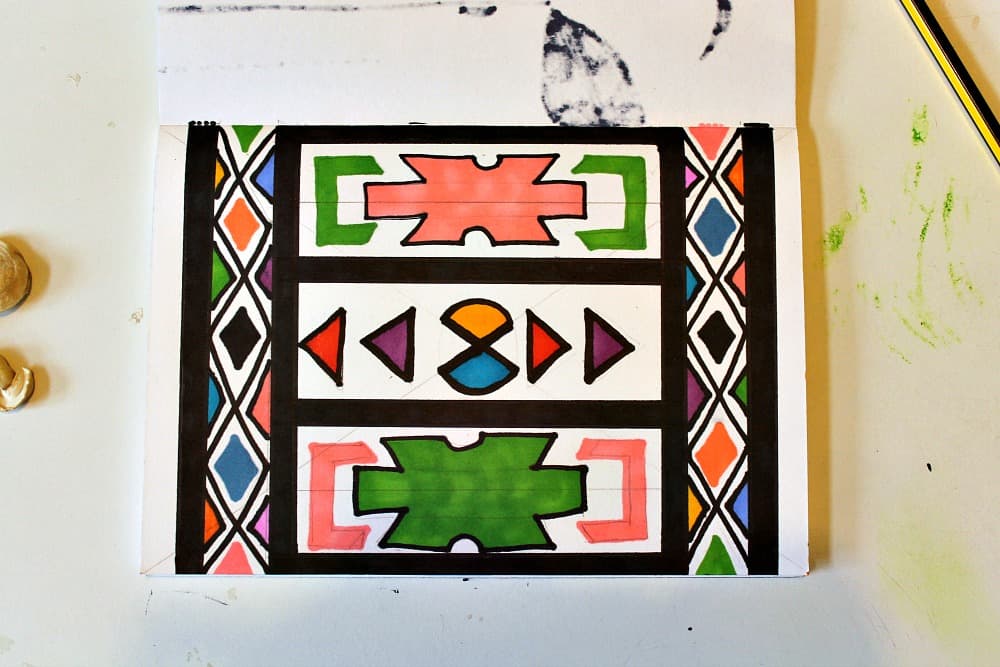 ART PROJECT :: NDEBELE-INSPRED GEOMETRIC PICTURES
Let's take inspiration from Esther Mahlangu, and the Ndebele style of house painting, and create our own geometric pictures.
Materials needed
:: white paper or card
:: ruler
:: pencil
:: black and coloured marker pens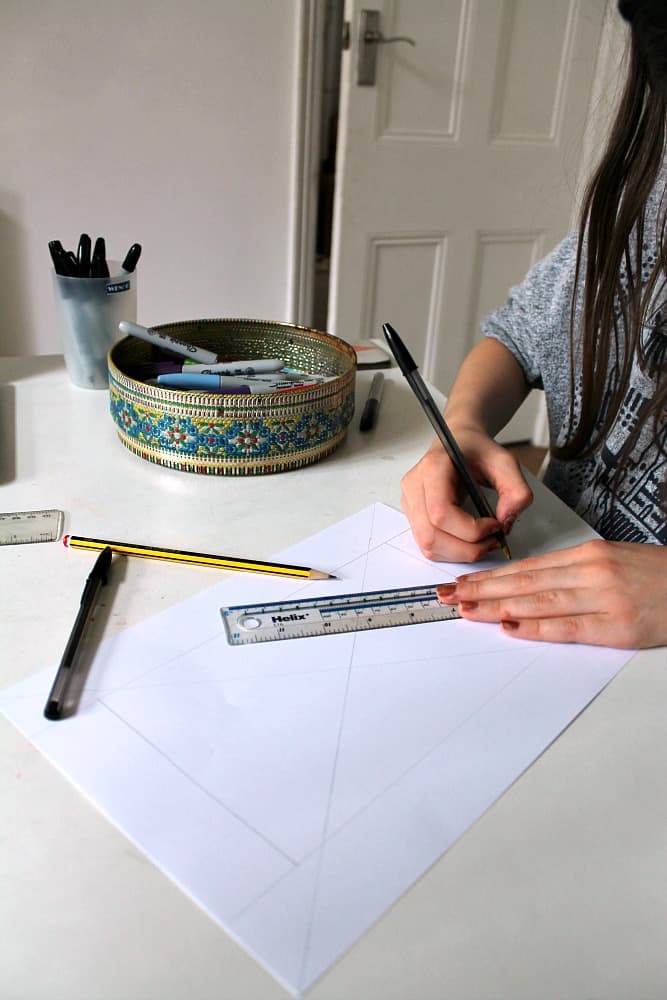 Begin by drawing out a grid to guide your patterns. Use a pencil and ruler to draw faint lines on your paper.
You can draw a border around all four sides of your paper, and diagonal lines across your page.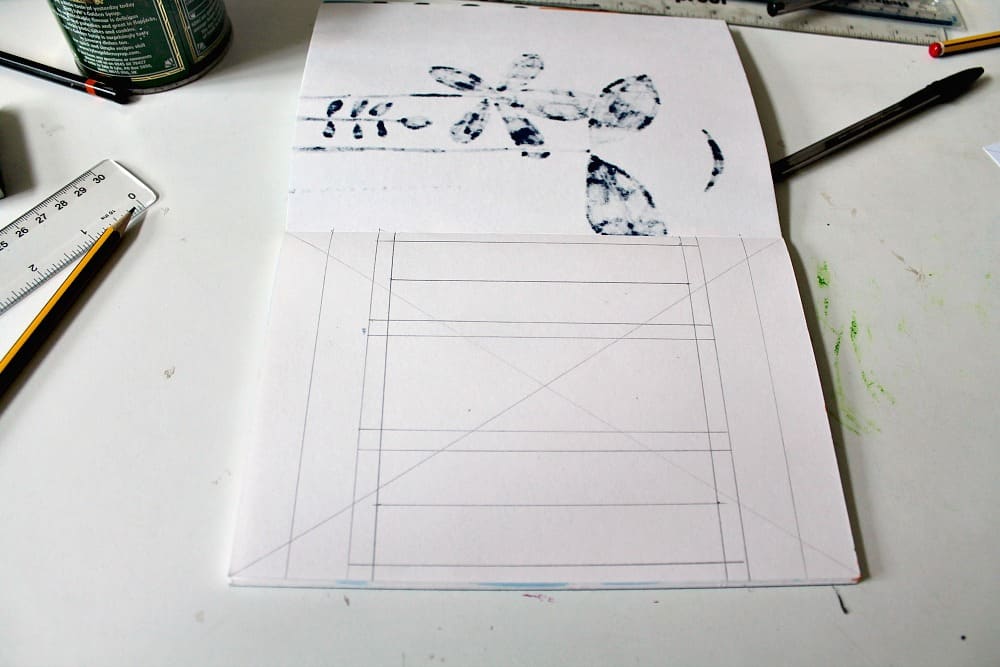 From this simple framework, add more lines to your page, dividing it up into sections. Try to make your grid symmetrical in its layout.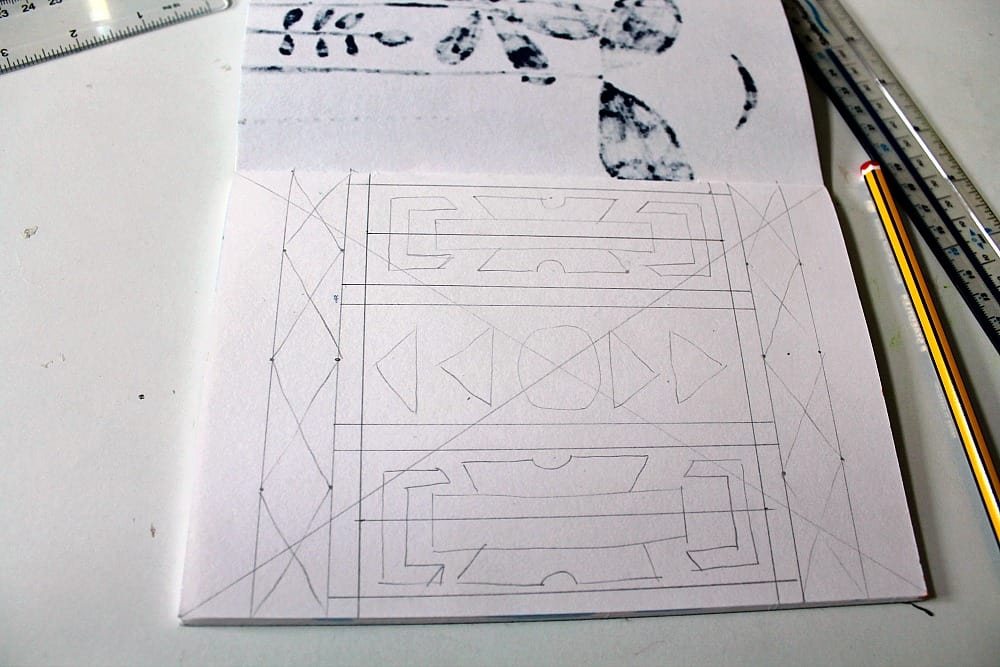 Once you have a grid to guide your design, draw in your patterns. You can use the shapes you have seen in the photographs of Ndebele houses and Esther Mahlangu's artworks.
Use repeating patterns, geometric shapes (squares, rectangles, triangles…) and symmetry, as is the Ndebele style.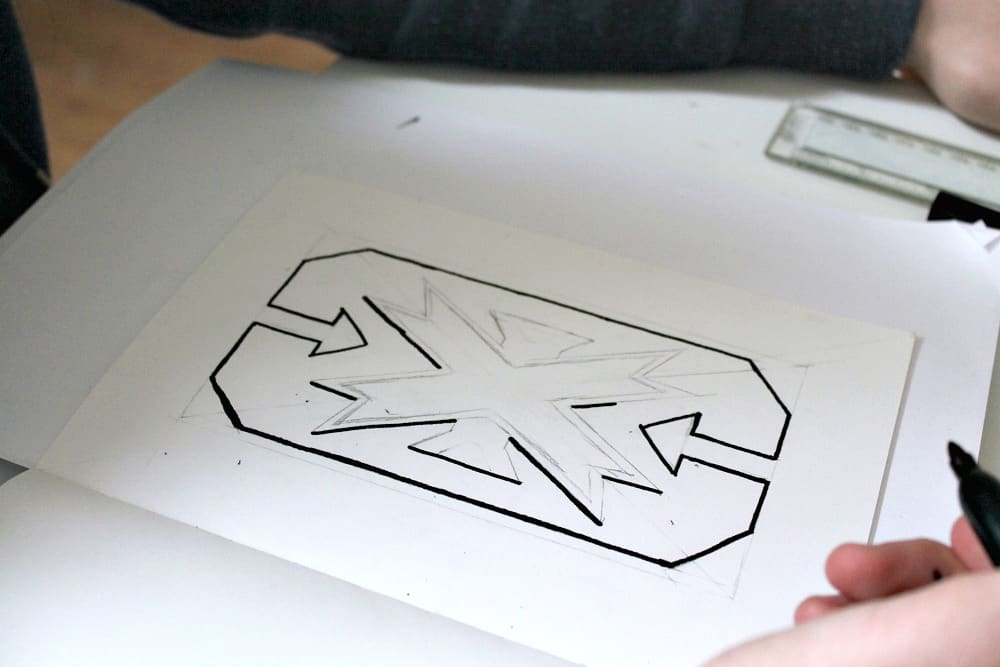 Draw over the outline of your shapes with a black marker pen. Use a ruler to get clear, straight lines.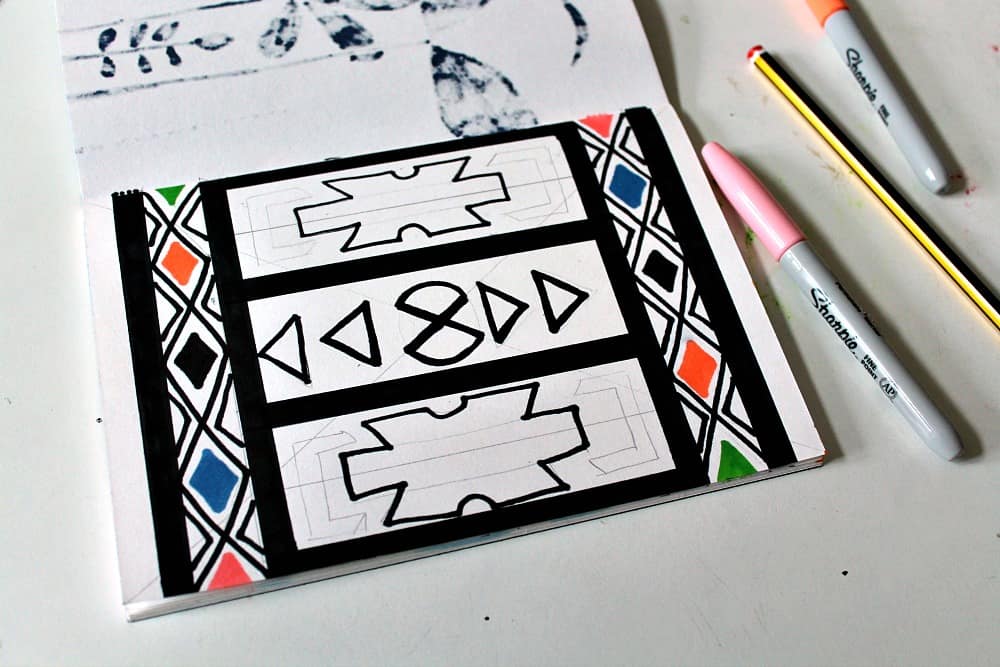 Then use marker pens to add colour. You might like to use the same shades that you have seen in the Ndebele houses.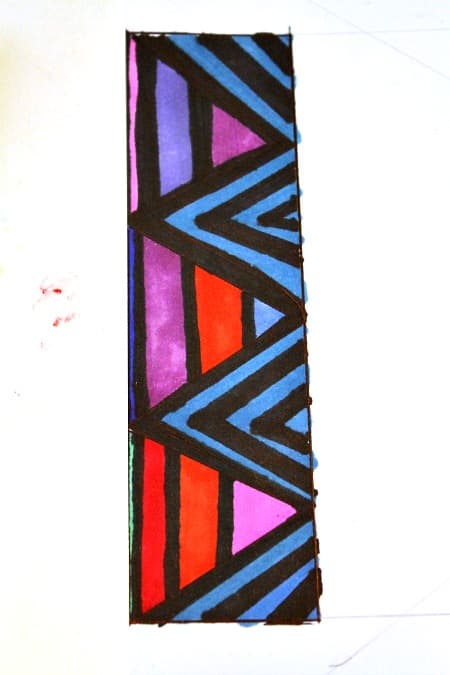 You can use your marker pen to add extra elements to the borders of your design.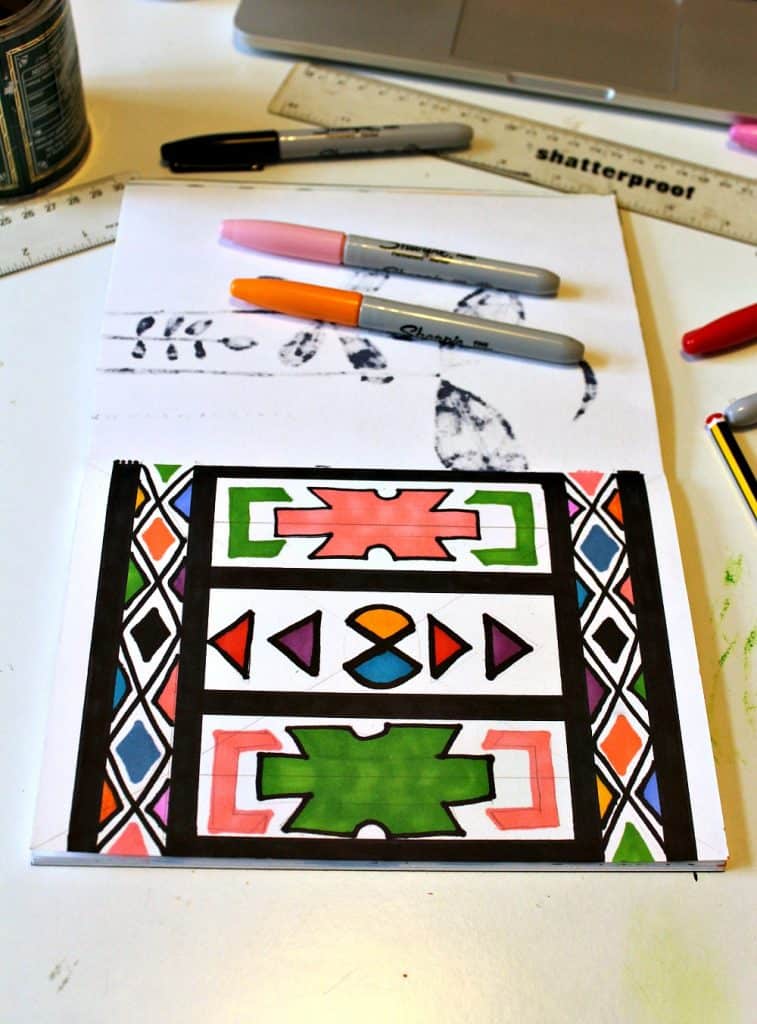 And use repeating lines of shapes, and create symmetry in different sections of your design.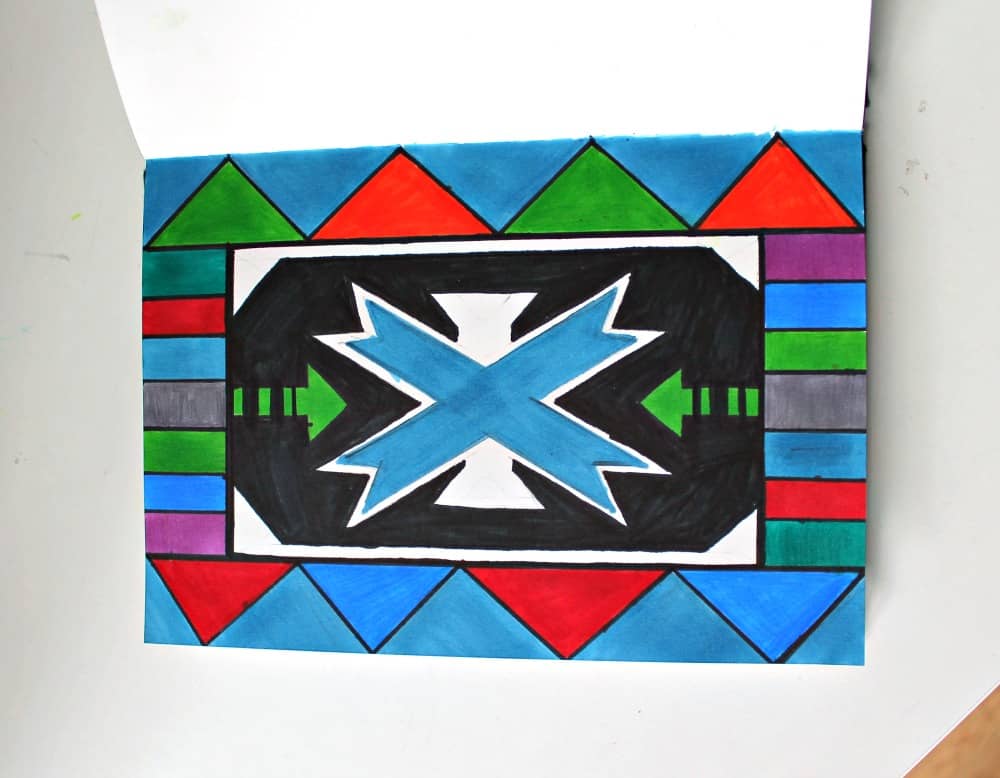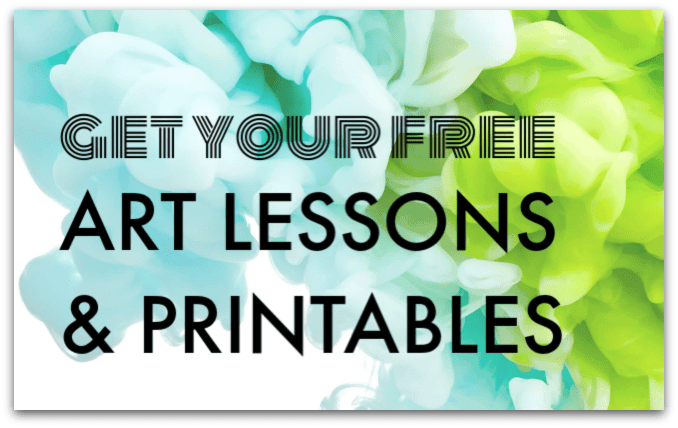 Do More Art!
Let me make it easy for you to do more art with your children.
Pop your email address in the box below and you'll get:
:: free art lessons sent to your inbox
:: lessons on famous artists with linked art projects
:: lessons on new art techniques to broaden your art skills
:: ideas for art adventures to have fun and enjoy the process of creating
:: resources for seasonal and holiday arts and crafts
:: access to my free printables library
Our lessons are perfect for children of all ages, and for school, home, and community groups.
Don't miss out!
Sign up below and let's get started.
---
* By subscribing, you consent to our use of your personal data as per our Privacy Policy, which includes agreeing to receiving interest-based email from us.
---