Growing sunflowers with children? Download our free sunflower activities ebook.
Have you ever tried writing poetry with children? So far this summer the Sunflower Club has inspired us with measurement, science, art, numbers and biology and today we're tried out some poems about sunflowers.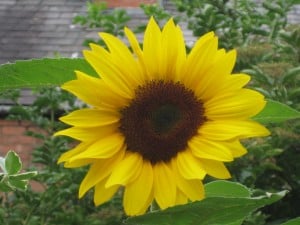 We had a go with two different prompts. The first was to take each letter of the word 'sunflower' and see if we could find another word beginning with that letter which suited our flowers. This worked well for my 7 year old but didn't click with my four year old.
For the second prompt we used some starter sentences to brainstorm ideas. For example…
A sunflower is….
The sunflower's colour is…
A sunflower is tall like…
The petals are like…
We then took the 'answers' and combined them to make our poem.  Here's what we came up with – what do you think?
Sunshine
Up to the sky
Nodding
Fiery
Lovely
Over our heads
Wonderful
Extremely tall
Radiant
*****************************
Bright, beautiful, radiant colour
Like a lion's mane
Tall as a mountain, up to the sky
Happy and sunny and radiant
And don't forget you are invitied to our Sunflower Club linky party on August 25th. If you have been growing sunflowers or doing any sunflower activities over the summer please come and share your ideas with us. Whether you've a tip for planting, advice for growing giants, sunflower pictures or crafts, please come and link up with us.
Happily shared with…