Storytelling is a wonderful way for children to learn, and these Rama and Sita puppets are great as a Diwali activity. Here's how we made them, with ideas on how to use puppets and stories to learn and explore.
Rama and Sita puppets: Diwali activity
The story of Rama and Sita is one that is strongly associated with the Indian festival Diwali (which is being celebrated on November 3rd 2013). Celebrating festivals from around the world is a very accessible way for children to find out about the wider world – and a really fun way to introduce learning about different cultures, religions, geography and history. And using puppets and storytelling makes this even better. Children get to be hands-on, and to bring imagination and language to their play. Acting out a story allows children to try out the key messages of the tale, to 'be' the characters, experience the emotions and embed the learning through repetition and re-enactments.
For Diwali, we like this Lighting a Lamp book as an introduction to Rama and Sita. We also found this shadow puppet show from Wolvecote Primary School which tells the story of Rama and Sita.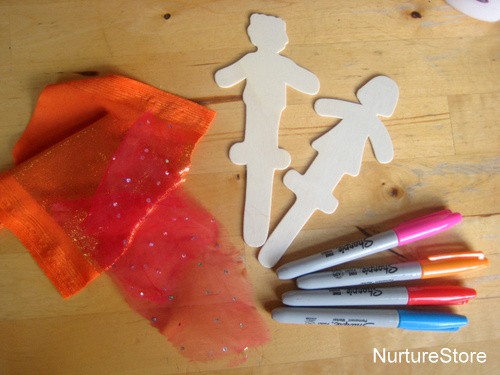 To make our puppets we used some wooden stick puppets from Hobbycraft (similar to these) but you could use card shapes too. We did a Google image search for Rama and Sita for inspiration, and then set to work to create our own versions, using permanent markers and fabric. Double sided-sticky tape and elastic bands are great for holding fabric in place, as they're mess free and you don't need to wait for any glue to dry before you can start acting out your story.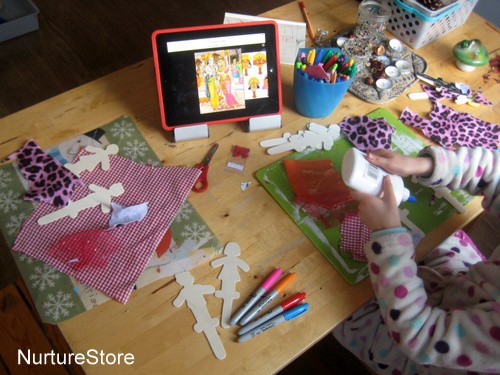 Here's one version of Rama and Sita.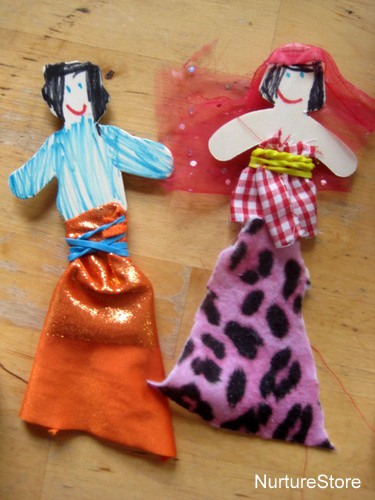 And here's another, along with Hanuman the Monkey God.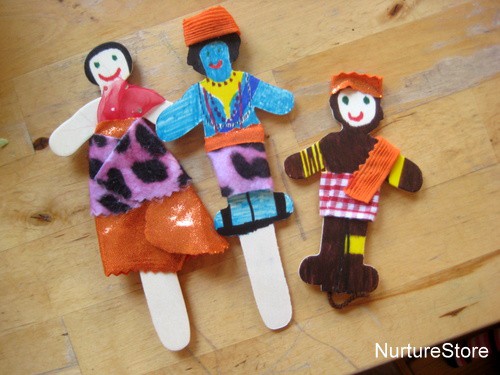 Regular readers will know I'm passionate about play dough, and it's a fantastic medium to add into puppets shows and imaginary play. It's so versatile: children can use it to make whatever extra props they need for their story, and it is a good base to use to make your puppets stay upright. (You can find many more play dough ideas in The Homemade Play Dough Recipe Book.)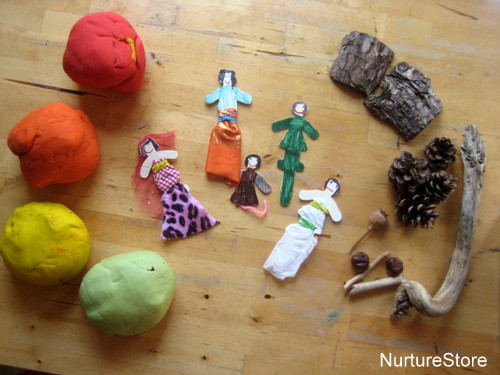 So, once we'd read and watched the story, and made our puppets, the children were able to create their own Indian forest and act out the story. There were new names to learn, and interesting questions arose as they played, helping them get a deeper understanding of the famous story. By 'becoming' the characters, the children get to think much more about what the story means, how everyone behaves and what it might feel like to have the events happen to you.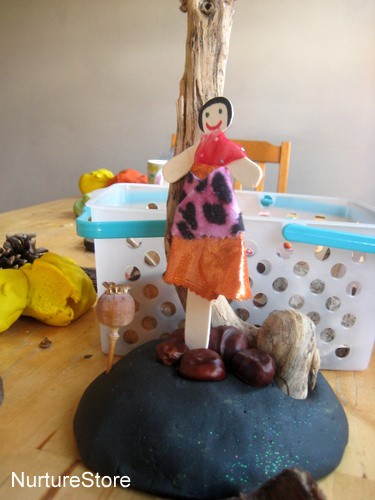 Here's Sita after she's been captured by Ravana. And Rama and Sita reunited, after Sita is rescued by loyal Hanuman.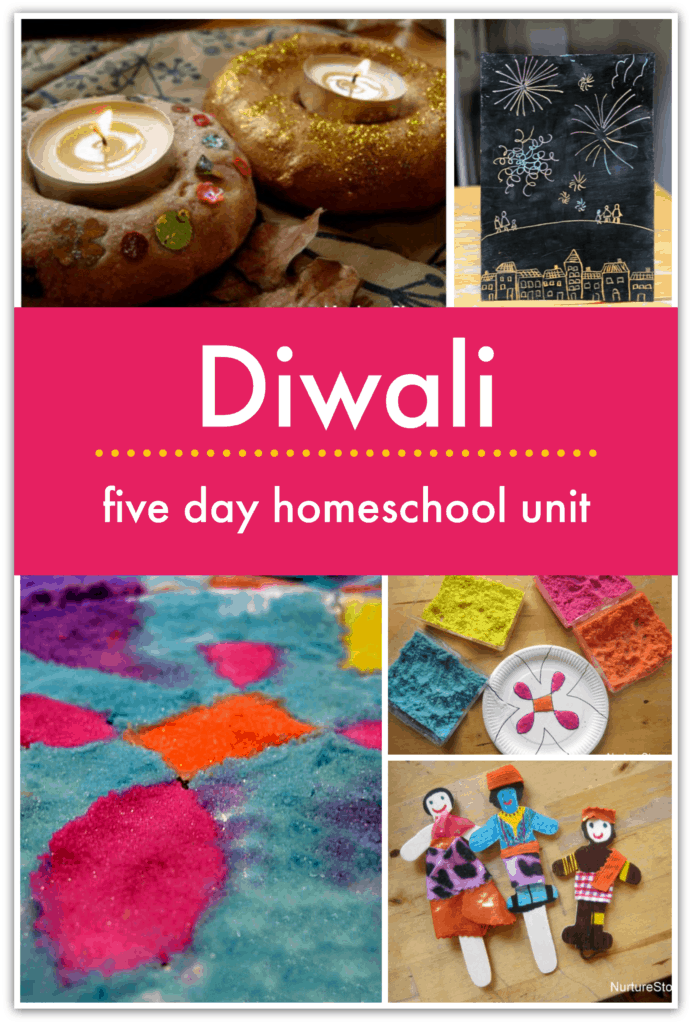 Get the complete Diwali kit!
NurtureStore's Diwali Kit makes it easy for you to teach your children about this festival of light.
Step-by-step lesson plans, art and craft projects, and practical printables give you everything you need to share this festival.
This kit is perfect for you if you are teaching about Diwali to children aged 4-8, at home, in school or in your community group.