Here's a super cute Easter bunny craft idea that's easy to make and works great filled with little Easter treats or as puppets for some imaginary play.

 
Easter bunny craft
These Easter bunnies are a great up-cycled craft and lots of fun to play with.  Here's how we made our rabbit models: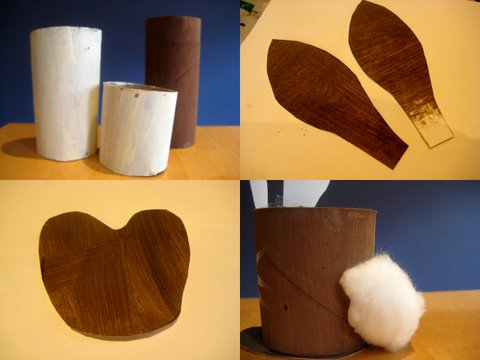 We used paper roll tubes – full sized ones for Mummy and Daddy Bunny and half sizes for the baby bunnies (B tells me baby rabbits are called kittens – did you know that?)
Paint your rolls white or brown. Cut out some tall ears and some paws from card and paint them too.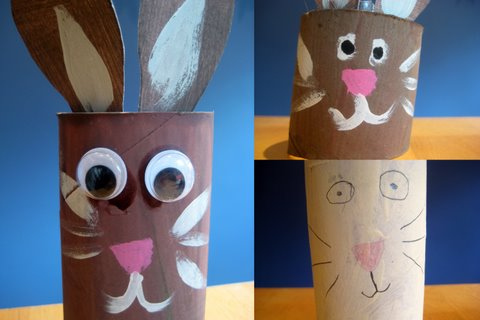 Once the paint is dry, use glue or sticky tape to fasten the ears and feet in place and add a cotton wool ball for a tail. Adding the feet is important if you're going to fill your rabbit, as they will stop your treats falling out.
Give your rabbits some cute faces. You can paint them on, draw them, or even use googly eyes. We folded over the tips of the ears too, to give the bunnies extra character!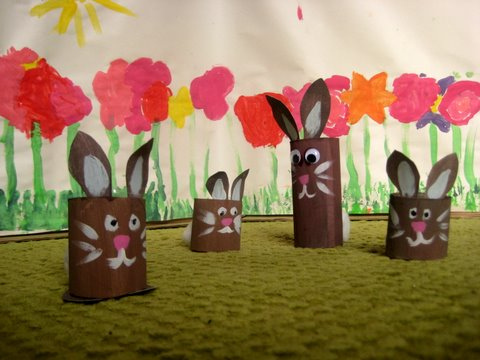 You can make a whole family or burrow full of rabbits and enjoy some imaginary play. If you'd like to make your rabbits a beautiful meadow to live in, hop over to see how we made our flower meadow mural.