Celebrating festivals from around the world is a wonderful way to introduce your children to the diversity of other cultures and religions. As festivals tend to be fun, family-centred events they're the perfect way to involve your children. The Chinese New Year is being celebrated on February 14th 2010 and will mark the start of the Year of the Tiger.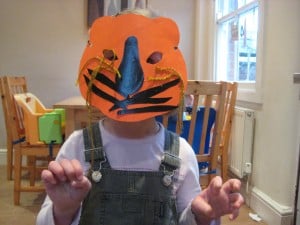 Here are some ideas to bring in the New Year at home:
1. As with most celebrations food plays a major part so why not cook up a Chinese meal and try using chopsticks. There are some recipes here that you might like. Or you could even try making your own fortune cookies and let the children write or draw the messages inside.
2. The traditional colour for the Chinese celebration is red so why not have a red day – wearing red clothes, eating red food, having a treasure hunt to find all your red toys and making a collage picture using lots of shades of red?
3. As it's the year of the Tiger it would be fun to make tiger masks. We'll be making one this week, so please come back and I'll share how we made it.
4. In the Chinese culture the number 8 is considered lucky – so how about playing some number games based on 8s? You could draw a hopscotch grid using chalks in the garden working up from 1 to 8. Or write the numbers 1 to 8 on squares of card to make targets, lie them out in a line and see if you can throw beanbags on to the targets. Anyone who lands on the number 8 could win a small prize.
5. Red envelopes containing gifts of money are very often given at New Year. You could use this idea at home by drawing or writing messages on card, putting them into red envelopes and then posting them off to friends and grandparents. My children love getting real letters through the post so your child might like to address an envelope to themselves and wait and see how long it takes the postman to deliver it.
6. Although it's the year of the tiger, the dragon also makes an appearance at New Year to chase away any evil spirits. You can watch a New Year dragon dance, and your children could even try to do one themselves.
7. You can also introduce the idea that people speak different languages and write in different ways around the world. Can your kids try saying  'Gung hei fat choi!' which  means Happy New Year! You can see samples of Chinese script here and here, and even do some translation here. Nurturestore in Chinese is 哺育商店 .
More Chinese New Year activities
Raise a global child! Exploring festivals from different countries and cultures is a wonderful way to learn about the world. You can see our archive of Chinese New Year activities here.