World Book Day is taking place on Thursday 5th March 2015. These fabulous, fun ideas have play ideas, crafts and activities to celebrate the day and help encourage children to love reading every day of the year.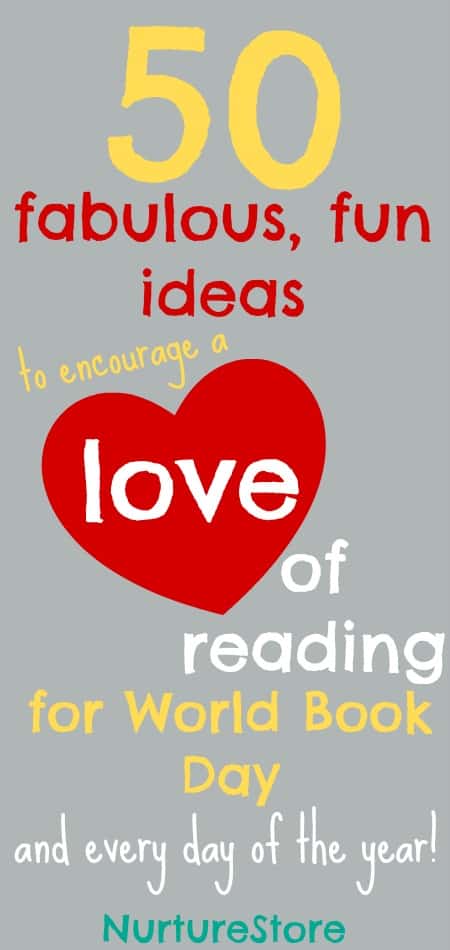 50 fabulous World Book Day activities

Make Your Make : 30 projects that promote a love of writing, self-confidence and compassion
Help your child to make their mark with these wonderful projects that help develop a love of writing, creative storytelling, self-confidence and compassion – along with six sets of bonus printables.
The best way to encourage children to do something is to make it fun! These ideas are full of suggestions you can use a home, school or any place you read. You can find out about the official World Book Day and pick some of these ideas to turn your day, week or year into a fabulous reading extravaganza!
Give reading a special place in your kids' lives
Of course you can read anywhere, but creating a special place to read shows just how wonderful books are. It's very simple to set up a book nook – all you really need is a place to sit and some books – but adding in some extra special touches can make a little reading den that children love to visit. You can make a book nook…
and even in a tree!
and add in this 23 reasons to read printable poster to decorate your space!
Re-tell well known stories through play
with Fairy Tale fridge magnets
with Story Stones
with storytelling cards
with a story telling bag
with a story pathway
with The Very Hungry Caterpillar activities
Play the Guess Who game and see if you can work out who the book character is
Host a Mad Hatter's Tea Party
or a  Gruffalo party
Role play The Three Bears
Bake a Gingerbread Man
Play with a Billy Goats Gruff sensory tub
Go on a Bear Hunt
Play Are You My Mother?
Act out Lost and Found
Play in an Out of the Ocean sensory tub
Make Brown Bear, Brown Bear shadow puppets
Have afternoon tea with Charlie and Lola
Act out the Little Blue Truck
Grown your own beanstalk
Become your favourite book character
Be Captain Hook with these 35+ pirate activities
Be Pippi Longstocking and make a Museum of Turnupstuffing
Be Strega Nona
Be the Big Bad Wolf 
Be an elf for the shoemaker
Be Ottoline
Bring some of your favourite books to life with art and crafts
with The Very Hungry Caterpillar crafts
with Peg Doll puppets
with The Tiger Who Came to Tea finger puppet
Make a Wild Thing mask
Encourage children to write books of their own
Combine art and storytelling and make an Incy Wincy book
Take the first line of your favourite tale and write your own ending
Write a story on the wings of a bird
Put yourself in a story with speech bubbles
Fill in the blanks of an easel story