Here's an easy-to-set-up activity, along with lots of ideas, for spring sorting games for numbers, letters and words.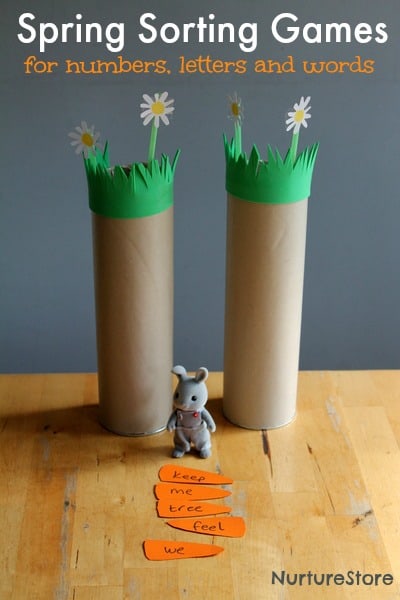 Spring sorting games for numbers, letters and words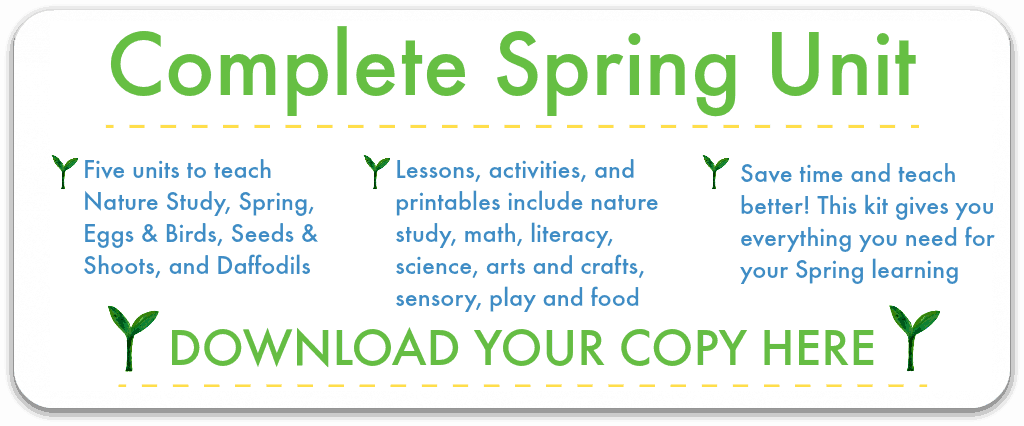 Our sorting game works on the basis of separating two different sets of cards.
They can be numbers, letters or words, so you can adapt them to suit your child ~ you'll find some suggestions below.
So, you can set up your game and play different variations each day, or with each child.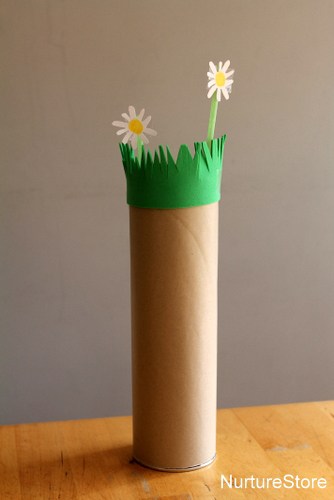 To begin, you'll need two containers into which your child can sort words.
You could use two Easter baskets, but we are all about rabbits this month, so I made two rabbit burrows.
I took two Pringles cans, wrapped each in brown paper, and added some grass and flowers around the top (made using craft foam, card, drinking straws and sticky tape). They're ever so quick to make, but add just the dash of cuteness my daughter loves.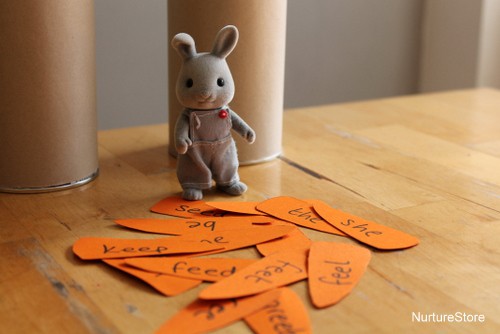 I also made a set of carrots – cut from a piece of orange card – onto which I wrote the words we're going to sort. We're working on 'e' sounds right now, so our first set has groups of words spelt using an open 'e' or 'ee'.
You can make many different sets, so you can use the game again and again, and you can match your activities to what your child is working on – see below for some suggestions.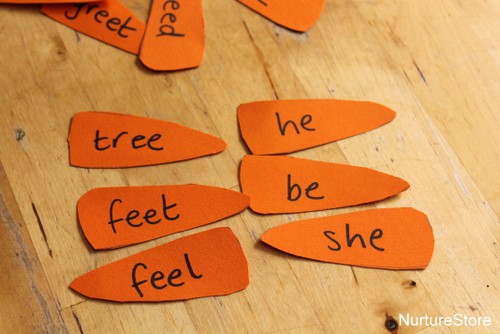 The aim of the game is to help Mr. Bunny sort his carrots into the right burrow.
In our version, my daughter is reading the word on each carrot, focusing on the spelling of the 'e' sounds, and classifying the word into the 'e' burrow' or the 'ee' burrow.
It's a fun, hands-on way to revise spelling rules – which she much prefers to just writing with a paper and pencil.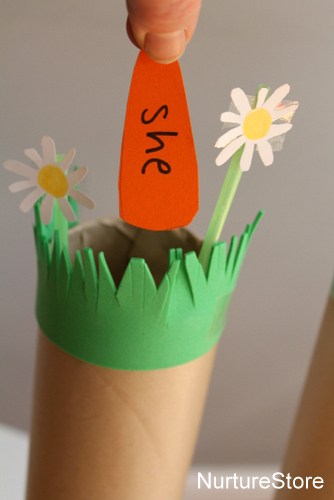 More sorting games for numbers, letters and words
Depending on your individual child, there are lots of different ways to play with this sorting game. Just make a set of carrot cards to suit what your child is working on. There are so many variations across literacy and maths, and for a variety of ages, you just need to think of two separate groups you can sort. Here are some ideas:
You might sort:
:: lower and upper case letters
:: odd and even numbers
:: carrots with your child's name written on, carrots with 'mummy' written on
:: numbers in the three times table and numbers in the four times table
:: words starting with 'b' and words starting with 'd'
:: words with different meaning – animals / plants, food / clothes, happy words / sad words
:: numbers you can divide by five and numbers you can't
:: words that rhyme with 'cat' and words that rhyme with 'dog'
:: sums that add up to '13' and sums that add up to '27'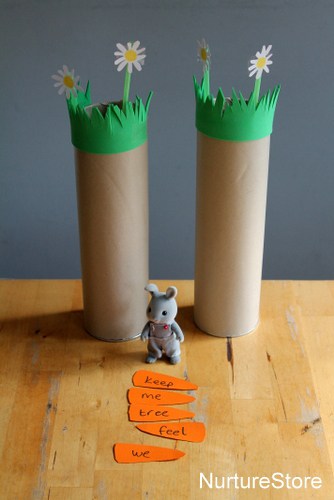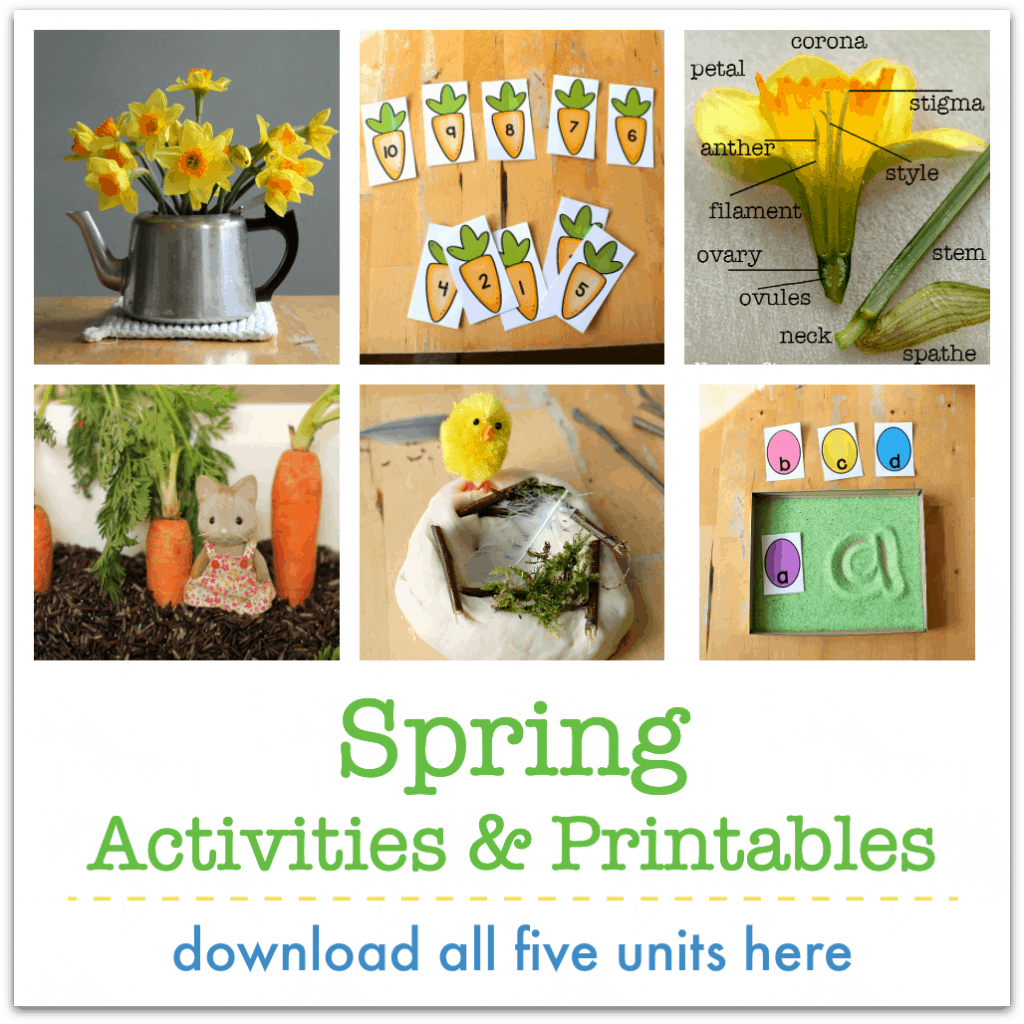 Download all the Spring units and printables
Download our complete Spring lesson plans, activities and printables and your spring teaching will be so easy!
:: five complete units of ebooks and printables for Nature Study, Welcome Spring, Daffodils, Seeds and Shoots, and Eggs and Birds
:: over 50 engaging activities and lesson plans that your children will love
:: over 30 pages of printables that make teaching so easy
:: a balanced programme of math, science, literacy, arts and crafts, nature study, sensory and imaginative play
:: a practical resource that you can start using today, in class or at home
:: weeks worth of learning all planned for you, to take you right through the season
:: created with children aged 4 to 8 in mind
You're going to love this super useful resource!