It's easy to make a Valentine sensory tub for your toddler or preschooler, using things you have around the house. Follow these four simple steps to give your child lots of opportunity for sensory play, maths and imaginary play.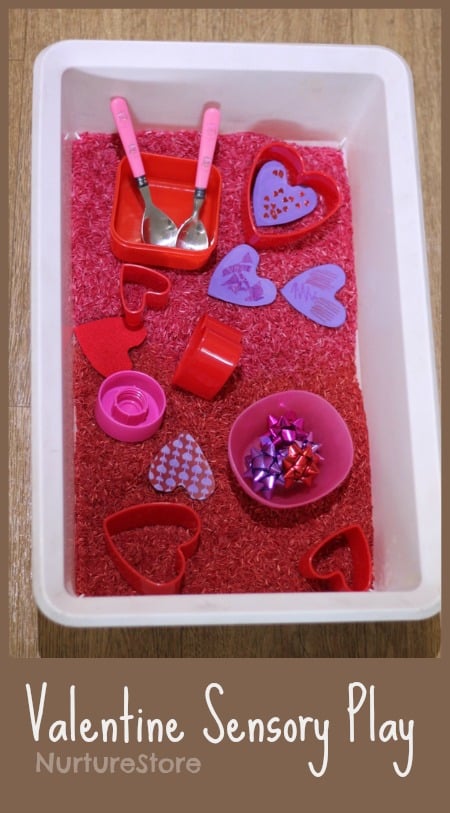 How to make a Valentine sensory tub
A sensory tub offers children an invitation to dig in and explore colours, textures, smells and sound. They can be a spark to start imaginary play, to use lots of language, and to have fun with maths.
Choose your container
For our Valentine-themed sensory tub, I started out filling a container with some rice.
We often use this plastic under-the-bed storage box for our sensory play, as it's good size to hold a variety of materials, and shallow enough so the children can reach right in and explore.
Prepare the filling
The filling is uncooked rice, dyed red and pink. Go here to see
how to dye rice
– it's very easy to do.
When we've finished playing, I store the rice away in a tub with a tight lid, and it lasts for months, if not years, for lots more play.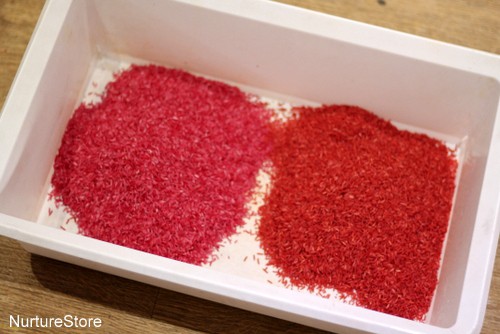 Add texture
Then I started to add some interesting extras: fun
loose parts
that children can use for play.
These hearts are just pieces of card, decorated with different patterns, textured paper and glitter glue to make them more interesting to explore.
I added some shiny gift-wrap bows too, which are fun treasure to hunt for.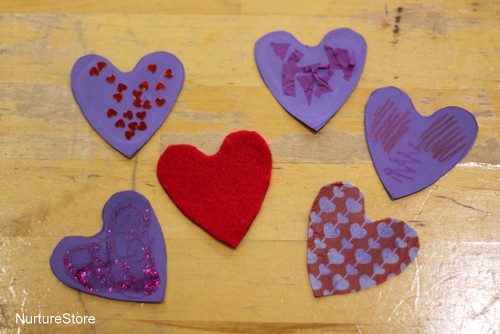 Add an extra learning element
We can easily introduce some maths by including items that are different shapes and sizes. These heart cookie cutters are perfect for our Valentine tub.
You don't need to 'teach' the shape, colour, size, volume, area, pattern concepts here – just let your children play, and they will discover things for themselves.
You might like to add our:
:: printable upper and lower case letter matching cards
:: printable number matching cards
:: printable pattern matching cards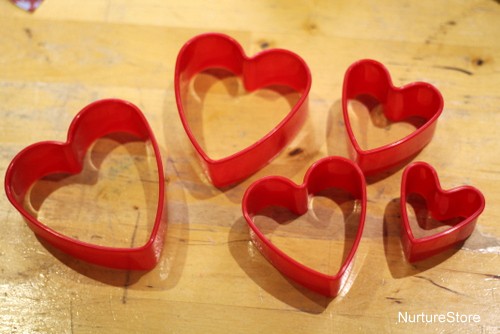 Add loose parts for play
And then I popped in some loose parts from the kitchen: bowls, pots and spoons.
This offers opportunities for scooping, filling and pouring, which are great for hand-eye co-ordination. They're also a nice invitation into some imaginary play.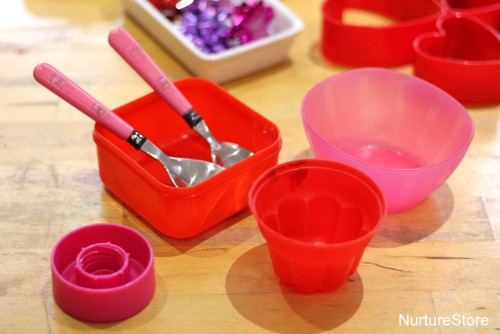 Then it's over to the children. There's no right or wrong way to play with a sensory tub really, it's all about exploring.
What about throwing?
I often get asked about what to do when children start to throw the contents of the tub all over the floor. What do you do if this happens?
With lots of interesting things to try out in a tub like this, I find children engage quickly with the materials, and aren't focused on throwing the contents.
But if they do, you might try modelling a better way to play, sitting along side and serving up a rice cake!
You might put the tub away for a while if your child really isn't interested – it will keep for a later play time – and go off and find an alternative where they can do some throwing.
Perhaps make balls out of bundled-up socks and try some target practice against a wall.
Quite possibly the throwing has nothing to do with boredom or 'naughtiness', just a genuine interest with the movement, feel and fun of throwing.
So, follow your child's lead and help them find a good way to explore it.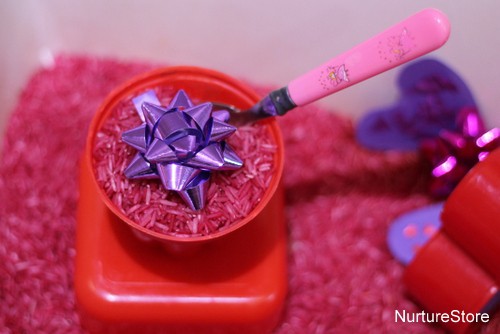 More lovely Valentine's Day activities for your children
Did you see all my other Valentine's Day activities for children? I've got more free printables, art, math, science, literacy and play ideas, all with a Valentine theme. You can find them all here.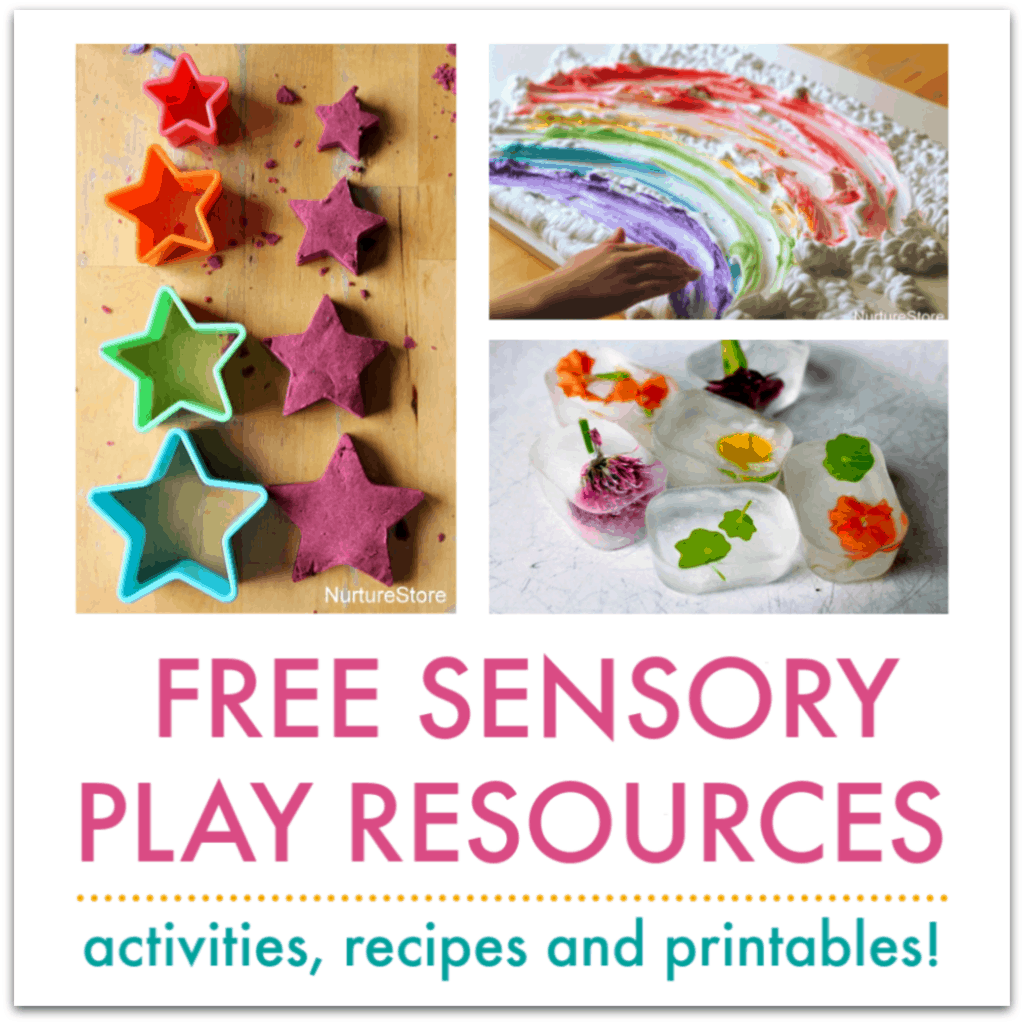 GET FREE SENSORY PLAY RESOURCES
Sign up for my weekly Super Sensory email and your teaching fairy godmother - that's me! - will send you free sensory play activities.
You'll get:
sensory play activity ideas to match all the festivals and themes of the year
fun recipes so you can make your own sensory play materials
free printables to add math, literacy and lots of creativity to your sensory play activities
To get all the free sensory resources, sign up in the box below.
---
By subscribing, you consent to our use of your personal data as per our Privacy Policy, which includes agreeing to receiving interest-based email from us.
---