I see many frozen activities in our future! My daughter hasn't even seen the whole film yet and she's already hooked. Here's her guide to making your own frozen ice palace, for lots of sensory play and imaginary storytelling.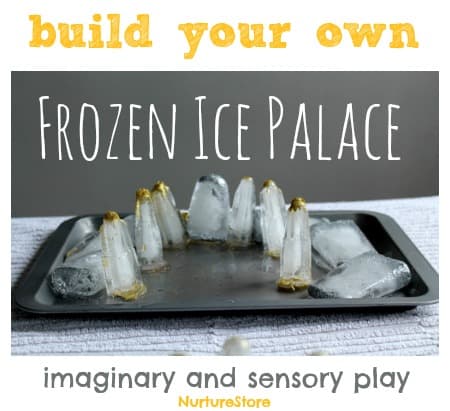 Frozen activities: make your own ice palace
We used lollipop containers to make the building blocks of our ice palace.
You could freeze one large container of water to give you a big, solid castle (over on our Facebookpage, Anita suggested a castle-shaped sand bucket) but I knew my daughter would love designing her own layout, so we used lots of smaller shapes, giving us lots of loose parts to move around.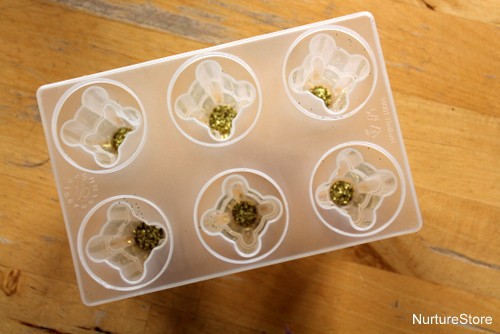 I sprinkled some gold and silver glitter in the bottom of each section of the containers, filled them with water and popped them in the freezer overnight.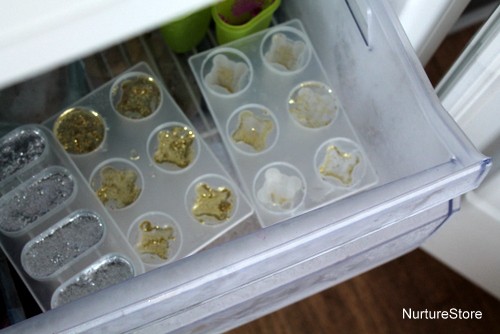 They were a little tricky to get out of the containers at first, having no lollipops sticks to pull to help release them, but if you run them under the cold tap they soon pop out.
We used a big towel as a play mat, to catch any drips, and I offered some shells and a silver tray too.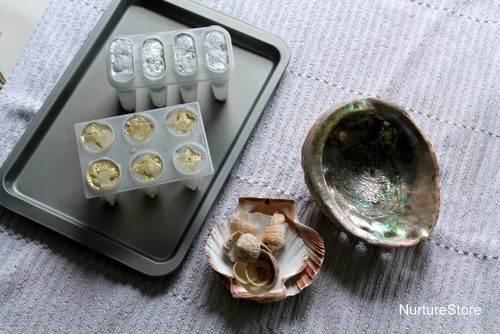 The ice blocks themselves look gorgeous, with the gold and silver glitter spread throughout the shapes. They make for really interesting sensory play on their own.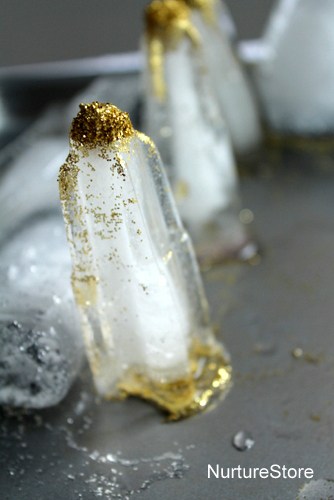 But my daughter loves storytelling, so it wasn't long before she'd rounded up some favourite characters and started building her own frozen palace.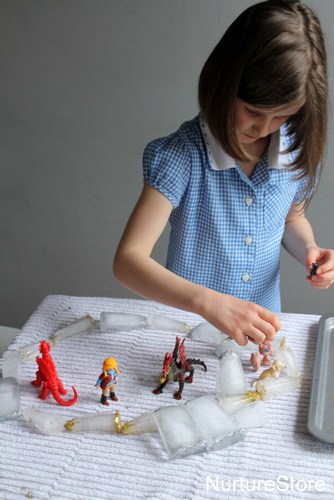 Pretend play like this, with some interesting sensory loose parts and just a few characters, really encourages children to use their imaginations and develop their language skills.
It's always interesting to listen in and hear how the characters are talking to each other.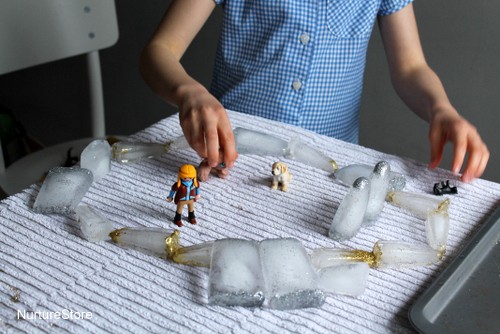 Acting out a story that children are familiar with, whether it's a traditional fairy tale, from a book or a film, is a good springboard into an activity like this. It gives them a starting point, and you can hear them recounting the story and sequencing the tale as they play.
You can see elements from the original – below is the balcony scene – but it's wonderful to see how children add their own twists – like these alternative characters! They might even sing along.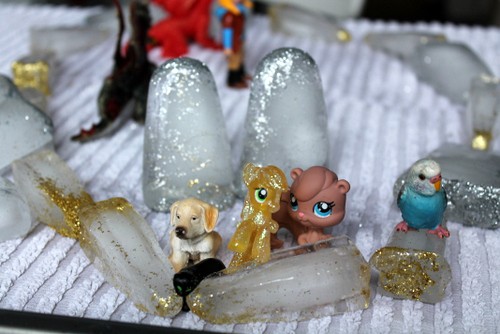 Is it a bit messy?
Will there be a few drips and glitter on the floor at the end?
Probably. But the benefits of messy play far outweigh the little cleaning up needed, so – let it go!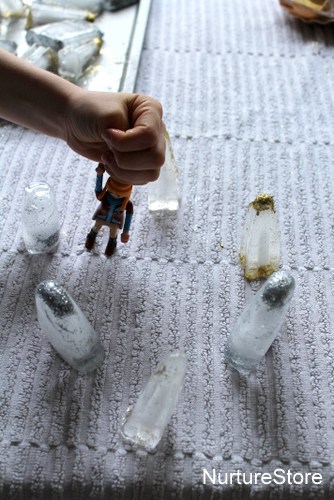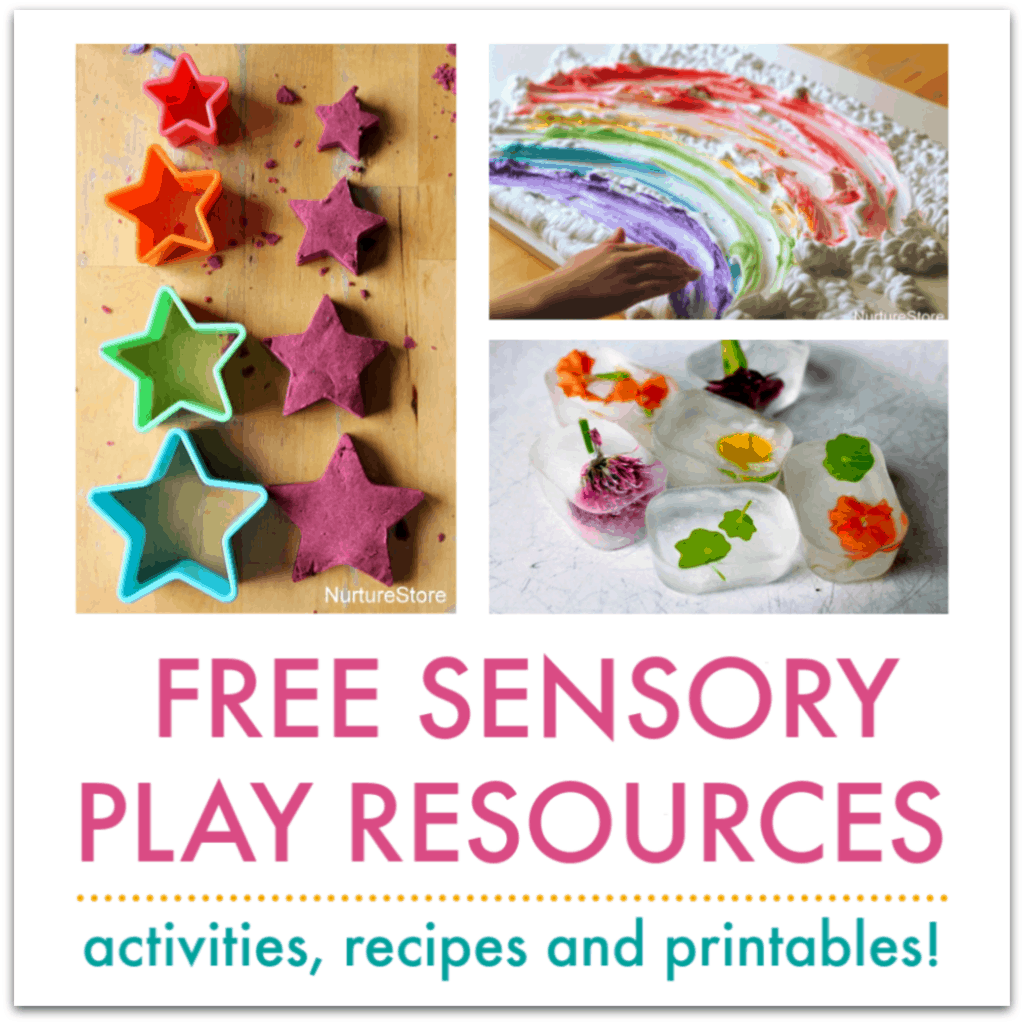 GET FREE SENSORY PLAY RESOURCES
Sign up for my weekly Super Sensory email and your teaching fairy godmother - that's me! - will send you free sensory play activities.
You'll get:
sensory play activity ideas to match all the festivals and themes of the year
fun recipes so you can make your own sensory play materials
free printables to add math, literacy and lots of creativity to your sensory play activities
To get all the free sensory resources, sign up in the box below.
---
By subscribing, you consent to our use of your personal data as per our Privacy Policy, which includes agreeing to receiving interest-based email from us.
---