Looking for things to do on New Years Eve for kids? Try this fizzy sensory play!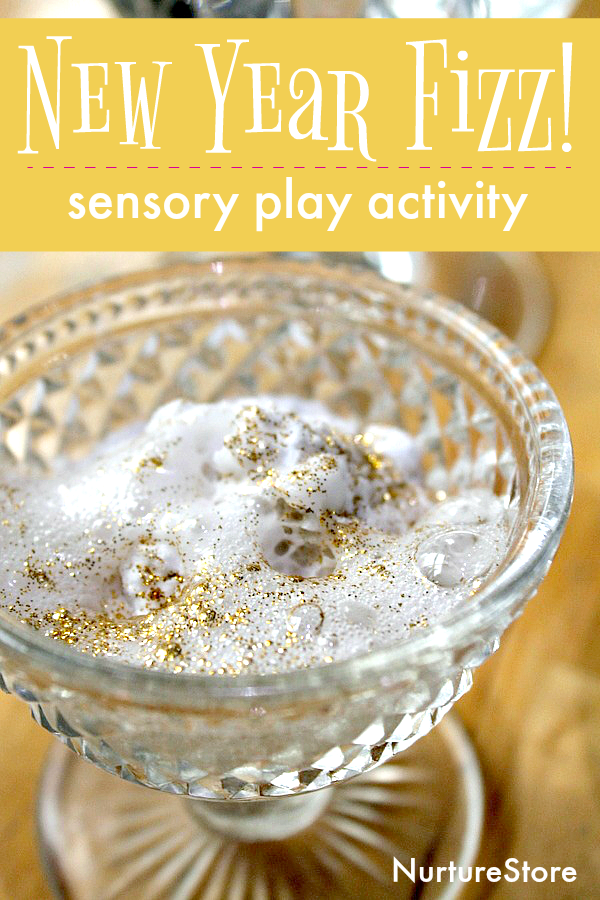 New Year's Eve fizzy sensory play activity
This is a really fun science experiment that you can try with your children: using bicarbonate of soda and vinegar to have fun with chemistry. It's a great invitation to play for New Year's Eve, providing child-friendly New Year fizz!
:: bicarbonate of soda (sometimes called baking soda) which you'll find in the baking section of the grocery store
:: vinegar – we used distilled white vinegar, also easily available in the grocery store
:: gold glitter (optional)
:: pipette or spoon
:: small containers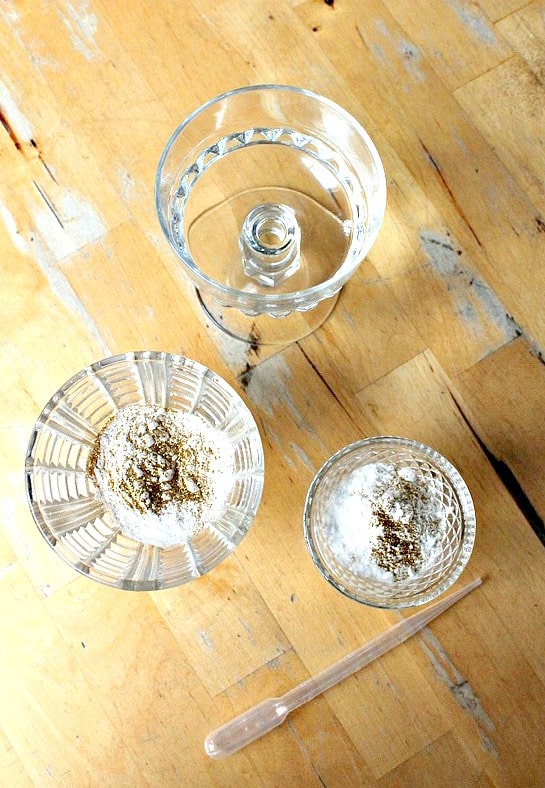 To set up the invitation to play you will need small containers filled with some bicarbonate of soda.
You can sprinkle some glitter on top – or hide it underneath as a surprise to be revealed.
Using fancy glasses and dishes is fun to fit with a New Year's party theme.
You'll also need to set out some vinegar, along with spoons or pipettes.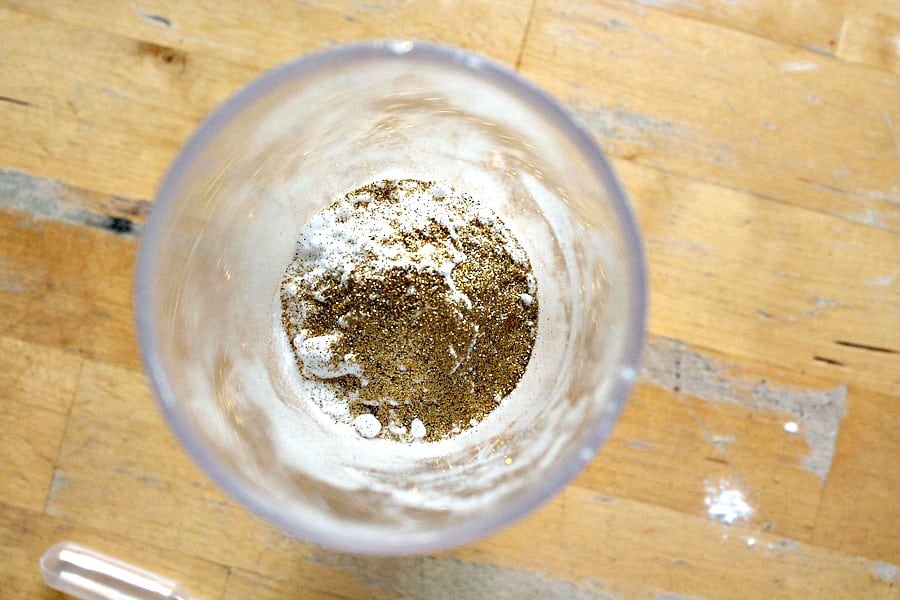 Place your soda-filled pots on a tray, plate or bowl to help contain the fizz that will happen once the chemistry gets to work.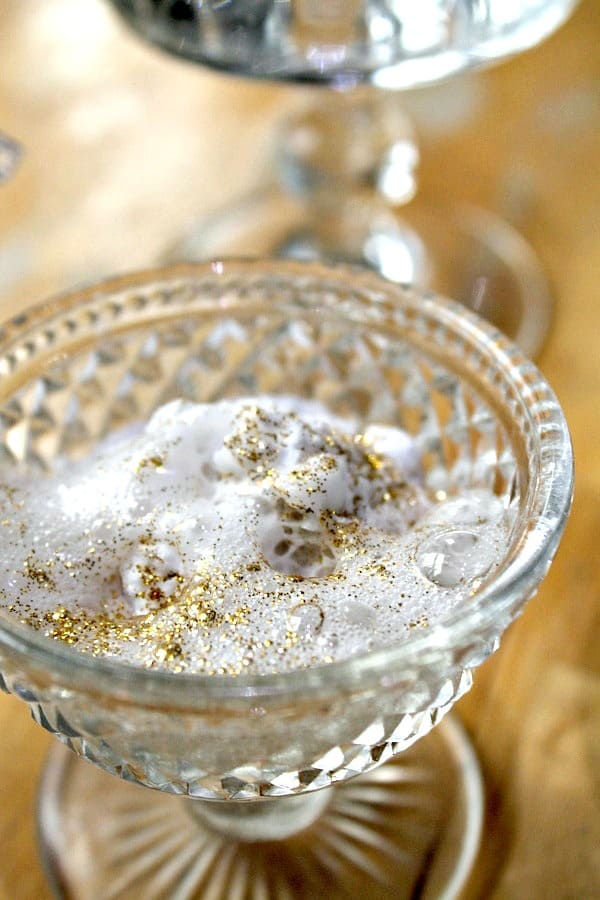 And then it's time to make some New Year Fizz. Use a spoon or pipette to drop vinegar on to the bicarbonate of soda.
You can have fun with a 'ten-nine-eight… Happy New Year!' countdown before you drop on the vinegar.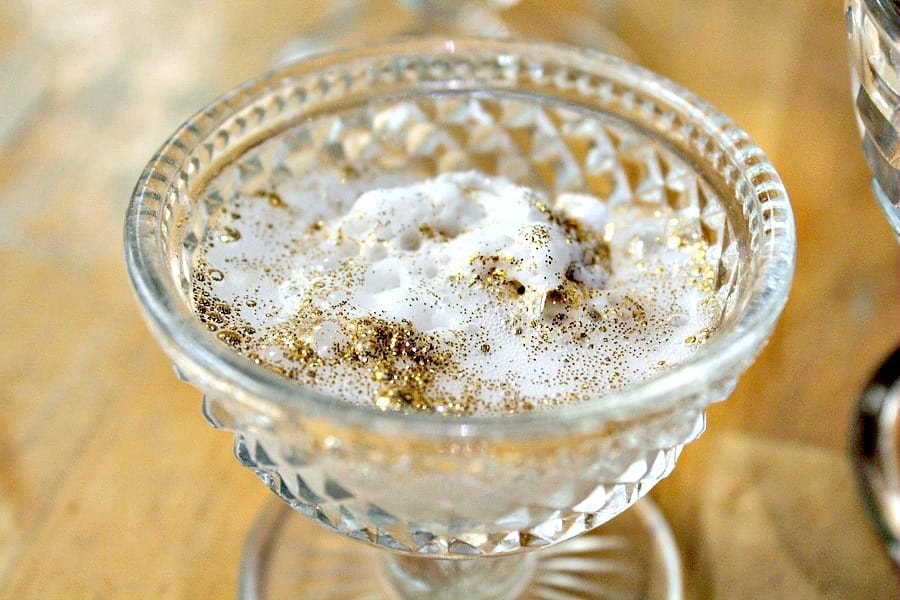 As the vinegar touches the bicarbonate of soda a chemical reaction happens between them to make a big fizz.
You can keep topping up the vinegar and soda to make your fizz grow bigger and bigger.
Can you make it fizz up right over the top of the glass?
More New Years Eve activities for children
Check out our other fun ideas for New Year's Eve activities for kids:
:: New Year countdown colouring page printable
:: 'What a Year!' New Year review questionnaire printable – coming soon