This spring yoga routine takes children through an easy yoga story, encouraging them to connect their imagination with their body and move through a series of simple yoga poses inspired by the spring.

Spring Yoga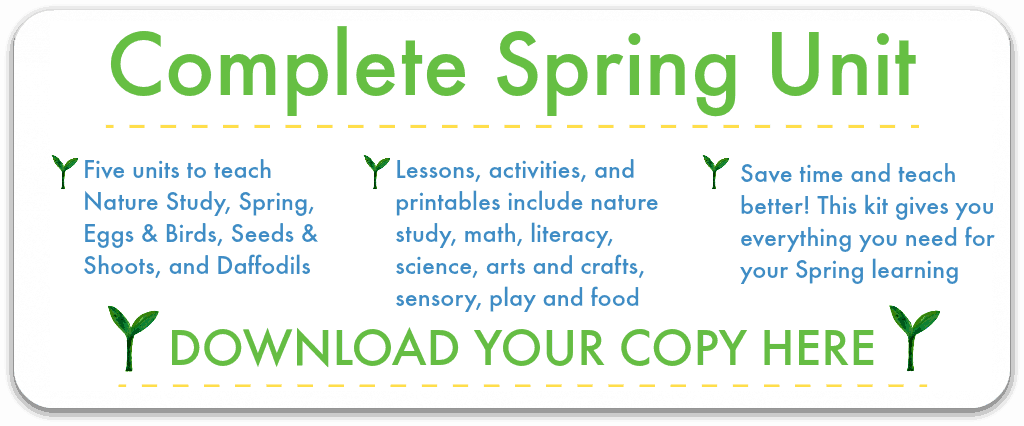 Let's use our bodies to move, stretch, and bend with this spring yoga routine.
If you or your children have never tried yoga a before, do give this a go. The routine is very simple and all kinds of bodies can enjoy it.
Yoga is wonderful for young children and parents. It is accessible for everyone, however flexible or active you are. It can help energetic children get a 'wiggle fix', and can soothe children too. It helps with physical well-being, concentration and happiness!
You don't need to worry about getting each pose exactly right. Use the images and try your best, listening to your own body, and moving in a way that suits you. Encourage your children to try the poses, to be gentle with themselves as they move, and to listen to their body and always be comfortable.
I've written the routine as a little story, to help you flow through the poses, and remember the routine. You might like to do this each morning when you wake up, or at some other point in your day, throughout the spring.
Preparing for yoga
You can print a poster of the spring yoga sequence in the Seasons School Spring unit here.
You can do yoga anywhere – just make sure you have enough space to stretch and lie down safely, and that the floor is comfortable for you. You can use a yoga mat if you have one, but any floor surface you're not going to slip about on is good too – or practise your yoga outside on a spring lawn.
You can wear your everyday clothes, so long as you can move about comfortably, and have bare feet as socks can make you slip.
You might like to try some gentle music in the background such as this:
Our Spring Yoga Routine :: from seed to serene
1. Seed
Imagine you are a little seed, lying deep down in the soil. You're waiting for winter to pass and the first sign of spring to wake you up.
Kneel down and then move forwards into child's pose, with your legs tucked under you and your head on the floor. You can place your arms beside you, with your hands near your feet, or make scrunched fists on the floor in front of you and use them as a place to rest your head.
Lie still for a moment and breath in and out calmly, as you wait for spring to arrive.
2. Grow
As the spring rain falls on the soil and the sun begins to warm it, you, little seed, start to wake up from your winter's sleep. Move into downward dog pose, with your feet on the floor and your hands on the floor in front of you, with your bottom pointing up in the air. Lower your head so it points to the floor and enjoy the stretch. Breathe in and out calmly.
3. Stem
Then slowly, come up to standing. From the downward dog pose you can slowly walk your hands back to your feet and then very slowly uncurl your back to bring you up to standing. Raise your head last of all. Stand up now like a tall stem as your little seeds beings to grow up out of the soil. Push your feet down into the floor as your roots grow down, and stand with a straight back as your little seedling starts to grown upwards.
4. Sway in the breeze
As you grow up and up the warm spring breeze blows you gently from side to side. Bend your right knee and place your right hand on your thigh. Then raise your left hand up over your head as you bend to the side.
When the wind blows the other way, swap sides. Bend your left knee, place your left hand on your thigh, and raise your right hand up over your head as you enjoy the stretch. Breathe calmly in and out as you sway.
5. Grow tall
The soft spring rain and the warm sunshine is helping you to grow tall. Push your feet, your roots, down into the ground, and stand tall. Raise both hands in the air, spread out to catch all the sun's rays. Turn your face up to the sunshine and breathe deeply in and out.
6. Bloom
As you stand tall enjoying the sunshine, imagine your face is a flower, blooming prettily in the spring garden. Join the palms of your hands together above your head and, if you want to, try to raise one of your feet, and place it on your leg by your knee. Push down your foot roots and lift up your flower face to the sky, with a tall straight back as your stem. Don't worry if you wobble a little; you can place your foot back on the floor when you want to. Breath in the scent of the flowers all around you in the garden, with deep, gentle breaths.
7. Birds and butterflies
The garden is full of birds and butterflies, visiting each flower in turn. Stand on one leg, raising your other leg out behind you. Stretch your body forward gently to become a bird or a butterfly. Place your arms out behind you as your wings. Stand for a moment and imagine what it would be like to fly.
8. Content
Now place both feet back on the floor, and stand still, with your hands beside you. Stand up tall with strong roots and a straight stem. You have grown into such a beautiful flower. Bring your hands up to your heart, with your palms pressed together. Close your eyes and picture the garden all around you. Listen to the birds chirping, smell the fragrance of the flowers, feel the sunshine on your face. Stand for a moment and breathe deeply and calmly in and out, feeling content in your spring garden.
Namaste. The spirit of the garden greets the spirit in you.
You can print a poster of the spring yoga sequence in the Seasons School Spring unit here.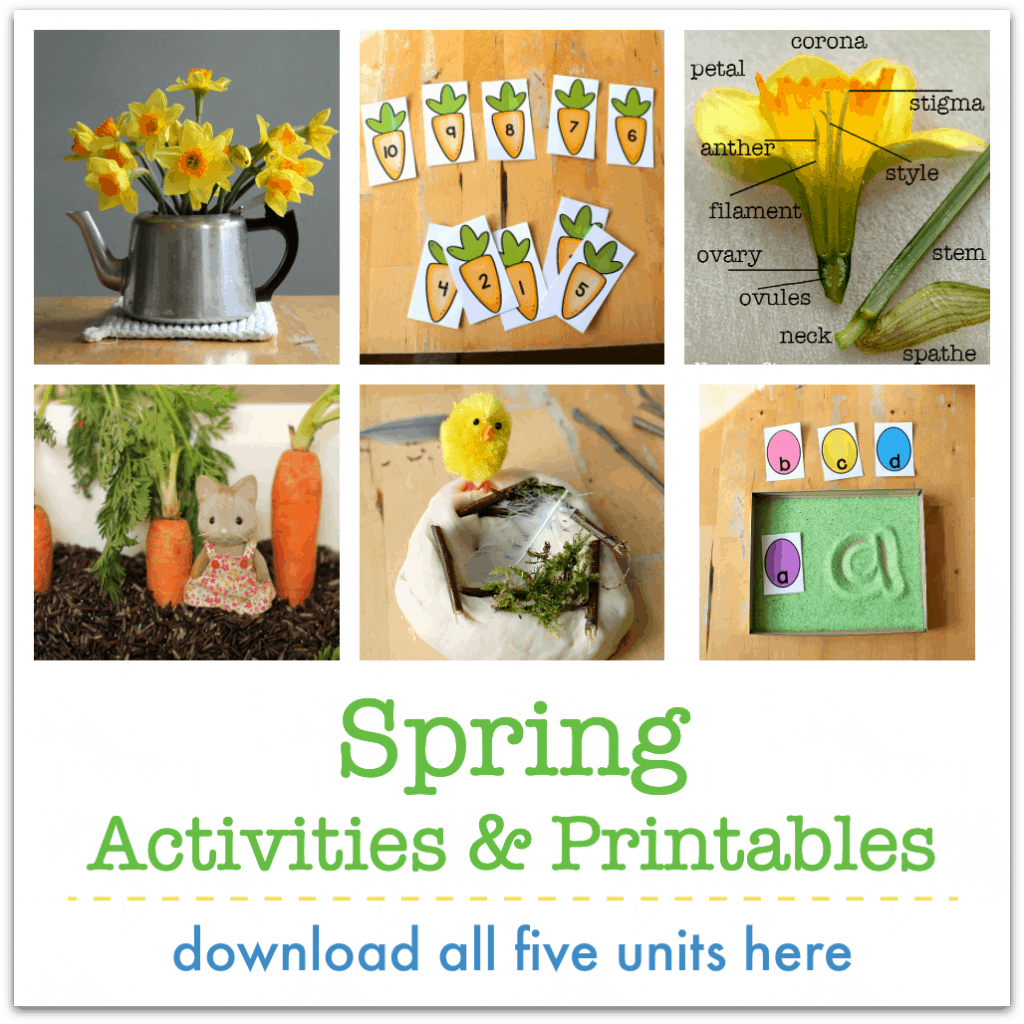 Download all the Spring units and printables
Download our complete Spring lesson plans, activities and printables and your spring teaching will be so easy!
:: five complete units of ebooks and printables for Nature Study, Welcome Spring, Daffodils, Seeds and Shoots, and Eggs and Birds
:: over 50 engaging activities and lesson plans that your children will love
:: over 30 pages of printables that make teaching so easy
:: a balanced programme of math, science, literacy, arts and crafts, nature study, sensory and imaginative play
:: a practical resource that you can start using today, in class or at home
:: weeks worth of learning all planned for you, to take you right through the season
:: created with children aged 4 to 8 in mind
You're going to love this super useful resource!