Welcome to our puppet unit lesson plans. Over five days we're boosting language, storytelling, and creative skills as we make puppets, a set and props to host our own puppet show.
NurtureStore hosts regular themed weeks of creative learning activities, giving you ideas, lesson plans, and printables all year round.
This week our focus is on puppets, which is such a wonderful theme for children to explore. Puppets are so versatile: they can be made from almost anything and used to develop many skills and interests.
Five days of learning with puppets unit
When children are making and playing with puppets they are able to:
:: develop art- and making skills
:: test out new materials like scientists, to see what works best for their puppet
:: problem-solve and find solutions
:: develop language skills as they narrate their play and give voices to their characters
:: exercise their imagination
:: use storytelling and practice the sequencing of ideas
:: use puppets to role-play new or difficult situations: a trial run to be better prepared for when they encounter situations in real life
The benefits of working with a themed unit
You might like to pick just one of these ideas to enjoy or offer all five over the course of your week.
It's such an advantage to give children time to work on a theme.
A themed-week lets children make connections between one idea and another, one material and another, one experience and another.
With a range of linked activities, children are able to compare and contrast, see how things are the same and what's different – young scientists and creatives in the making.
Coming back to a theme over consecutive days gives time and space for ideas to brew, and the repetition helps children find depth and meaning.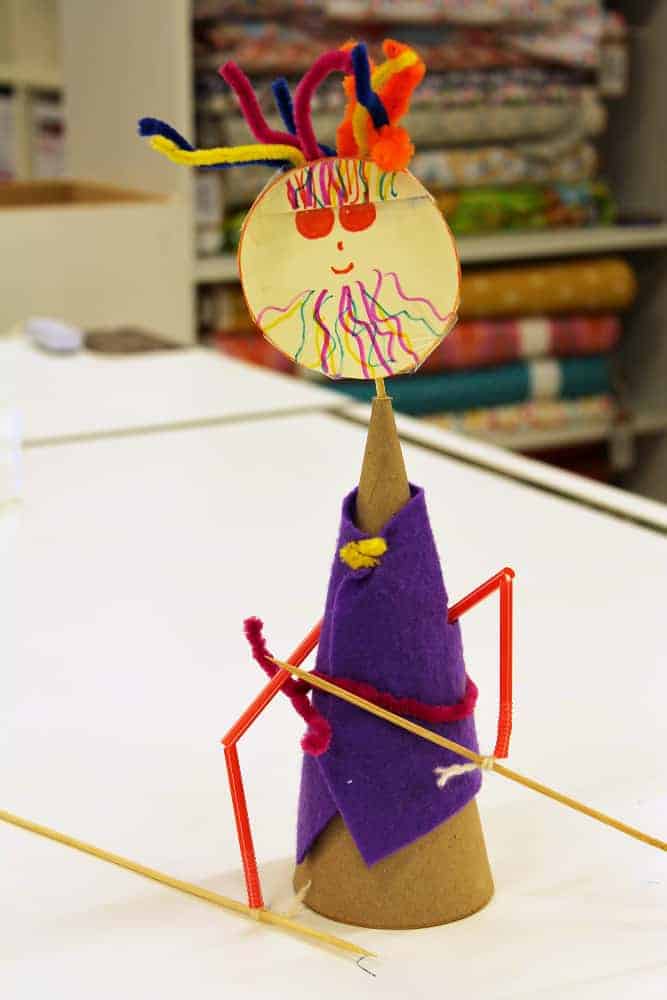 Day One :: let's make puppets
There are so many ways children can make puppets, depending on the materials you have available, their skills, and their imagination. A junk model box full of recycled packaging and old papers, along with scissors and sticky tape, is a great place to start.
You could make simple finger puppets like our tiger or our Rama and Sita set.
Or junk model a dragon or a robot.
Make paper roll people or animals, or make peg dolls.
Try making rod puppets inspired by East Java or a Chinese dragon.
You could also make shadow puppets or fridge magnet puppets.
Whichever style you use, encourage your children to make their own puppet designs today. We'll use these puppets over the course of this week, adding a set, props and story, to put on our own puppet show.
When you finish your puppet making today, ask your children to have a think overnight about where their puppets would like to live.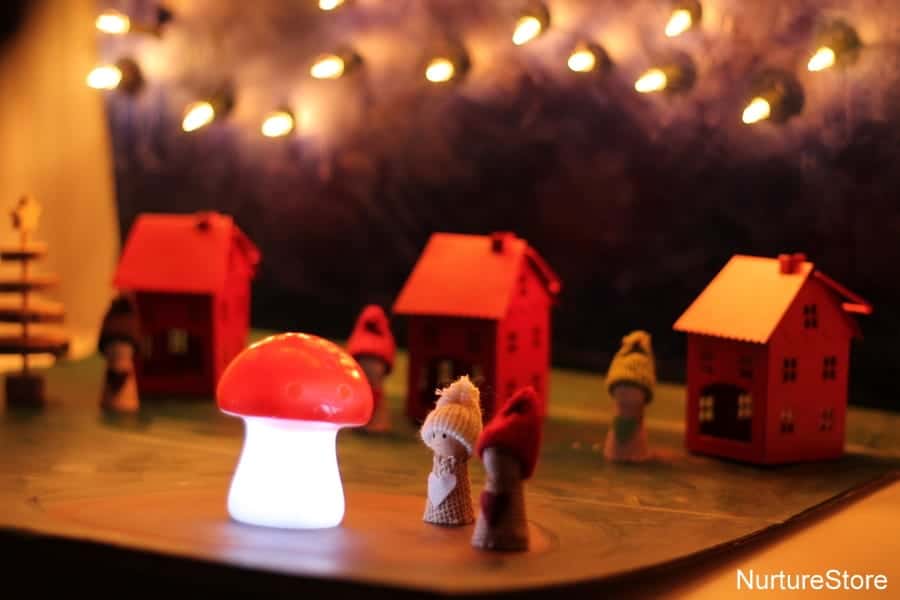 Day Two :: make a puppet set
One day two of our puppet unit, let's give the puppets we made yesterday a home.
Have a chat together about these questions:
:: Where would your puppets like to live?
:: Do they live in the real world or somewhere imaginary?
:: What is their home like? Where do they sleep?
:: Do they live alone or with other creatures?
:: What is it like in the land around their home? Are there trees, mountains, a river, a town?
Then, let's build the land where the puppet lives, to be a set for our puppet show.
You could use a big roll of paper to draw out your set, like our play mat.
Or you would unpack a big cardboard box, like our fairy land.
You might make a small world, like our dinosaur box.
Or even use lights, like our pixie land.
Fill out your set with paints and drawings today, and tomorrow we will add extra props to make your puppets feel even more at home.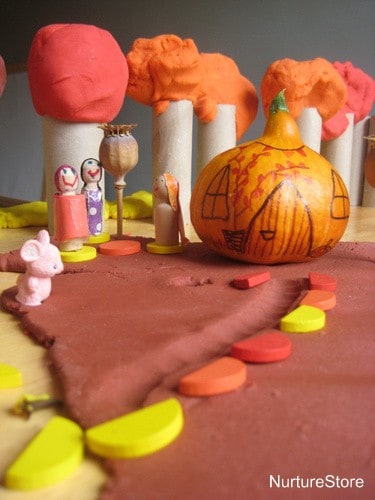 Day Three :: props!
On day three of our fantastic puppet project, let's add props. Props are the furniture and objects used in a film or play to add lots of interest to the performance. We'll need some for our puppet show.
By now, you have your puppet(s) and the land they live in, but what else do they need?
Do they need a house or trees?
Do they ride in a car or on a broomstick?
Do they need treasure, or fancy dresses, or a magic key?
Raid your junk modelling and craft supplies again today and make a set of props for your puppet character to use.
You might make a house for them from card, or from a pumpkin!
You could use blocks and chalks to build things.
An add all sorts of details, like we did in our winter wonderland.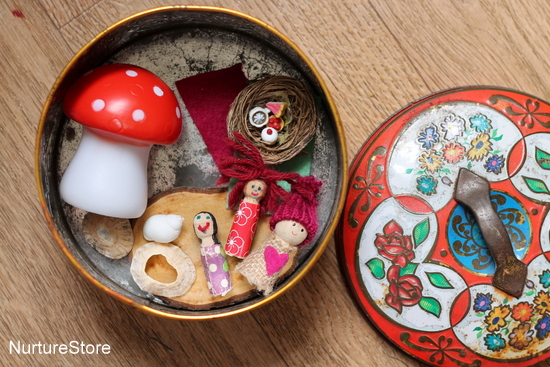 Day Four :: building a story
On Day Four of our puppet week, let's develop a story around our puppet that we can tell in our puppet show tomorrow.
Your children will likely already have strong ideas about their puppet's character, built up over the last few days as they have been making and playing.
Encourage them to give their story a little structure, ready for a puppet show.
How will their puppet show start, what will happen in the middle, and how will it end?
You can use my story spinner printable to help generate ideas and to build a story structure.
You might use my storytelling tin idea to add in a few new, surprise props to give your children some fresh ideas to include.
You might also incorporate writing by using speech bubbles or making a simple character study.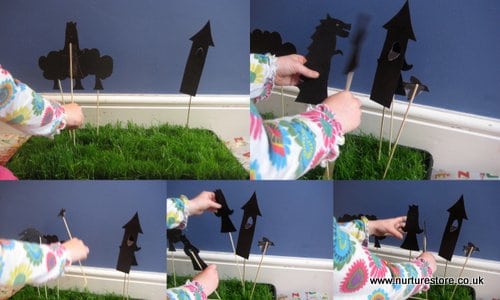 Day Five :: raise the curtain and on with the show!
Let's bring all our creative work together on our final day of puppet week and put on a puppet show.
What's your show going to be called, and when will you perform it?
You might like to make a poster or an ad for your show.
Do you want to make tickets or a programme?
Invite your audience (friends, family, or neighbours) and maybe get refreshments ready. You might even want to film your show and share it online.
Set up your set, gather the props you have made. Have a couple of trial runs to practice the beginning, middle, and end of your show.
Then raise your curtain and on with the show!