This yarn-wrapped leaf craft is a pretty autumn decoration and a great fine motor skill activity for fall. Use the printable leaf template and get wrapping!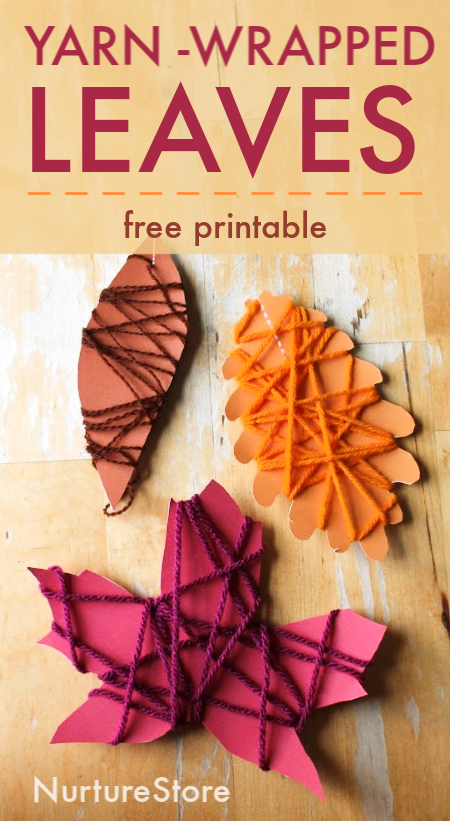 Yarn-wrapped leaf craft with printable leaf template
These yarn-wrapped leaves in shades of yellow, brown, and orange look so pretty. The yarns gives a great texture and what's more seasonal than lovely fall leaves?
Don't under-estimate the benefits of simple crafts like these. They offer children the opportunity to try out important skills:
:: using materials to create a project
:: following instructions like a recipe
:: enjoying making and decorating as part of the changing seasons of the year
:: building fine motor skills by using scissors and handling yarn and string (This craft makes an excellent finger gym.)
:: enjoying the community of chatting with your friends as you craft together
:: collaborating with others, as you pass materials to each other, help each other out when you get stuck, and work together to create a community art work
So grab your materials and let's get wrapping!
Materials needed
:: leaf printable – see below for how to print
:: scissors
:: selection of yarn, wool, string and/or thread in autumn colours
:: sticky tape (optional)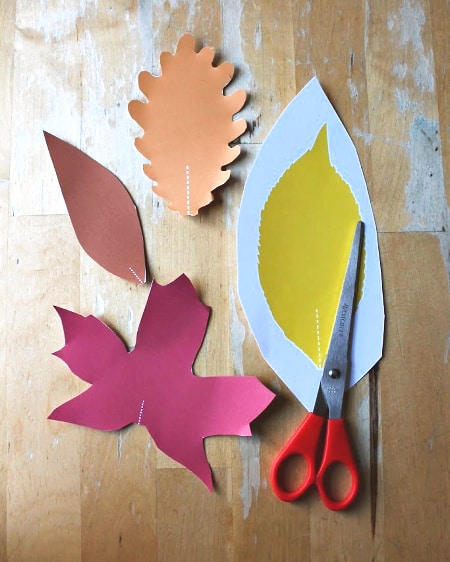 How to make yarn-wrapped leaves
Print out the autumn leaf templates (see below) on thick card. Using thick card make the leaves durable without the need to laminate them (less plastic!)
Cut out the leaves or get your children to do it, depending on their scissor skills. The leaves are fairly simple in shape but do have some bumps – which makes them great for holding on to the yarn when you start wrapping.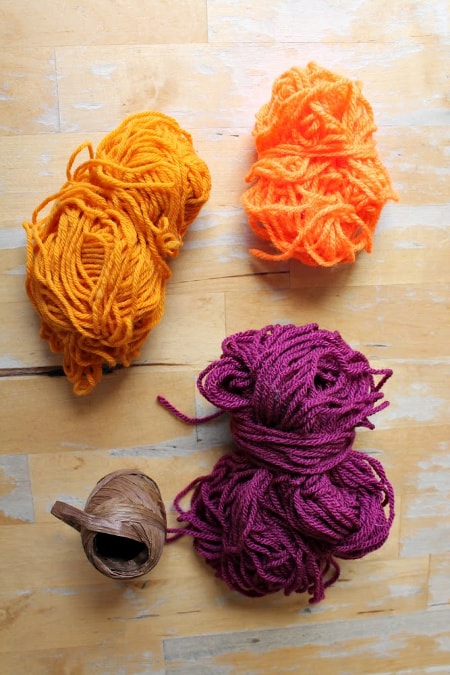 Set out the leaves with a selection of threads in autumn colours: yarn, wool, string or thread.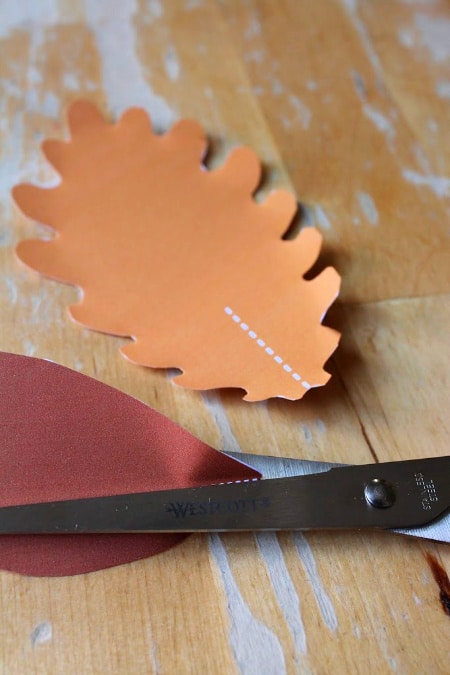 Use scissors to snip the dotted line on each leaf. This notch will hold the first section of yarn in place for you as you begin to wrap.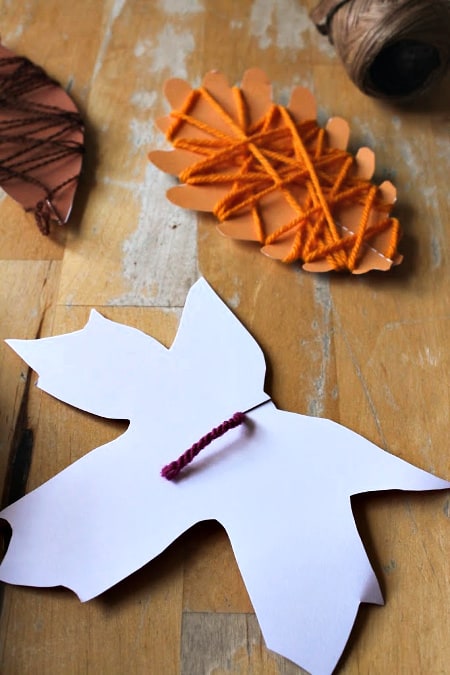 You can use a piece of sticky tape on the back of the leaf, to hold it more securely in place, if you like but we found this unnecessary.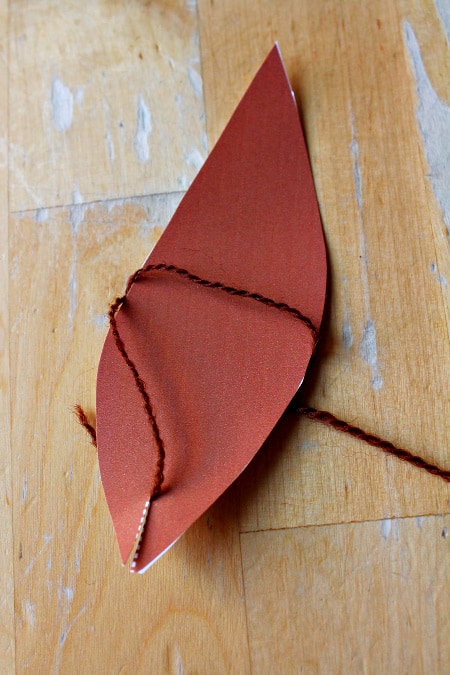 Start wrapping! We found it better to cut long lengths of yarn rather than try and wrap with the yarn still attached to a whole ball of the thread.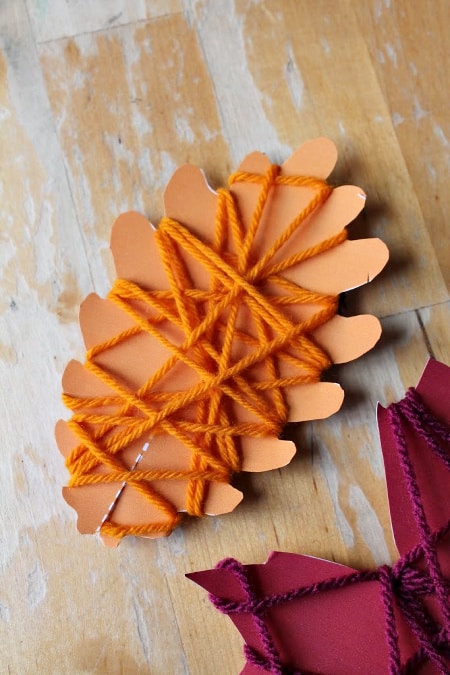 Wrap the yarn around your leaf, using the notches to help it stay in place.
Criss-cross the yarn and mix colours if you like.
The patterns you create give your leaves a lovely texture.
To finish, thread the end of your yarn back through the scissor-snipped notch. To hold it in place you can either simply thread it under a few of the other lines of thread, tie the loose end in or use a piece of sticky tape to hold it.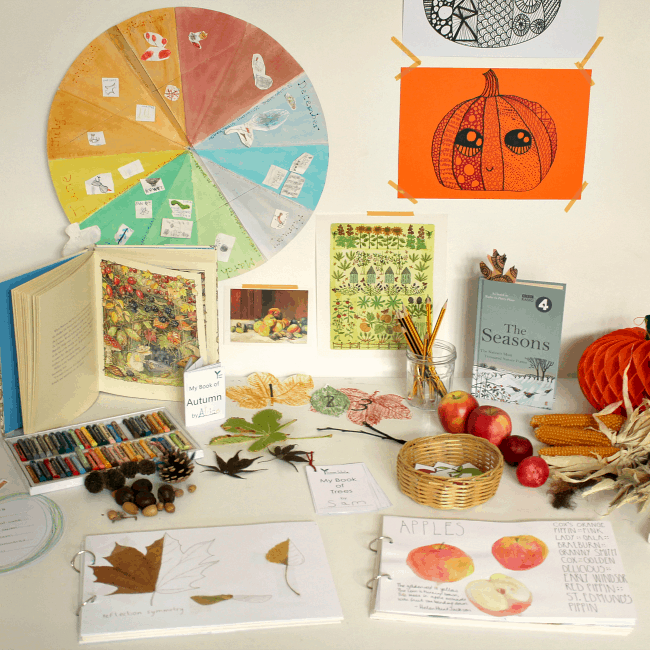 More autumn activities
Create a whole unit of autumn activities with NurtureStore's resources:
Download my complete curriculum of apples, pumpkins, leaves and twigs here.
Go on an 'I-spy autumn' treasure hunt.
Set up an autumn nature table.
Play with pumpkin spice play dough.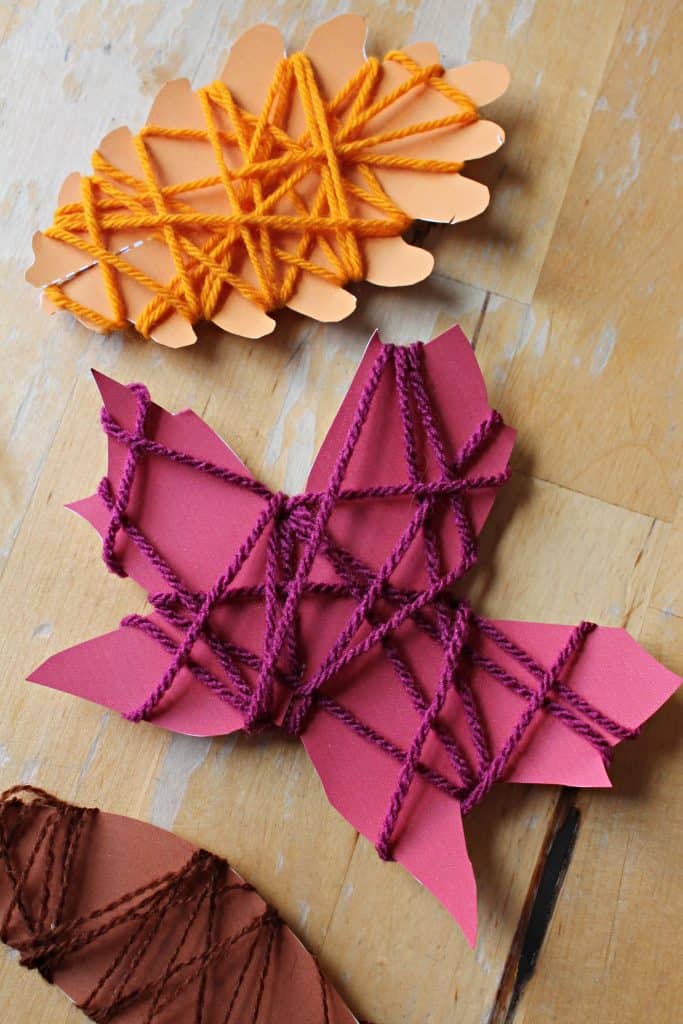 How to get our free printables
To download my free printables, you'll need to visit the NurtureStore Printables Library, which is available to all subscribers to my email list, and of course to Play Academy members.
Pop your email address in the form below and you'll get access to all my free printables, lesson plans, activity ideas, weekly newsletter, and a whole lot more!
After subscribing, be sure to check for the confirmation email. After you confirm your email subscription, we'll send you a welcome email which includes instructions for downloading our free printables.
If you're already subscribed to our email newsletter: check your email for the latest edition of the newsletter where you'll find a link to access our free printables library - the link is usually at the bottom of the email.
For help accessing our printables, click here.
---
By subscribing, you consent to our use of your personal data as per our Privacy Policy, which includes agreeing to receiving interest-based email from us.
---