Here's how to make Chinese lanterns from paper or card – the prefect Chinese New Year craft!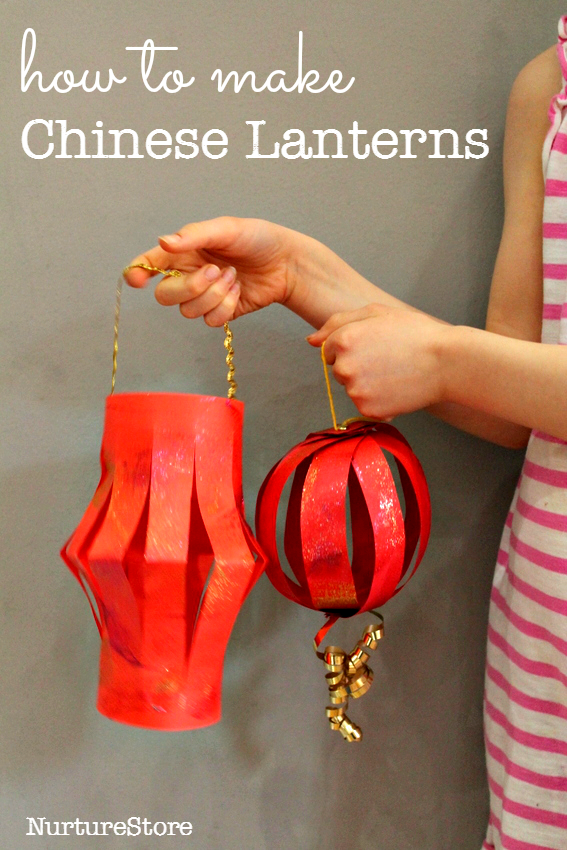 How to make Chinese lanterns
Join us today as we make Chinese paper lanterns, with a choice of two styles. Both are easy to make and use only simple materials.
This article is part of our Chinese New Year activities for children.
In this activity you can:
:: see how to make Chinese lanterns with a choice of to designs
:: develop fine motor skills as you practice scissor skills
:: find links to more Chinese New Year activities and crafts to enjoy with your children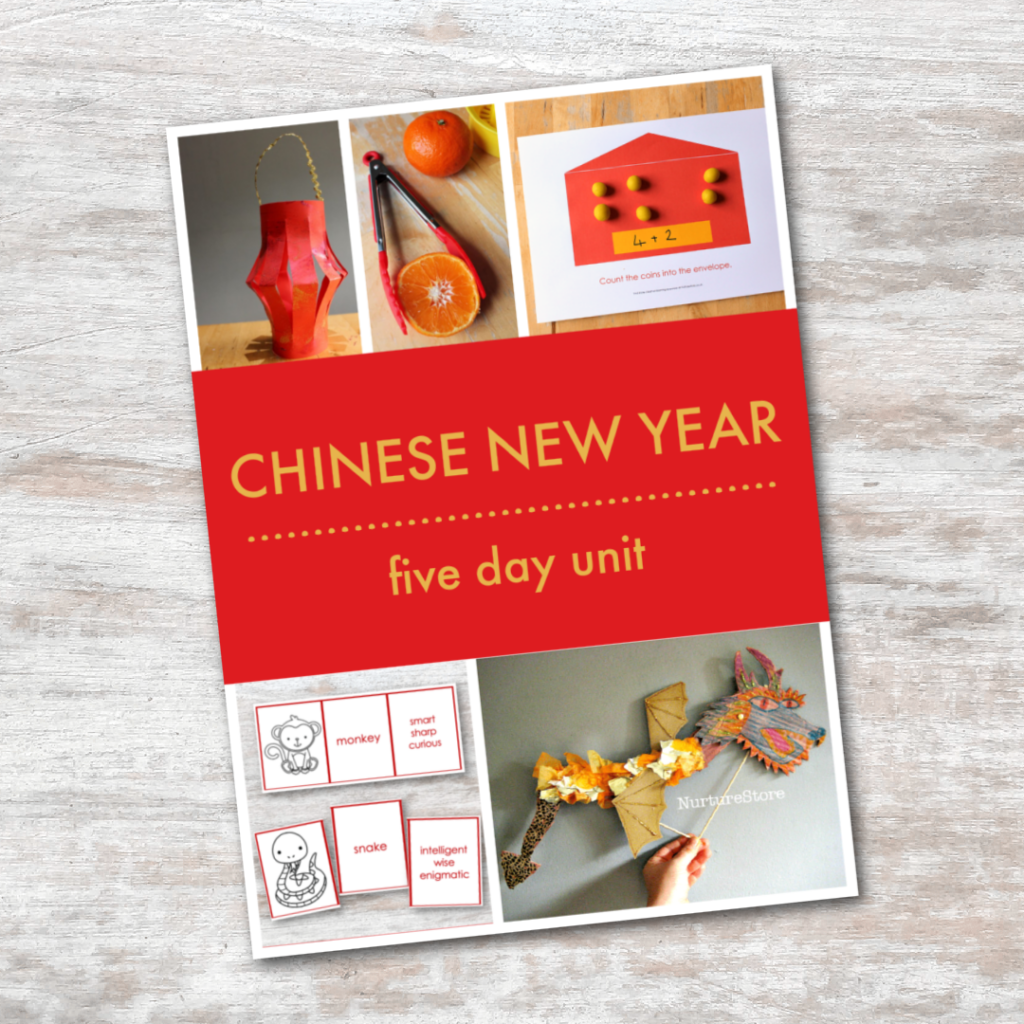 Ready-made Chinese New Year lesson plans, all in one place
The best and easiest way to teach your children about Chinese New Year is with our ready-made Chinese New Year thematic unit. Join our Play Academy and download a ready-made Chinese new Year Unit.
This Unit includes lessons on Chinese New Year and how it is celebrated; the animals of the Chinese zodiac; Chinese dragons and how to make your own dragon puppet; how to make Chinese-style paper lanterns; math and literacy activities including playing lucky 8s, counting to ten in Chinese and play red envelope games; explore sensory painting and taking a mandarin sensory taste test.
In this Chinese New Year Unit you'll also receive bonus printables including a Red Envelope mat for math activities and three-part colour-in Chinese Zodiac Animals matching cards.
If you are not yet a member of NurtureStore's Play Academy, join us here to get this and over 50 more ready-made teaching units.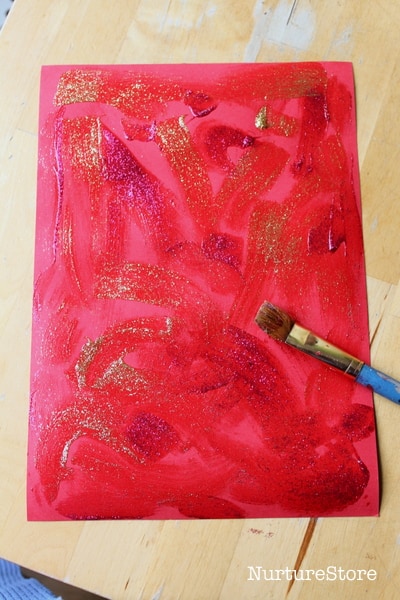 How to make Chinese lanterns
For either design option, begin with a rectangle of red card. A4 size is ideal.
You can add gold or red pen, paint or collage materials if you wish.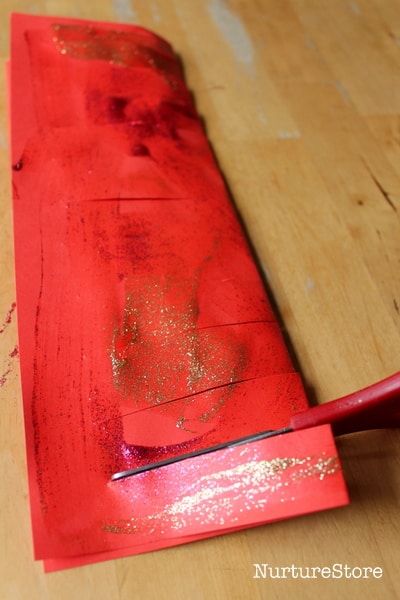 Chinese lantern craft #1
For the first design option, fold your piece of card in half, lengthways, so the two long sides meet.
Use a pair of scissors to cut lines along the fold, as shown in the photograph. It's important to not cut all the way across, as if you do your lantern will fall into pieces.
You could drawn lines on the card for your child to follow, or they can cut just by using their eyes to guide them. It's not essential to cut in perfectly straight lines, or to space them out exactly, so encourage your child to have a go with the scissors.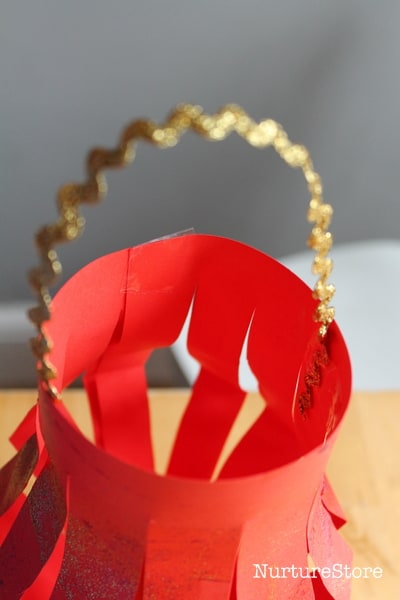 Then open out your card, and roll your lantern up so that the cuts you have made are running top to bottom, as shown in the photo. Fix in place with sticky tape or staplers.
Add a handle on the top so you can hang up your lantern. We used some gold ric rac, held in place with tape.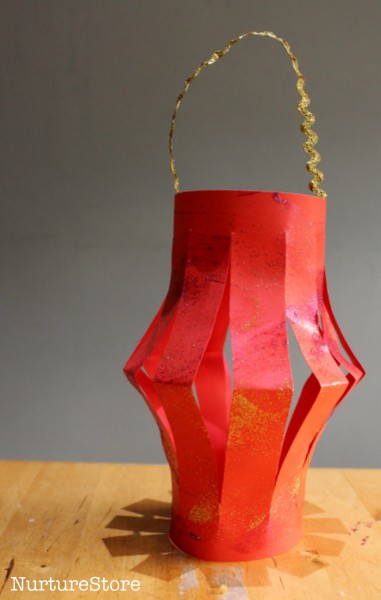 The finished lanterns have a great shape and can be strung across the room in chains.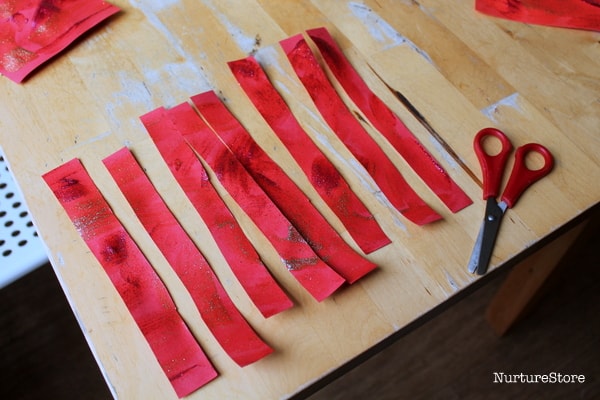 Chinese lantern craft #2
For the second style of Chinese lanterns, inspired by our Halloween scissor skills pumpkin craft, cut the card into 8 strips.
Again, you don't need perfection, so encourage your child to use the scissors, giving them drawn lines to cut along if they would like them.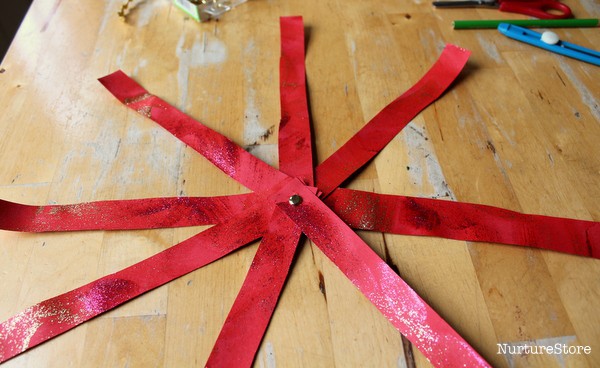 Then, use a split pin to fix all the strips together at one end.
Splay out the strips as shown in the photograph above.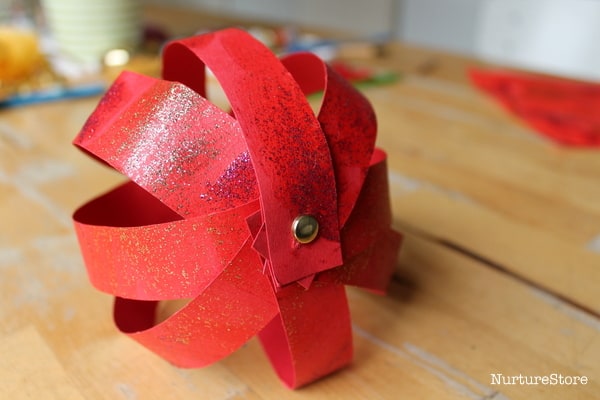 To complete the lantern shape, curl each strip round to create a ball and fix all the loose ends together with a second split pin.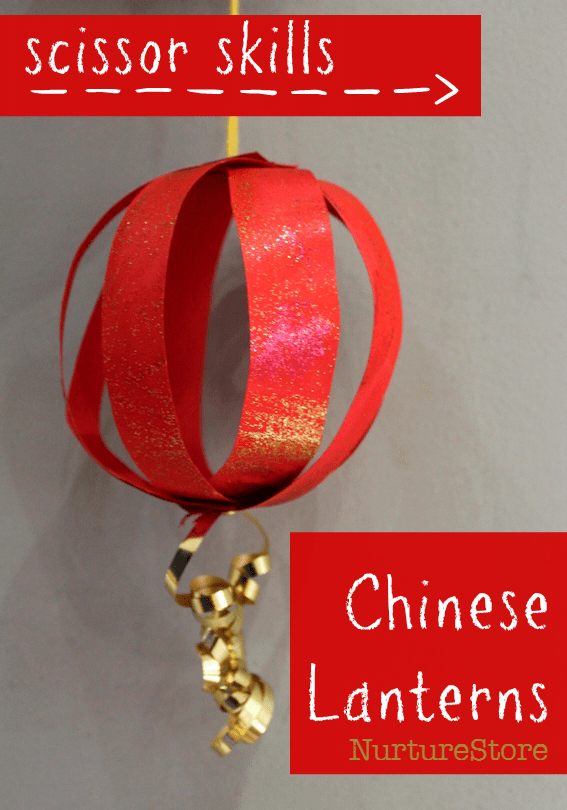 We added gold ribbon underneath as an extra decoration, and used gold yarn on the top as a handle.
Have the whole family or class join in making them and you can festoon your ceilings with strings of the lanterns for a pretty Chinese New Year decoration.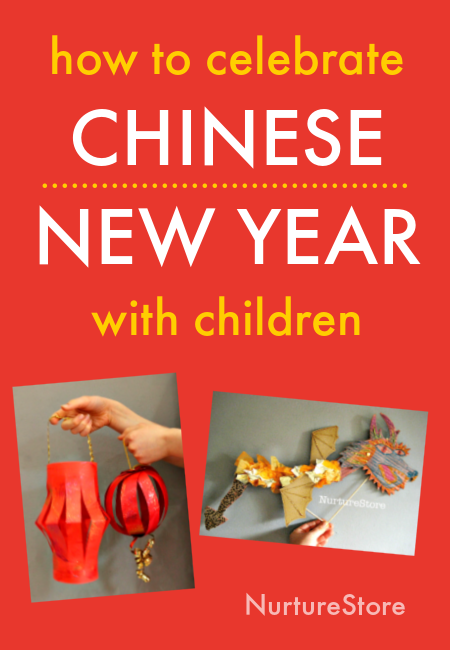 More Chinese New Year activities for children
See our full index of Chinese New Year activities for more ideas including how to make Chinese Lanterns, math and literacy activities using red envelopes, and sensory play activities for Chinese New Year.