Welcome to our Five Days of Butterflies and Caterpillars thematic unit. You can use this teaching resource to combine nature study, science, math, literacy, art and play as your children learn about the life cycle of caterpillars and butterflies.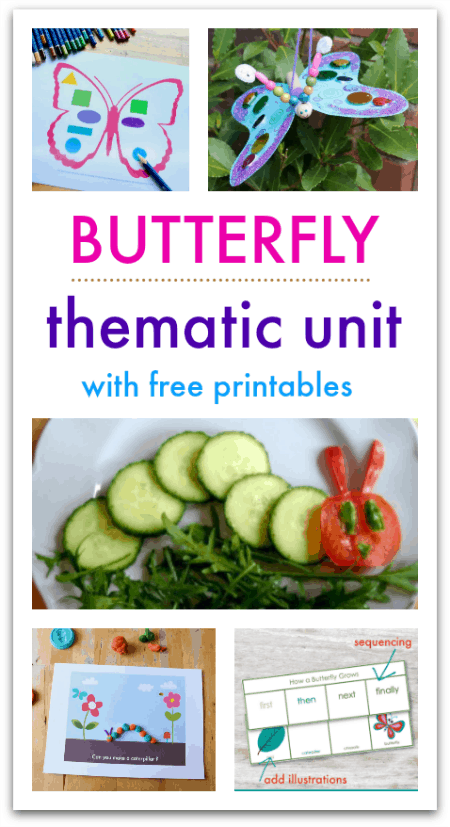 Five days of butterflies unit
This thematic unit about caterpillars and butterflies gives you a five day programme of activities that include math, science, literacy, art, and play, all based around the topic of caterpillars and butterflies.
Thematic units are such an effective way to teach, making vital links across the curriculum and including a wide variety of engaging activities that your children will love. You can learn more about the benefits of teaching with thematic units and find over sixty themes all planned for you here.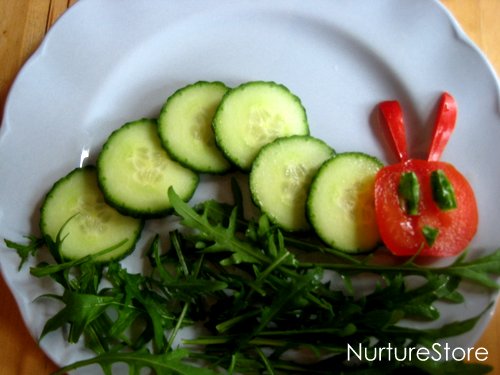 Day one :: caterpillars
On the first day of our unit, let's learn about caterpillars. Start by asking your children what they already know about caterpillars: what do they look like? What do they eat? Where do they live? Is there anything special about them?
Watch the Cbeebies video below to learn more about these mini beasts.
You might make a model caterpillar craft or a caterpillar snack.
Add your caterpillar craft to a sensory tub filled with grass cuttings or sand dyed green.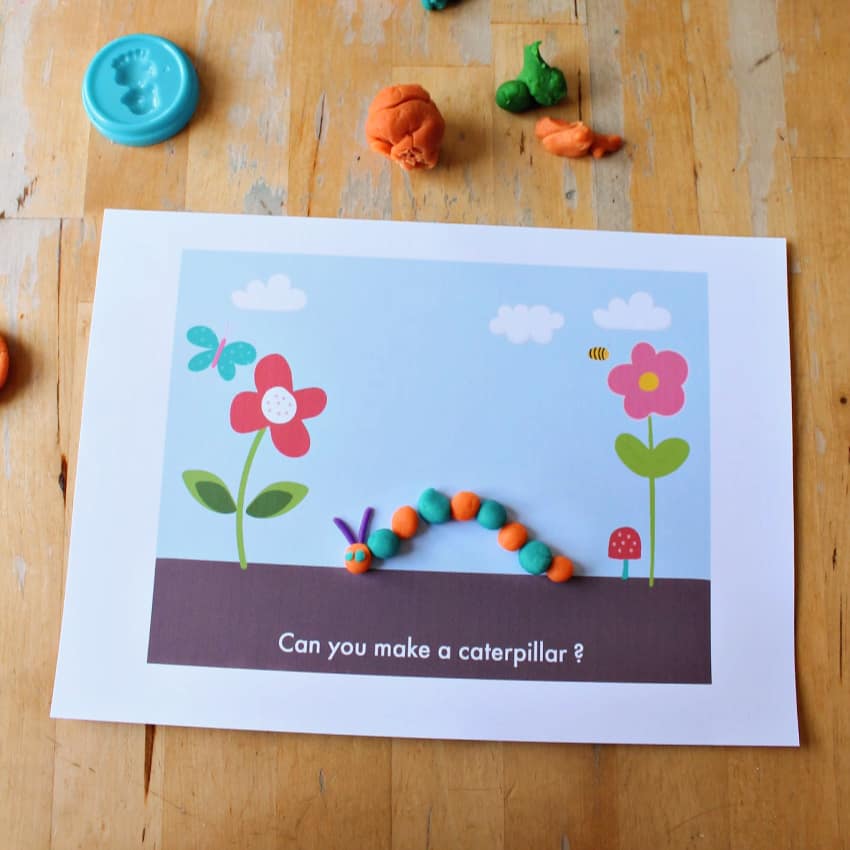 Use the caterpillar printable that's included in The Amazing Play Dough Printables Pack to make play dough caterpillars – a great fine motor skills activity.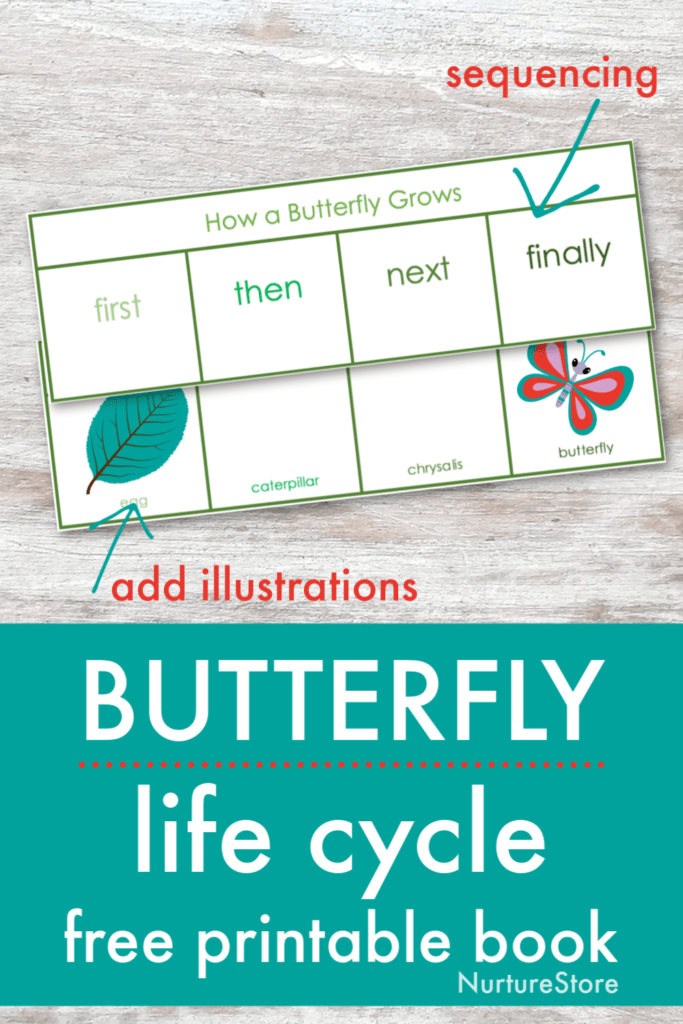 Day two :: butterfly life cycle
On day two, let's talk about how caterpillars turn into butterflies. Ask your children what they know about this – how does it happen?
Watch this video from National Geographic to see the metamorphosis.
Then use the Butterfly Life Cycle Book printable from NurtureStore's Free Printables Library to recap the metamorphosis. This book helps children with the skill of sequencing. They'll re-cap the life cycle of the caterpillar / butterfly using the story-sequencing words first, then, next and finally. They will also sequence a set of simple instructions to make their own book.
Print the book from the Nature Printables section of NurtureStore's Free Printables Library. To access the Library follow the instructions at the bottom of this page.
Cut out the two sections of the Butterfly book.
Invite your children to add their own illustrations to the four sections: an egg, a caterpillar, a chrysalis and a butterfly.
Use a glue stick to fix the top page onto the bottom page.
Finally, use scissors to carefully cut the top page of the book into four sections so that the first, then, next and finally parts become lift-the-flap sections that you can lift up to reveal the illustrations below.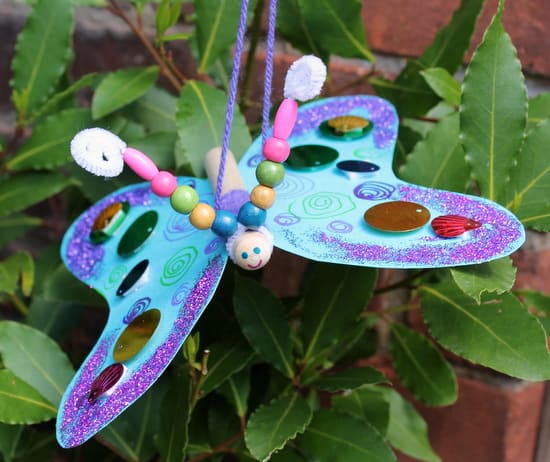 Day three :: butterfly crafts
For day three of our butterfly week, let's make butterflies. Take a look at the wide variety of shapes and colours of the world's butterflies. What kinds of butterflies have your children seen in real life? Which butterfly do they like the best?
Then make your own butterflies. You could create:
:: make a butterfly mobile
:: make clay butterflies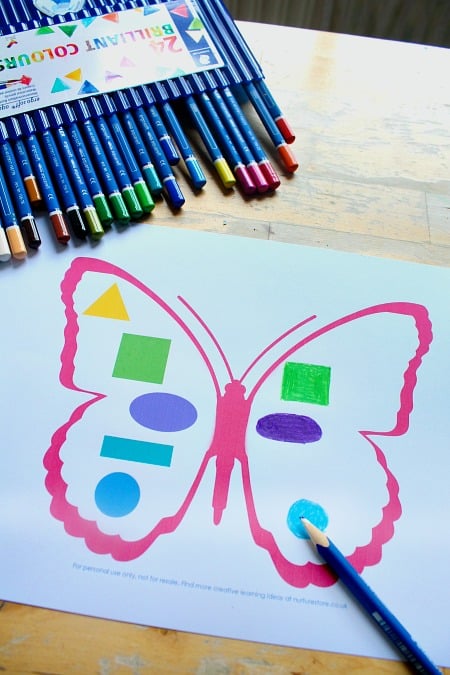 Day four :: symmetry
On day four, let's include a math element into our week by exploring butterfly's symmetry.
Use our butterfly symmetry printable to explore symmetry through drawing and with loose parts.
Or use paint to make symmetrical butterfly prints.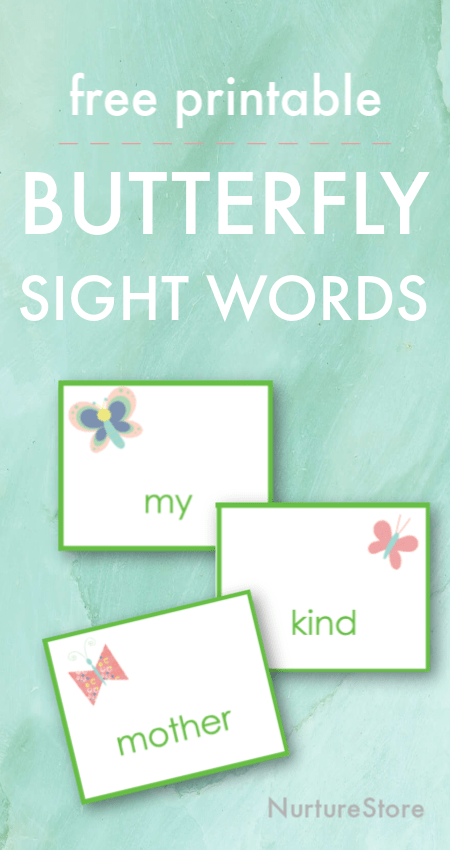 Day five :: butterfly writing
For our final day, let's add an element of writing to our butterfly unit.
:: use these butterfly sight words alongside a sensory writing try
:: make your own non fiction book to re-cap everything you have learned about caterpillars and butterflies this week
:: make a set of vocabulary cards and use them to sequence a story about the caterpillar life cycle. Words you might include are:
first, next, then, finally,
egg, caterpillar, chrysalis, butterfly
leaf, larva, pupa, imago
metamorphosis
life cycle
symmetry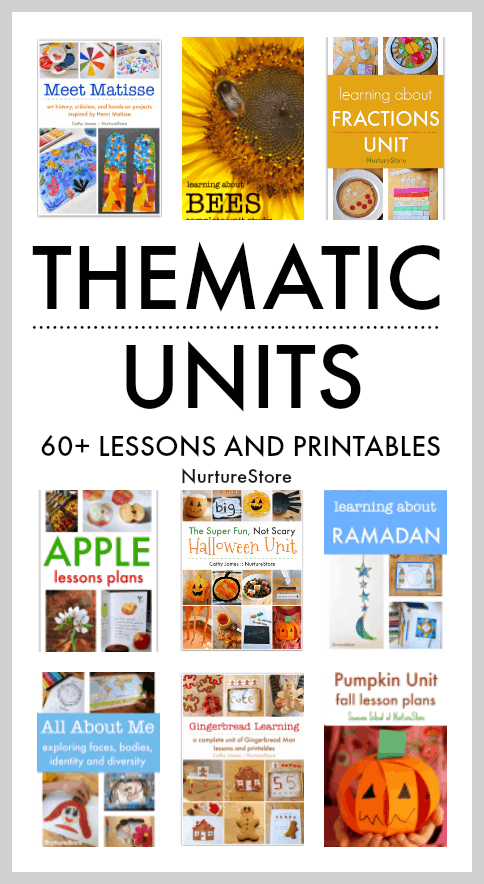 60+ thematic units
Your teaching fairy godmother has worked her magic again. Here are over sixty thematic units, with lesson plans, activities, and printables, all planned and prepped for you.
Plus, be sure to sign up below for NurtureStore's email service so you get to hear about all our new teaching resources and to get access to our Free Printables Library.
How to get our free printables
To download my free printables, you'll need to visit the NurtureStore Printables Library, which is available to all subscribers to my email list, and of course to Play Academy members.
Pop your email address in the form below and you'll get access to all my free printables, lesson plans, activity ideas, weekly newsletter, and a whole lot more!
After subscribing, be sure to check for the confirmation email. After you confirm your email subscription, we'll send you a welcome email which includes instructions for downloading our free printables.
If you're already subscribed to our email newsletter: check your email for the latest edition of the newsletter where you'll find a link to access our free printables library - the link is usually at the bottom of the email.
For help accessing our printables, click here.
---
By subscribing, you consent to our use of your personal data as per our Privacy Policy, which includes agreeing to receiving interest-based email from us.
---