Join in with this Five Days of Dinosaurs thematic unit, with crafts, activities and lessons for a week of learning about dinosaurs.
Dinosaur thematic unit
Teaching using thematic lessons is a great way to structure your curriculum.
Working with a unit lets you bring a wide variety of subject areas into one whole project.
This means your children get to develop a wide range of skills, with all their learning linked to the central theme so they get a broader and deeper knowledge and get to see the links across subjects.
You can use this guide to teaching with thematic units where you'll also find over sixty all-planned-and-prepped-for-you units covered a wide range of themes.
This week, join in with our dinosaur thematic unit which includes arts and crafts, literacy, language, science, sensory and imaginative play.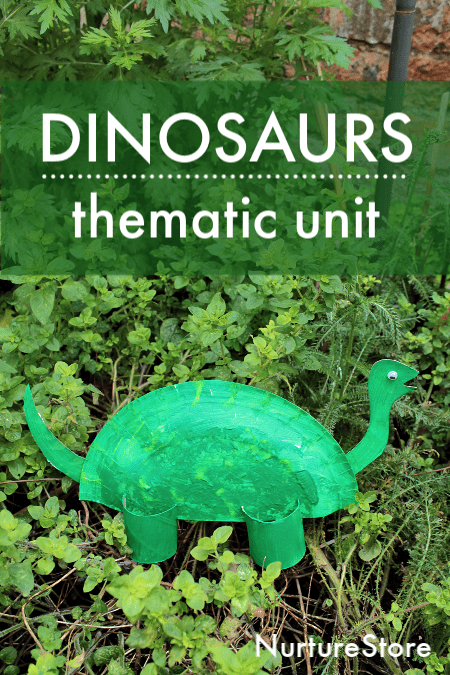 Day one :: learning about dinosaurs
Let's start our dinosaur week by getting to know dinosaurs.
Talk with your children to find out what they already know about dinosaurs.
Are they still alive today?
Where did they live?
What did they look like?
What did they eat?
What were their names?
There are many, many book about dinosaurs you can read together. Take a trip to the library and see if you can find a fiction and a non-fiction dinosaur book to read this week.
You can also find great videos on Youtube. Try this fun time-travelling series from Cbeebies, Andy's Dinosaur Adventures.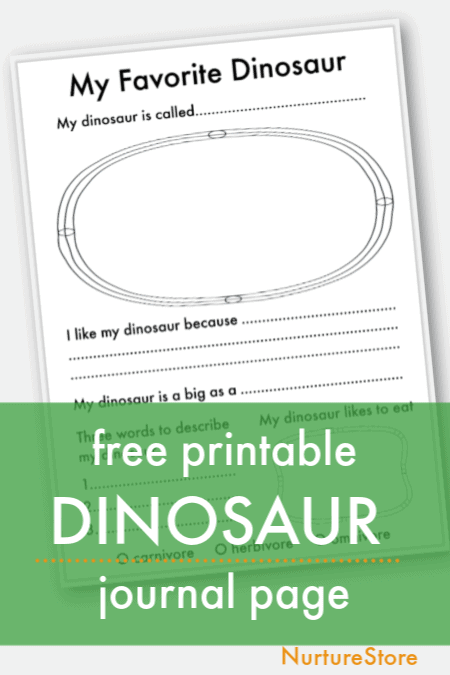 My Favourite Dinosaur free printable
You can use the My Favourite Dinosaur printable from NurtureStore's free printables library as a writing activity (you'll find the printable in the Literacy Printables section of the Library).
The printable gives space to draw and write key facts and give your opinion on your favourite dinosaur. (You can choose a version with either the US or UK spelling of favorite/favourite.)
To get the printable, along with access to all my free resources, follow the instructions at the bottom of this unit (in the section titled "How to get our free printables").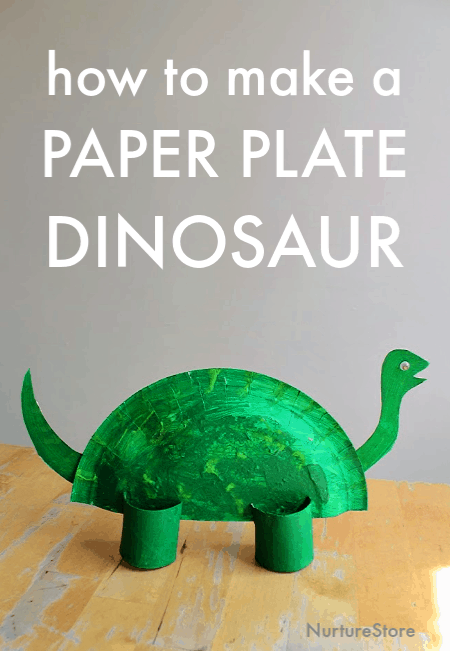 Day Two :: paper plate dinosaurs
After our dinosaur research yesterday, let's make a model dinosaur.
This guide shows you how to make a paper plate dinosaur. It uses very simple materials and is easy to make. Children can easily adapt the model to make their favourite design.
You can explore print making to colour your dinosaur, using finger painting, sponges or printing with pattern shapes or toys.
You can explore green and brown (blending the colours of the colour wheel to create them) or go colourful.
The paper plate design is practical too because your dinosaur will stand up. This means you'll be able to play with your dino tomorrow.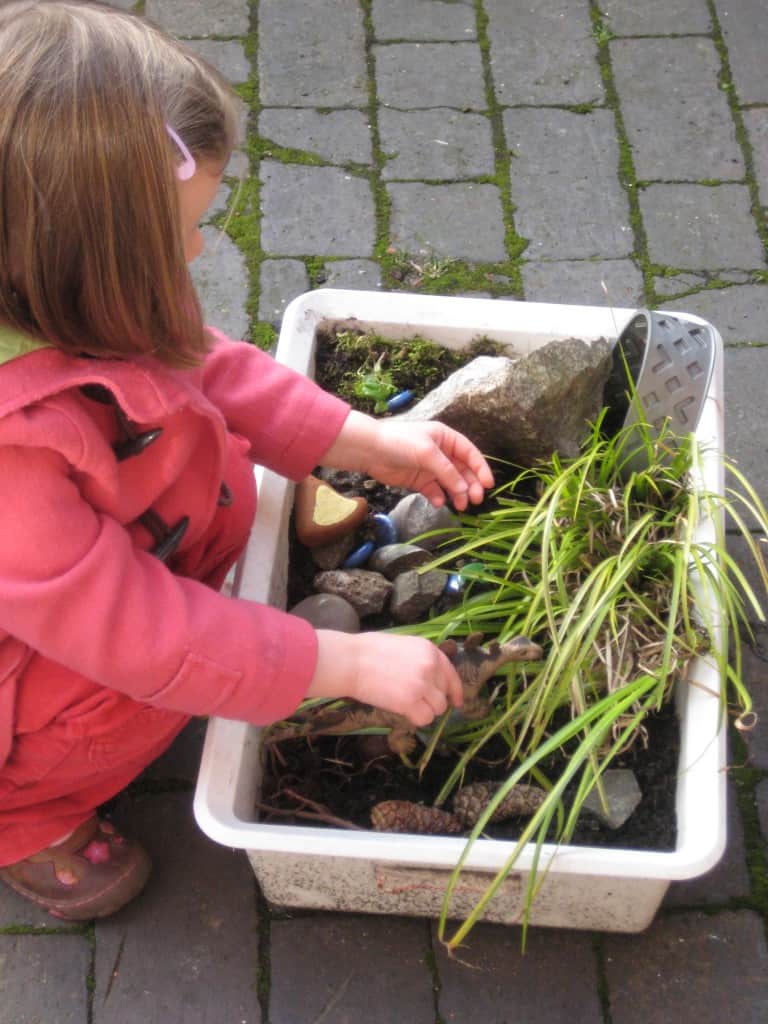 Day Three :: small world
On day three of our dinosaur project, let's make our dinosaur somewhere to live: a dino small world.
A small world is a mini playland which children can create themselves, using characters, props and sensory play materials. As they play they develop language, imagination, sequencing and storytelling skills, and you will see them weave a lot of the scientific knowledge they have learned about dinosaurs into their play.
You can use the dinosaur models you made yesterday in your play land.
To make a dinosaur small world you can:
:: adapt a fairy garden, grassy area or corner of a flower bed in your outdoors space. Add rocks and bark and let your dinosaurs make themselves at home
:: make a goop swamp
:: use a Storytelling Tin to present loose parts for your children to use in their storytelling
:: turn a big piece of card into a dinsoaur world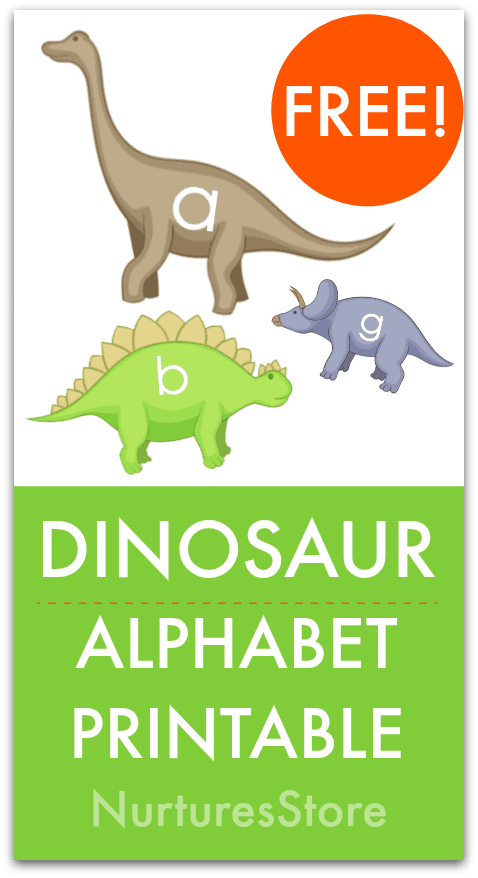 Day Four :: literacy
On day four of our dinosaur-themed week, let's have a focus on literacy.
Hopefully you've been enjoying your dinosaur books all week. Today you could focus on a question and answer session based on your books.
For your fiction book you can ask each other:
what happens at the beginning of the story?
what happens next?
how does the story end?
where is the story set / where does the dinosaur live?
who is your favourite character and why do you like them?
what do you think is going to happen next/after the story ends?
For your non-fiction book you could ask questions like:
Can you show me three dinosaurs who eat meat?
Which is the biggest dinosaur in the book?
What is the name of a dinosaur with a really long neck?
What is the coolest fact about dinosaurs in this book?
What new thing did you learn about dinosaurs from this book?
Be sure to invite your children to ask as well as answer questions.
Free dinosaur writing printables
You can download a set of dinosaur alphabet cards from NurtureStore's Free Printables Library. These are great to use alongside a sensory writing tray or to play literacy games with.
And if you didn't use the My Favourite Dinosaur activity on Monday, you might like to add it in today.
Both the free dinosaur printables can be found in the Literacy Printables section of NurtureStore's Free Printables Library. To access the Library follow the instructions at the bottom of this page, in the section titled 'How to get our free printables'.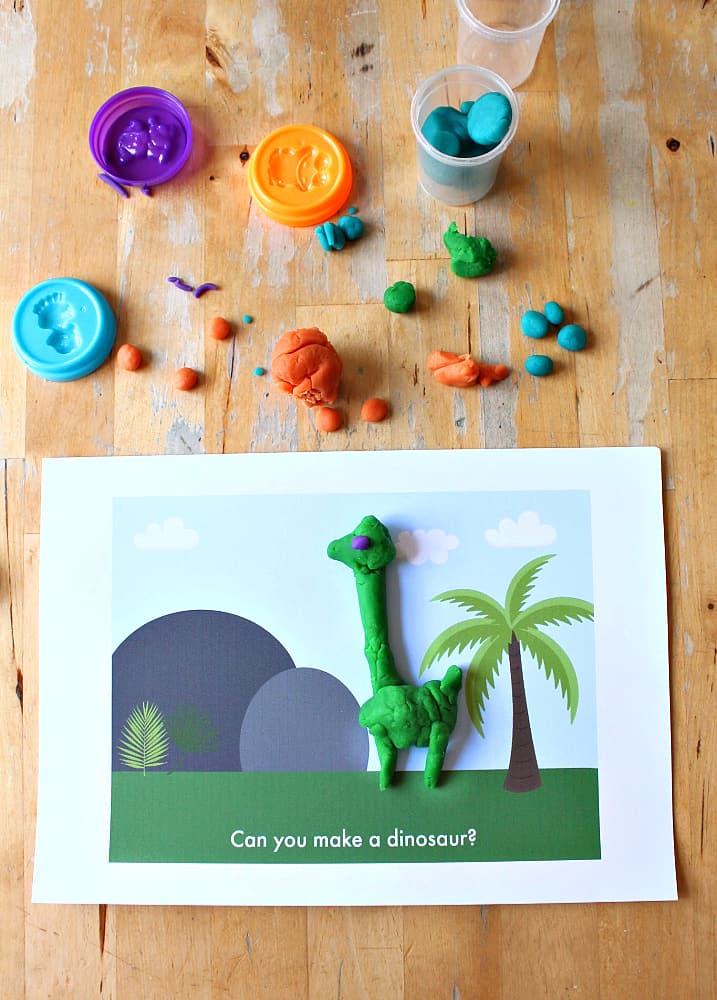 Day Five :: sensory
For our final day of dinosaur week, let's enjoy dinosaur-themed sensory play.
:: use the dinosaur play dough play mat from The Amazing Play Dough Printables Pack and make your own dinosaur
:: freeze toy dinosaurs inside ice blocks and release them using warm water and salt
:: make dinosaur bones from salt dough and hide them in your sand tray. Then host an archaeological dig!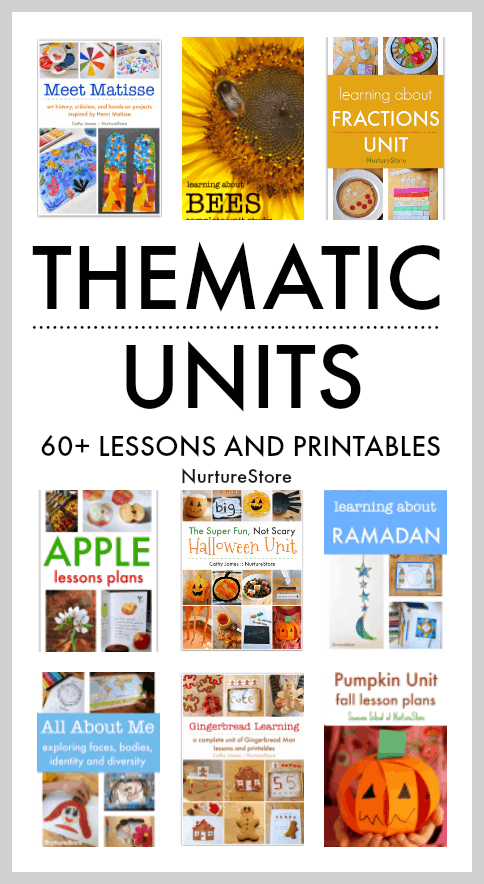 60+ thematic units
Thematic units are such an effective way to teach, making vital links across the curriculum and including a wide variety of engaging activities that your children will love.
Your teaching fairy godmother has worked her magic again. Here are over sixty thematic units, with lesson plans, activities, and printables, all planned and prepped for you.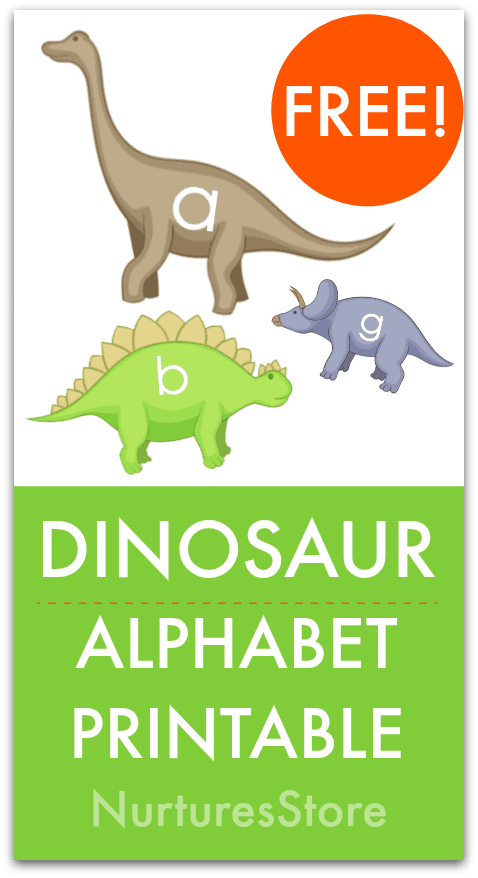 How to get our free printables
To download my free printables, you'll need to visit the NurtureStore Printables Library, which is available to all subscribers to my email list, and of course to Play Academy members.
Pop your email address in the form below and you'll get access to all my free printables, lesson plans, activity ideas, weekly newsletter, and a whole lot more!
After subscribing, be sure to check for the confirmation email. After you confirm your email subscription, we'll send you a welcome email which includes instructions for downloading our free printables.
If you're already subscribed to our email newsletter: check your email for the latest edition of the newsletter where you'll find a link to access our free printables library - the link is usually at the bottom of the email.
For help accessing our printables, click here.
---
By subscribing, you consent to our use of your personal data as per our Privacy Policy, which includes agreeing to receiving interest-based email from us.
---