Use this rainbow printable to make a rainbow sensory writing tray for colourful mark making and writing practice.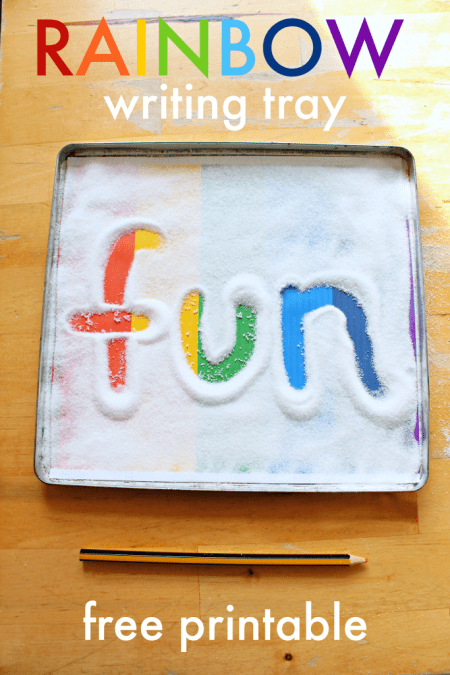 Rainbow sensory writing tray printable
A sensory writing tray is a wonderful piece of kit!
It's good for very young children who are just learning about making marks all the way through to older children who are working on spelling.
The great advantage of using a writing tray is that it brings a multi sensory element to writing. Using a multi-sensory approach to learning means you can suit any child's learning style: whether they are particularly in tune with moving, feeling, seeing, smelling, doing…
Children get a deeper understanding as they are coming to the learning through many different ways.
Plus it also makes the learning fun, which always makes you remember things more.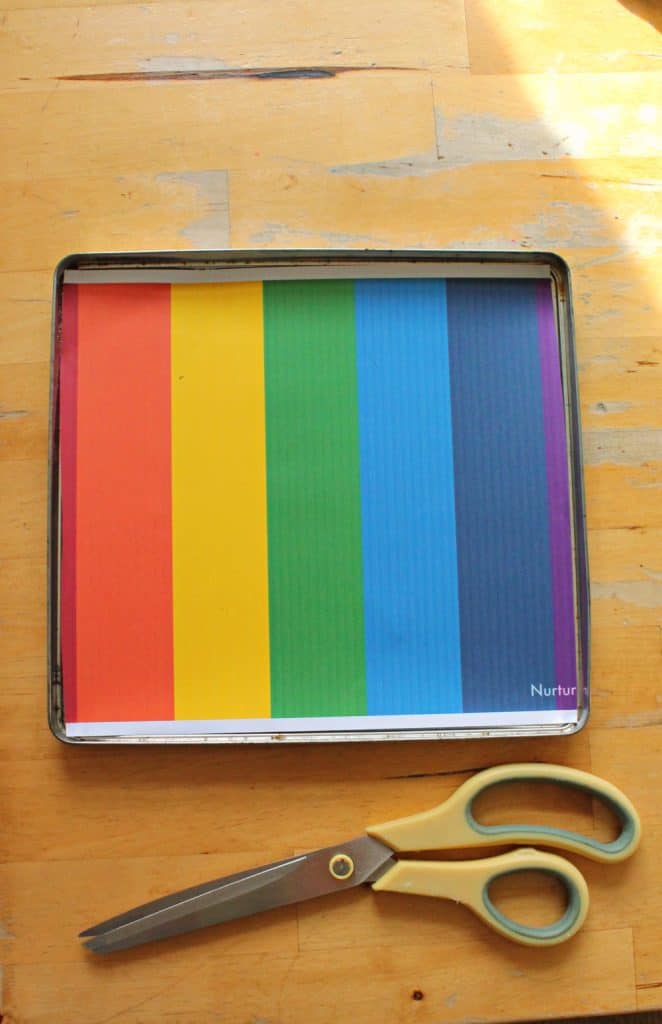 How to make a magic rainbow sensory writing tray
:: Find a container to be your tray. It needs to be shallow, so your children can easily write in it without having any trouble leaning their hand inside, and big enough to write a word. A kitchen tray, a baking tray with shallow sides, the lid off a storage box or a cardboard box with the sides cut down are all good options.
:: Use my printable rainbow insert (see below) and lay it down in the bottom of your tray. You can use several or cut them to size, to fit your tray.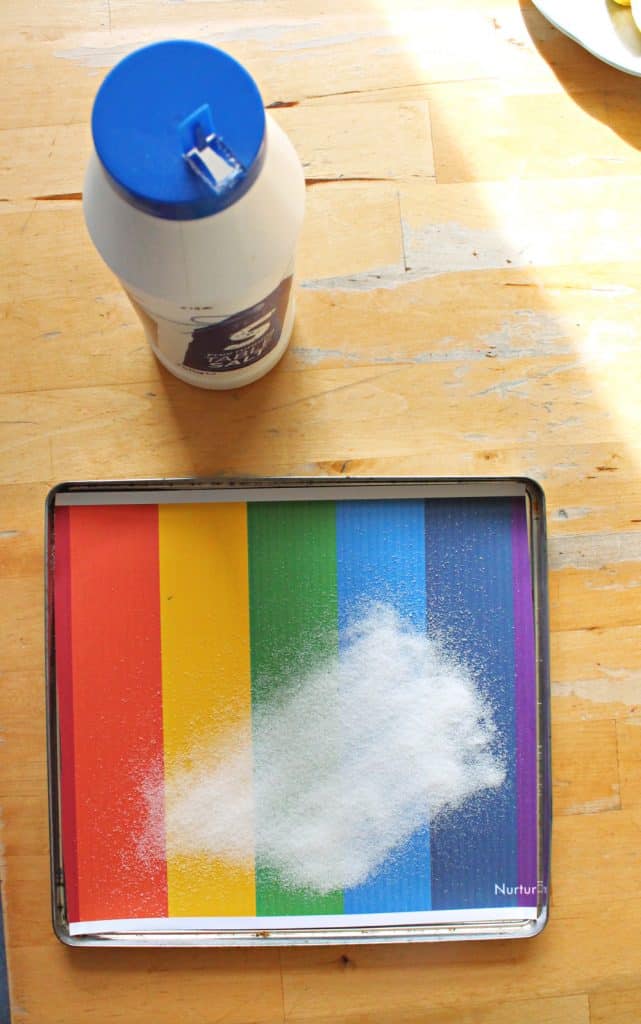 :: Fill your container, on top of the rainbow insert, with your choice of material: sand, salt, sugar all work. You only need a shallow layer of your material – if you make it too thick it's hard to see the marks and letters you make.
:: Then you can use your finger, a pencil, or a twig to make marks and write in your tray. As you write you'll reveal the hidden rainbow underneath!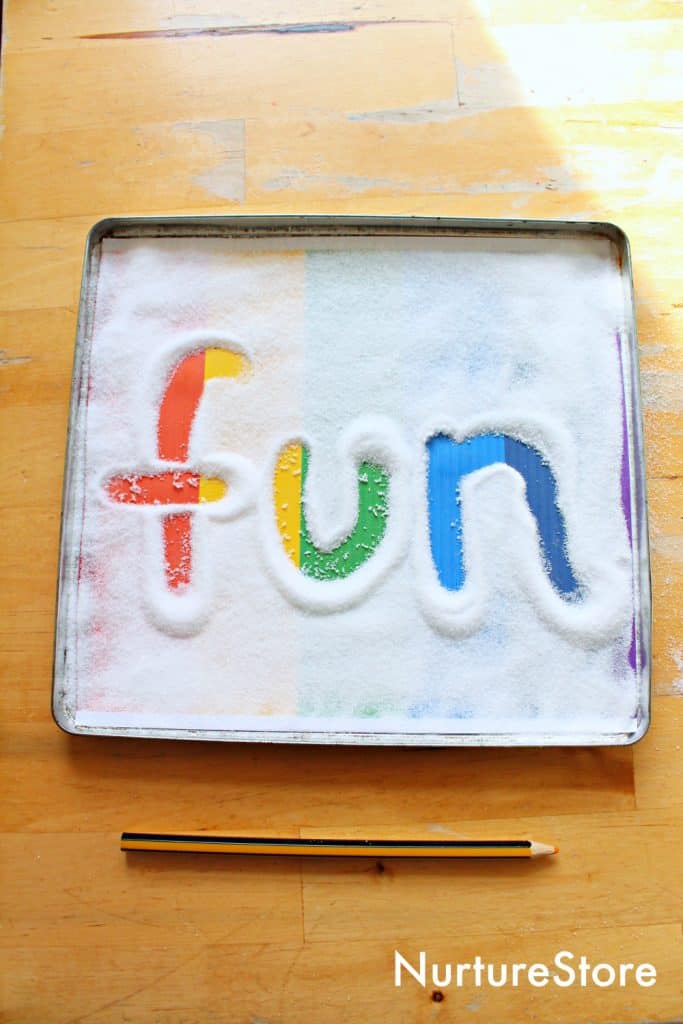 How to Use Your Writing Tray
:: Younger children can use the tray to make marks, patterns, or single letters.
:: They can learn to write their own name.
:: Older children can use the tray as a multi-sensory and fun alternative to pencil and paper to practise spelling.
:: You can use a finger, pencil or a magic wand as your 'pen'.
:: You can use my rainbow alphabet printable alongside your writing tray and copy the letters.
:: You can use my gold coin number cards printable to practise writing numbers.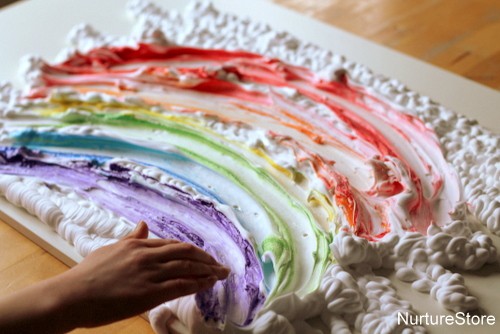 More rainbow themed activities
Click here to see all our rainbow themed activities, including:
:: rainbow days of the week colour wheel
:: rainbow shaving foam sensory play
:: rainbow taste test activity
:: rainbow writing page for similes
:: rainbow writing spelling practice
:: washi tape rainbow art project
How to download this printable
Get access to ALL my free printables by subscribing to my email list.
To download my free printables, you'll need to visit the NurtureStore Printables Library, which is available to all subscribers to my email list, and of course to Play Academy members.
Pop your email address in the form below and you'll get access to all my free printables, lesson plans, activity ideas, weekly newsletter, and a whole lot more!
After subscribing, be sure to check for the confirmation email. After you confirm your email subscription, we'll send you a welcome email which includes instructions for downloading our free printables.
If you're already subscribed to our email newsletter: check your email for the latest edition of the newsletter where you'll find a link to access our free printables library - the link is usually at the bottom of the email.
For help accessing our printables, click here.
---
By subscribing, you consent to our use of your personal data as per our Privacy Policy, which includes agreeing to receiving interest-based email from us.
---