Use this printable apple taste test sheet to learn about apple varieties and discover which apple is your favourite.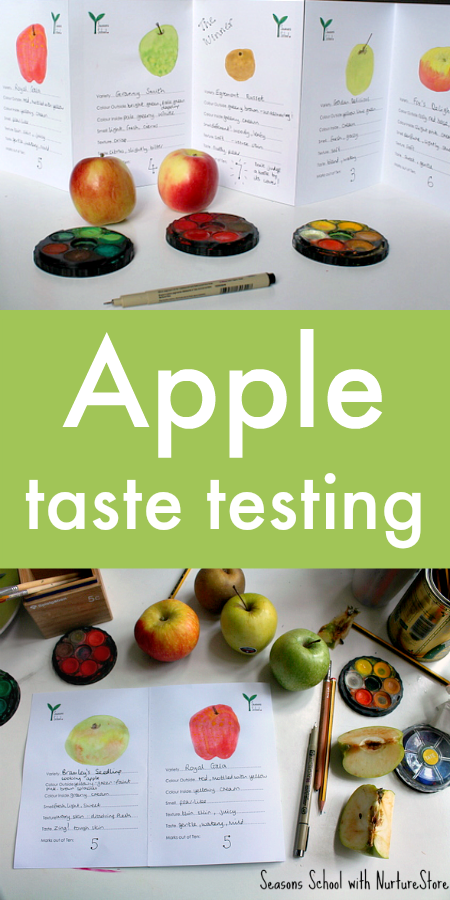 Printable apple taste test sheets and apple study
Apples come in a huge variety of shapes, colours, and sizes. I wonder which apple tastes the best? Let's explore a taste test and discover which one we like the most.
You can use the printable apple taste test sheet to record your results, drawing and colouring your apples, and writing or dictating your notes.
You can tape several pages together to form a zigzag book and include it in your nature journal as a pop-out page.

Amazing apples
The scientific name for apples is Malus pumila, and they are a member of the rose family of plants. They were likely the first type of tree cultivated by people and there are now over 7,500 different varieties of apple.
Apples can be eaten raw or cooked and can be used to make cider. They can have different shapes and sizes and come in a variety of colours across yellows, greens, and reds.
Apple varieties have all sorts of interesting names including:
:: Alice
:: Golden Delicious
:: Arkansas Black
:: Pink Lady
:: Sugarbee
:: Granny Smith
:: Royal Gala
:: Cox's Orange Pippin.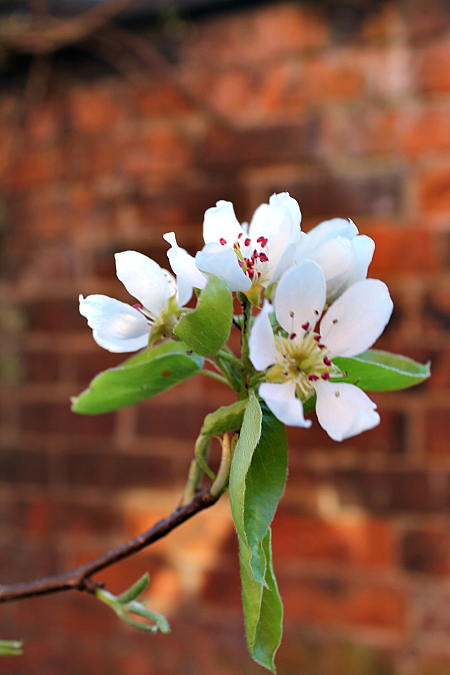 The apple tree flowers with pretty blossom in spring. The fruits grow over the summer months, and we pick the apple fruits in late autumn to be stored and eaten over winter. They have been a very important food for people in Europe and Asia for thousands of years.
The only native apples in the USA are crab apples. The apple varieties we know were only introduced in the 17th Century when people brought them over from Europe. The first apple orchard in America was planted in Boston in 1625.
Can you find out which apples grow near to where you live?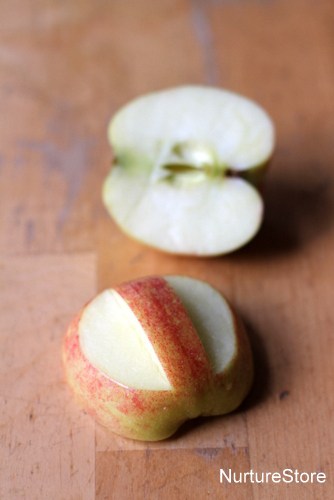 Apple Taste Testing
You will need:
apples: 3 – 5 different varieties
knife
printable apple taste test sheet (see below for how to print)
paints or coloured pencils
pen or pencil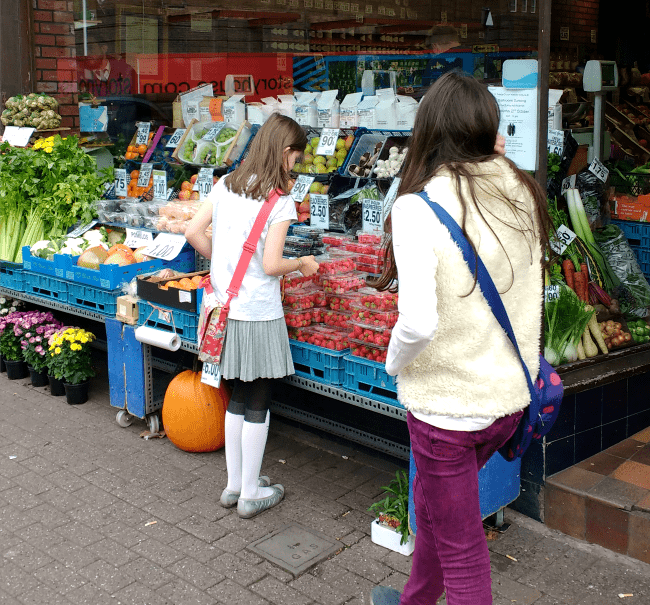 Head to the orchard or the store together and pick out a few apple varieties to try.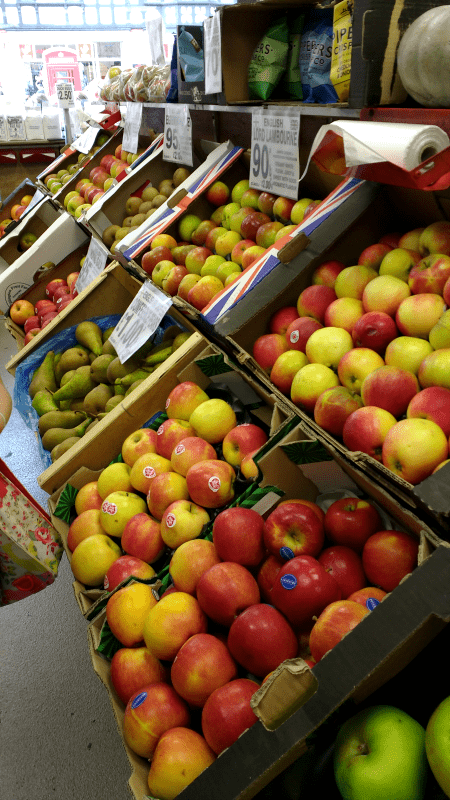 Back at home, take a good look at each apple. You might like to use a magnifying glass to get a better view.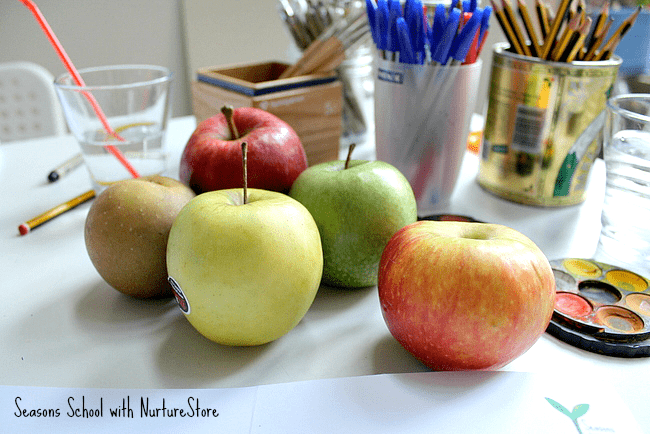 :: What colour are the apples, inside and out?
:: What do they smell like?
:: Do you know the names for all the parts of the apple: skin, stalk, seeds (pips), flesh, core, calyx, stamen, leaf?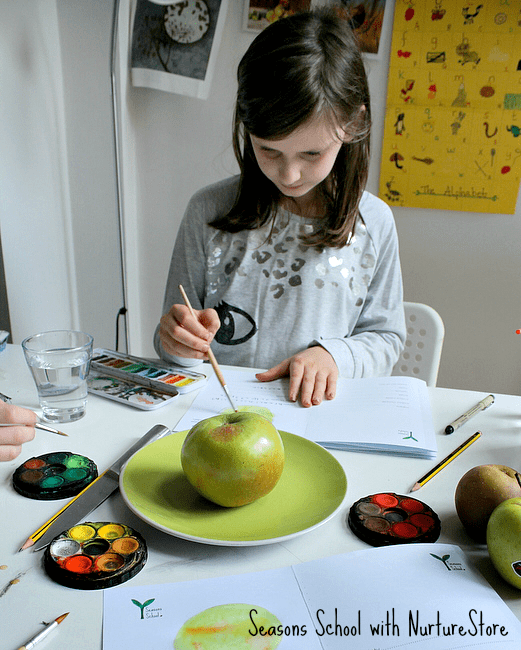 Take a taste test. What do they each taste like? Can you describe the texture and the taste?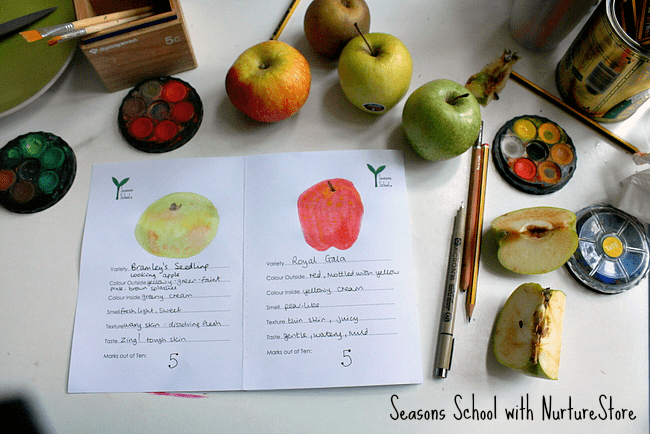 Use your taste testing printable to record what you find out about your apples. Can you paint the varieties you are testing? Make some notes about their colour, smell and taste.
Give each apple a score out of ten.
I wonder which apple will win your taste test?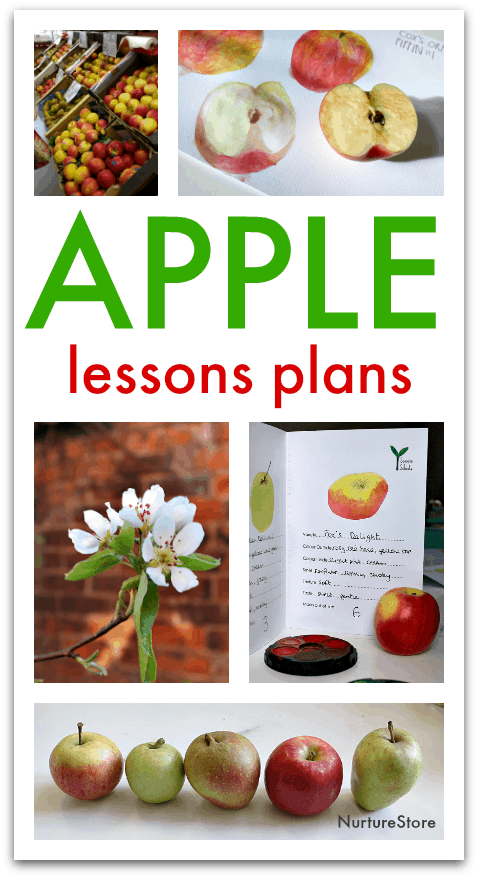 More apple lesson resources
Learn more with my apple investigation lesson
Download my complete Seasons School Apples lesson plans here.
And for more forest school lesson plans and printables, download The Forest Classroom, a beginner's guide to forest school here.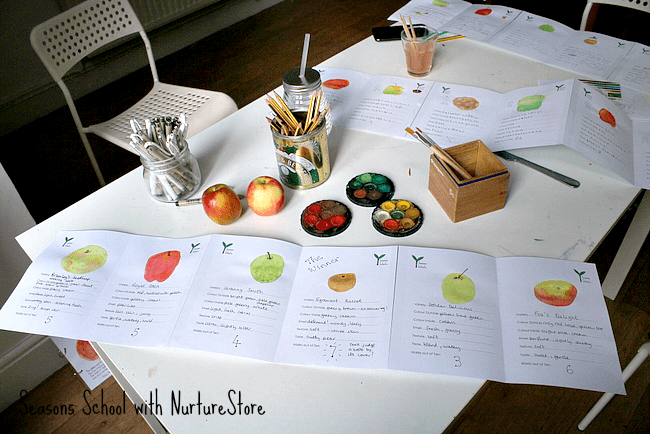 How to get our free printables
To download my free printables, you'll need to visit the NurtureStore Printables Library, which is available to all subscribers to my email list, and of course to Play Academy members.
Pop your email address in the form below and you'll get access to all my free printables, lesson plans, activity ideas, weekly newsletter, and a whole lot more!
After subscribing, be sure to check for the confirmation email. After you confirm your email subscription, we'll send you a welcome email which includes instructions for downloading our free printables.
If you're already subscribed to our email newsletter: check your email for the latest edition of the newsletter where you'll find a link to access our free printables library - the link is usually at the bottom of the email.
For help accessing our printables, click here.
---
* By subscribing, you consent to our use of your personal data as per our Privacy Policy, which includes agreeing to receiving interest-based email from us.
---