Goal setting with kids is a useful tool to connect, boost confidence and develop a life-long love of learning. You can use these simple New Year review printables with your children to close the past year and look forward to the new one.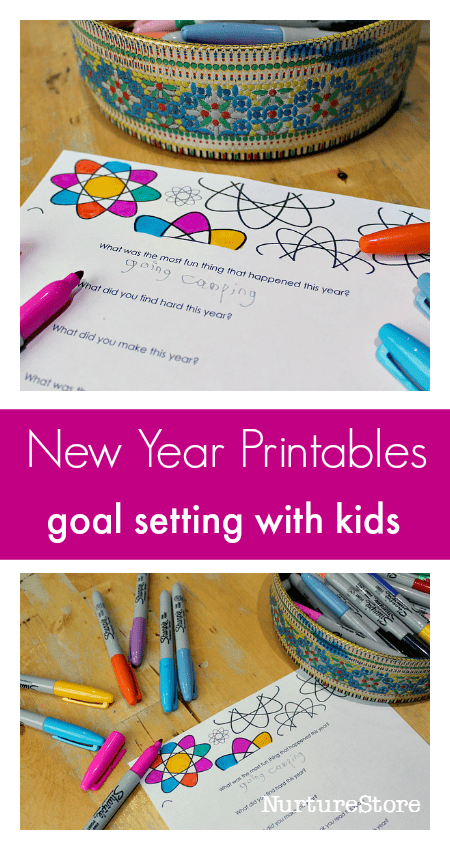 New Year Review goal setting with kids printables
Quick resource >> Download your ready-made New Year Unit here
I love to do a New Year review with my children in the quiet space between Christmas and the new year. It's a natural time of year to look back on the events of the past year, and dream up fun stuff for the year ahead.
Goal setting with children can be a simple, natural part of your routine. We use mind maps to set goals for the children's learning, and these printable new year interviews to take a holistic look backwards and forwards.
Goal setting with kids, especially at new year, can have lots of positives:
:: it connects children with the cycle of the year
:: it helps them learn to say goodbye, both to things they have enjoyed and challenges they are happy to leave behind
:: it places your child at the centre of their life, their learning and what happens to them. This can help us as parents to ensure the activities and learning we plan for our children are focused on their passions and the stage they are at, so we nurture them in their development
:: it encourages children to dream and plan
:: it develops perspective and encourages gratitude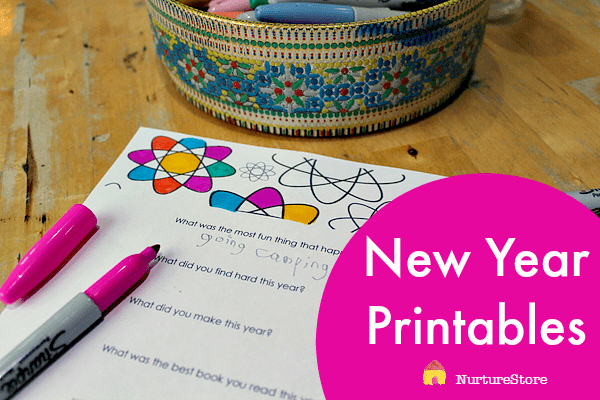 How to conduct a goal setting review
The most important thing is to make this relaxed. We're not trying to test our children, or give scores for outstanding achievements. We want to see the year through their eyes and encourage them to voice the things that are most important to them. You can print off two Goal Setting Printables: One for closing the old year goal and one for opening the new year goal setting printable.
:: find a cosy place to complete your questionnaires. You could do them as a family, or work with each child individually. You might even go on a mummy-and-me / daddy-and-me date to a coffee shop and fill them in over hot chocolates
:: you can use the questions as conversation starters, or a journal page. Your child might fill in their own answers, or you can scribe for them
:: you could do both sets of questions together or (what we'll do) use the first printable on New Year's Eve to close the year, and the second on New Year's Day to open the new year
:: put the year in the left-hand margin, so you can keep them and see how your child's answers develop over the years
:: colour in the design at the top in your favourite colours
:: decide with your child where to keep the printables. If they want to keep them private – perhaps especially from siblings! – then I'd respect that. If they are happy to share then the printables make great posters which can act as visual goal reminders throughout the year.
:: don't let this be just a once-a-year goal setting. To achieve these goals you'll need to keep them in mind throughout the year. Put a note in your diary to look at them again each month or each season. This works as a good reminder for us to keep our child's interests and passions at the centre of the things we plan for them. It guides us to nurture our unique children on their own path.
How to download the printable
Get access to ALL my free printables by subscribing to my email list.
To download my free printables, you'll need to visit the NurtureStore Printables Library, which is available to all subscribers to my email list, and of course to Play Academy members.
Pop your email address in the form below and you'll get access to all my free printables, lesson plans, activity ideas, weekly newsletter, and a whole lot more!
After subscribing, be sure to check for the confirmation email. After you confirm your email subscription, we'll send you a welcome email which includes instructions for downloading our free printables.
If you're already subscribed to our email newsletter: check your email for the latest edition of the newsletter where you'll find a link to access our free printables library - the link is usually at the bottom of the email.
For help accessing our printables, click here.
---
By subscribing, you consent to our use of your personal data as per our Privacy Policy, which includes agreeing to receiving interest-based email from us.
---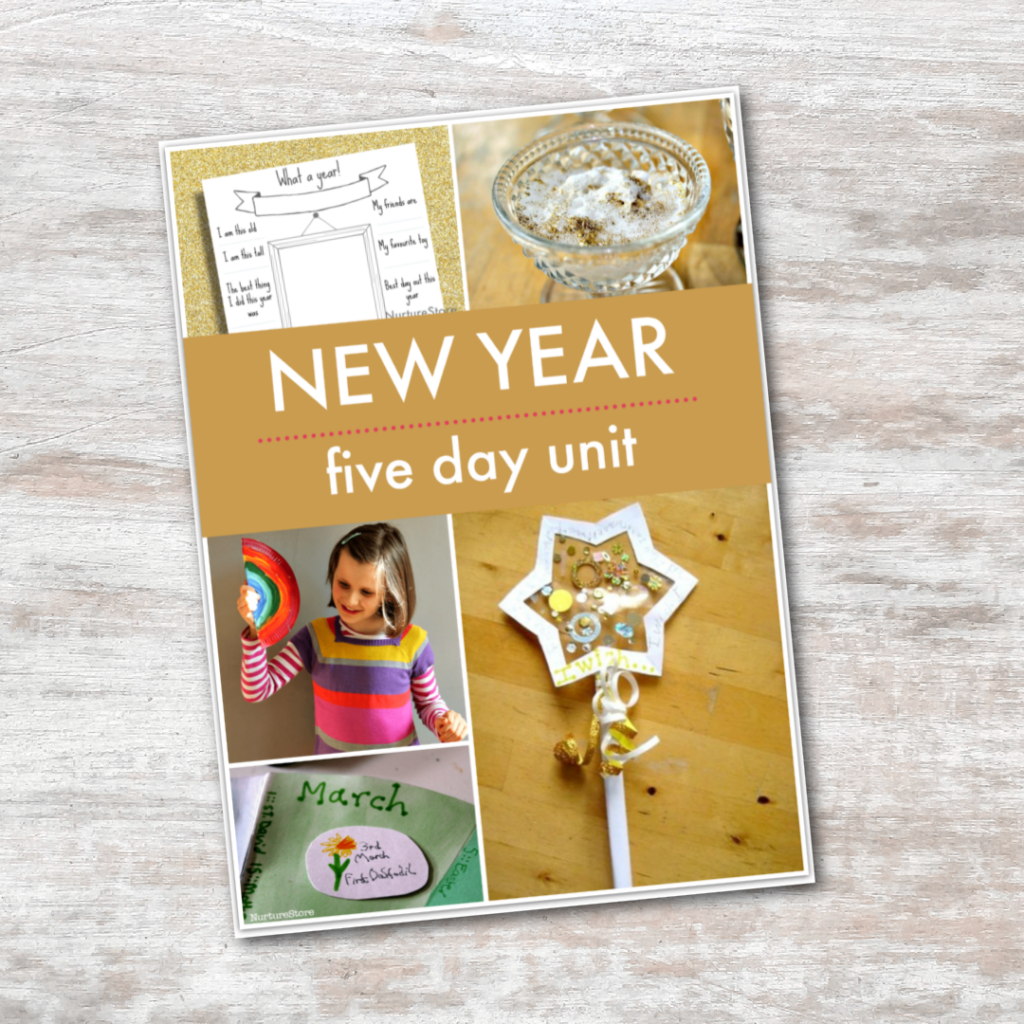 Download your ready-made New Year thematic unit
Download your ready-made New Year thematic unit from the Play Academy and you'll have everything you need to guide your children through a fun and thoughtful new year.
:: learn about New Year celebrations and enjoy new year fizz sensory play
:: make a homemade calendar :: complete their unique What A Year! journal page
:: make noise makers and fireworks
:: set New Year's resolution goals
:: make a wishing wand or make a poster of their Word of the Year
Bonus New Year thematic unit printables
The Play Academy's thematic units come with practical printables that make the lessons more engaging for your children and easier for you to teach.

No need to go searching for printables to accompany your lessons, they're all included when you download your chosen unit.

:: a Draw Your Own Calendar

:: a What A Year! New Year Review poster / journal page

:: a New Year Colouring page

:: and New Year Goals printables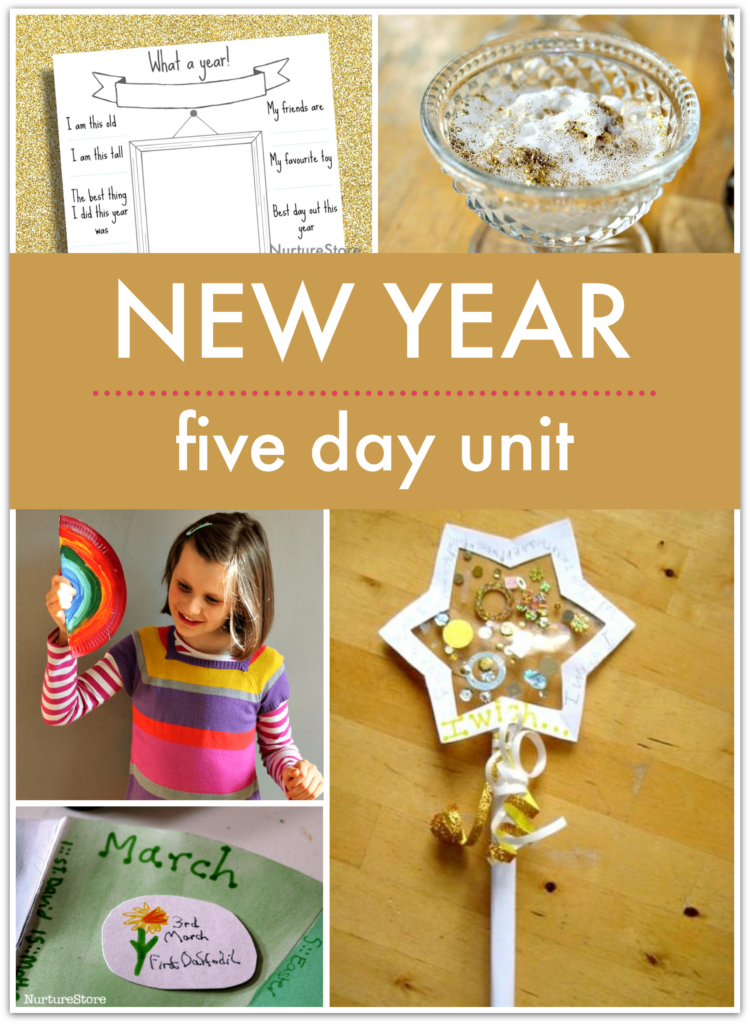 How to download your ready-made New Year Unit
You can download your
ready-made New Year unit
, along with over 50 more, from NurtureStore's Play Academy.