Are you celebrating 100 Days of School with your children? Use these one hundred days of school free printables and hundred day activities to celebrate all the learning they have done.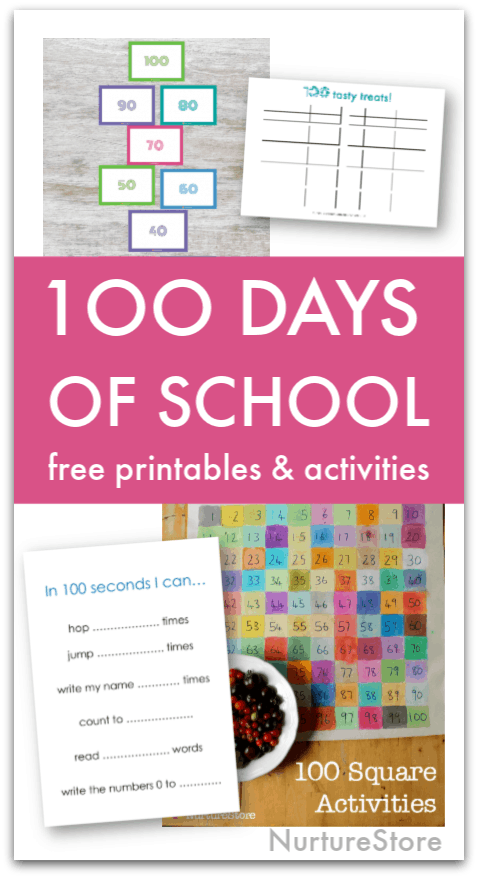 100 days of school free printables and activities
>> QUICK RESOURCE >> Download our ready-made 100 Days of School Unit
Depending on when you start your school term, one hundred days of school usually falls sometime around the end of January or the beginning of February.
You can have a fun themed day at school to celebrate 100 days of learning. All that hard work and practice that your children have put in deserves to be acknowledged. It's part of a growth mindset to understand that achievement and development takes stamina and practice.
Homeschoolers and home educators can celebrate 100 days of learning too of course – perhaps you also follow a back-to-learning timetable that starts each September, or you want to dedicate a day to exploring hundreds, base-ten lessons and the ten times table. January and February can be cold, dark days so I say, any excuse for a party!
Download your 100 Days Kit
BONUS: download your copy of the 100 Days of School Unit.
Our ready-made 100 Days of School kit gives you everything you need to teach a programme of learning based around the concept of One Hundred.
One hundred days of learning, one hundred seconds, one hundred writing propmpts, one hundred colours, one hundred years ago, one hundred miles from here and one hundred snacks!
The kit includes fun and practical printables to make teaching easy. Click here to download your 100 Day of School kit.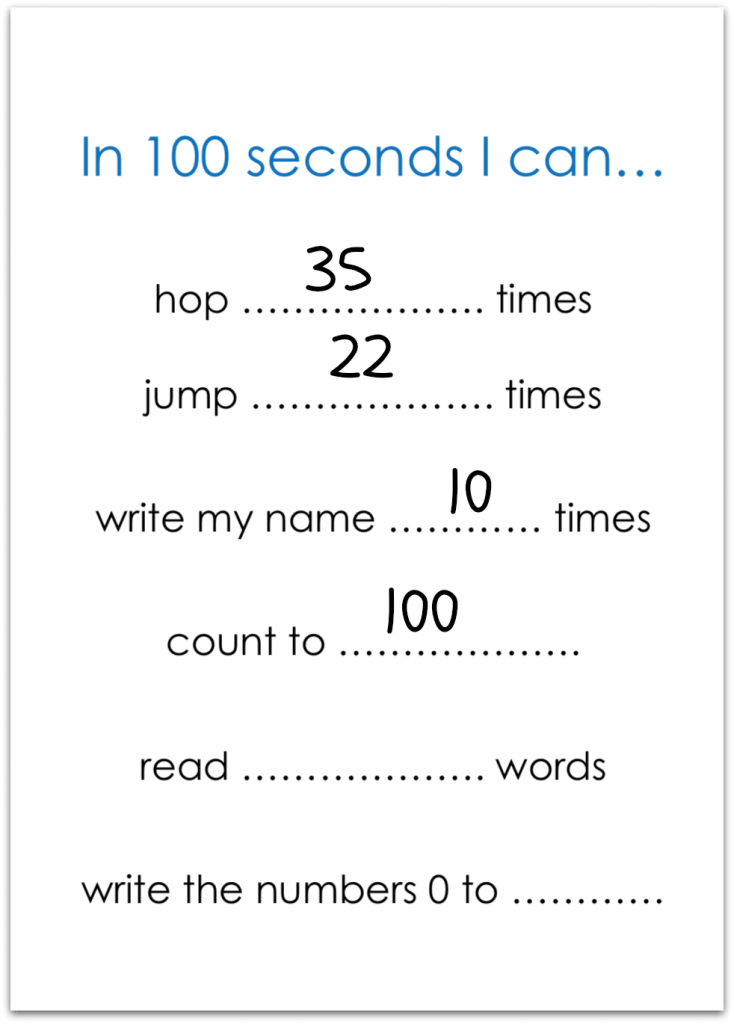 What can you do in 100 seconds?
Use these free 100 Seconds activity sheets to see what you can do in 100 seconds. There are two forms per page and you can print (see below) as many as you need for your children.
Activities included are:
:: hopping
:: jumping
:: writing your name
:: counting to 100
:: reading words
:: writing down numbers
Start the stop watch and see how many you can do!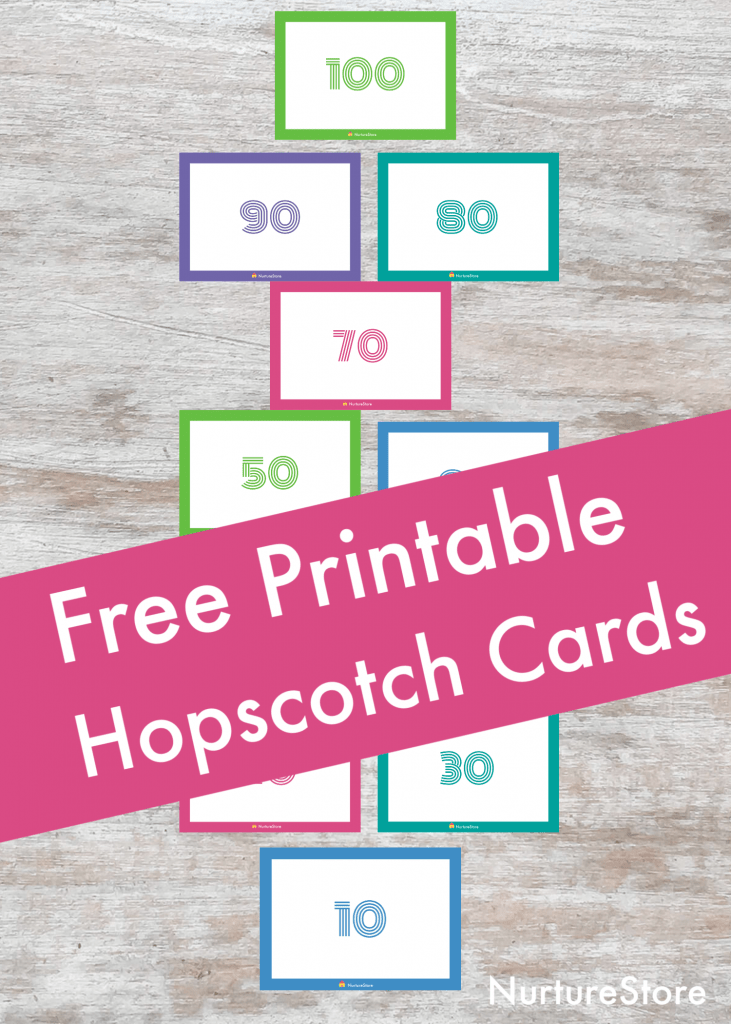 100 days hopscotch
Let's practise our ten times table as we play hopscotch to one hundred. Print these hopscotch cards (see below) and laminate them if you would like for extra durability.
Stick them securely to the floor, in order 10 to 100 as shown above, and then invite your children to hopscotch along them. As they hop and jump, have them shout out the numbers they're landing on.
This is a fun active math game that gets children using their brain and body together and makes the repetition-learning fun.
100s math activities
How many ways can you make one hundred?
Invite your children to count to one hundred.
Skip count in 2s all the way to 100.
Skip count in 5s all the way to 100.
Skip count in 10s all the way to 100.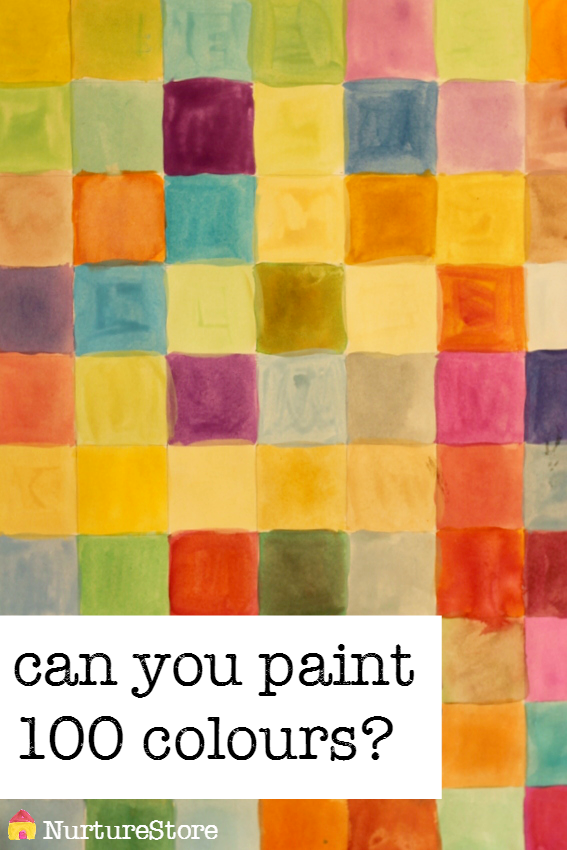 100 square activities
It can be hard for children to visualise exactly how many things make up one hundred.
Use these one hundred square activities to help them understand this concept. One activity is to paint 100 colours. You can work together as a class to complete your colours, and give each one an imaginative name.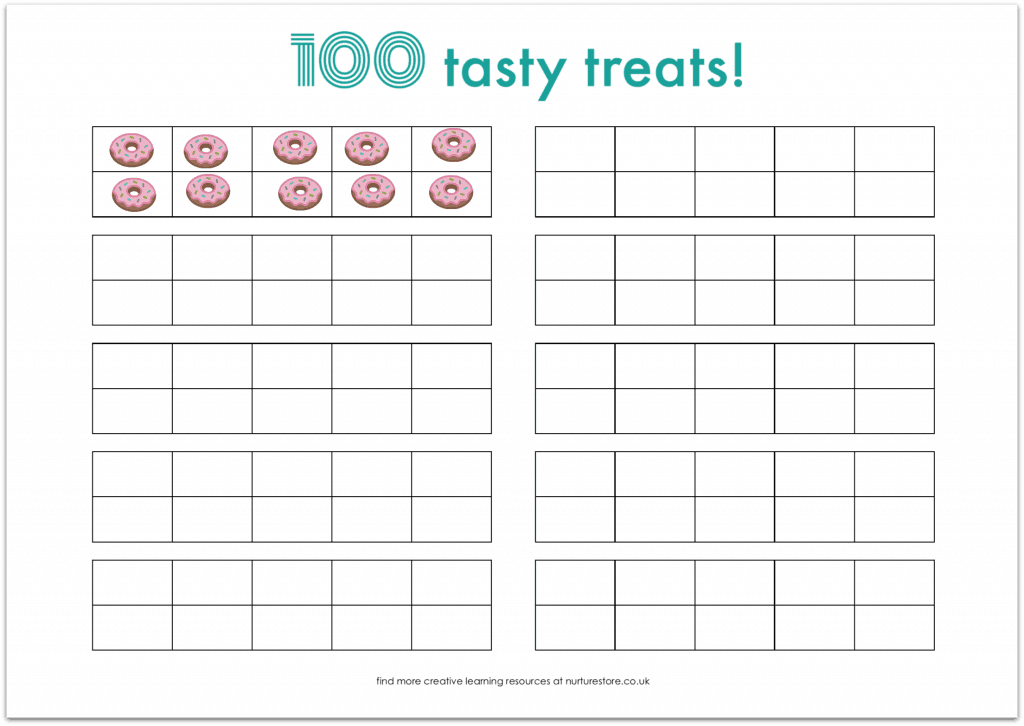 100 tasty treats
You get the best snack time of the year on 100 Days of School Day!
Imagine eating one hundred tasty treats! It's not all that many really, and if you ask parents to contribute items it can be inexpensive even for a whole class.
Ideally you want ten different treats, so you can make ten groups of ten for your one hundred treats. Set out bowls of your treats along with the free 100 Tasty Treats printable (see below) and invite each child to complete their placemat with 100 items.
You'll notice the placemat is divided into base-ten frames, helping children see how one hundred is made up of ones and tens.
Little treats that you can use to make up one hundred include:
:: grapes
:: raisins
:: crisps / chips
:: mini crackers
:: mini marshmallows
:: blueberries
:: breakfast cereal pieces
:: chocolate chips
:: segments of satsumas / clementines
:: sweets / candies
:: gummy bears
:: gum drops
:: dolly mixtures
:: popcorn
100 day writing prompts and circle time questions
You can use the theme of '100' for writing prompts and circle time conversations too.
Try these prompts:
:: If I had £/$100 I would…
:: When I woke up this morning my bedroom was filled with 100 _______ so I…….
:: I wish I had 100…. / I'm glad I don't have 100….
:: 'We can write 100 words'
:: Make a list: 100 acts of kindness we can do
:: What can you do now that you couldn't do 100 days ago?
:: What's 100 miles north, south, east, and west from where we are?
:: What will it be like when you celebrate your 100th birthday?
:: Make a list: 100 foods we love to eat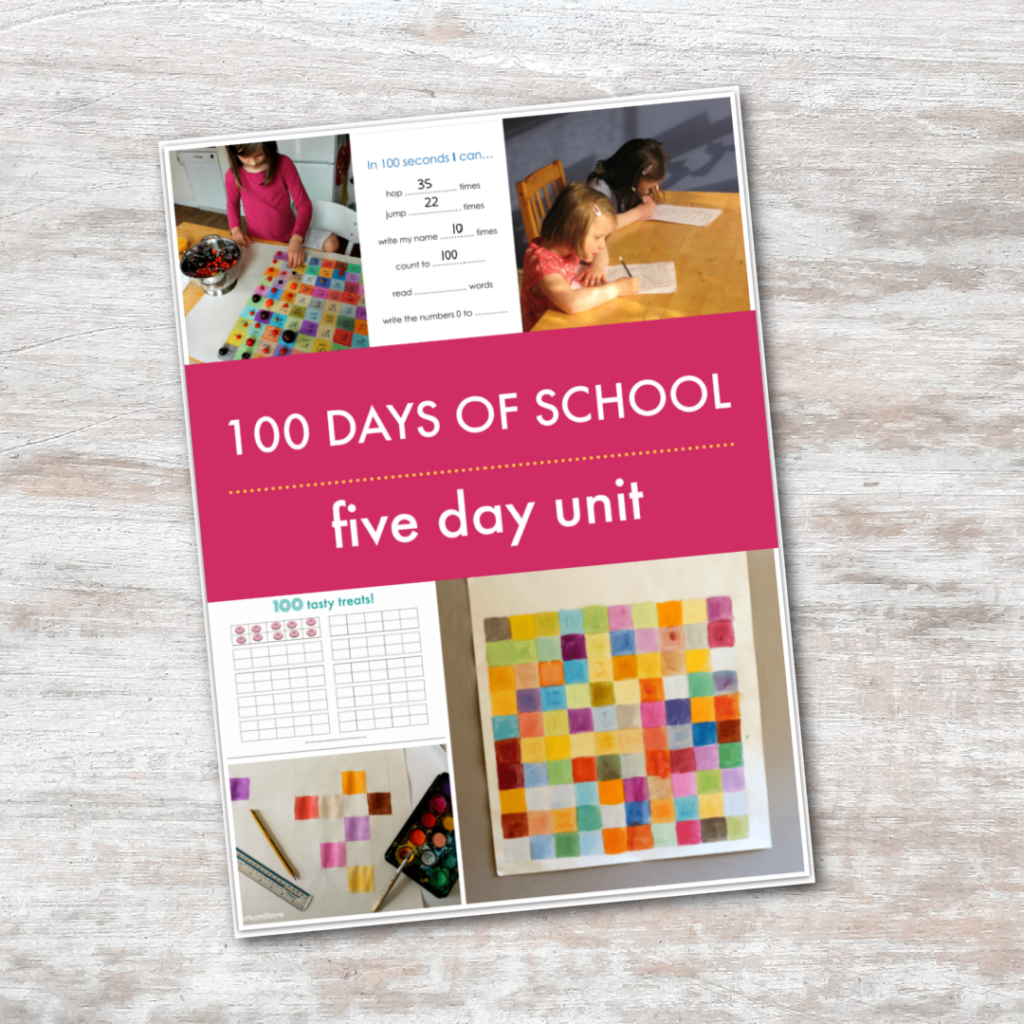 Download your ready-made 100 Days of School Unit
Download your copy of the Play Academy's ready-made 100 Days of School Unit and you'll have everything you need to lead a fun celebration of your children being 100 days cleverer! This unit also lets them play around with and truly understand the concept of one hundred.
In this 100 Days of School unit, using active games, art, journalling, conversation, math and maps your children can:
:: find out what they can do in 100 seconds using estimation, timing and accurate counting
:: explore 100s math activities
:: see if they can paint 100 colours – what would they name them all?
:: journal using our 100 writing prompts
:: have fun with 100 snacks
:: explore and talk about what is 100 miles away, working with paper and/or maps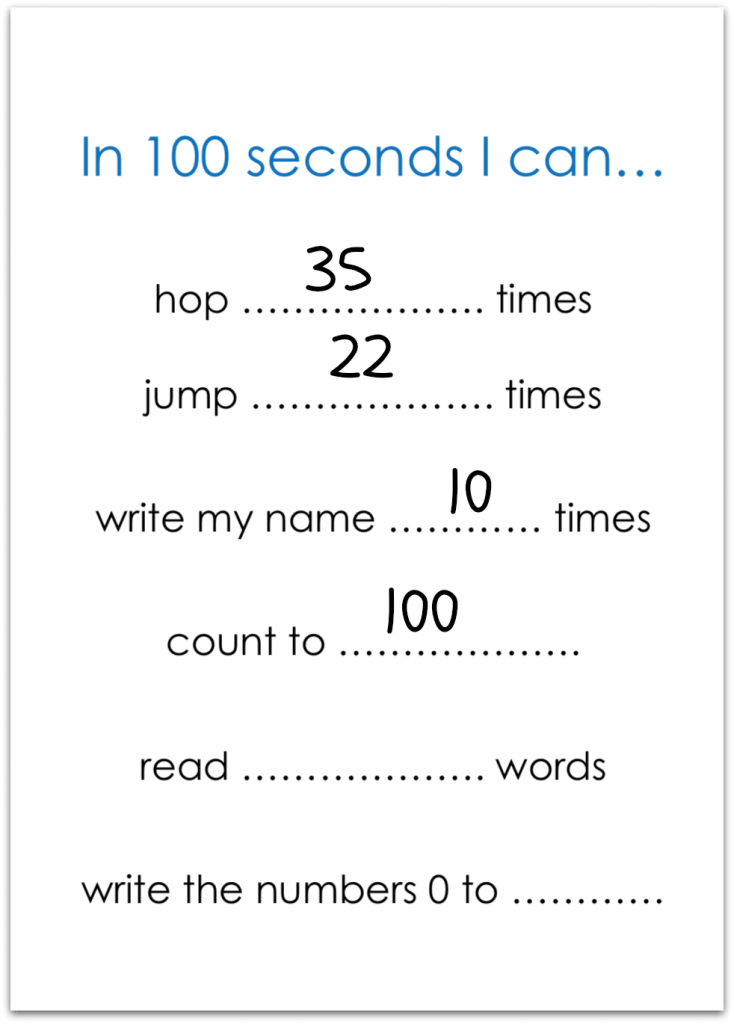 Bonus 100 Days of School thematic unit printables
The Play Academy's thematic units come with practical printables that make the lessons more engaging for your children and easier for you to teach.
No need to go searching for printables to accompany your lessons, they're all included when you download your chosen unit.
In this Space Unit you'll receive these bonus printables:
:: a 100 Tasty Treats Placemat using a ten frame to count out one hundred snacks
:: Hopscotch Cards to skip count to one hundred
:: a recording sheet for the 100 Seconds activity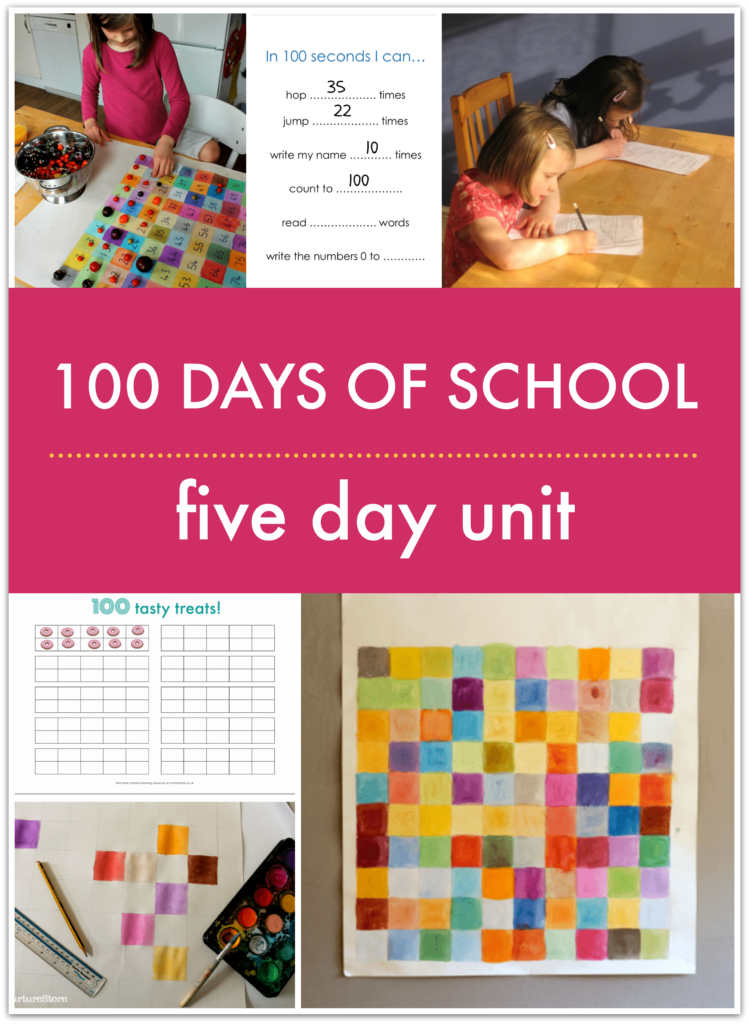 How to download this 100 Days of School thematic unit
You can download this unit along with over 50 more from NurtureStore's Play Academy.
If you are already of the Play Academy, you can download this unit straight away from our Library here.
If you are not yet a member, find out more and choose your first unit here. Your teaching is about to get a whole lot easier!
How to get our free printables
To download my free printables, you'll need to visit the NurtureStore Printables Library, which is available to all subscribers to my email list, and of course to Play Academy members.
Pop your email address in the form below and you'll get access to all my free printables, lesson plans, activity ideas, weekly newsletter, and a whole lot more!
After subscribing, be sure to check for the confirmation email. After you confirm your email subscription, we'll send you a welcome email which includes instructions for downloading our free printables.
If you're already subscribed to our email newsletter: check your email for the latest edition of the newsletter where you'll find a link to access our free printables library - the link is usually at the bottom of the email.
For help accessing our printables, click here.
---
By subscribing, you consent to our use of your personal data as per our Privacy Policy, which includes agreeing to receiving interest-based email from us.
---